Marian Rivera and Heart Evangelista are in the crossfire of a fashion war all because of a Dolce and Gabbana logo t-shirt.
From "who wore it better?" the contest now is, "who wore the fake shirt?"
Blogger Mike Lim fired the first shot when he pitted the Kapuso primetime actresses against each other for their cotton tees with the print "Io C'ero," which means "I was there."
A friend of Heart, in comeback comment, blasted Marian for wearing a knock-off shirt.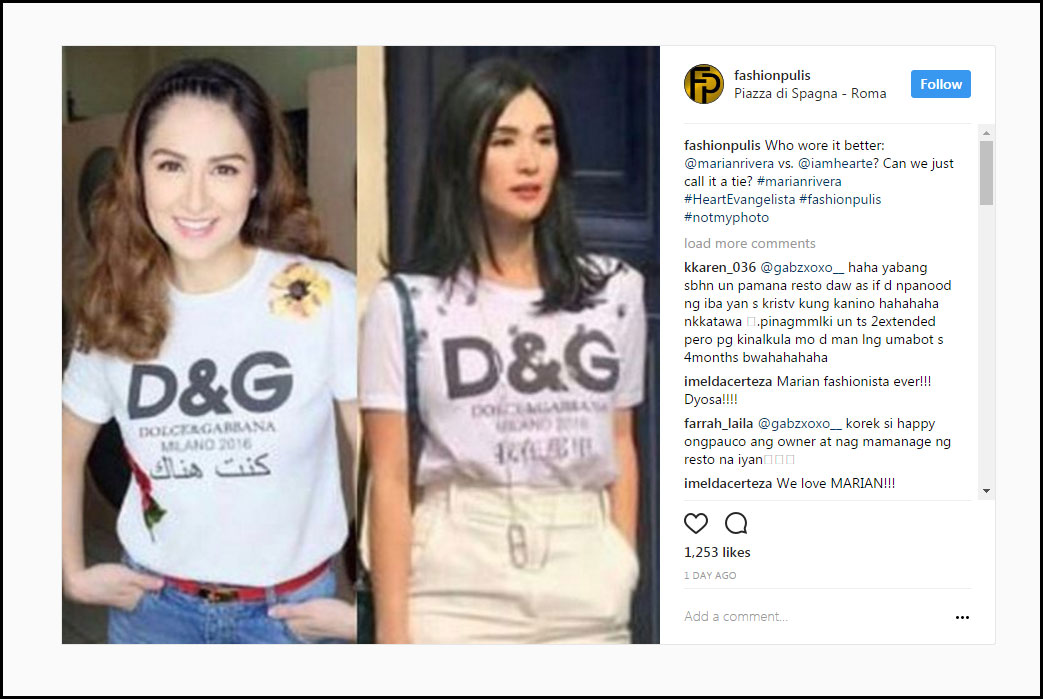 OOTD WAR. Marian was first spotted wearing the Arabic shirt with floral patches during her Sarap Diva appearance with BFF Norman "Boobay" Balbuena last February 8.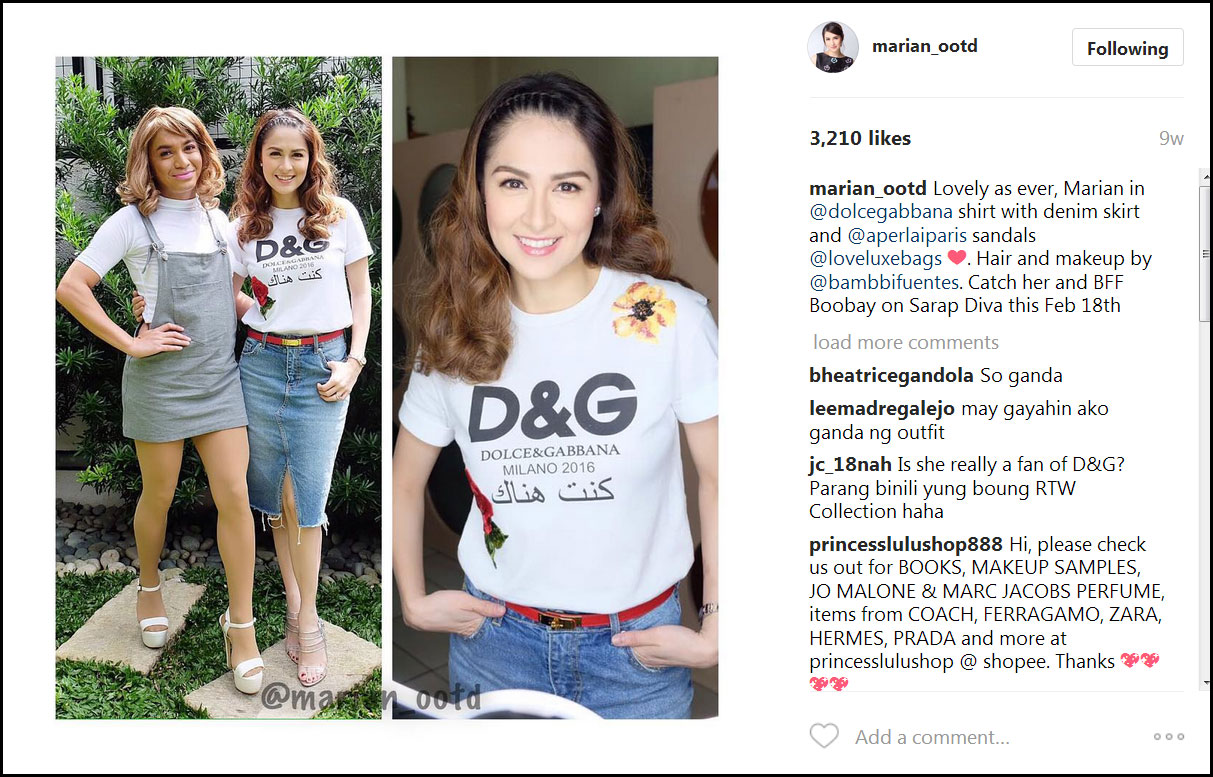 And then a photo of Heart in Paris wearing the Chinese version of the D & G shirt was posted by her friend—in photo with her—last Sunday, April 16.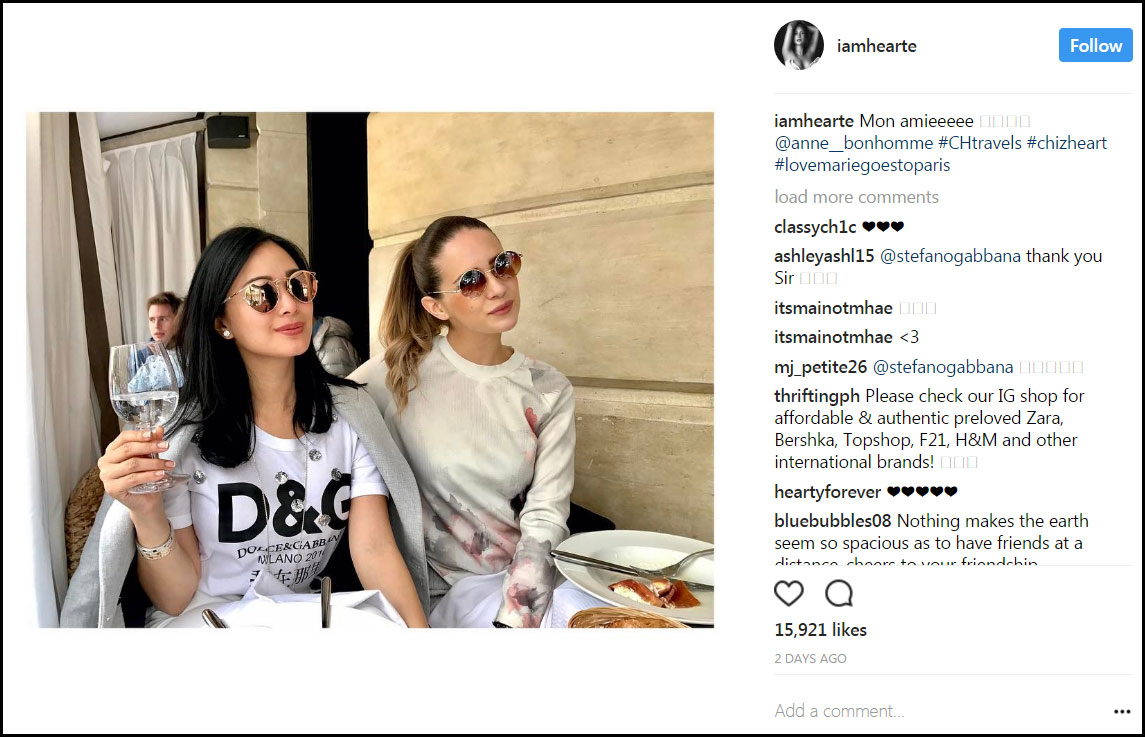 Heart's friend, whose handle name on Instagram is @anne__bonhomme, flamed the "fake" debate through a comment she posted on blogger Mike Lim's Instagram post.
@anne__bonhomme claimed "the design in Arabic is supposed to have a banana."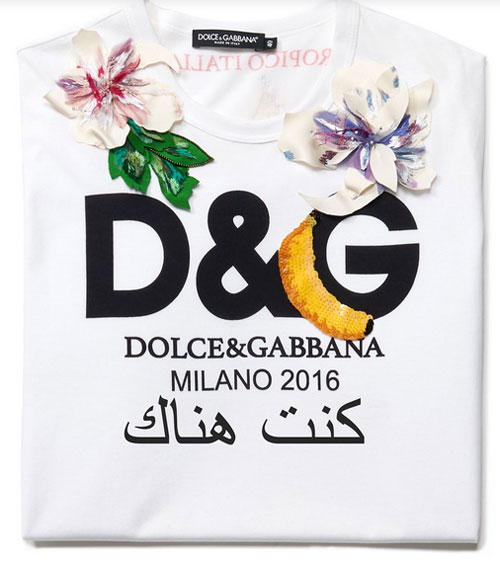 @anne_bonhomme also pointed out that the sequined susan flower on Marian's shirt was a few inches "far up on the shoulder" when it was supposed to be "almost on the 'G' letter."
At press time, her comments have been deleted and her Instagram account has been deactivated.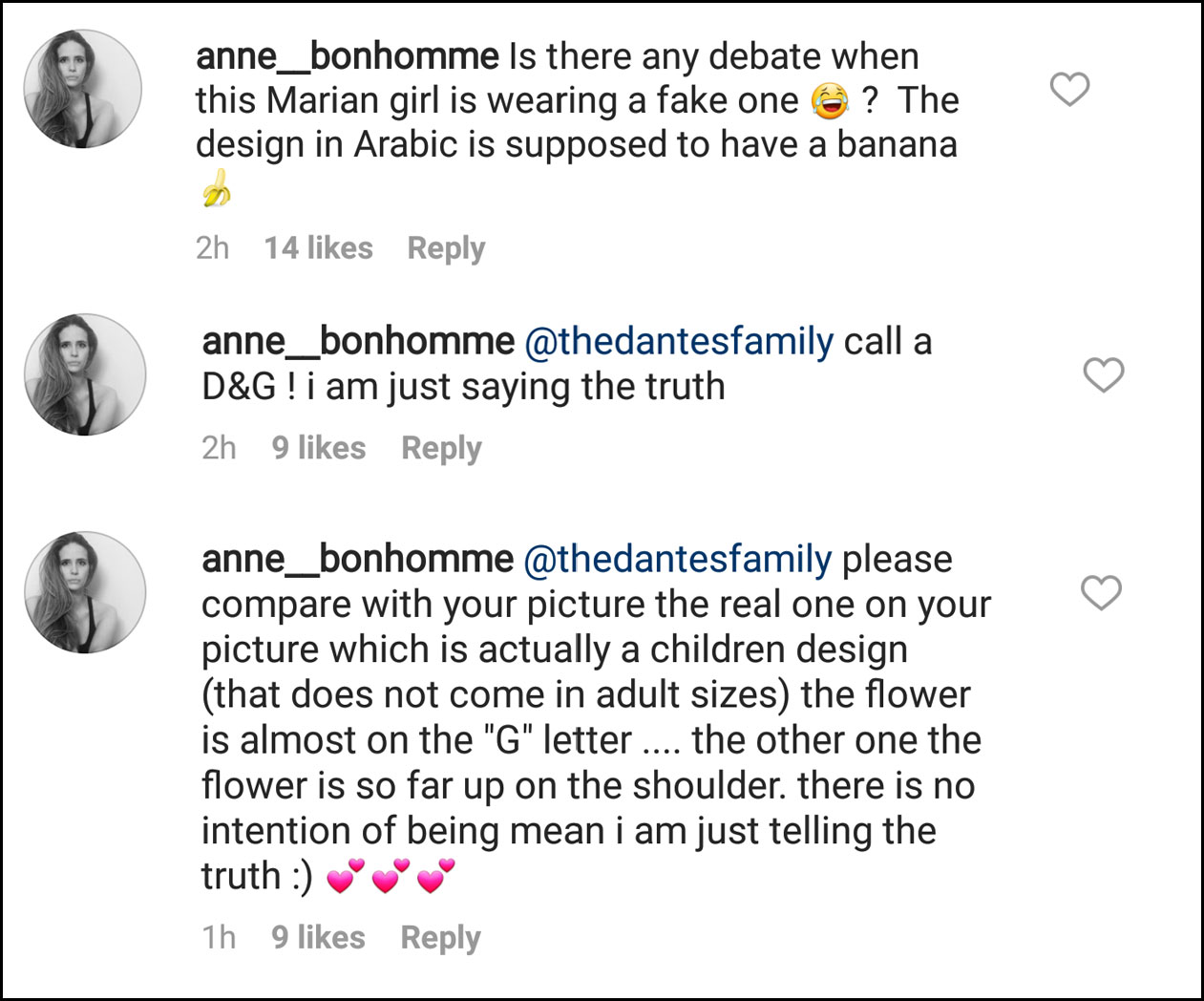 "FAKE" DEBATE. So, did Marian wear a fake shirt?
Marian's personal shopper, Aimee Hashim of @LoveLuxeBags, initially countered the "fake" claims of Heart's friend through Instagram last Monday, April 17.
She uploaded a collage of the shirt's two versions—one for a three-year-old (bottom left) and the other for a 12-year-old (upper right)—worn by her staff with the shirts' tags.
Her caption: "@anne__bonhomme A personal shopper contacted by gabbana themselves... what else is there to prove?
"Flew to SG to preview their collection in Asia this season two weeks ago.
"Partied with #domenicodolce @dolcegabbana @stefanogabbana in MOE October. #dgtherealfake #whosfake
"Oh and by the way, what size do you wear? Cos I shop for a model who wears xxs or 0.
"Grow up, move on and let go of your baggage. Also, why don't we try to wear things first? Isn't that better?"
In an exclusive interview with PEP.ph (Philippine Entertainment Portal), Aimee Hashim stated, "I'm 100 percent certain the shirt is real.
"I am just waiting for documents from D&G Dubai to put this to rest.
"I can swear my life on that."
Marian wore a version from D&G's line for Children, specifically for 12-year-old kids, as the shopper claimed.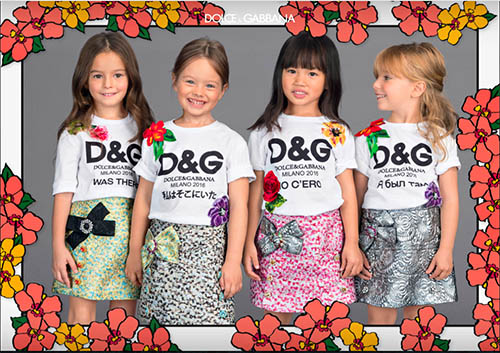 Aimee Hashim told PEP via Viber, "Marian has a very small frame. Some brands, she wears XXS, some 0. The fit of the shirt is loose.
"If you will observe, the sleeves were even rolled up. [the one for] 12-year-old na [shirt], maluwag pa sa kanya."
According to D&G's website, each shirt design comes in nine sizes.
Aimee Hashim's simple explanation was: "while increasing the size, same detail, but adjusted based on the length."
This writer found photos of the shirt, presumably in three different sizes.
The shirt on the left was lifted from D&G's official site; the one in the middle was from ChildrenSalon.com, a 60-year-old company with it shop situated in Kent, England; the one on the right was from ChildsplayClothing.co.uk, which has a glossy shop in London frequented by "top clientele like footballers, celebrities, as well as even Saudi royalty," according to mirror.co.uk.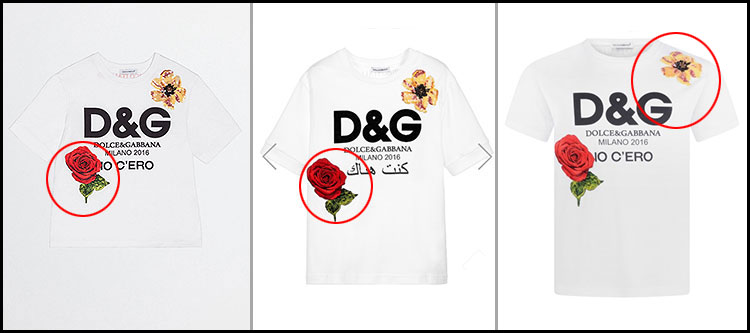 Aimee Hashim added that she is a "certified public shopper" for D&G, and has a signed "service agreement" with the brand's store in Saint Tropez, France.
She also gave more details about the D&G parties she attended.
The first one was back held on November 7, 2016, and was hosted by the Italian designers behind the brand, Domenico Dolce and Stefano Gabbana, to officially launch their flagship store in Dubai's Mall of the Emirates.
The most recent was last April 1, 2017, when D&G held an exclusive preview of its latest collection in Singapore.
To back up her statement, Aimee Hashim also posted on Instagram a photo of the receipt as proof that she bought the items from D&G's store in Dubai.
Meanwhile, a few netizens pointed out that the receipt's bar code was different from the shirt's tag that Aimee Hashim posted.
She clarified that the shirt's tag was for the size 3 shirt.
D&G Dubai's store manager Yesenia Jaimes Lozano affirmed that each size has a unique bar code.
Aimee Hashim gave PEP a screenshot of her conversation with the store manager: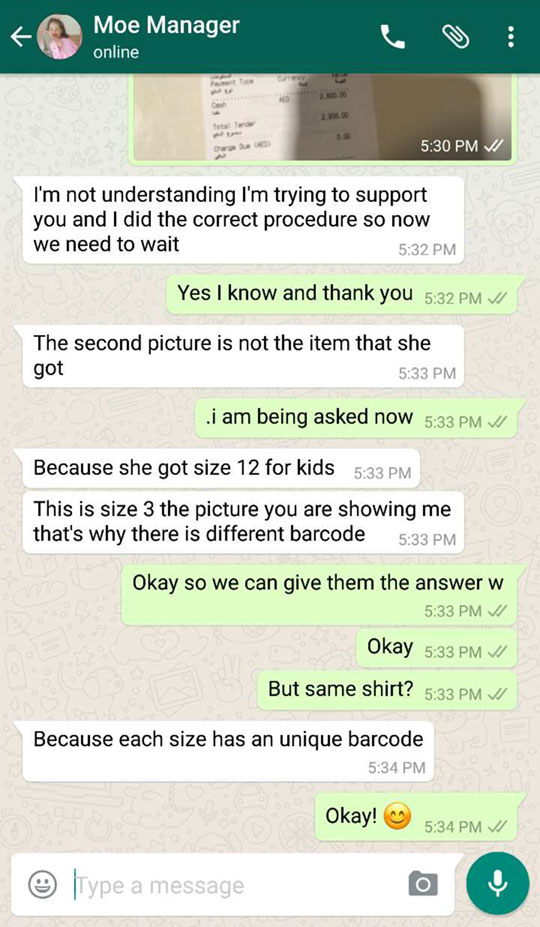 At press time, D&G Dubai has yet to issue an official letter regarding the authenticity of the D&G shirt that Aimee Hashim bought for Marian.
Here's a screenshot of the email sent by the brand's store manager in Dubai.