Francis Libiran has learned to take things in stride when he gets embroiled in a fashion controversy.
"It's not parati naman, really. And it's also quite expected sa clients who are celebrities," he told PEP.ph (Philippine Entertainment Portal) during the launch of his designs for Bayo's Made in the Philippines campaign.
The Internet, he said, has also gotten everyone easily overwrought.
"It's the social media. It's easy to save everything. It's easy to search anything. And sometimes, it's also easy to...uh, generalize."
Throughout his 20-year career as a fashion designer, one of his most talked-about designs was the pink gown worn by Maine Mendoza at Eat Bulaga!'s "Tamang Panahon" concert in 2015.
It received flak from fans after pictures of Kim Chiu wearing the same gown resurfaced on the Internet.
Francis was quick to issue a statement, saying the Kapamilya actress was "generous enough" to model the gown for a fashion show held in 2013, but that the gown itself was never "worn at any other event by any other celebrity."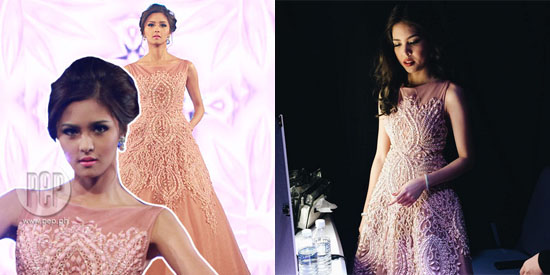 Being in the business has taught him one thing: "Deal with the issue as soon as you can."
SAME DRESS, DIFFERENT STARS. What happened to Maine and Kim is not exactly surprising in showbiz.
Unplanned twinnings have become so common that some netizens have commented: "Pare-pareho na lang. Wala na bang masuot ang mga artista? Wala nang maisip ang designer."
To that, Francis remarked, "You know what? Our fashion industry, if you look at it, we're still stuck with customization of designs, especially when it comes to stars.
"The stars will say, if pinagamit ko kay ganito, mag-aaway na yung mga iyan.
"They don't understand the collection part.
"Slowly, we're trying to orient [them]."
The designer detailed, "Our fashion shows are directed towards building a collection right now, which everyone can wear.
"It's not anymore designed for a particular person."
This is what big brands like Gucci, Dolce & Gabbana, to name a few, have been doing.
But what if his designs get copied?
"It's a compliment," Francis said, smiling.
"Basta ang ano na lang dun, sa social media, whatever you do, you make sure you post it right away.
"Because if you post it right away, definitely, they will copy you."
How does he handle clients who want him to simply copy another design?
"You know what, I guess I have a way to say it to the client without offending her.
"When I was starting, there's a lot of clients who would have a picture of different designers.
"And I would always tell them, 'You know what, I have something better for you.'"
CHAMPIONING LOCAL. The biggest challenge of local designers and local brands today is the influx of international retail companies.
"There are a lot of designer brands coming in. How do we compete? It's promoting Filipino designs.
"Filipinos basically are very good at designs," Francis beamed.
"We need to be at par or better than the international ones.
"So this is one way of helping the industry, really," he added, referring to his collaboration with Bayo.
With the high demand for designer clothes, doesn't he run out of ideas?
"I would always ask my business partner Arsi Baltazar, 'Book me a hotel room, I'll produce it,'" Francis said about how he comes up with concepts.
"Like for Bayo, they asked me to produce the holiday collection, 'One whole day, I'll produce 150 for you.'
"I just don't want to be disturbed when I'm in that state."