Up-and-coming singer Claudia Barretto has been making waves in the fashion and music industry for the past year.
The 18-year-old singer performed for a handful of music-and-fashion-philes last January 19 at the launch of Adicolor for Think Tank by Sole Academy in Bonifacio Hight Street, Taguig City.
PEP.ph (Philippine Entertainment Portal) caught up with Claudia right after her performance and talked about her passion for fashion and her blooming music career.
Being a newbie in the music industry, Claudia admits that she still gets nervous every time she goes up on the stage to perform.
Claudia said, "I was very excited to perform for them but I was really nervous."
"It's still... this is one of my first performances so I'm still trying to get better."
She added, "I'm a very nervous person and I'm a very anxious, shy person.
"That [performing] was hard but it's okay. I know I'll do better next time."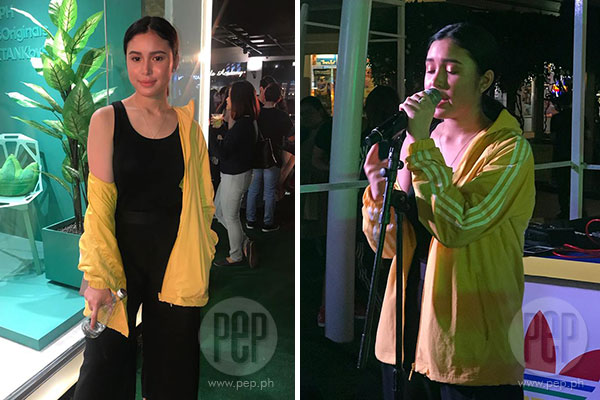 One of the things she does to improve her performance is to practice regularly.
She explained, "I think the only way to get over your nerves is to rehearse and that's what I'm doing now.
"But it's also important to remember that I'm 70 percent student and 30 percent singer, so I'm still trying to find the balance to be able to wrap [my head around] this and perform."
Fashion also gives her a boost of confidence as she performs for big crowds.
Claudia noted, "I feel more confident when I'm wearing something comfortable.
"It's important for me to never compromise too much of my comfort so I can perform at my best.
"Fashion, on the other hand, is what makes performing more fun!
"I like to keep things comfy but stylish at the same time."
Claudia, along with her sister Julia Barretto, has been named one of the most stylish young celebrities in the past year.
The singer said her personal style is more of the classic yet comfortable type.
She told PEP.ph, "I'm actually a very classic girl but just recently, because I'm getting into this whole music thing, I feel like I've been a little more than that.
"So I try to be a little, I don't know how to say it, a little cooler? And I have people helping me with that."
When asked what her non-negotiables are when it comes to dressing up for a performance, she answered: "I don't see nothing wrong with people who like to show some skin, but I get shy.
"I get a little insecure and shy.
"It's just that I like to be comfortable onstage or anywhere that I'm performing.
"I like to be comfortable and to be able to move and not feel insecure about anything else."
Is she brand-conscious?
She blurted, "No, definitely not. If it looks good, it looks good."