Alyssa Muhlach Alvarez emerged victorious at the Miss World Philippines 2018 coronation night last Sunday, October 7, at SM Mall of Asia Arena.
She took home the crown of Reina Hispanoamericana Filipinas 2018.
Pageant fans agreed that she was a stunner in her "Pia Wurtzbach-inspired" long gown, especially after she turned around to reveal the Philippine map detail on the upper back part of the gown.
A netizen lauded the designer of the gown, tweeting, "To the man behind this gown, you're a genius!"
The designer? Benj Leguiab IV.
"I put so much love and passion for this royal blue gown with Philippine island map on it as a sign for patriotism," Benj wrote on his social media posts.
"It is one of my best gown I ever made for Alyssa Muhlach Alvarez and for bringing her such excellence in Miss World Philippines 2018 Pageant. #ProudPinoy Congratulations!
"For being newly crowned as Miss Hispano Americana 2018.
"I call this a night to remember."
Alyssa revealed in her Instagram post that the gown's design was a collaboration with the designer.
She said, "I told him that I wanted my gown to show my love for the Philippines and he was able to come up with this beautiful gown that did just that."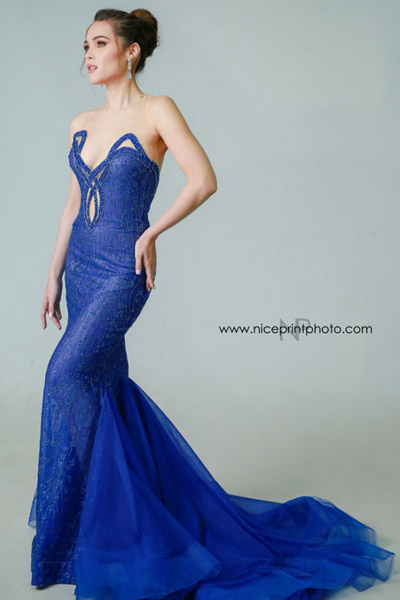 Miss World Philippines was Alyssa's first attempt at pageantry.
In the same Instagram post, she briefly opened up about the insecurities that hindered her from joining a pageant.
"Before I joined a beauty pageant, thoughts like 'I'm not thin enough', 'I'm not pretty enough' and 'I'm not good enough' were the excuses that filled my head.
"But I was reminded that every accomplishment starts with a decision to try," the 22-year-old daughter of Almira Muhlach and Bong Alvarez wrote.
She trained with Kagandahang Flores, one of the known beauty camps in the country, to boost her self-confidence. She also worked out with a fitness coach and monitored her food intake.
READ: Alyssa Muhlach Alvarez gets best pageant advice from Charlene Gonzalez