Slater Young and his partner Kryz Uy are making a case out of their one-year-old son Scottie eating balut and finding it yummy.
Balut, a fertilized developing egg embryo that is boiled and eaten from the shell, is one food that mortifies people.
Although Pinoys generally this love street food, some cringe at the sight of the hairy parts.
On February 28, 2022, Slater uploads Scottie's video taken at the Pinoy Big Brother Unilimited grand winner's hometown in Dipolog City.
"Scottie eats balut! [egg emoji]," Kryz writes in the comments section of her husband's post.
For his part, Slater says, "Proud daddy [emoji]"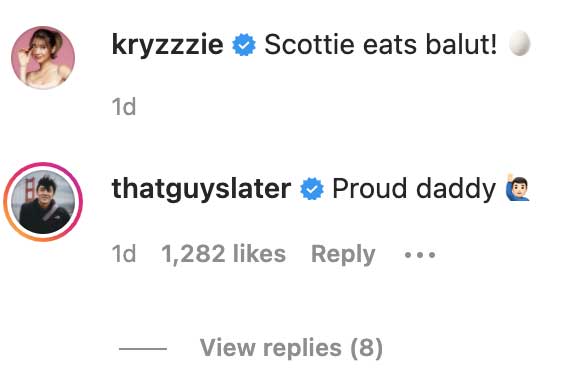 The video begins with Scottie crying and asking his dad for some balut after trying it for the first time earlier that day.
Slater asks Scottie, "Do you know what a balut is? It's the egg of a duck."
The Instagram Reel then shows Scottie happily eating balut.
He likes the broth, and only asks "what is that?" when his dad is about to feed him the hairy part of the embryo.
Slater stammers, "Fish... Ah, chick... Chicken. Baby chicken!"
Celebrities suddenly crave for balut.
Viva actress Yassi Pressman comments, "I WANT BALUT ALSO!!!"
ABS-CBN broadcast journalist Karen Davila writes, "Cute! Now i miss balut [emoji]"
Social media influencer Patricia Prieto says, "Omg Scottie ate balut before me pa [emoji]"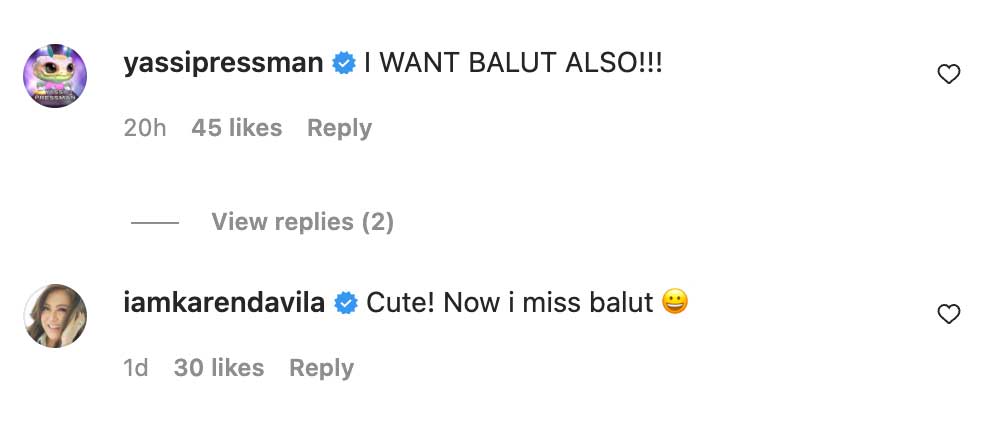 Most of the netizens are amazed.
Instagram user @mywenandonly writes in the comments section, "Talo mo pa ko Scottie booooo [emoji]"
Another netizen @ms.gunsi comments, "My baby [emoji] so cute Scottie boo @kryzzzie[emoji]"
@shanlimjoco throws in, "Huhu cute!!! @randsvito"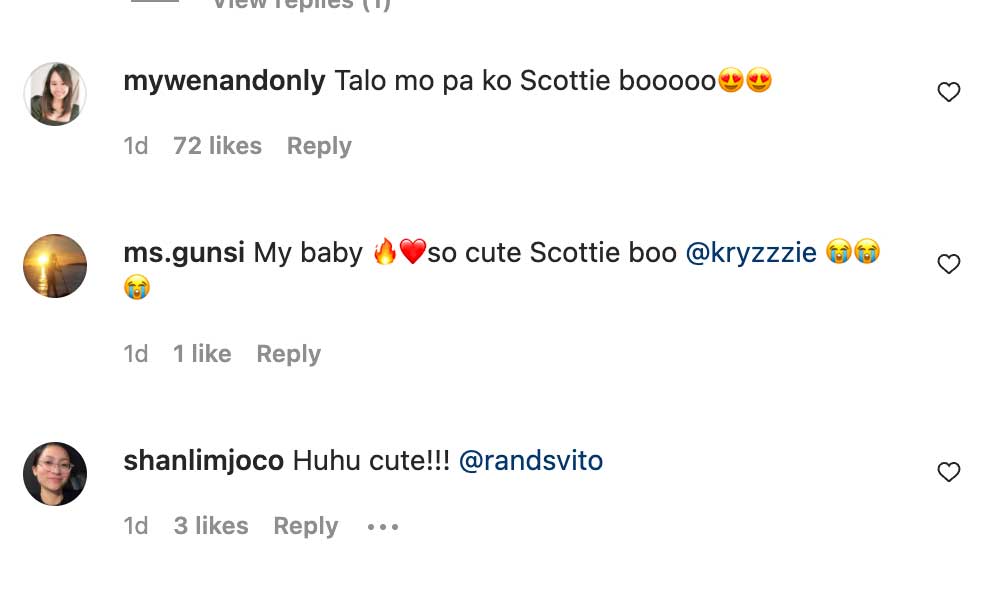 READ MORE:
Kryz gave birth to Scottie in June 2020, at the height of the COVID-19 pandemic.
She and her husband are expecting their second baby.
Slater and Kryz got married on February 16, 2019, in Cebu.