Today, July 6, 2023 is National Fried Chicken Day, so a lot of restaurants and eateries are offering promos.
Treat your taste buds to the crazy goodness that fried chicken brings, with these stores that are set on making this special day more memorable for foodies.
Read: This tricycle driver now owns 6 stalls selling "best-tasting" fried chicken
Max's Restaurant
Max's Restaurant is thrilled to announce its annual Chicken ALL-YOU-CAN promotion, where diners can savor unlimited servings of Max's famous Sarap-to-the-Bones Signature Fried Chicken with rice for just PHP499.
The deal comes with a refreshing single-serve Pepsi glass for each guest.
This promotion is exclusively available for dine-in customers at all Max's Restaurant branches nationwide, starting 3:00 p.m. until closing time.
Read: We've unmasked the main cast of Max's viral commercial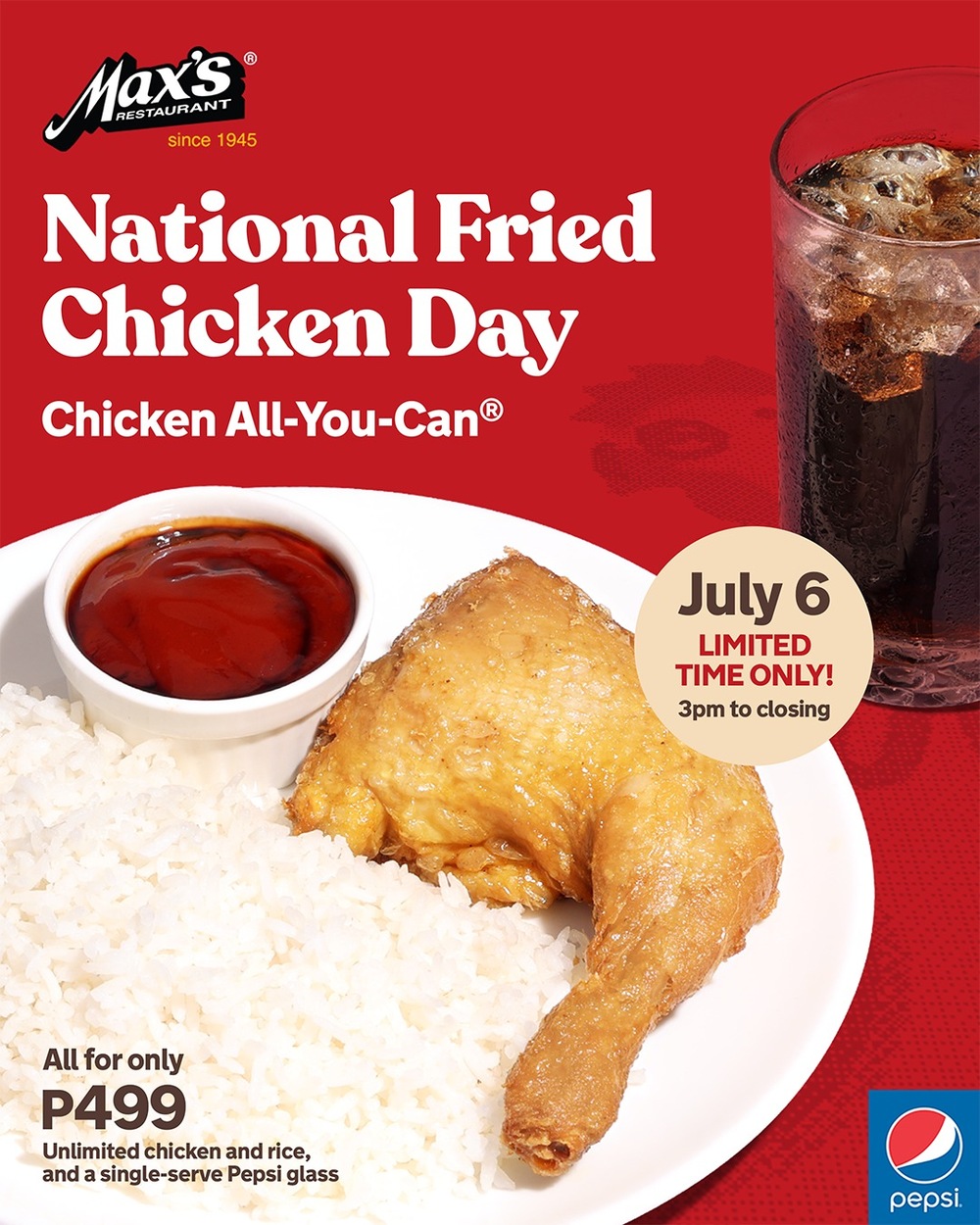 Uncle John's
The convenience store chain Uncle John's calls on all fried-chicken enthusiasts as it cooks up an exciting offer to last for three days, from July 6-9, 2023.
For every purchase of Uncle John's Bucket of 10s Fried Chicken for only PHP685.00, customers get to savor an additional Uncle John's Bucket of 6s Fried Chicken for FREE.
This gives you not only huge serving sizes of crispy chicken, but also huge savings of as much as PHP435.00.
This exciting promo is a collaborative effort between Uncle John's and esteemed brands, Magnolia and Mang Tomas.
Read: Ministop in the Philippines to change its name to Uncle John's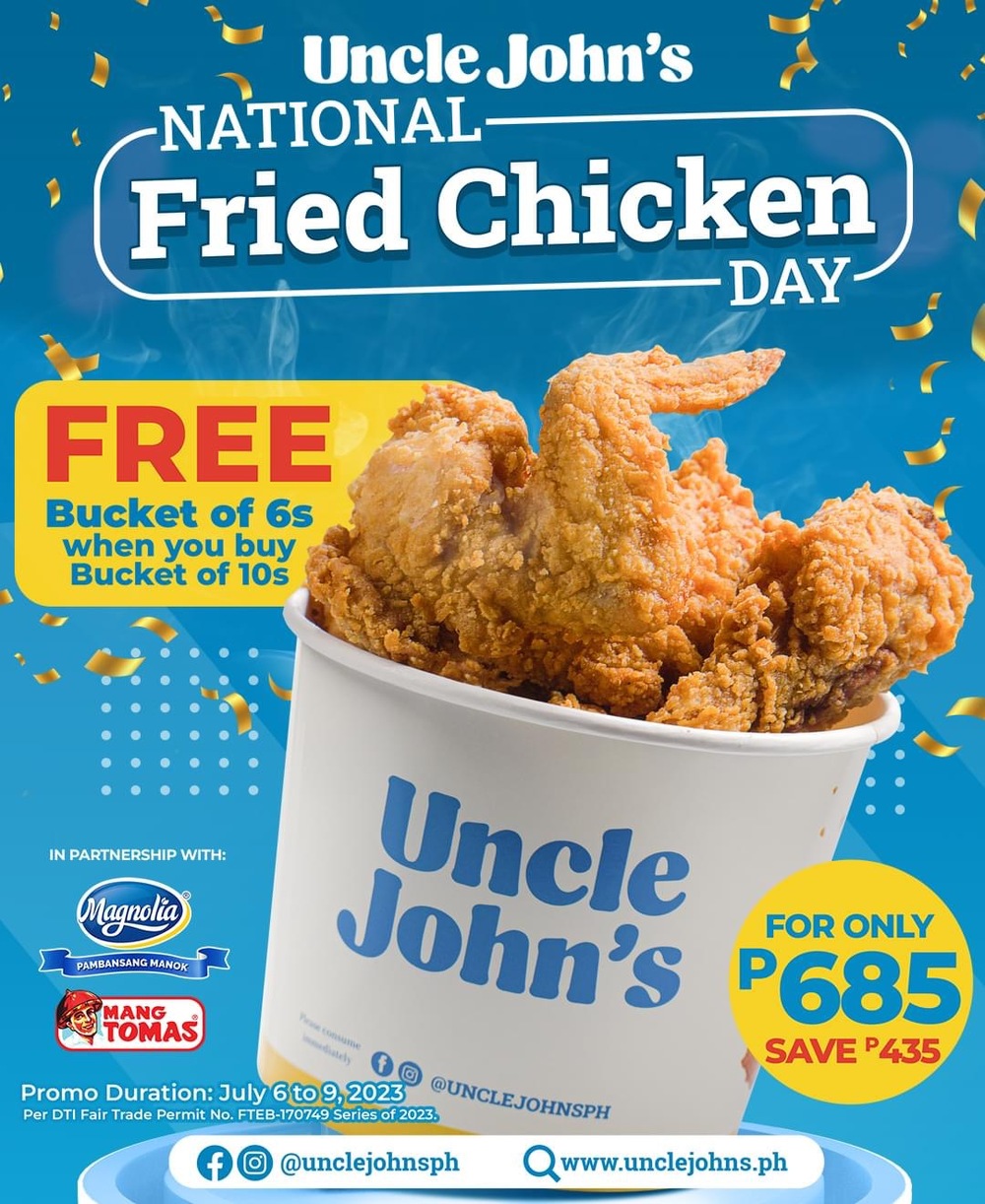 Bonchon Chicken Philippines
Bonchon Chicken, the renowned global restaurant known for its hand-brushed Korean fried chicken, is heating up July with 6+1 delicious Korean Fried Chicken for every purchase of the BTS (Box-To-Share) priced at PHP905.00.
This promo is valid from July 1 to July 16.
Read: Dagsaan ang mga fans sa opening ng Bonchon, kung saan unang nagkaroon ng public appearance ang Thai star na si Mario Maurer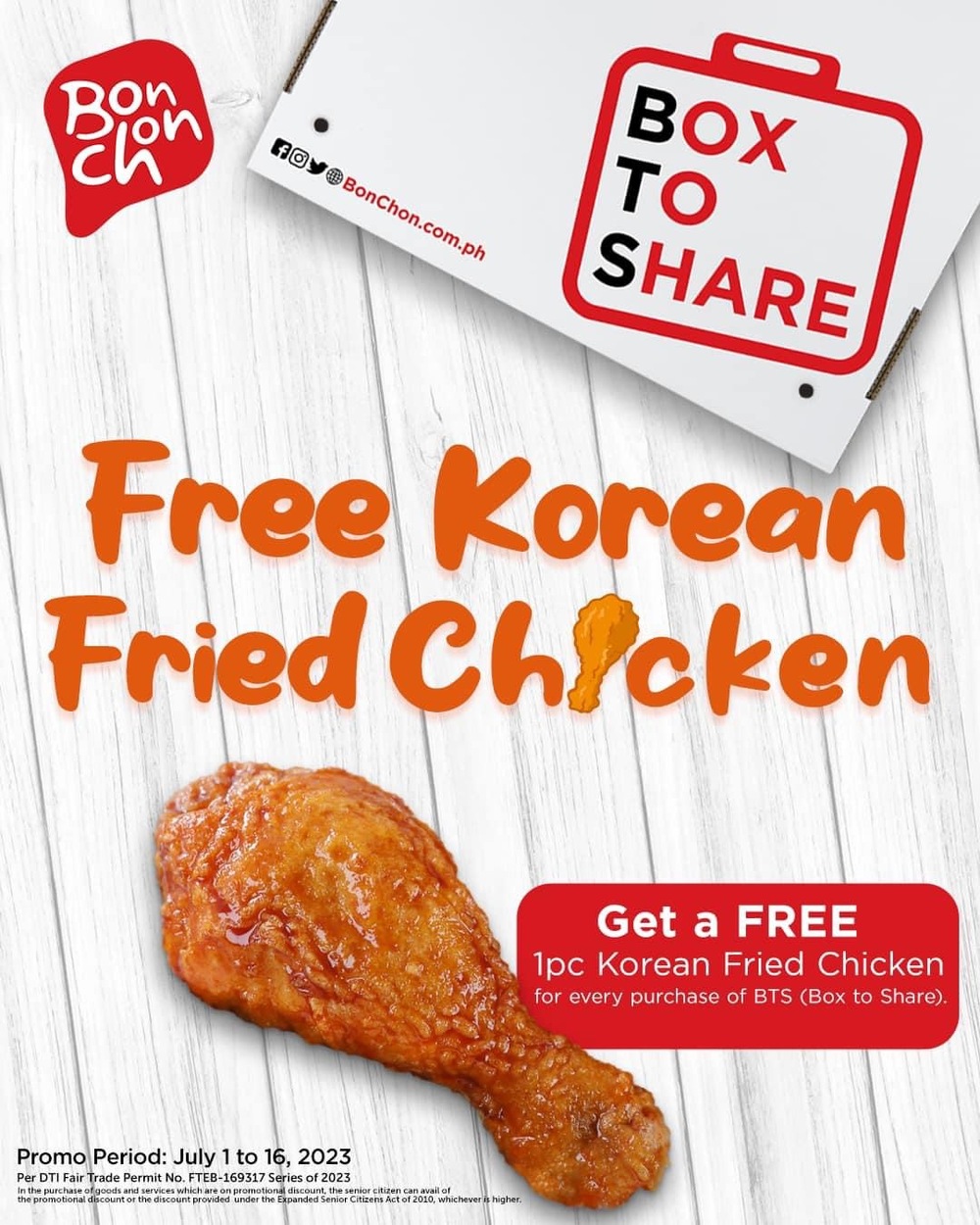 Classic Savory
Looking for extra flavor in your fried chicken? Classic Savory has the perfect dish for you.
Try its General's Garlic Chicken, featuring fried chicken cuts sautéed in Classic Savory's Secret Recipe sauce.
The sauce infuses the chicken with a delightful blend of texture and flavor, ensuring a delicious experience with every bite.
Enjoy this dish at 20% off, priced at only PHP300.00, available at select Classic Savory branches via the SM Malls Online app from July 1 to 16.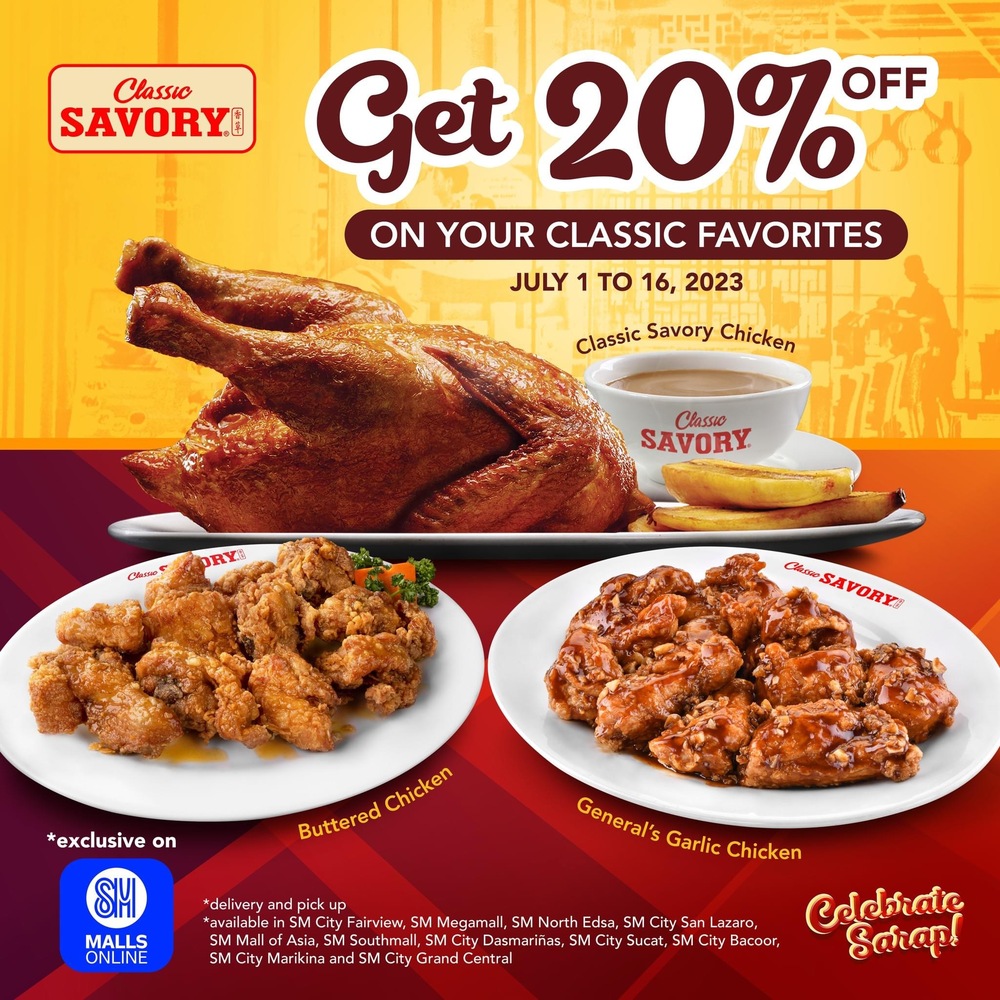 Popeyes Philippines
Trust Popeyes to deliver a traditional fried-chicken experience. Its signature recipe combines crunchy and well-marinated skin with juicy and tender meat, creating a mouthwatering blend of flavors.
Try the 1pc Chicken + Fries + Drink combo, which includes Popeyes' signature chicken, Cajun Fries, and a soft drink of your choice.
For a twist on the classic taste, indulge in the Chicken French Quarter Sandwich, featuring boneless chicken, bacon strips, red peppers, lettuce, and roasted garlic mayo on a toasted brioche bun.
Selected meals come at 30% off, so you can enjoy them for as low as PHP65.00 when you order from select SM Mall branches via the SM Malls Online app from July 1 to 31.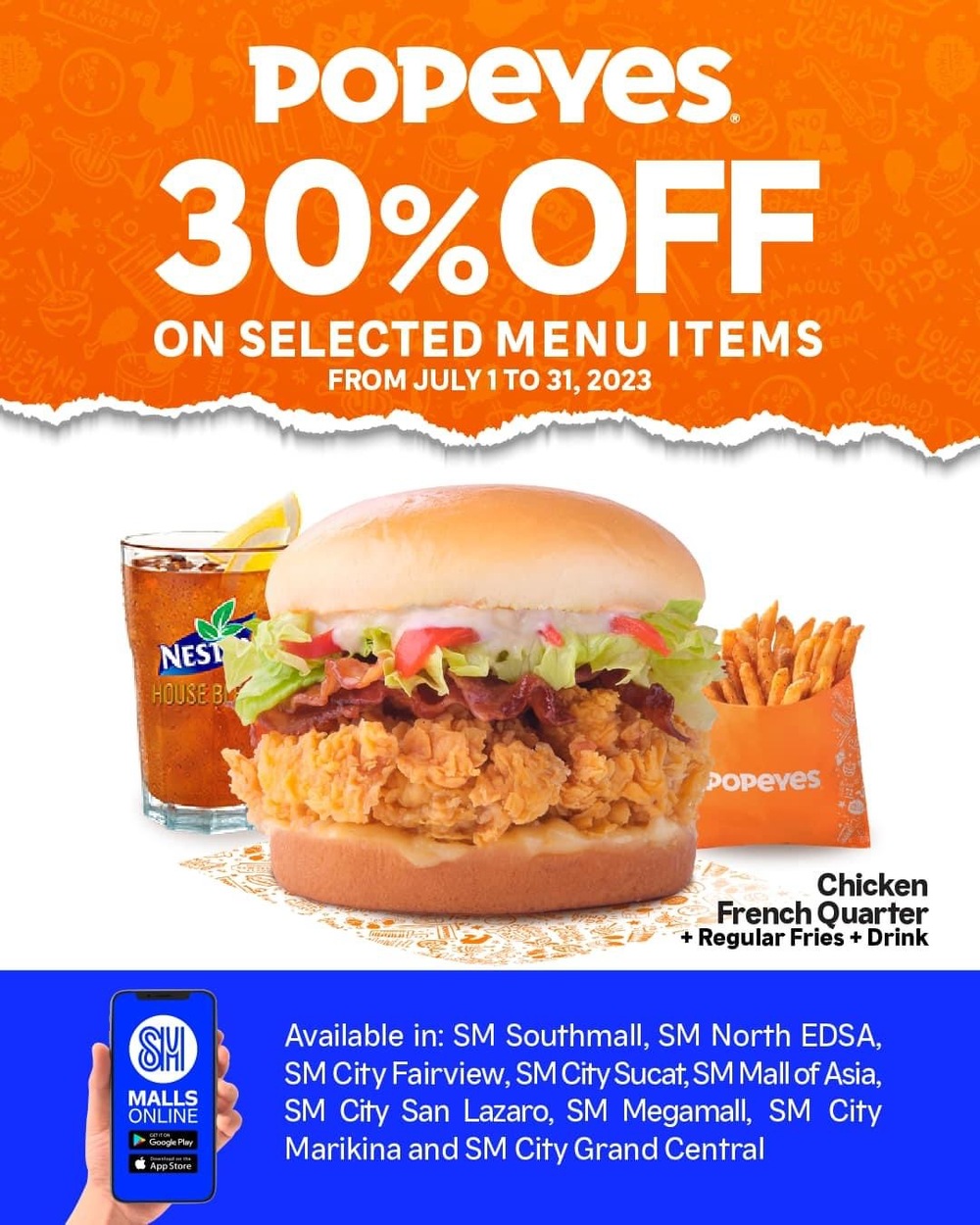 READ MORE: