Food connoisseur Marvin Agustin just expanded his business portfolio with the addition of modern Indian kitchen and bar, Tango Tandoor.
The resto's soft opening, held on September 1, 2023, at the BGC Corporate Center—where Marvin's Cochi Bistro was previously installed—catered to an intimate gathering of friends, family, and select media, who got to taste its offerings.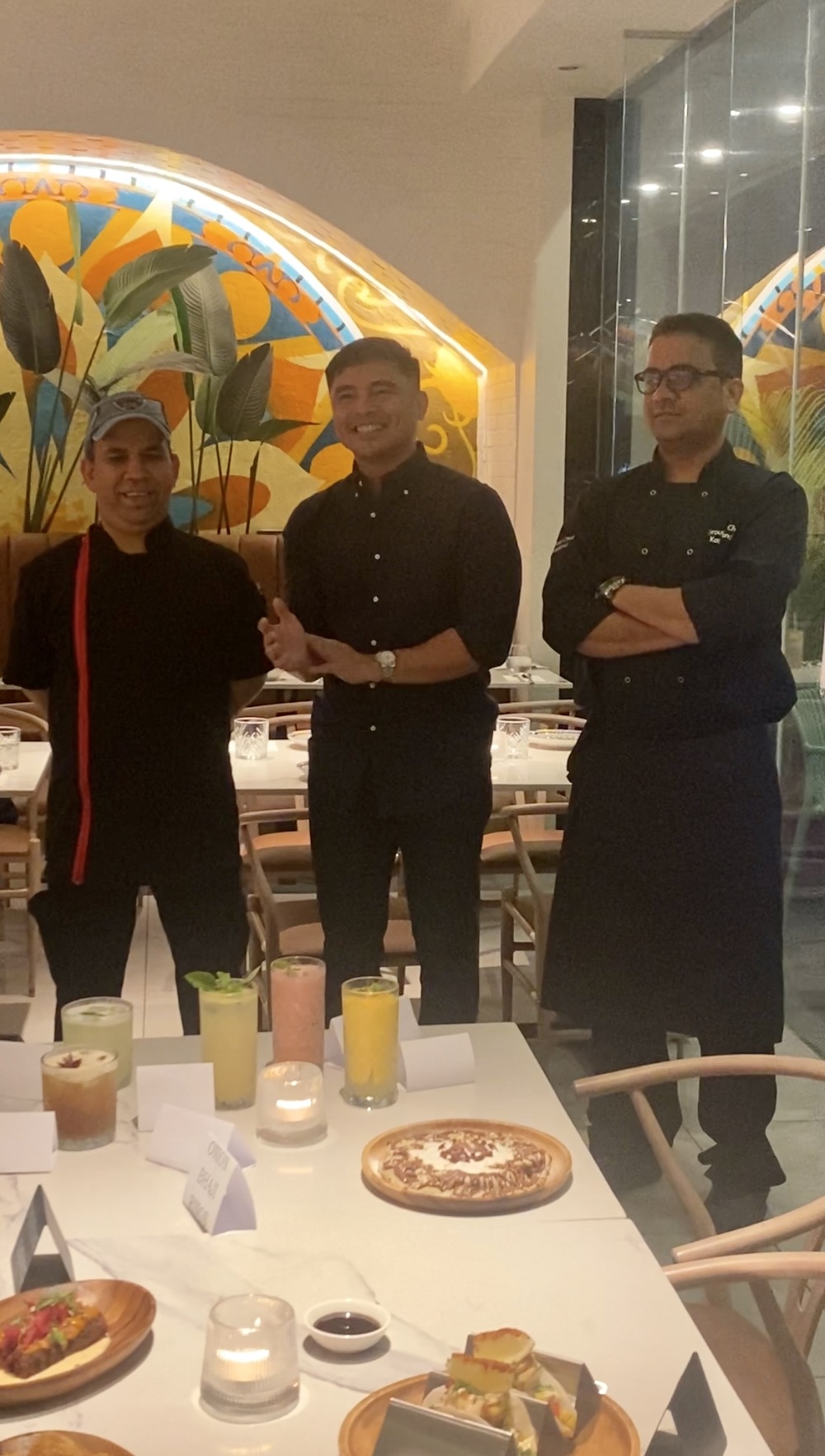 Read: Marvin Agustin talks about keeping business afloat amid pandemic
After the team's brief presentation on Tango Tandoor's background and history, and the delectable dine-in experience, PEP.ph (Philippine Entertainment Portal) got to talk exclusively with Marvin himself.
ON CHOOSING INDIAN CUISINE
Marvin's foray into Indian cuisine was no happenstance.
He shared his journey, recounting how he fell in love with the concept during a visit to a restaurant in London back in 2016.
It was an experience that left an indelible mark on him. "I've enjoyed other Indian restaurants in the past, but this particular restaurant in London...
"It's after my first visit back in 2016, I told myself already that this is kind of the Indian restaurant that I think Filipinos would love," Marvin mused.
His appreciation for the food there was so immense that he mentioned having brought his family, close friends, mentor, and even a date once to the restaurant.
"So yes, I like Indian already, but this particular Indian concept, how they created it, is something that I know Filipinos will enjoy."
The restaurant in question is Tandoor Chop House, an establishment conceived by the talented Indian chefs, Chef Kun and Chef Kapil—both of whom attended Tango Tandoor's soft opening last night as well.

COMMITMENT TO EXCELLENCE
As with any culinary venture, challenges are part and parcel of the process.
Marvin speaks candidly about the hurdles he and his team encountered while bringing Tango Tandoor to life.
One standout challenge was the acquisition of the tandoor (an urn-shaped oven usually made of clay), an essential component of Indian cuisine.
"I think the tandoor oven is something that was actually very challenging for us because we ordered that from India," Marvin explained.
He elaborated on how unforeseen circumstances such as natural calamities and logistical issues delayed the oven's arrival.
"There was, like, a flood in India, [it] got stuck in Malaysia," he recounted.
"And the two chefs actually have limited time here, but one chef is extending because the training is not finished yet.
"So, that's one of the biggest challenges that we have here in the first store of Tandoor."
The second point he underscored was something he treated more of a motivation than a challenge.
"They want only the best equipment and the best ingredients for this concept. That's the reason why I like that as well," he revealed.
"So, that's why I challenge myself and I challenge the team that we have to give everything, [and] what they need.
"Down to the single detail that they want that, you have to find it."
He reflected, "I guess that would be the main reason why people would love it.
"Because we're really trying to craft something that they know Filipinos would love.
"But at the same time, I always say this because people think it's going to be very expensive. [But] it's actually reasonable."
WHO HE COOKS FOR THESE DAYS
In the last week, Marvin made the rounds on social media when he confirmed in an episode of Fast Talk with Boy Abunda, that he is officially a taken man.
Read: Marvin Agustin, inaming hindi siya "single" ngayon
This led to the question of who he now cooks for the most, to whic Marvin bashfully responded: "My kids."
He also assured that he would talk about his significant other more next time.
In confirmation if he also cooks for this special person, he smiled while replying, "Kids for now."
Meanwhile, Marvin went on to discuss his kids' evolving culinary preferences, sharing how he introduced them to new flavors, such as jackfruit biryani from Tango Tandoor's menu.
"The jackfruit biryani is so good," he began.
"My kids, they don't like vegetables that much. But last night when I brought him jackfruit biryani, he finished it.
"He snuck it in, he liked it. He said, 'From now on, I will eat jackfruit.'"
The Kapuso artist and celebrity dad also emphasized that his children are not only enthusiastic diners, but also budding cooks, who show interest in the art.
Marvin enumerated, "chicken tandoori, butter chicken, the lamb ragan, all the breads, and the cauliflower croquette," as the dishes on the menu that his sons love.
ADVICE FOR BUDDING FOOD ENTREPRENEURS
Through the ups and downs of his food enterprise, Marvin imparted some important notes for apiring entrepreneurs who'd like to venture in this field.
"I guess, everything starts from passion. Everything starts with a bright idea that they have," he shared.
"But like what I mentioned, the challenges and the attention to details, and what would make the concept actually work is when we give our 100%.
"That would mean execution."
He elaborated, "Idea is fantastic but execution is so hard that sometimes a lot of people give up. Do not give up.
"When you think of a bright idea, a nice concept, fight for it.
"And for sure, it may be in a different pace for different concepts, but you'll get there.
"If you really love it, I think that's something that should be shared to people."
READ MORE: