Like the rest of us, our favorite celebrities are looking forward to Christmas preparations. Although we're still keeping our celebrations small for safety reasons amid the ongoing pandemic, the holiday spirit persists!

One of the things we look forward the most during the holidays is the Noche Buena. And what is Pinoy Christmas without macaroni salad? These celebrities think so too, so here's a rundown of some of your favorite stars' macaroni salad recipes.

Belle Mariano's Sweet Macaroni Salad with Condensed Milk
Rising star and He's Into Her leading lady Belle Mariano prefers a sweet flavor to her macaroni salad by adding a cup of condensed milk with an entire jar of Lady's Choice Mayo.

Maymay Entrata's Chicken Macaroni Salad with Garlic Powder
Another PBB alumna, Maymay Entrata, loves a good savory chicken macaroni salad with a dash of garlic powder added to her salad recipe. She likes to keep it sweet and tangy by adding pineapple tidbits and raisins.


Vivoree Esclito's Peanut Kisses Sweet Macaroni Salad

You might just try a different rendition to your macaroni salad by following suit to Vivoree Esclito's sweet macaroni salad recipe. True to her Visayan roots, the PBB: Lucky 7 alum puts a twist to her version of macaroni salad by sprinkling it with crushed peanut kisses, native to her hometown of Bohol. Vivoree likes to use a mixture of all-purpose cream, condensed milk, and Lady's Choice Real Mayonnaise to highlight the sweetness of macaroni salad, combined with fresh fruits like green apples, grapes, and mangoes.

Joshua Garcia's Simple Macaroni Salad
Darna: The TV Series leading man Joshua Garcia keeps his macaroni salad simple but with a twist. Joshua uses the usual ingredients like carrots, onions, pickle relish, chicken breast and adds pineapple tidbits and bell peppers for a sweet and savory combination.

Nikki Valdez's Macaroni Salad with Luncheon Meat
Celebrity mom and entrepreneur, Nikki Valdez, adds cubed luncheon meat to her rendition of chicken macaroni salad. She also swears by using Lady's Choice Real Mayonnaise in creating her mac salad recipe.


Safe and meaningful with Lady's Choice
While each one of these celebrities has their respective twists on how to upgrade their macaroni salad for Christmas, they can all agree that Lady's Choice Real Mayonnaise is the perfect partner to make a bowl of macaroni salad.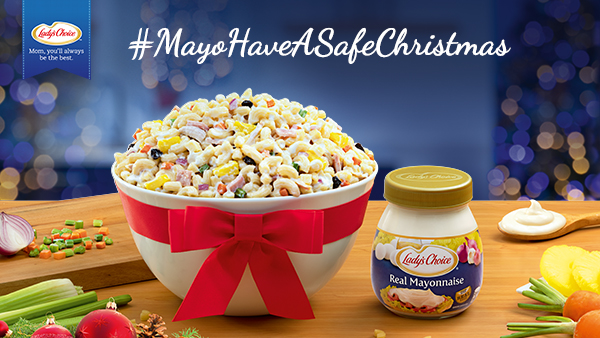 For your Christmas this year, Lady's Choice advocates for a safe and meaningful celebration. With the help of DOH, here are some safety reminders to follow this holiday season: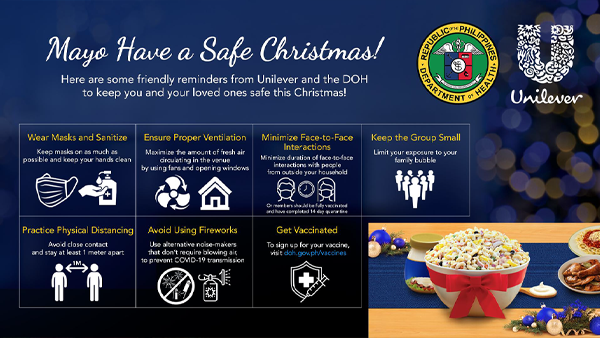 You may not be reuniting with everyone this Christmas. Still, it's possible to make your celebration sweeter and memorable when you share a good (and socially distanced) meal with your loved ones. You might even take a cue from your favorite celebrities' macaroni salad recipes.
For more holiday tips and macaroni salad recipes you can make for your family this year, check out the Lady's Choice website and follow its official Facebook for updates and more!
Read the story? Tell us what you think!
How and where can I get this?