An Instagram photo showing Julia Barretto in a braless OOTD (outfit of the day) at home has drawn mixed reactions from women.
In the photo she posted on April 20, the Kapamilya actress was seen wearing a thin white T-shirt paired with gray jogging pants and a gold chain necklace as her accessory.
Her caption: "OOTD and every day." While some women really liked the braless look, others were outraged.
Coming to Julia's defense, celebrity dermatologist Dr. Vicki Belo uploaded a photo on Instagram to explain why going braless actually has its health benefits.
The text on her photo uploaded on April 30, read: "@JuliaBarretto's post got some negative comments when she posted a photo of her lounging at home braless.
"I think Julia is right.
"Sometimes, it's better not to wear a bra if you're just lounging around the house, and especially if your breasts are not over a B cup or are not sagging.
"Not wearing a bra allows for better circulation, especially in the lung and breast area.
"Secondly, bra straps can be pressing on the area between the shoulder and the neck leading to neck pain."
She concluded her message with the hashtag "#LetTheBreastsBreathe"


Before the quarantine, Julia was launched as the newest endorser of Vicki Belo's medical aesthetic ambulatory clinic, Belo Medical Group.
OTHER BENEFITS OF GOING BRALESS AT HOME
Aside from resulting in better circulation and reduced neck and shoulder pains, as discussed by Dr. Vicki Belo, going braless can also improve the shape and skin of one's breasts.
This was explained by Dr. Lucky Seknon, a New York-based obstetrician-gynecologist, in an interview with wellandgood.com.
GOOD FOR MUSCLE TONE AND BREAST SHAPE
Disproving the misconception that going braless can cause breasts to sag in the long run, studies have shown that it's the other way around.
According to Dr. Seknon, "There is evidence that wearing a bra can make the muscles and ligaments that support the breasts lazy over time, leading to breast sagging and laxity.
"Women who have gone long periods without wearing a bra often report that this leads their breasts to being firmer, rounder, and perkier over time."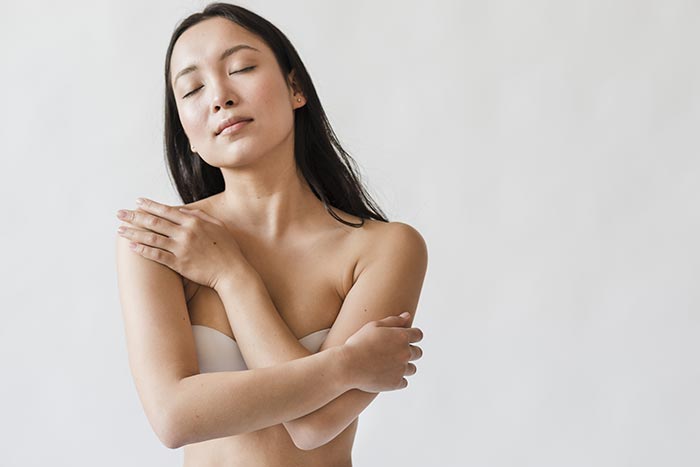 GOOD FOR BREAST SKIN
Dr. Seknon also said that wearing a bra "can predispose you to clogged pores and skin irritation [because] it tends to trap moisture, dirt, and sweat against the skin of your breast."
She added this is more common among women with larger breasts because "sweat gets trapped under the breasts."
Women have different reasons for wearing a bra. Some say it boosts their confidence. They may be more comfortable going braless at times, what with the summer heat.

In the meantime, it should be perfectly all right if women do not want to wear bras. It's their breasts, it's their call.