After showing her postpartum body on Instagram, Bangs Garcia now shares her "secrets to flat belly" after giving birth.
In her latest post, the celebrity mom says these tips are "specially helpful for CS [C-section] mums who can't do certain workouts yet & love to eat like me!"
But first, Bangs reminds her fellow moms that their bodies "heal differently so it's best to ask your doctor 1st before doing these."
Her first two secrets: wearing high-waist shaping panties and belly binder with velcro.
Bangs wears her binder "8hrs a day."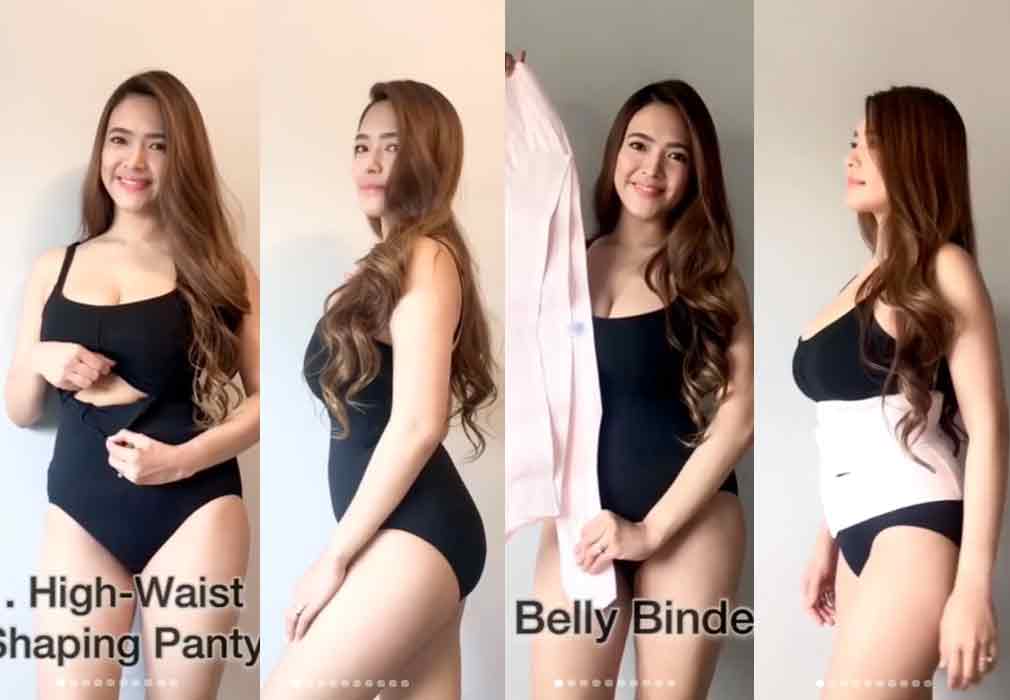 Another advice of Bangs is to suck in your stomach.
She elaborates, "Yup! Stand up tall & pull your belly button through to your spine. Kung sa Bisaya pa, hiyak ba!
"It'll not only make us look good on photos, it'll also activate our core muscles & help us maintain a good posture."
But Bangs isn't suggesting to "walk around sucking in our tummy all day!"
The mother does it "at regular intervals throughout the day, whilst cooking, doing regimens or whenever taking photos of ourselves.
"Try 2-4 sets of 10: 10sec. holds/set, don't hold your breath while contracting your muscles."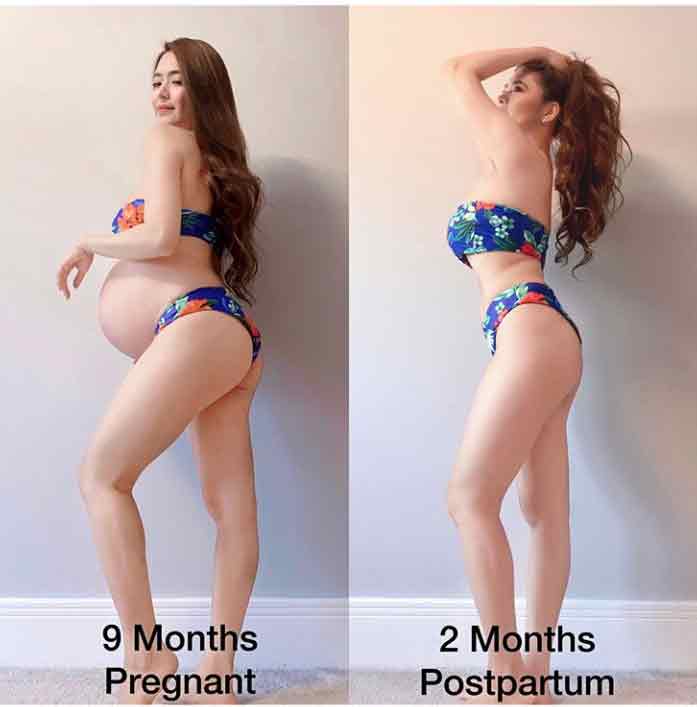 For her workout routine, Bangs does pelvic floor exercises.
She says, "It'll help us lose extra belly fat & achieve flatter abs if done correctly."
How about her diet?
First, the former actress eats apples every morning.
"Eat an Apple in the A.M. everyday coz our body goes through the most intense period of detox between 7-11am & it'll offer added energy to this process.
"Apple has lots of fiber that can stimulate our bowel movement & lead to increased metabolism rates."
She also begins the day with a glass of water and makes sure she stays hydrated throughout the day.
"It'll keep our kidneys functioning well by assisting in the elimination of waste products w/c helps increase our metobolism w/c in turn helps us lose weight."
Bangs suggests to "eat lots of Fish" or "take Fish Oil caps," too.
"They're a great source of Omega-3 fatty acids w/c is known to improve heart health & insulin sensitivity.
"It regulates insulin that converts glucose from food into energy & increases our metabolism."
The 33-year-old mom has also replaced rice with quinoa, which, she says, has "fewer calories & carbs, provides more protein & fiber."
She adds chia seeds to her food and drinks as well, saying, "It'll help prevent overeating since it's filling & high in fiber, it's also nutritious."
When it comes to vitamins and supplements, Bangs "loads up" on vitamin C.
"When we're stressed, our body secretes a hormone called cortisol. Stress is 1 of the factors that can cause belly fat.
"Vit.C helps balance out sudden cortisol spikes that occur under stress plus it'll boost our immune system."
Lastly, Bangs says to "NEVER STARVE yourself!"
She underlines, "It'll ruin your metabolism. Eat well & balanced. Avoid sodas. STAY ACTIVE everyday."
Bangs is currently based in the U.K. with her husband Lloydi Birchmore and their two daughters, Amelia and Isabella.
Gusto mo bang lagi kang una sa showbiz news at scoops? Subscribe to our Viber Chatbot here para lagi kang updated, and join our community for more pakulo!