Chynna Ortaleza recently opened up about what it's like to be publicly scrutinized for her weight.
It all started when the GMA-7 actress updated her Instagram profile with a photo of herself and her husband Kean Cipriano enjoying a Valentine's Day meal.
Chynna was all smiles in a green sleeveless top that highlighted her figure, specifically her arm and her neck.
One of Chynna's friends commented: "Chynna super payat mo grabe"
Chynna replied to this, saying she made some "dietary changes for a couple of months!" But she assured her friend that she's eating healthy.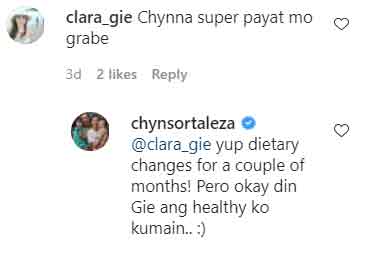 Two netizens had the same comment about Chynna's weight, but expressed different sentiments.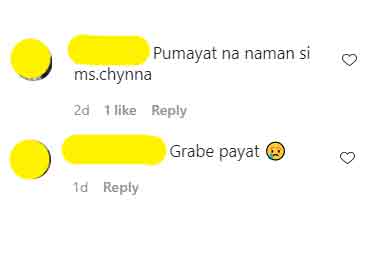 Days later, Chynna took to Instagram with a more personal post about her body.
People visiting her Instagram profile may think these comments about her weight are few and far between, but to Chynna, she has been receiving countless unsolicited remarks throughout her life the spotlight.
The Kapuso talent began in her lengthy caption: "Do you know that comments that are put out there without any ill intention in mind can be scarring?"
She continued in her post: "You may wonder how can that be? They may bring up past wounds. Most especially if they are repeated over and over as if to make you believe that there is something so terribly wrong with oneself.
"All my life I've been hearing these comments: 'Ay ang payat mo. Anorexic ka ba Kumain ka naman para ka ng liliparin ng hangin. Mukha kang sitaw. Pag hindi magpataba mawawalan ka ng trabaho. Mas maganda ka pag mataba ka.'"
Each time she gains a little weight, she would read these comments: "Ay ang taba mo na. Medyo nagkalaman ka.. napasarap ata kain natin. Papayat ka ulit. Mas gusto ko na payat kesa mataba.. gaan ng problema mo Chynna. And so on."
Chynna said the incessant nitpicking on weight is "a very vicious cycle."
She added, "And yes even people who like me were born with a metabolism so fast we burn calories like a boss need to share."
But not all of these remarks were meant to hurt her, but she wanted to point out that "the way it is said is something that needs to be talked about."
She implored her followers to be mindful of what they leave in the comment section.
The celebrity mom underlined, "All I'm saying is we need to try to be impeccable with what we say. Mindful in the intention. Because people have scars and we do not want to add on to it.
"It's been a struggle for me to feel that I meet the seal of approval as they say.
But really who does?
"But again, back to my sharing.. you have the ability to [transform] lives through the use of tone & words. Speak kindly to yourself & one another. Yes even if its a hard subject to chew it can still be done with respect and empowerment."
Chynna then ended her caption with a declaration: "So here is my present state:
"I am 38 years old, straddling the 89-90 lbs. mark because I have decided to listen to my body and let food be thy medicine.
"My dream is to continue to be a force of a woman to my children, husband & all humans that I will be blessed to cross paths with. So I want to heal myself to be able to heal other people as well.
"Thank you to those who are kind enough to ask me how I am. All is well."
Use these Zalora promo codes or vouchers when you shop or order online. Marami pang ibang coupons dito.