Disheartening news came over Kris Aquino's household when it was confirmed that its youngest member, Bimby Aquino, was suffering from pneumonia.
Read: Kris Aquino reunites withs sons Joshua and Bimby in Los Angeles, California ahead of her chemotherapy
In a heartbreaking Instagram update from the TV personality on July 17, 2023, Kris detailed how she news about his son Bimby's condition broke her to pieces.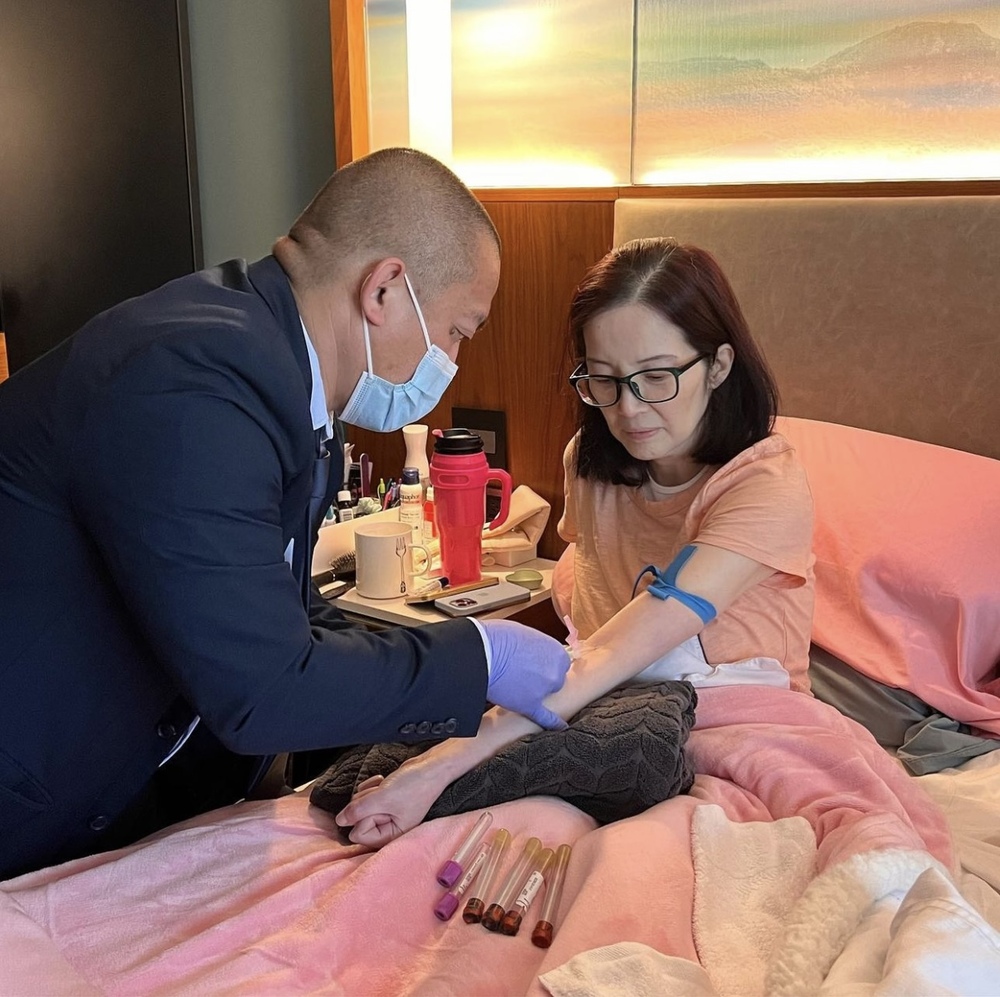 Kris began her heartfelt message by recounting the events that led up to this difficult moment: "i chose not to share with you until now that Bimb had fever starting on Saturday night, July 8. It started as a bad cough & sore throat."
She continued, "Monday, July 10, Dr. Henry our Fil-Am friend who thankfully has been so kind to me & my sons came by to check on bimb… i felt my heart crumble because bimb from Dr Henry's assessment had pneumonia."
Read: Kris Aquino emotional as son Bimby flies back home: "He deserves to enjoy being 16"
According to her, the current diagnosis was the third time Bimby had to face this illness.
It became a haunting reminder of Bimby's previous bout with pneumonia during the initial pandemic lockdown in March 2020, when the family was in Puerto Galera.
"My bunso has had asthma since he was 9," Kris began to explain.
"But as a baby all the way until he was in grade 1 bimb suffered from skin asthma and from childhood til now he has many of my environmental allergies."
What made things even more unbearable for Kris was that her own medical situation has gotten more complicated.
"It was the worst feeling in the world as most parents would agree," she went on.
"When your family doctor says you aren't allowed to go near your son and help take care of him because you're undergoing immunosuppressant therapy using chemotherapy medication."
UNWAVERING SUPPORT
Despite the heartwrenching circumstances, Kris found solace in the unwavering support and love of her eldest son, Joshua Aquino.
"Thank God bimb's kuya josh stubbornly refused to leave the connecting room where bimb had to stay," she shared with relief.
"He was bimb's constant companion & even though my nurses kept telling kuya to stop hugging bimb tuloy pa rin sya.
"Thank God matibay kuya's resistance, hindi sya nahawa ng kahit ubo o sipon."
Read: Kris Aquino pens heartfelt message to Josh on his 28th birthday
On Kris's end, she introduced Lemuel, the nurse who has been extracting her blood.
She wrote, "Lemuel is both a nurse and phlebotomist his business is to do home service blood extraction. He did my blood extraction Tuesday, July 12.
"Bimb finished his prescription Saturday & he's 90% recovered.
"My lead doctor from UCLA, Dr John Belperio had my results Wednesday and he has the best, most positive outlook even when he's giving bad news.
"I'll try to explain my current situation without using too many medical terms. They'll be in art cards along with some pics to help you understand where i am health wise and what a long battle i have…"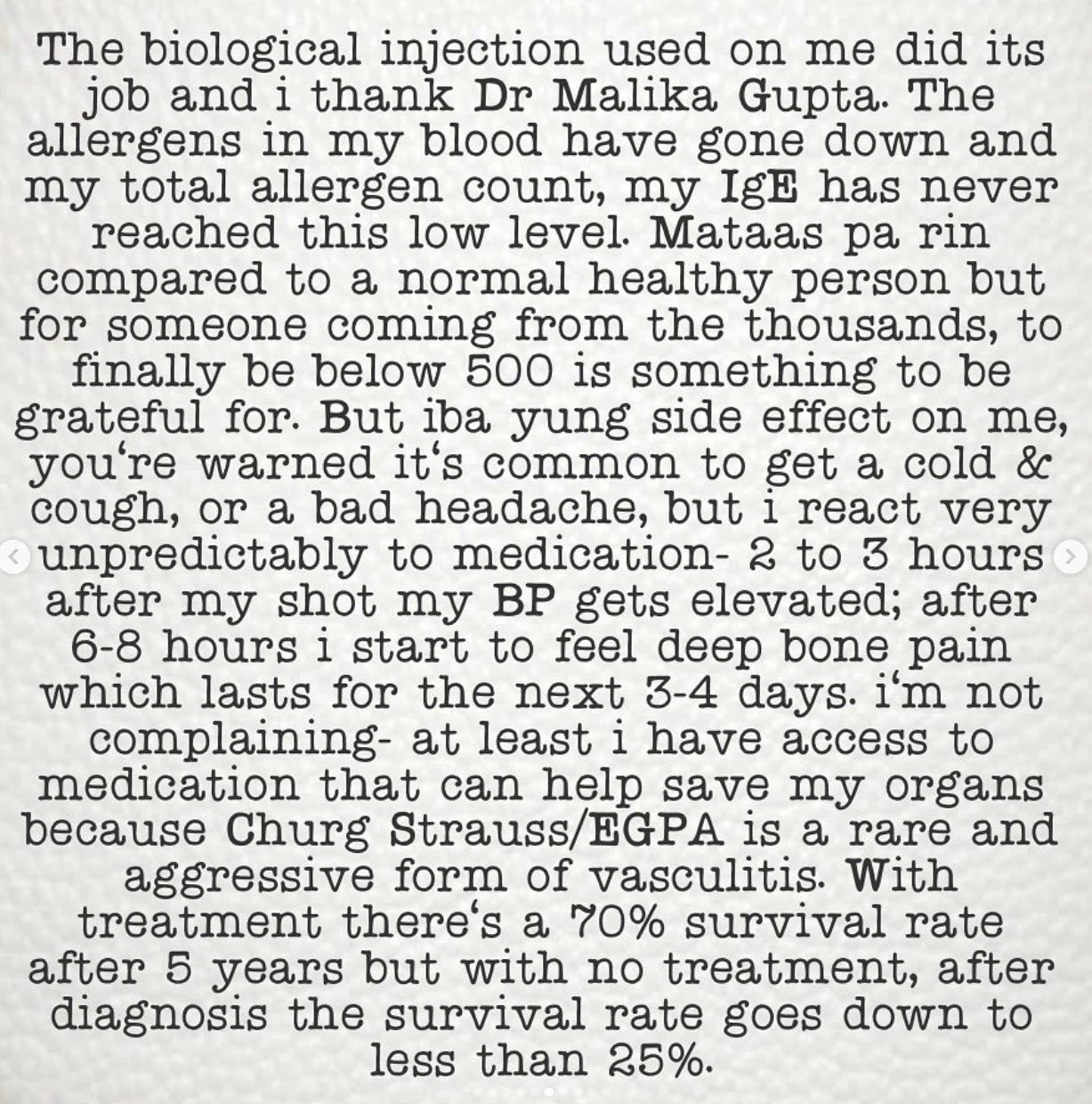 Read: Kris Aquino starts taking anticancer drug; reveals she now has five autoimmune conditions
In a gist, her IgE (Immunoglobulin E), which are antibodies produced by the immune system, has reached it lowest level to date, and the medication's side effects include "elevated" blood pressure and "deep bone pain."
But she chose to look at the bright side, "With treatment there's a 70& survival rate after 5 years..."
Concluding her post was a message of sincere gratitude for those who have been supporting her, and praying for well-being.
Kris ended, "1 thing is very clear to me- buhay ako ngayon dahil hindi kayo nagsasawang isama ako sa prayers ninyo even though most of you have never even met me in person.
"And that's why i owe you only the TRUTH."
REACTION
Friends, fellow celebrities, and even netizens left meaningful comments wishing for the speedy recovery of both Kris and Bimby.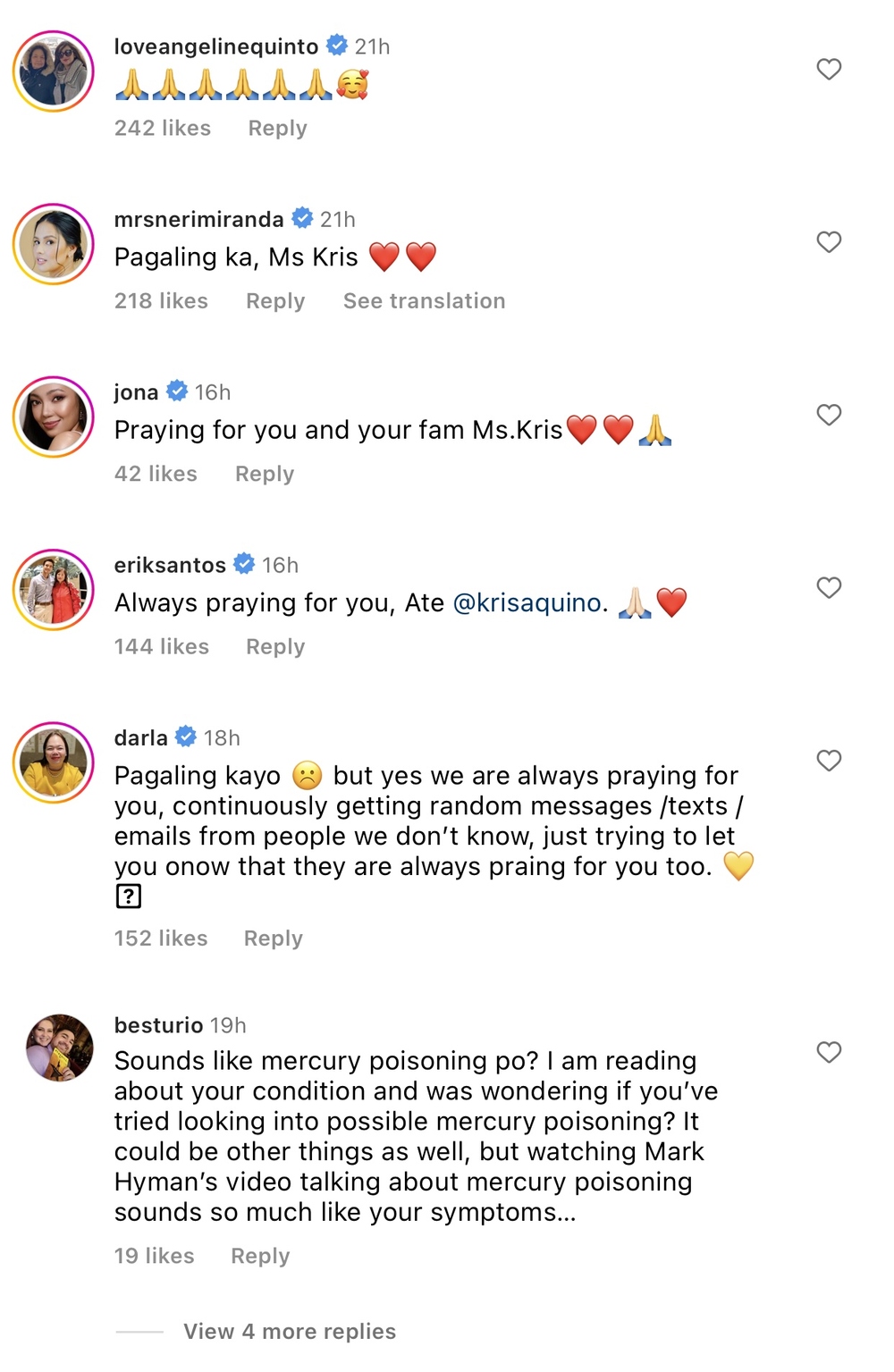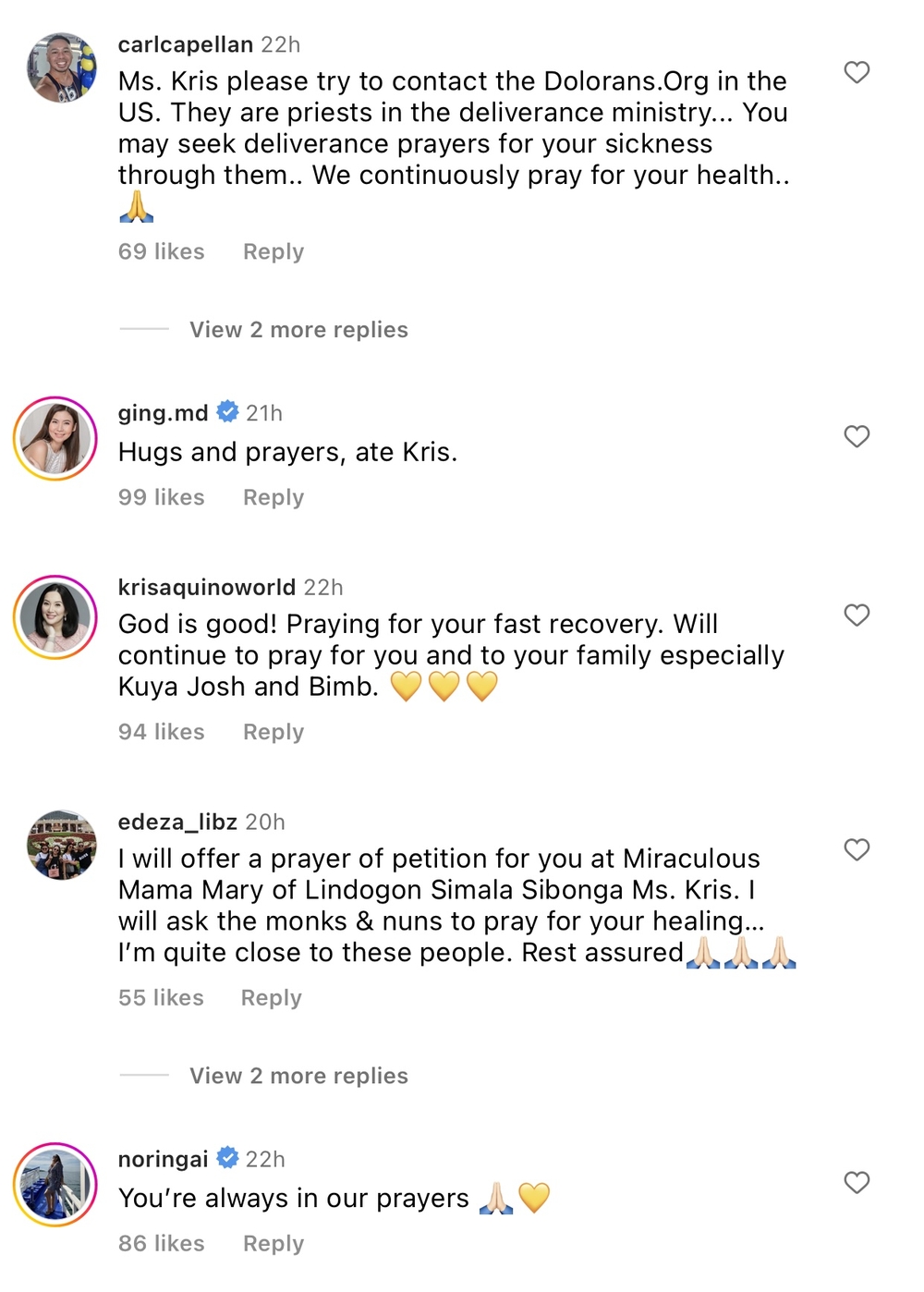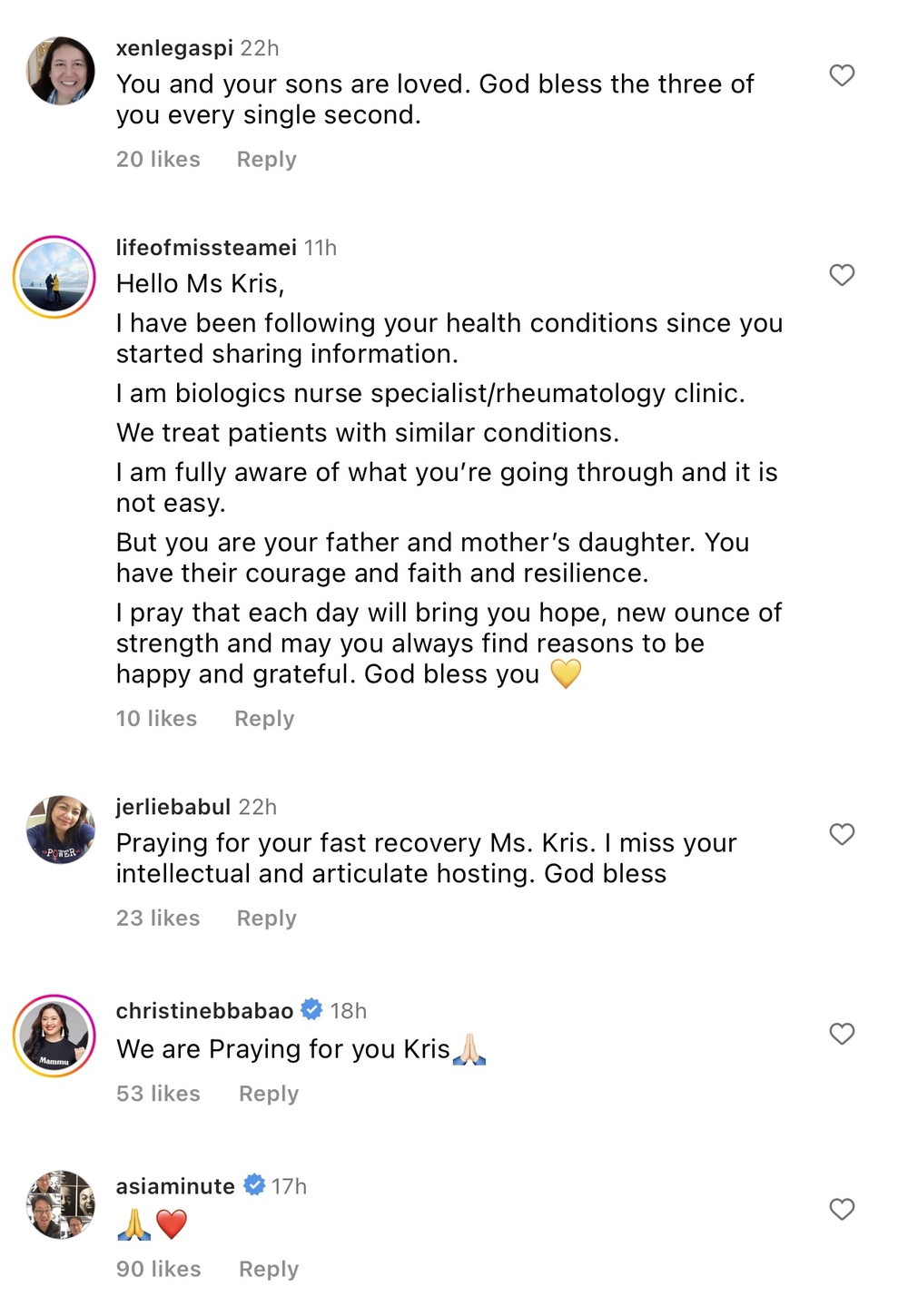 Get well soon, Kris and Bimby!
READ MORE: