Issa Pressman took a brief moment to update her fans regarding a health concern she is currenty facing.
Taking to Instagram on August 3, 2023, the Filipino-British artist shared a reel, explaining why she has been MIA these past few weeks.
Read: Issa Pressman on her bisexual journey: "I've been blessed to experience love with both men & women."
"Hola, guys! I'm just posting this video to let everyone know that if in case you see me sitting in the corner, not being sociable or just being quiet or not talking at all, that's just because I am healing from an operation," she said in the video.
"So, I grew a cyst on my vocal chord that's about to be removed. By the time that I upload this video, it's already out..."
One of the most significant adjustments for Issa was the requirement for total vocal rest post-surgery.

This means she would abstain from speaking for an extended period—a difficult but essential task for someone whose career involves using her voice.

"I'm already not allowed to talk for two weeks, and I'm gonna be on vocal rest and vocal rehab for three months," she revealed.
"That means no crazy talking and no singing also."
Her message was one of reassurance, as she expressed her optimism about the healing process and the eventual return to normalcy.
She promised, "There's a lot for the healing process, but then it's gonna be fun, and I'm gonna be okay.
"I'm just letting you guys know, just in case you think I'm sungit or antisocial, this is my reason," she waved goodbye smiling.
POST-OP RECOVERY
After going through the surgery, Issa opened up about how she was feeling throughout the whole experience.
She detailed (published as is), "Apparently it wasn't just one cyst there were a couple but regardless, the operation was a tiny incision.
"I think what was major was the anxiety leading up to it, the uncertainty of how much my voice will change, the sensitive healing process."
Despite this challenge, Issa shared that she was taking the time to focus on self-care.
The 28-year-old model emphasized that she was sleeping well, eating healthily, and making positive strides in her recovery period.

"Right now, I'm on total vocal rest. I haven't spoken in days. But I've been sleeping well, eating even better & healing good," she assured.
WELL WISHES AND SUPPORT
Fans and fellow celebrities, like Gabbi Garcia, Keiko Fox, and Rei Germar, sent their prayers for Issa's swift recuperation.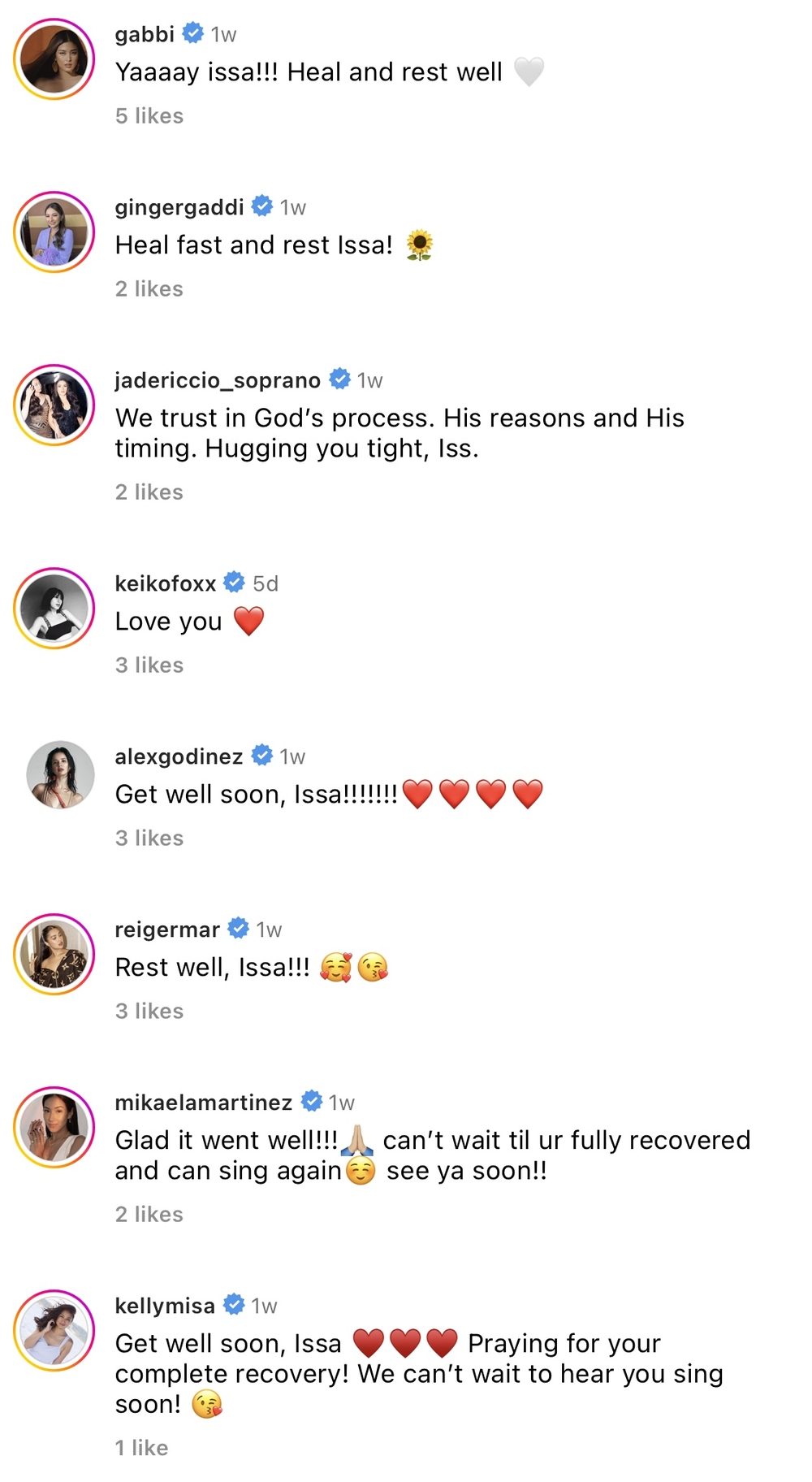 READ MORE: