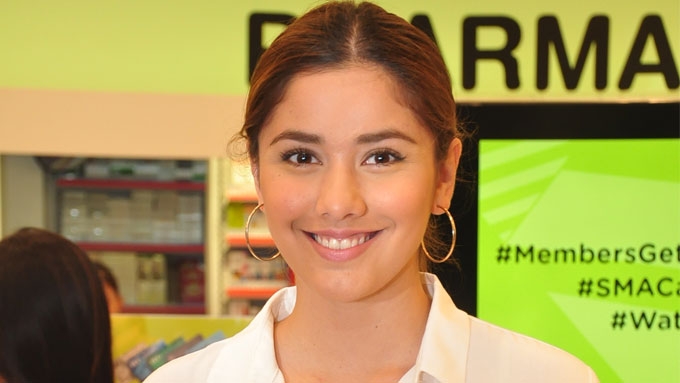 IMAGE PR
---
Lauren Young has never felt better.
Seven months after changing her lifestyle, her health and outlook in life have improved.
At the launch of SM Advantage Card Get More campaign held at Watsons, Lauren told PEP.ph (Philippine Entertainment Portal) that things have changed for her. 
"I feel great.
"I don't struggle when I walk up the stairs anymore.
"It's really the confidence also, unlike before na when I look in the mirror, I'm like, 'Mataba ako.'"
Changing her body shape was just as hard as changing the way she sees herself.
Lauren admitted that for a time she shied away from social activities.
"Before, I hate going out.
"It really happens to you when you're not comfortable in your own skin, clothes don't fit you.
"You don't feel at your best.
"So I just stay at home, I really disconnected myself from everyone."
How did she get out of that?
Her answer, "I had to really accept what I was going through, that I was trying to make a change, and really live by it.
"And it doesn't take months.
"It won't take three months before you can totally change your body."
DIET. So far, it's been quite a journey for Lauren, who's constantly in search of the diet and workout that will work for her.
"For me, it's a daily struggle, and you just really have the discipline to say no, and find alternatives.
"Now, I finally found what works for me, what workout works for me, what kind of food, dieting.
ADVERTISEMENT - CONTINUE READING BELOW
"And for me, I love rice, but I haven't eaten rice for three months, but that's okay."
She has made Google her best friend.
"I tried to educate myself on what's better for my body, which is not carbs.
"I found replacement for that para hindi ako magutom on the set.
"It's really just research."
Instead of rice, "I found quinoa. It's the same benefits. I don't get tired. I have energy but I don't gain weight anymore."
FITNESS. While she commended events host and planner Raymond Gutierrez for losing 65 pounds in three months, Lauren said her own fitness routine is not as strenuous.
"I'm very happy for him, but what he did was something I can't really do because working out every single day and intense dieting and all of that and, you know, some people say that there's no excuse for weight loss...
"But there are some people, it's hard for them, especially if they don't have the funds.
"It's really just finding alternatives, as I said.
"If you feel you can't afford gym membership, then Internet is your best friend. You can download all these apps, you can train or simply walk and try something, getting out of the bed, try a make little change."
Her workout will work even for lazy people.
"Just ten minutes. It's better than nothing.
"If I'm really having a bad day, and I don't want to work out and settle not working out, I'll still move, because once I stop, magtutuluy-tuloy na siya."
ADVERTISEMENT - CONTINUE READING BELOW
Every day, she runs or does brisk walking for 30 minutes.
Her workouts make her happy.
"I hate running, but I still do it every single day, so I do get the endorphins running through my system and that I don't get sad."
Her workout also considers those days she can't go to a gym.
"I do yoga in my living room. I'll do jumping jacks in my middle of my bedroom. I'll use my stairs in my condo. I'll walk up and down."
Having a buddy also helps, says the actress.
The younger sister of beauty queen Megan Young said, "She and Sab Magalona, we all work out together.
"We just have a group, we send little tips, it's having a support system."
Lauren does not measure her improvement with a weighing scale.
"I don't think I'll look what I used to when I was 17, but I'm okay with that."
As she said happily, "I'm healthy now."