Pregnancy woes vary, case to case.
And lucky are those who breeze through nine months of their pregnancy.
And, always, when the baby comes, it's a joyous event.
Then the real struggle begins. Every mom knows those cuddly ones have the power to make and unmake one's day.
But let's talk about you, the first-time mom. Especially you who still carry the weight of your pregnancy.
Worry no more, fitness coach Arnold Aninion is here to help you get back to your trimmer self.
For starters, he assures, "I have trained females who have given birth and do have that difficult pouch.
"It's a challenge and all women go through it. The birth weight, right?"
Among his celebrity clients is Georgina Wilson, who gave birth in December 2016.
According to Arnold, emotional dilemma is harder to deal with, "Things like stretch marks, all those can be emotional, too.
"It's traumatic because they have to look at themselves... and it's not what they saw in themselves nine months before.
"You have to coach them through that," he says, and the first step is goal-setting.
"You have to just try losing a couple of pounds," he urges.
Then "it just comes off," but for how long "depends on how much weight you've put on."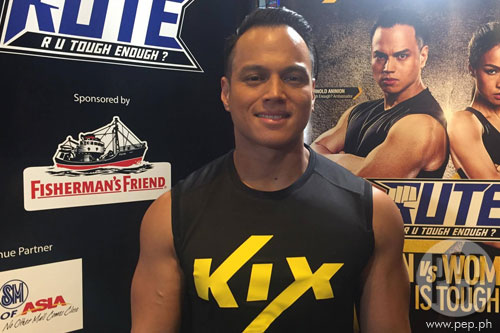 Another celebrity, Aubrey Miles, admitted that in her case she ballooned to 185 pounds after giving birth and she endured her new weight for over a year.
ADVERTISEMENT - CONTINUE READING BELOW ↓
Arnold and Aubrey have just launched their newest project, KiX' R U Tough Enough Man Vs. Woman challenge.
PEP.ph (Philippine Entertainment Portal) spoke with them during the event held at the Buffalo Wild Wings in Makati City last August 15.
The mother of two said, "To the mothers, don't rush it. Don't be scared.
"It will go away if you try and do it. Hindi iyong, 'Aww, it's there, kasi…' but you're not doing anything so it's not gonna go away.
"You have to do something, really try your hardest to get rid of it."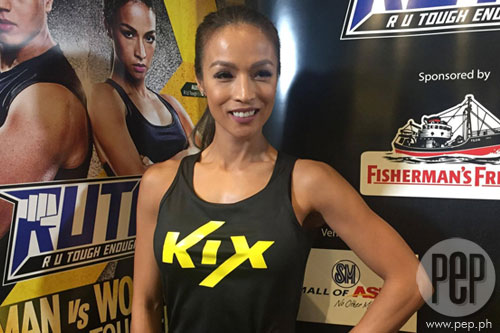 Agreeing, Arnold adds, "I think the longer you leave it, the harder it gets.
"You wanna try to act as fast as you can and deal with the pregnancy weight straight away.
"If you can, depending whether it was a natural birth or C-section."
Moms undergoing C-section are not allowed to exercise right away. The incision outside may have healed, but the cut in the inner layers of the skin may still be healing.
"But, the moment you take action and then you do something about it, it's easier to lose.
"If you leave it for a long long time, you'll just get bigger.
"And those things, it's just there. And so the trauma is even more.
"You gotta do it now. It's not too late if you are at this age…"
Mindful of the fathers and husbands in this scenario, Arnold adds in jest, "I know women, they endure so much pain when they give birth.
"But men endure just as much pain... the pain in our arm because women usually like to pinch us.
"And swearing at them, yelling at them, and yet we have to love them afterwards."