"Fat is not forever!"
This was Mariel Rodriguez-Padilla's personal motto when she ballooned up to 178 pounds after giving birth to her daughter, Isabella.
The struggle was real for the new mom.
She was much heavier than she was during pregnancy, and weighed heavier than her husband, Robin Padilla.
As a result, Mariel had limited wardrobe choices because her regular clothes no longer fit her. The same happened with her shoes, which were mostly a collection of studded Valentino heels.
Whenever Mariel was invited out to an event, her immediate reason for refusing the invitation was because she was "too fat to be seen."
She even turned down job offers because she knew her work as a television personality had weight expectations.
"I got so fat," Mariel simply said, recalling her pre-weight-loss journey with Marie France.
PEP.ph (Philippine Entertainment Portal) met up with the former Pinoy Big Brother host for a one-on-one interview at the slimming center's office in Bonifacio Global City in Taguig.
"The heaviest on record is a 177.4 pounds, but in my head, that's 178, okay? So, mas mabigat ako kay Robin, yung pants niya hindi sa akin kasya, ganon na siya kasama, alam mo yun?
"I had no clothes, I'm still wearing maternity clothes.
"I was heavier when I actually had Isabella in my belly!"
Mariel added that she avoided posting photos of herself on social media, and made herself scarce.
"I was basically just at home…
"I had to turn down jobs when I would be asked, 'Are you okay to do this?'
"[I would say,] 'Can you ask if it's okay that I'm fat?' Because they might be expecting that when I come down, I'm this beautiful mother, which I thought I wasn't.
"I was big."
But as Mariel said: Fat was not meant to be forever.
Today, she has lost over 40 pounds and is back in her best shape yet.
"I'm not saying that I'm back to my ideal weight. I'm not saying I'm payat.
"I'm just proud that I lost over 40 pounds already."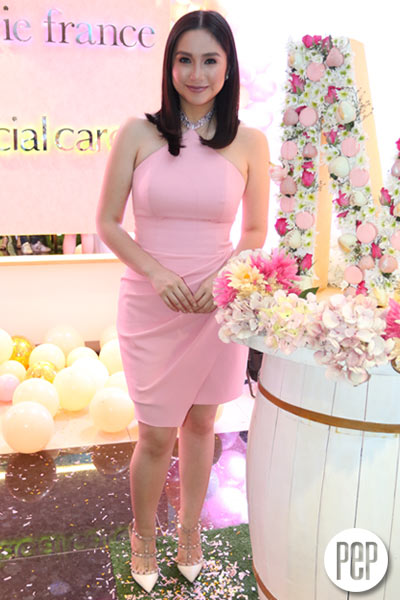 ALL FOR ISABELLA. Mariel jokingly referred to her first few months as a mom as "the dark days."
"Of course, the good because I just saw my baby finally after carrying her for nine months, but it wasn't what I thought it would be," she revealed.
One of the first struggles Mariel experienced as a new mom was breastfeeding.
She recalled, "Meron akong hormonal issues… I didn't have a lot of milk.
"So, naturally, [Isabella] was hungry, and I wanted to fully breastfeed her exclusively."
For three months, Mariel did whatever she could to fulfill that goal, and she resorted to eating all the food that could help with her lactation.
"Name the pampagatas, I was on it—fenugreek, malunggay, halaan, lactation cookies. I took all of those!
"And what really worked for me was the food intake. I needed to eat a lot.
"So, iyon talaga, I ate my way through it.
"I was able to breastfeed her for 14 months."
While it proved to be a success for Mariel's breastfeeding, it did lead to her weight gain.
"Feeling ko nung buntis naman ako, hindi ako yung super, parang, kadiring buntis?
"Feeling ko ang blooming ko, ganon. Feel na feel ko talaga.
"Then, it was after na feeling ko parang may bawi, alam mo yun?
"Binawi yung ganda!
"Kilala mo naman si old Mariel! I care so much about how I look, and that's all that mattered! Alam mo iyon?
"And then all of the sudden, you're this! Parang, how did that happen?!
"I mean, ito talaga yung shit happens!
"So, I was really depressed."
But Mariel also decided to look at the positive side of her weight gain.
She said, "Of course, I was happy! I was happy because, siyempre, I was a new mom.
"It was so hard to have the baby, di ba?
"I have a healthy baby. She's perfect… I was still so blessed.
"So, I had to weigh the pros and the cons of the situation and, at the end of the day, I was still very blessed.
"I just put in my head, 'Fat wasn't going to be forever.'
"I loved myself for 32 years, what's a year for her?
"And it is worth it!
"If I had to do it all over, I would because she's worth it.
"She's worth every thing."
With her newfound confidence, Mariel hopes her daughter will always see the best and pretty side of her mama.
Mariel said, "Gusto ko naman iyong paglaki niya, 'tapos kunwari sa school maglalagay sila ng pictures na kami ni mommy, di ba?
"Proud naman siya na, 'Ang ganda ng mommy ko!'"