Last week, Jessy Mendiola wowed her followers after posting her fitness progress on her Instagram Stories.
In her post, she showed off her figure clad in an old pair of jeans which is now too big for her to wear again.
She wrote, "My favorite pair of high-waist jeans aren't so high-waisted anymore.
"Kuripot kasi talaga ako guys, pero siguro sign na to para bumili na ng mga bagong damit? Tingin niyo?"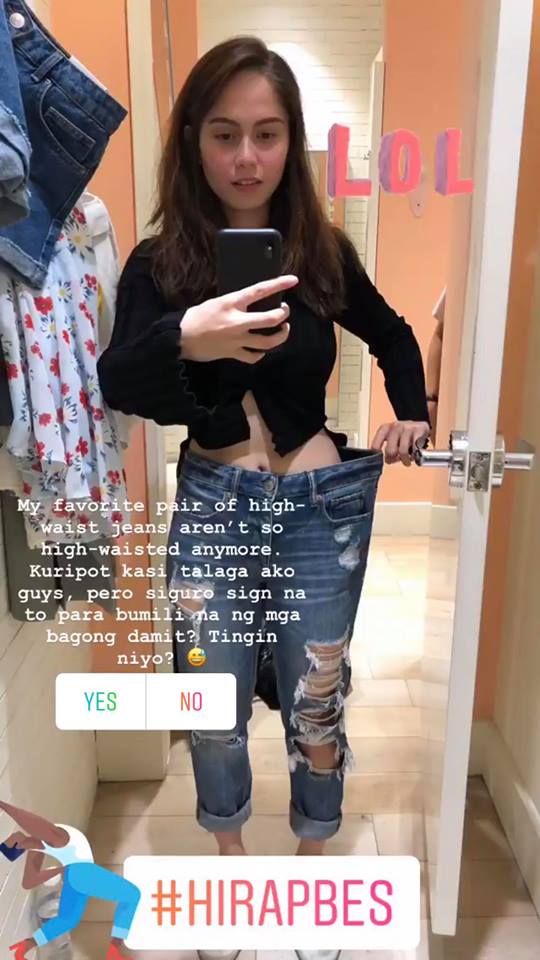 FITNESS JOURNEY. PEP.ph (Philippine Entertainment Portal) communicated with Jessy through Lyka De Nava of Star Magic to know more about her fitness journey.
The 25-year-old Kapamilya actress sent this message, "I'm very happy. I want to inspire others to start their fitness journey, too, not because of other people, but for themselves."
It started early this year. From 29 inches, she managed to trim her waistline to 24 in just three months.
She revealed, "I started getting serious about my food intake and workout choices mid February."
The Star Magic talent also said she does not follow a diet program; however, she has sought the help of nutritionist Nadine Tengco and fitness trainer Kat Geronimo.
She told PEP.ph, "I don't do diets... I only do juicing once in a while to restart my system. As for food intake I just eat anything I want in moderation.
"I also listen to my body, so I make sure that I get to do the right exercise for the day.
"I learned from my trainer and nutritionist that it isn't always about deprivation with food and beast mode in the gym.
Does she have a specific weight goal?
Jessy answered, "I don't have a weight goal, I just want to be healthy and active. I feel at my best and most beautiful when I feel healthy."
JESSY'S WORKOUT. A quick look in her Instagram account shows Muay Thai is her go-to fitness routine, with guidance from MMA fighter Ryan Jakiri.
For her cardio exercise, Jessy also started dancing early this year with Louie Torres.
Functional trainer Kat Geronimo was in charge of Jessy's core exercises.
In an Instagram post last March 23, Kat shared how proud she is of Jessy's progress.
She wrote, "It didn't happen overnight of course... no fad diets and death defying nonsense training was involved, she took the road less traveled in focusing on the most essential aspects of getting fit and strong, consistency and hard work as fuel and establishing mind and body connection to be in control...
"I maybe her coach but thats all her hard work... we're a team and we trust each other, I told her fitness isn't owned you pay rent everyday... if she did it so can you! Thank you for inspiring us @senorita_jessy keep shining..."
N