Frankie Pangilinan occupies the smallest room in the home of her parents Sharon Cuneta and Senator Francis "Kiko" Pangilinan.
The family home is on the upper floor of a posh residential building in Makati with a magnificent view of the city skyline, extending all the way to the Manila Bay.
A few days before she left for New York, Frankie gave PEP.ph (Philippine Entertainment Portal) a tour of her room that she herself designed.
FRANKIE'S CREATIVE ZONE
She says her room is her personal space, which was why she took great pains to make it her own creative zone.
"I work very hard to keep it a separate vibe from the rest of the house.
"Did you notice that when you come in? It's like the house smells different, and then when you go to my room, it's a different vibe.
"I made my own world so I work very hard to try to make it that way. I know it's my space."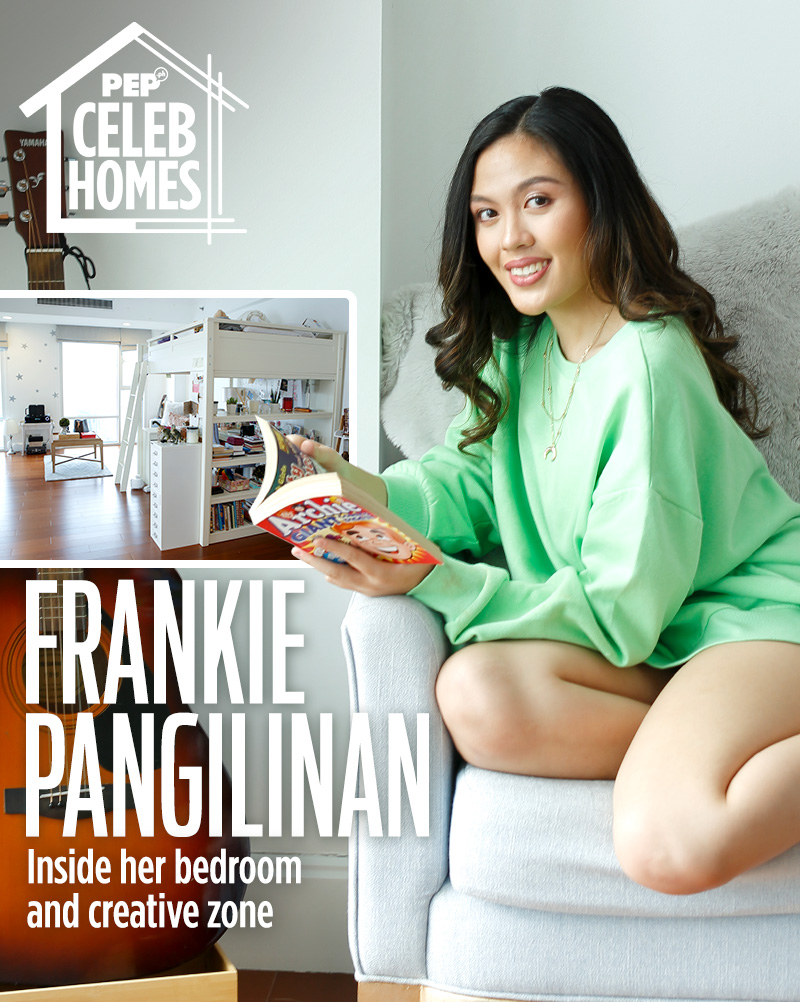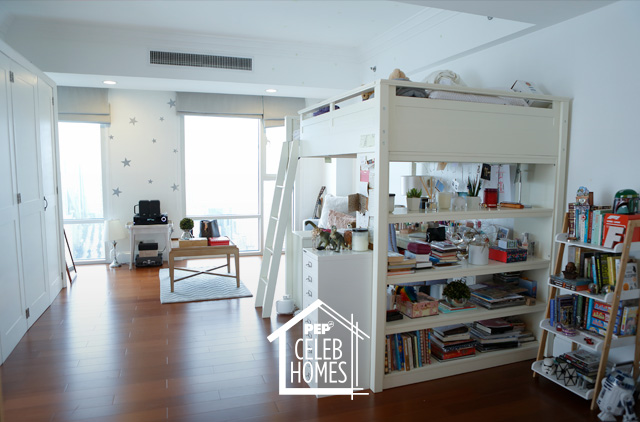 At night, her room is a sight to behold as luminescent stars light up the wall and ceiling.
She says, "I did my glow-in-the-dark stars and they've been with me since I was like 10 or 11."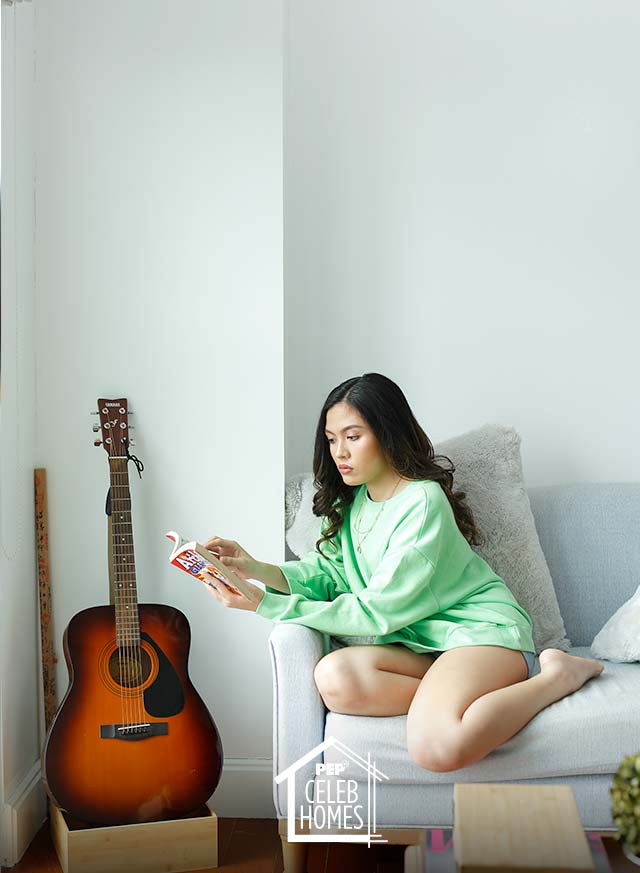 Then Frankie moves towards her sofa that is placed strategically near the floor-to-ceiling windows.
"Let's not forget my couch. I fought very hard to have this couch brought in here.
"I literally carried it myself. I forced my friend to carry it with me...I'm so sorry about that.
"I carried it myself across the hall because I was like…'where would my friends stay?'
"My bed is like that so it's so awkward."
When asked to name the favorite part of her room, she quickly answers: "Bed. I spend most of the time in bed."
She points to her loft bed with a desk that she got from Pottery Barn. It has a desk underneath the bed and one needs to climb several steps to reach the mattress.
"This is my bed and it's quite cool, actually, because underneath that is my desk. As you can see, this one is also meant to save space... if you have the smallest room in your house...
"I got this bed because they gave my brother the bed that I wanted, which was the Millennium Falcon bed from Pottery Barn."
The Millennium Falcon is the fictional starship in the Star Wars franchise.
According to Frankie, "I was like, 'Why'd you give it to him?'
"And my mom was like, 'You're a girl.' I was fifteen and was very sad, but its fine I'm over it.
"So over here, guys, again a little messy, but I like keeping it that way... it's kind of a reflection of my creative state in a way."
Beaming with pride as she surveys her room, she says, "It's all my creative space."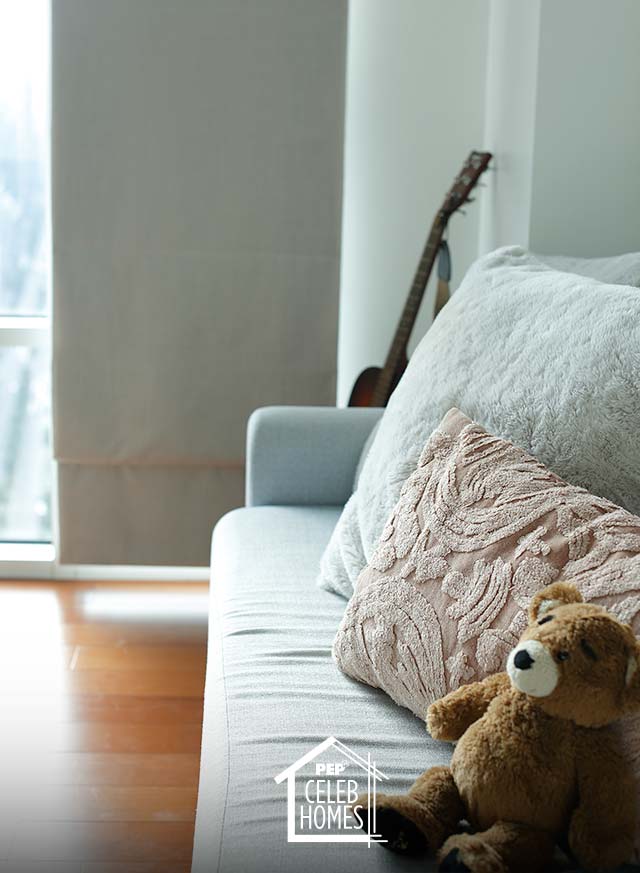 FRANKIE'S LITTLE OBSESSIONS
Her desk is filled with memorabilia and items that she describes as her "little obsessions."
She picks up a photo frame showing her picture with several girls, "I have this photo from Bangkok with me and my volleyball team. I was like a co-captain.
"I was not that good at volleyball, but we had so much fun."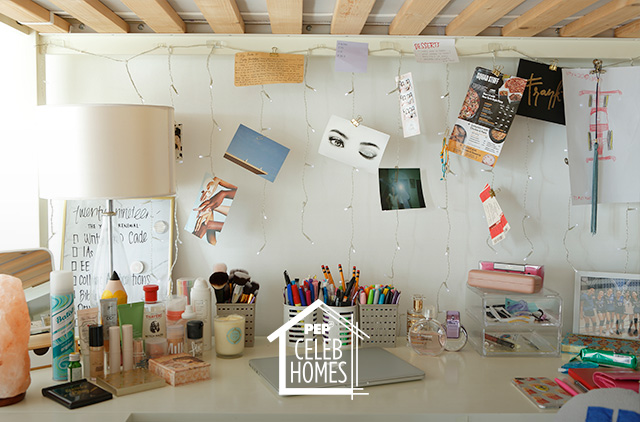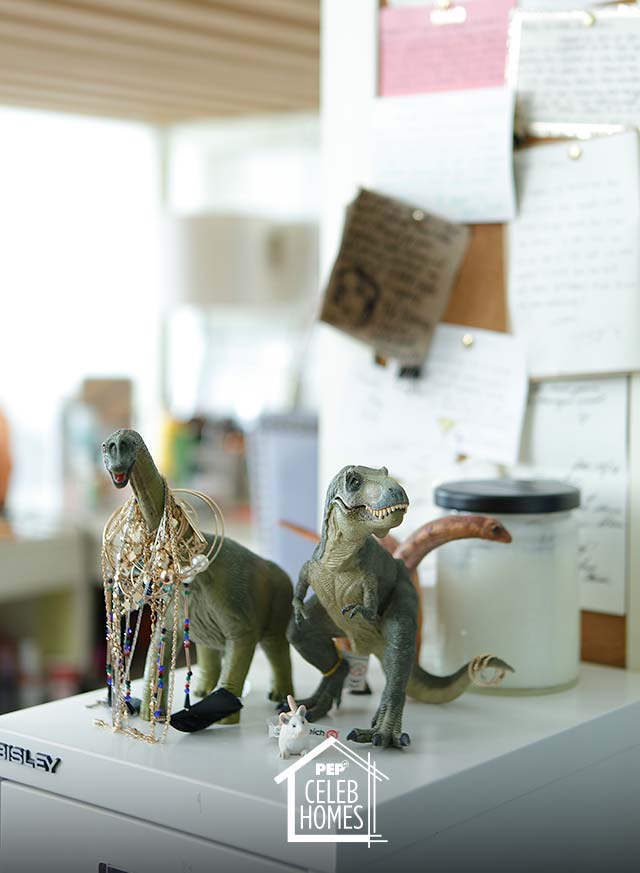 Another item that stands out is a dinosaur toy that has been repurposed to be a jewelry holder.
Frankie elucidates, "When I was a kid, I was really obsessed with dinosaurs, like I literally know anything about them, and I think I still do.
"So my dad would get me these these dinosaurs, like, every time he found some abroad or during trips. So that's why I have them here.
"Now, I just kinda put my jewelry on them to help me sort just the bracelets and the necklaces and stuff."
She also holds up a horror novel by Stephen King.
"We have The Shining it's actually my second favorite book in the world, I say second because my first is The Little Prince."
Antoine de Saint-Exupéry wrote the beloved children's book The Little Prince.
"I know that that's like two really contrasting genres, but I love Stephen King and anything horror, so I put that over there for when I might want to read it again later."
She looks over her stack of books, "There's the Civil Code of the Philippines and stuff that I stole from my dad's library and Harry Potter."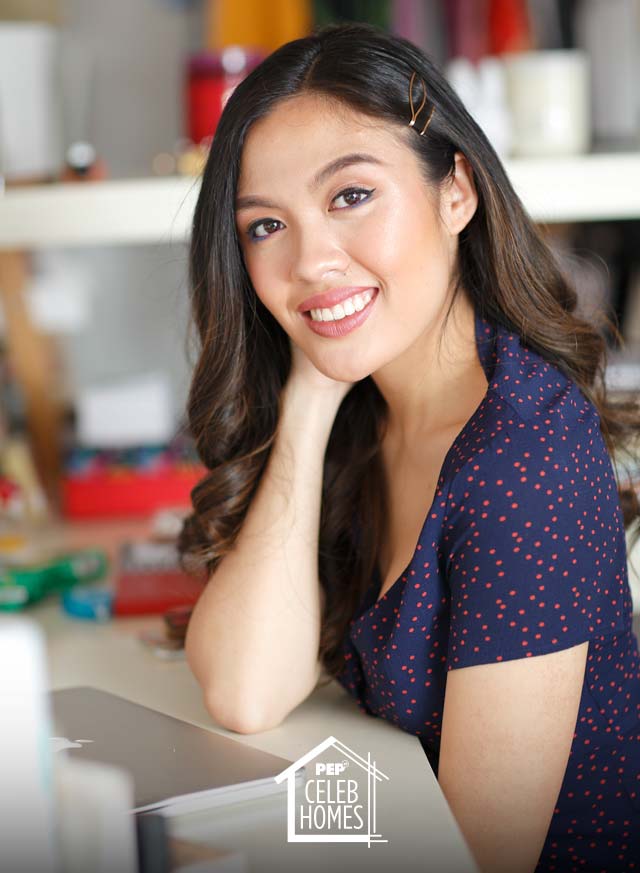 FRANKIE THE WRITER
Frankie is an accomplished singer in her own right, but she has another talent that people might not know about: she writes fiction online.
She says, "I'd sit there in the couch and I just write, write, write, write... not just songs, but poetry and my book.
"My book, yeah, I do have a novel. I kinda self-published it. I posted my draft online and people seem to like it.
"Writing is my number one passion, and I guess that translates to my music, to my songs. Obviously, I love music. I like singing and it all comes down to writing.
"I actually have written like six novels."
It's no surprise that she is taking up Literature at a university in New York City.
As Frankie puts it, "I didn't choose it, it chose me because I realized... a couple of years ago, I was asking, 'What's my passion? What's my passion?'
"'Tapos I'm writing about it, I don't know what my passion is, okay, there it is. I handwrite everything.
"I want to try my hand in journalism because I feel like there are so many things I could talk about."
In addition to studying literature, Frankie has also taken up anthropology.
She says she is fascinated by this field because, "Anthropology is how people act. How behavior changes society and culture.
"It's like the way that people interact 'coz psychology will only get to the root, to the science of it, like the medical study of the brain.
"That's interesting in itself but I don't think it's the most human thing 'coz you're studying technicalities of the brain, but there's more to the brain than that.
"I like that anthropology is about behavior and anthropology is about culture and everything that is so important for a Filipino where ten different cultures are mixed into one."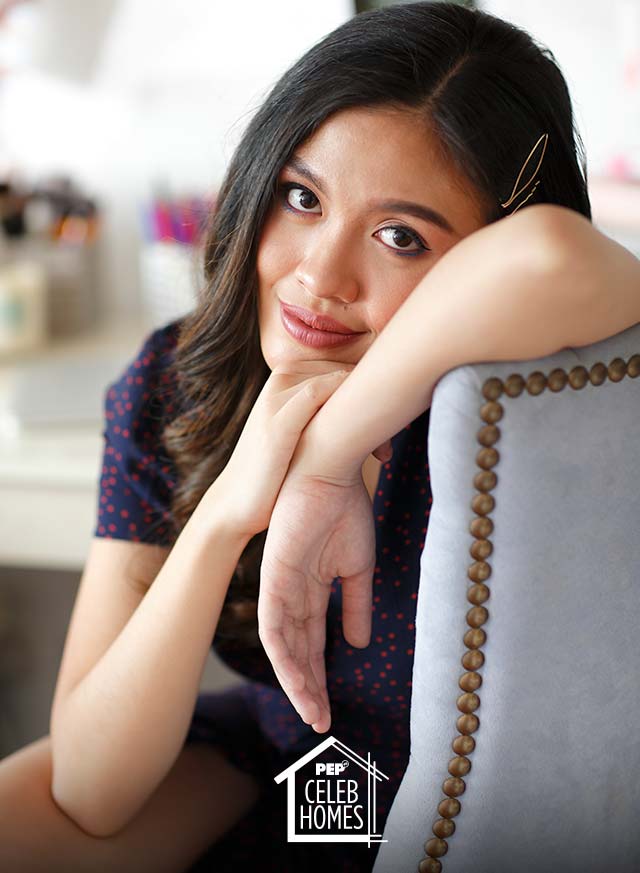 Her sister KC Concepcion finished her bachelor's degree in International Communications at The American University of Paris in 2007.
Why did Frankie choose New York?
She explains, "Why did I choose New York? The city of Jazz.. it's a city that never sleeps, and I'm the girl who never sleeps, so I think there must be some kind of spiritual connection there.
"I read that New York is so diverse and it's so professional and like whenever I go, there this weird mix of romantic and practical.
"I think that that's something that I need in college because I need to stay inspired but I need to stay working hard."
She emphasizes there's nothing wrong with the schools here in the Philippines.
"All my teachers are from U.P. [University of the Philippines], but I feel like if I went to U.P., I'd feel an overwhelming amount of pressure to live up to...
"Like there's a certain standard there. I wouldn't want to let anybody down and ruin everyone's perception about my parents or me or anything like that."
FRANKIE AS DAUGHTER OF THE MEGASTAR
How does she deal with the pressure of being a daughter of Sharon Cuneta?
"I've never felt like I had to deal with the pressure," admits the 18-year-old student.
"I think we were kind of never thrust into anything…I mean obviously you have to realize that you also have a responsibility when it comes to the name.
"You have to realize na there's a certain degree of self-awareness that you have to have in terms of being related to someone so iconic.
"It's definitely a blessing first and foremost. It's such a blessing and, secondly, I think that it's a responsibility because you don't realize the impact you have on people.
"And there are so many people with this kind of platform who don't necessarily use it.
"If anything, I want to be someone who's able to make a nice difference."
Does she consider Sharon to be a stage mom?
"She's really not a stage mom, she would never force us to do anything like that.
"She never forced me into anything but when she found out that music was really something I wanted to pursue, or writing was something I wanted to pursue, obviously, she was able to open more doors."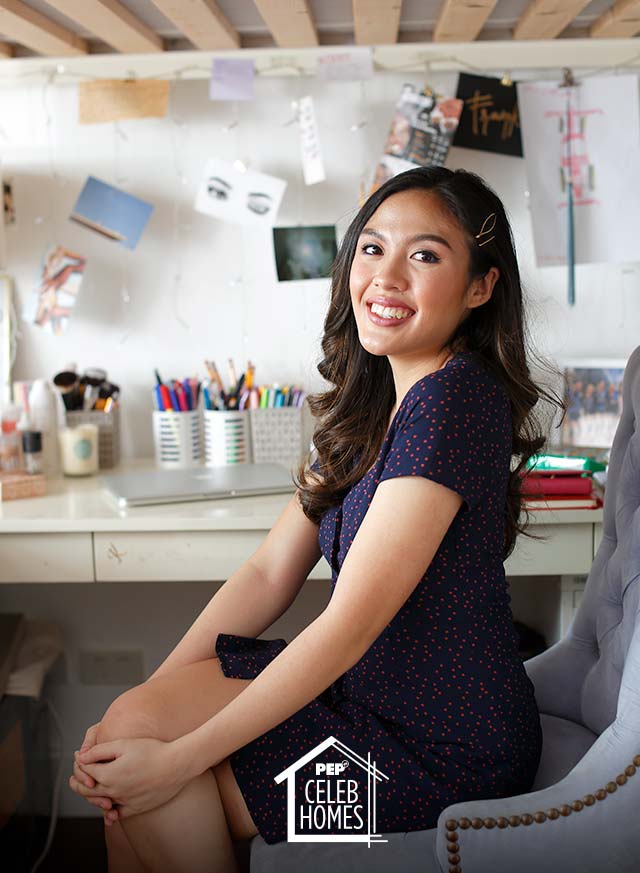 FRANKIE HAS THE FREEDOM TO CHOOSE
Has she considered following in the political steps of her dad?
Frankie admits, "I am not the person for that job. I think there are so many people who could do it better than I am…people with much more experience, much more passion for that thing.
"I'm passionate about the country, but not necessarily the government in particular."
Is she open then to acting as her sister KC has done?
"I think so, because I think acting is a wonderful craft. It's one of those things where you can be someone else without judgement. I think it would be fun."
Has she received offers to try acting?
"Ever since I was small, I received offers. I think that was my parents' choice to protect me from that because they don't want to choose for me.
"I'm so happy that have this kind of freedom. I feel like I'm much more my own person; I feel like if I have been involved in it so hard-core.
"Number one, I would have never realized my passion for many things; number two, I would never have had enough time to read anything.
"I don't think I would have been able to find things that I love and I'm obsessed with if I was like thrust into a career at such a young age.
"I'm happy 'coz it gave me independence and liberation."
PRODUCTION CREDITS:
PHOTOGRAPHER: Ocs Alvarez
SHOOT PRODUCER: Nikko Angelo Tuazon
CREATIVE DIRECTOR: Jeremiah Idanan
STYLIST: Nikko Angelo Tuazon and Jeremiah Idanan
MAKE-UP AND HAIR: Muriel Vega Perez and Erika Eileen Glendro
INTERVIEW BY: Jocelyn Dimaculangan
VIDEO PRODUCERS: Mart Francisco, Pam Carlota
Special thanks to Narciso Chan of Curve Entertainment