In 2018, GMA-7 actor Derek Ramsay revealed to PEP.ph (Philippine Entertainment Portal) his plan to build his dream home in Ayala Alabang, a posh subdivision in Muntinlupa City.
At that time, PEP.ph and YES! Magazine were doing a story about his two-story home in Alabang Hills.
He also promised then that he would give PEP.ph an exclusive tour of his new home once it is built.
Two years later, true to his word, Derek warmly welcomed the PEP team to his dream home on the sunny Friday afternoon of February 26, 2021, for an exclusive feature in PEP.ph's Celeb Homes.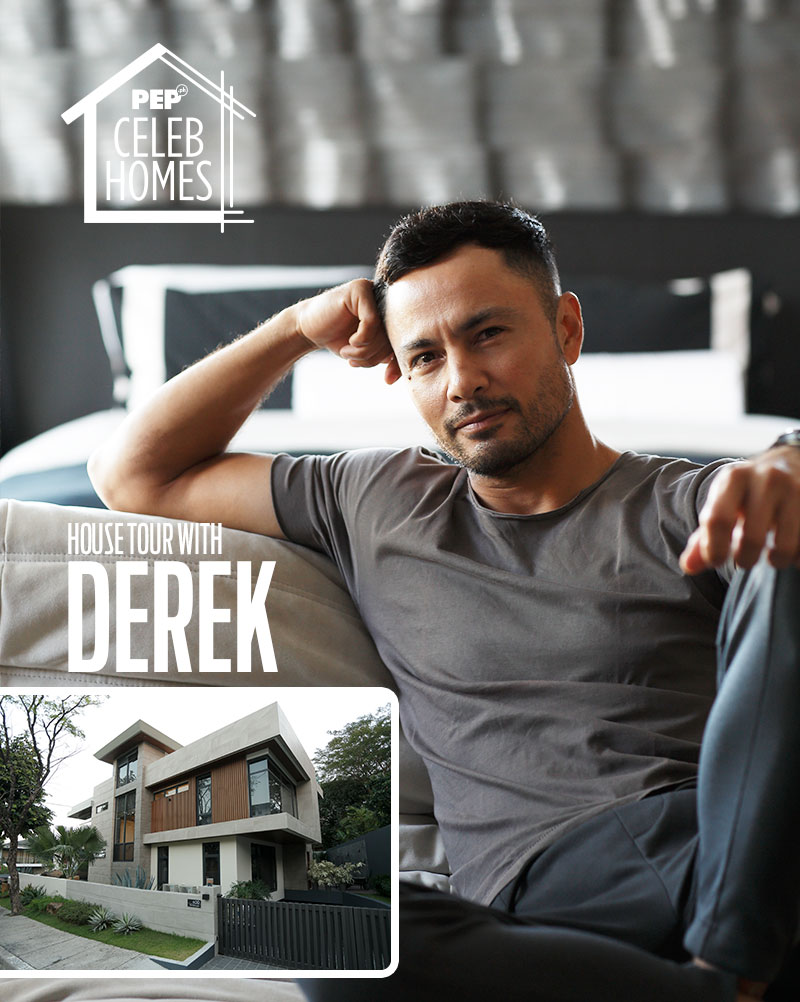 the architecture
Derek's modern contemporary home sits on an 850 square-meter corner lot, with the three-story house covering over 2000 square meters of floor area that includes the basement.
The 44-year-old Kapuso actor said, "It's been a long road to get here, almost two years, but finally 'tapos na.
"And we're living here so now it feels like a home. I'd say mga ninety-eight percent, tapos na siya.
"I was supposed to move in December 2019, and then na-move to February, and then naabutan ng lockdown so I moved in August 2020."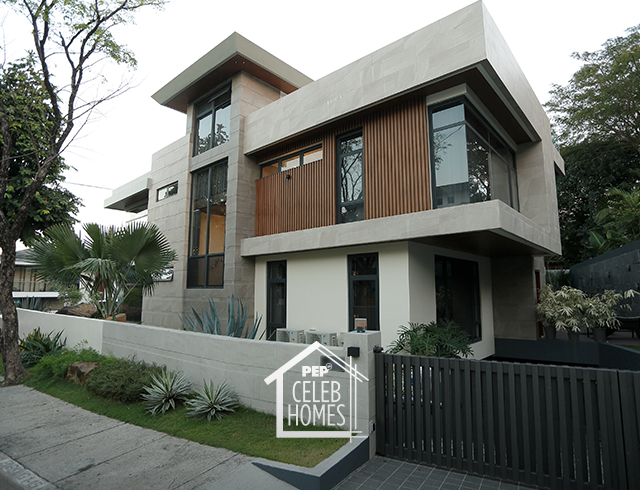 The house was designed by the architect Alexander Co—who also did the homes of Claudine Barretto and Julia Barretto—with Derek dipping into the interior design.
The actor-businessman related, "He came up with the design and I fell in love with it, and then I added minor things here and there, twineak namin.
"The interiors, sabi ko, "This is my canvas, let me handle the interiors.'
"He's a really good architect. I love his design, but I really wanted to take control of what happens inside the house."
Meanwhile, the Muntinlupa-based Draco Builders, according to a post on their official Facebook page, was a major supplier of construction materials for Derek's dream home.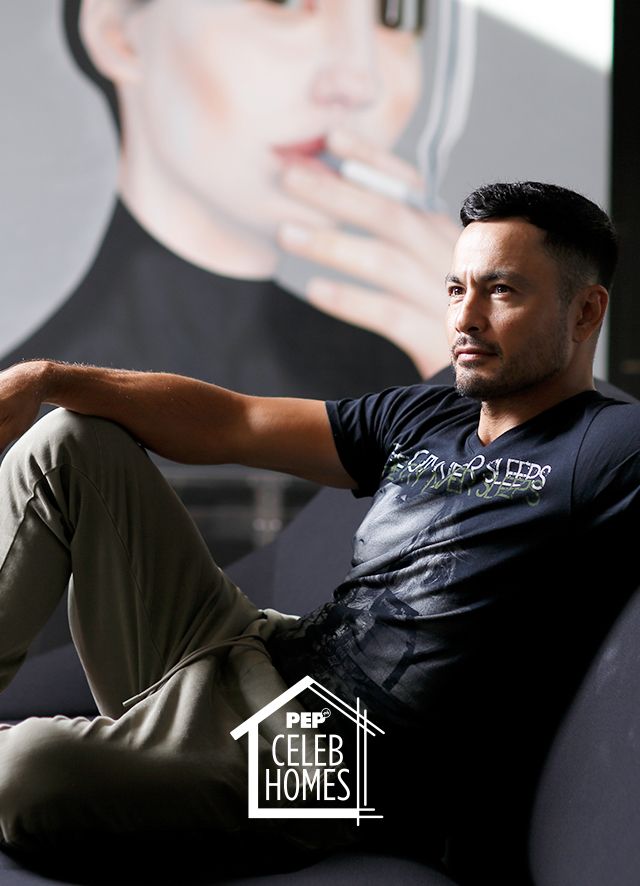 At the house entrance, the conversation piece is a seven-ton rock that sits in one corner of a small garden running along the perimeter fence. Derek said he plans to put the house's number on this small boulder and light it up.
Showing his home on his YouTube channel last November 2020, Derek said that the rock was very heavy, that it took a crane to land it in the garden, and that it nearly hit the glass windows of his parents' room and the fence as the rock dangled perilously aloft.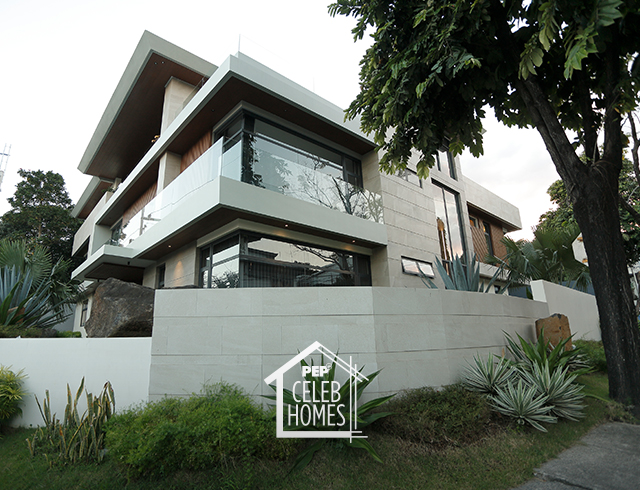 a gallery of sorts
There is a masculine personality running throughout the house. The furniture and art pieces, Derek's choices, also gave the house the feel of a hotel.
Agreeing, the actor told PEP.ph, "Ang dami nagsasabi na parang museum siya, but at the same time, homey.
"Actually, that was kind of like the idea that I was going for. Kind of like a resort or gallery but homey feels.
"Now na marami nang nakatira dito, it's getting more of that homey feel."
Derek's son Austin has been living with him since 2016. His nephew, Elian Barclay Ramsay, is also staying at his home for the time being.
Derek also invites his girlfriend Ellen Adarna and her son Elias to hangout at his place every once in a while. Ellen also happens to be Derek's neighbor. They live five houses away from each other.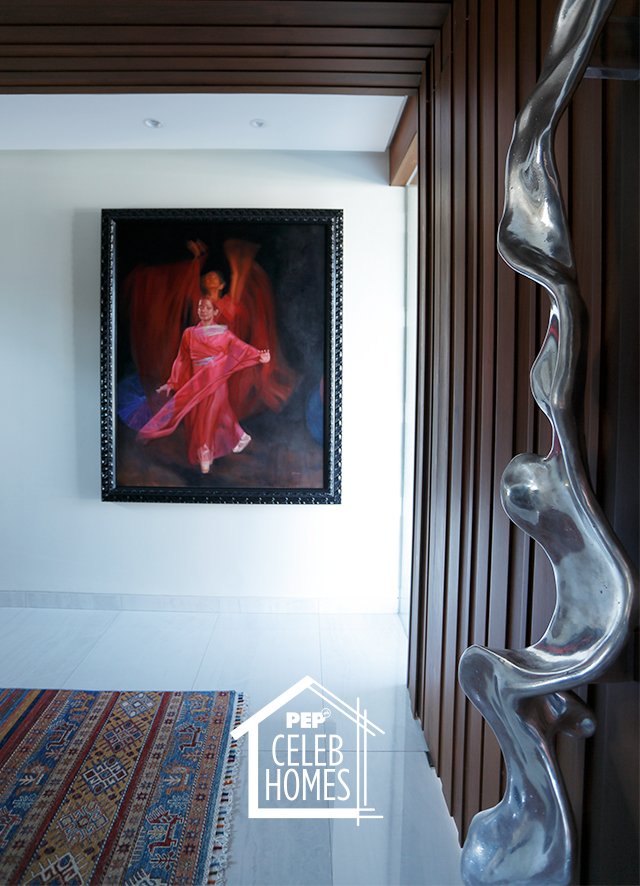 Derek, acting as his own interior decorator, had a sculpture by Jinggoy Buensuceso installed as the handle of the main door.
The custom-made art piece, which is part of the artist's Splash series, is made of molten and buffed aluminum resembling a splash of water suspended in time.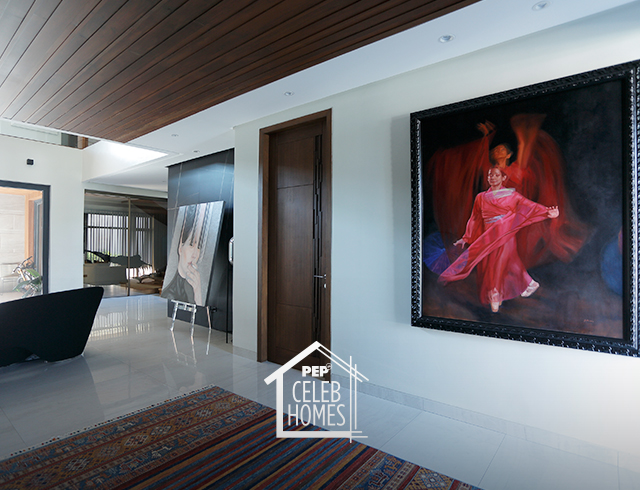 Placed on the wall beside the window is this 60 inches by 48 inches oil in canvas painting of a ballerina in a kimono by Sandra Fabie-Gfeller. The painting is called "Quinacridone Rose and Ultramarine Deep."
Also seen in the photo above is one of Derek's collections of colorful Persian rugs. It covers a portion of the living room's all-white floor and lends contrast as well.
Meanwhile, one of his favorite art pieces in the house is an oil on canvas painting by Dominic Jinon called "Free Will."
Of the artist, Derek enthused, "Super amazing artist, very young. And he's making a lot of noise right now."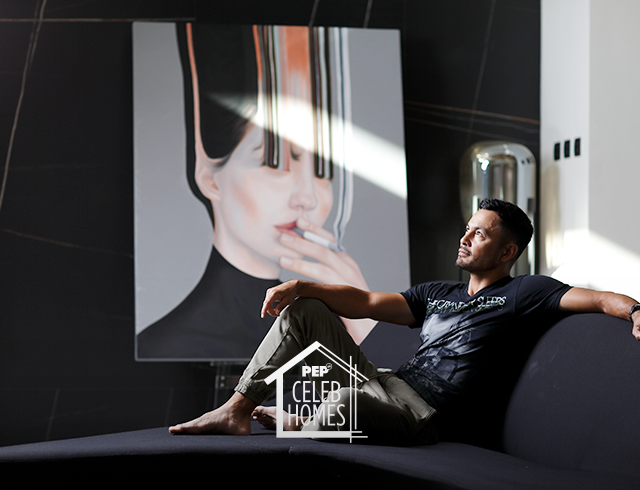 Asked where he got his passion for interior design, Derek said he got it from his mother Remedios Ramsay.
"My mom, she always said na yung kaartehan, yung kalandian sa gamit, sa sarili, sabi niya my sisters didn't get that. Ako yung nakakuha.
"Pag nakita niyo yung bahay namin sa Tagaytay, you'll understand what kind of woman my mom is."
He added, "I guess I got interested in interior design when I started building my Palawan house, and I really enjoyed the entire process.
"So I built Alabang Hills, you saw naman my house in Alabang Hills. So I played around with this house.
"And I'm planning to build maybe one in Caliraya. So na-enjoy ko talaga the whole process of building.
"Yeah, there's a lot of stress kasi, most of the time, hindi naabutan yung mga dates na pina-promise sa 'yo, but.
"But like the whole process of putting pieces together—I really, really enjoyed, and I got that from my mom."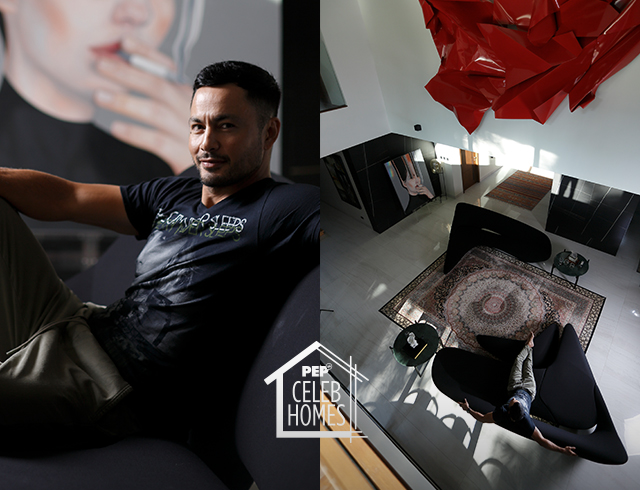 Among the designer furniture pieces in Derek's living room are the boomerang-shaped sofas, which are sold in the market as part of the Moon System designed by Iraqi architect Zaha Hadid in collaboration with B&B Italia.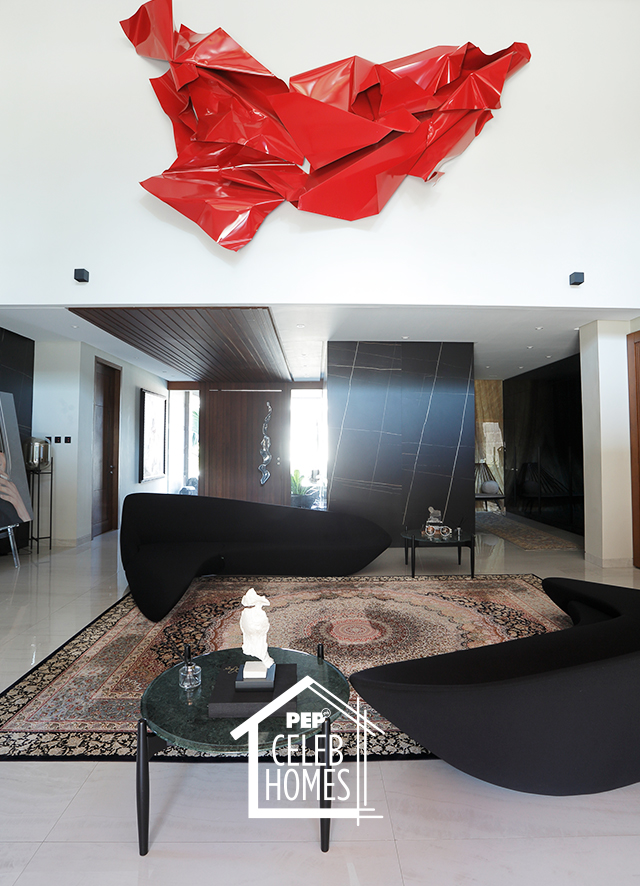 The pieces are all Derek's choices, for a reason: "Every room, I want some talking pieces para kapag may mga bisita, merong something to talk about, and at the same time, they're also functional and comfortable.
"They look funky, they look interesting, but at the same time they're very, very comfortable. I find it very, very comfortable. It's kind of the firm side.
"It's very modern, so I paired it with our Persian silk rug, para may konting contrast."
According to chaplins.com.uk, a Moon System sofa, including the ottoman, is priced at USD13,119.60 or around PHP650,000.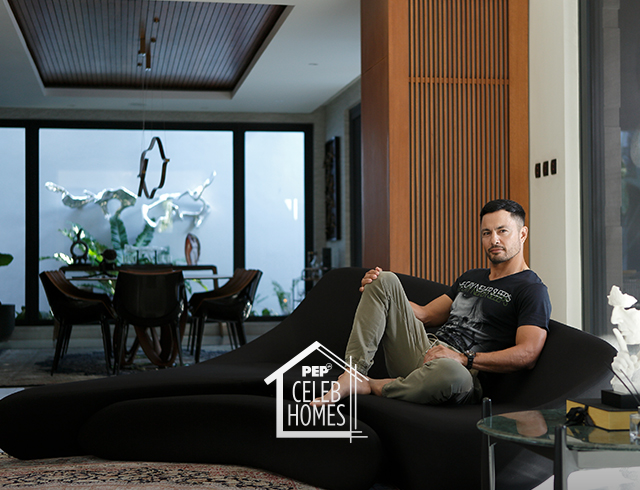 A three-piece origami-inspired sculpture by Buensuceso mounted on a slanted ceiling crowns the living-room area.
Raving, Derek said, "I love art, so the star of the show is Jinggoy Buensuceso... Ito, this guy, magiging national artist ito. Sobrang genius, amazing artist.
"I didn't put a chandelier anymore because the attention will be taken away from Jinggoy's masterpiece. So nilagyan namin ng spotlight."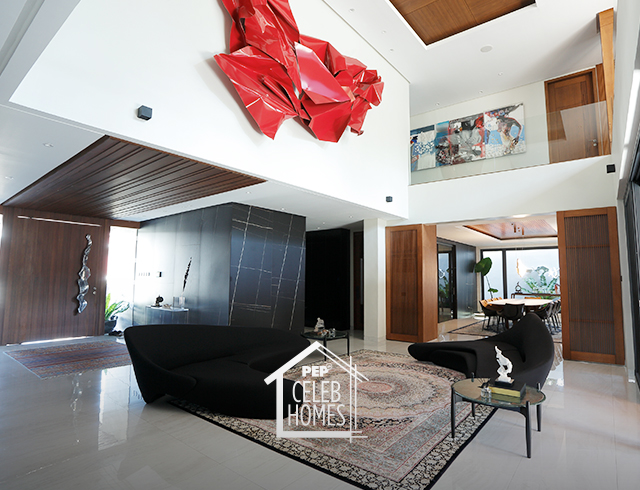 Derek said it took the artist around two months to finish the bespoke art piece.
"He got the size of the wall, came up with the concept, I approved it—and, yup, there it it is.
"I didn't want him to rush it. I told him to take his time. Now, it looks perfect where it is."
A full view of Buensuceso's sculpture can be seen from the second floor of the house.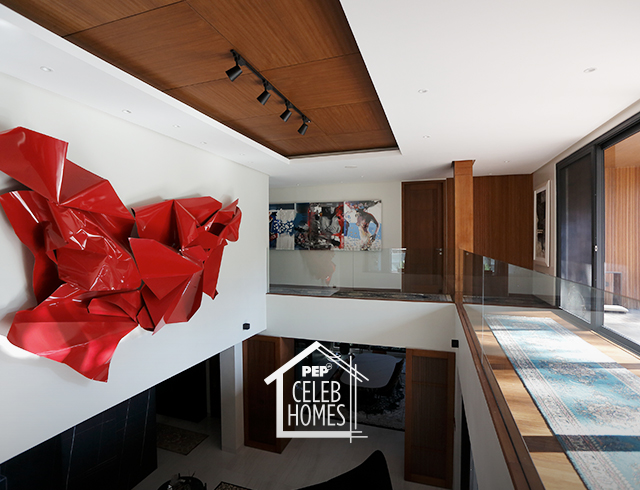 ELEVATOR AND POWDER ROOM
The house also has an elevator, which he has never used, saying it's for his parents, who are both over 70 years old.
Just outside the elevator is an upholstered wooden bench from Home Studio Inc., a luxury furniture shop curated by Grant Lim in San Juan City.
According to Derek, he has made the rounds of furniture stores in the country and names Home Studio, B&B Italia, and Casa Bella among his favorites.
Right next to the elevator on the first floor is the powder room. In his vlog, a playful Derek said he had the urinal installed for "guests na hindi marunong mag-aim."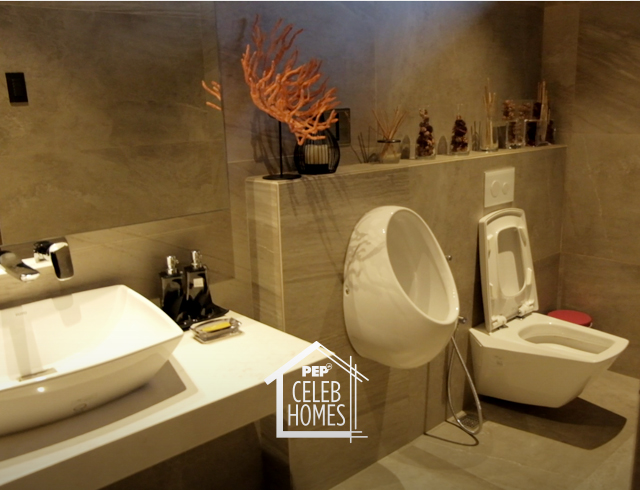 This Paper Planes Armchair by Moroso is tucked in a corner right outside the elevator on the second floor. The chair designed by Nipa Doshi in Jonathan Levien in 2010 is priced at USD4,688.77 or around PHP230,000 on nest.co.uk.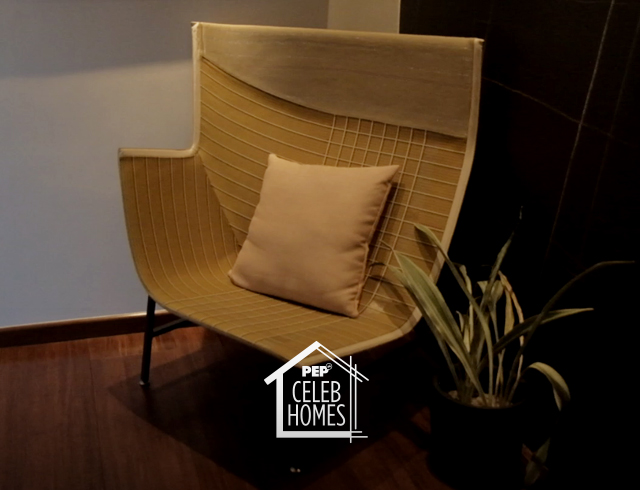 KITCHEN AND DINING AREA
Derek made sure that all of the main areas of the house connect to the living room, which is right across the dining area.
Explaining, the hunk actor said, "Kung napansin niyo dito sa bahay ko, like wherever you stand, nakikita niyo yung next room.
"Ganun talaga yung pinagawa kong bahay kasi, para if you have the other parts of the family there [living room], other parts of the family here [dining room], we can all see and communicate with one another."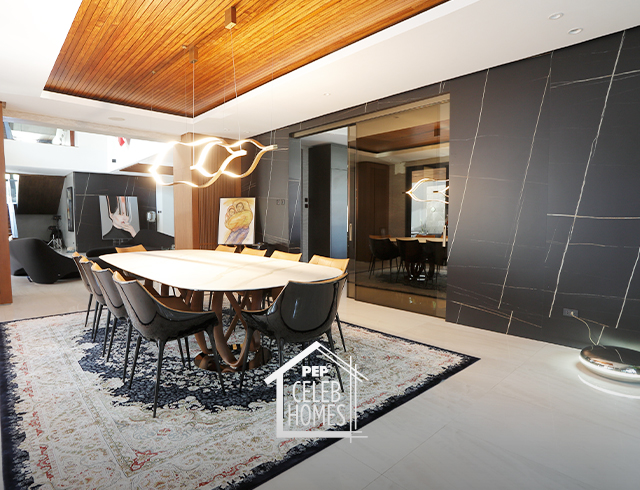 Derek's dining table, also called the "Infinity table," which he bought from Home Studio, is a Porada, an Italian brand.
The tabletop is made of porcelain tile inspired from Calacatta marble and mounted on glass supported by two intricately carved Canaletta walnut woods on a chrome base.
He paired it with ten Philippe Starck chairs called "The Stilettos," which he got from Casa Bella in Makati City.
"I sourced them from different stores. I fell in love with the table. I love the wooden, parang infinity legs.
"And then I matched it with the Philippe Starck na I find very masculine, even though it's called The Stiletto. I think it's perfect."
Derek said he has already made good memories with his family over dinner on this table.
"We've really had so many wonderful dinners here, great conversation, great memories, held right here."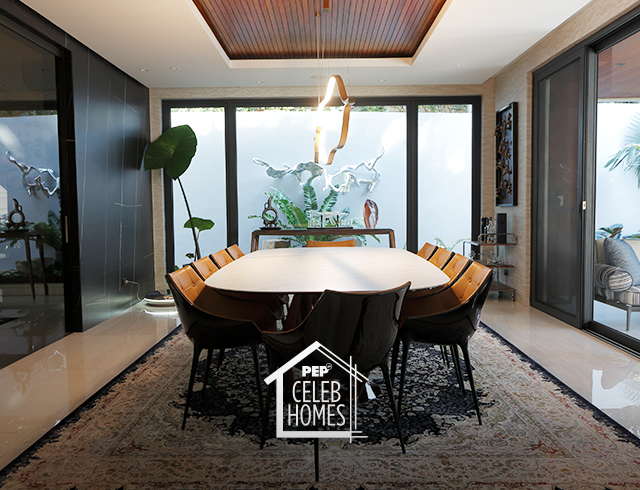 Some of the accessories found inside the dining area come from Home Studio, including the sculpture of a naked woman and the decanter for scotch placed on the table by the window.
The other decanter, which Derek bought in Turkey, sits on the console's left side and is for wine.
Right outside the window, another Splash piece by Jinggoy is mounted on the perimeter fence.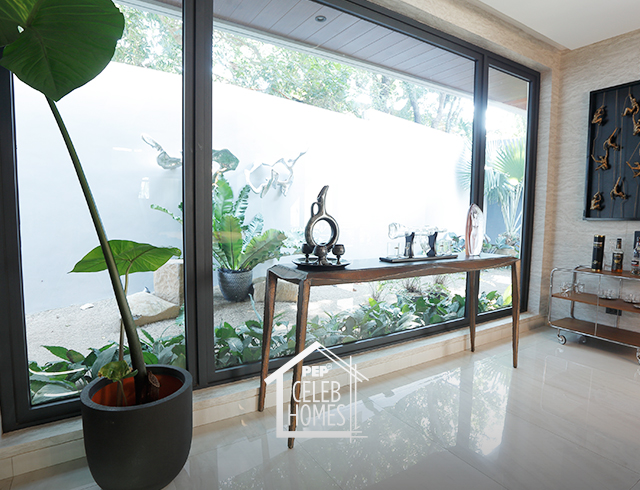 The sliding door on the left side of the dining area leads to his kitchen, a combination of wood, stainless steel, and lacquer built by Poliform, another Italian furniture brand.
Derek is proud of this kitchen—and, indeed, it is gorgeous. He said, "I got this kitchen from Poliform. For me, they're the best in the business, and ito talaga yung ginastusan ko. Don't go cheap on your kitchen, guys."
His kitchen also boasts wide counter spaces for cooking preparation and lots of spacious cabinets for storage. And, blending perfectly with the cabinets is an integrated refrigerator made of airplane-grade metal.
A breakfast nook in the middle of the kitchen is where Derek usually hangs out in the morning.
As he put it, "I really, really invested in my kitchen. I like working and spending time in the kitchen. I don't really cook, but I like to hang out here especially in the mornings, andito kami."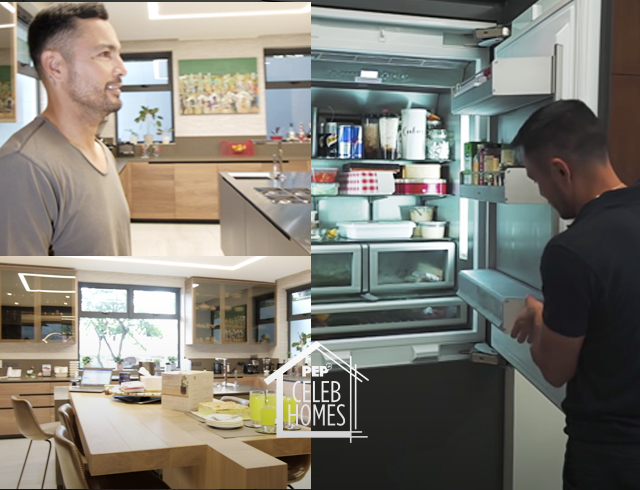 LANAI AND POOL AREA
Derek's other chill spot in his house is the lanai and pool area at the back of his house, which he described as "parang you're in a resort."
It's exactly the way he likes it. As he told PEP.ph: "a resort-slash-home feel."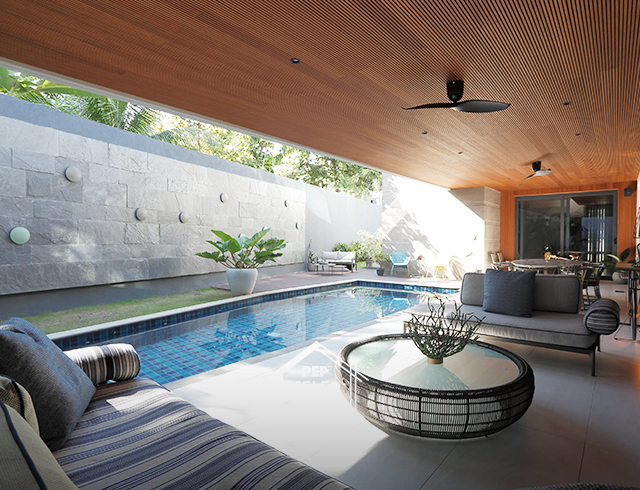 The pool is there mainly for Derek to get his exercise, "Hindi masyadong malalim para it's safe for the kids and, at the same time, I can get my exercise din. I just do a few laps every now and then."
The Kasal actor added, "Again, we just chill here, have some wine, have some beer, spend time with the family."
He said he got the upholstered outdoor sofa set from B&B Italia.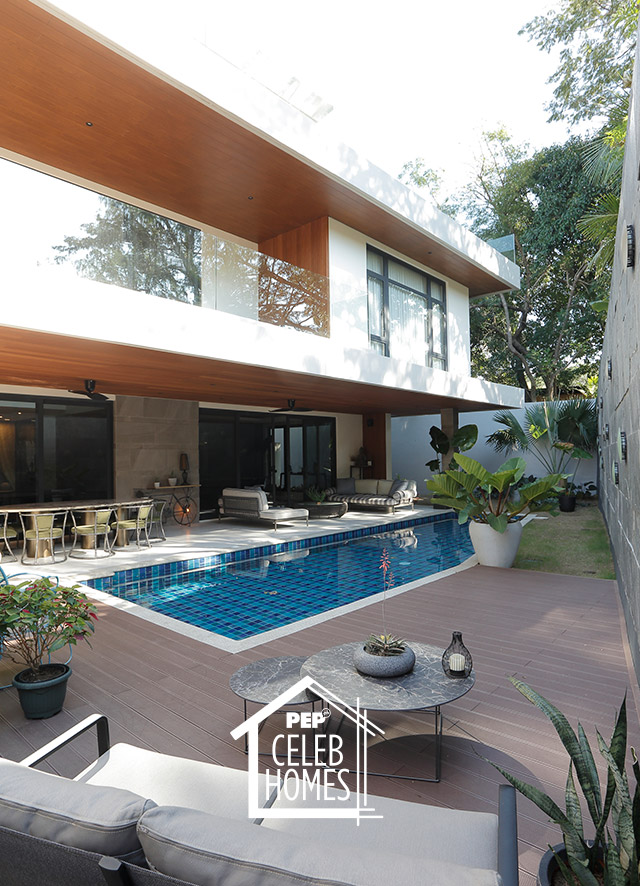 The "talking piece" in the pool area is the Patagonia marble table about which he said, "Sobrang bigat nito. It took ten guys to carry this."
It is paired with chairs that, Derek was proud to say, are made here in the Philippines by Industria Edition, a Pampanga-based furniture shop.
For the chair covering, he has chosen "a nice olive material kasi nga andito tayo sa outdoor."
Derek is quite satisfied with his choice. "I think it goes perfectly well with this beautiful table."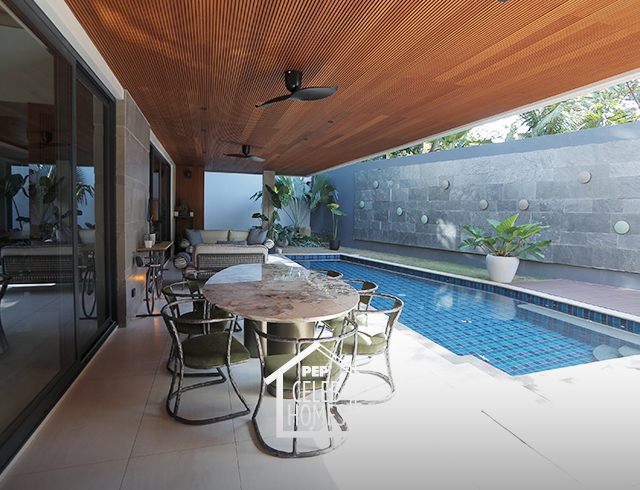 Derek revealed he is planning to buy the lot behind his property, where he will build a spacious garden.
With his fingers crossed, he said, "Ang dream ko is bilhin ko yung lote across. Kapag nabili ko yun, ibabagsak ko itong wall na ito and it's gonna be one huge garden. And I'll get to go around, play around in the garden over there. Sana, I hope!"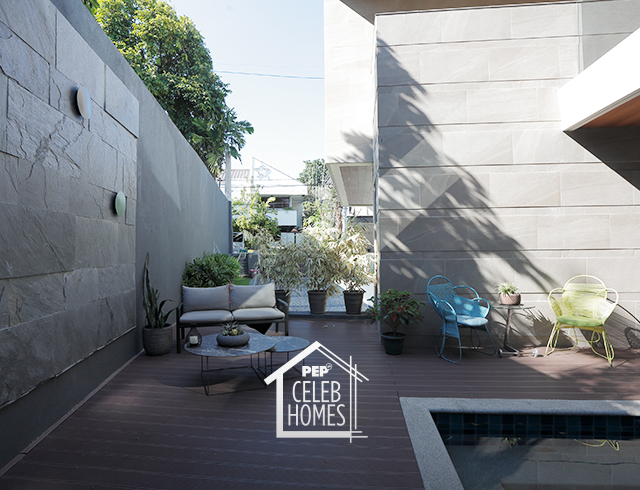 THE DEN
Part of Derek's morning ritual is to go to his den "to have my coffee, watch the news or watch some basketball."
Here, too, he said, is "where the family watches TV together, pero if everyone in the family is to come over, dun kami sa roof deck kasi ang dami namin."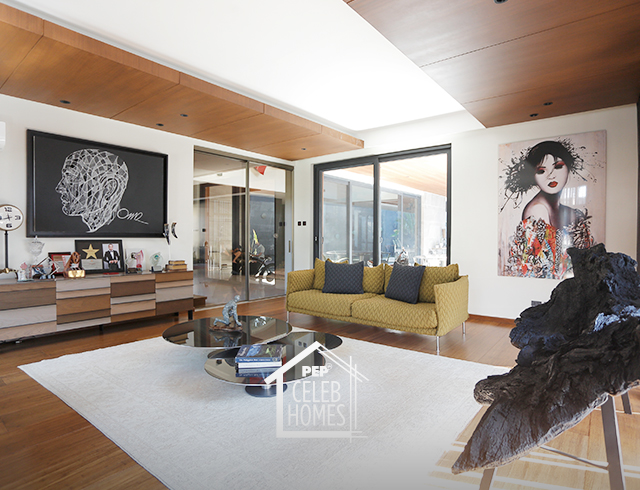 Prominently mounted on one wall of the den is a portrait of Derek done by visual artist Omar Ordoñez Flores. It hangs over a display of the actor's prized trophies on top of a stylish commode.
He won two of the trophies as Best Actor at the Metro Manila Film Festival for the movies English Only, Please (2014) and All of You (2017). He bagged the third trophy, with actor John Estrada, at the Jack Nicklaus invitational golf tournament in 2017.
The actor-athlete said, "This is also where I keep my awards that I've gotten through the years in the industry. And then some sporting awards that I'm very proud of, the Jack Nicklaus, which I won with my good friend John Estrada."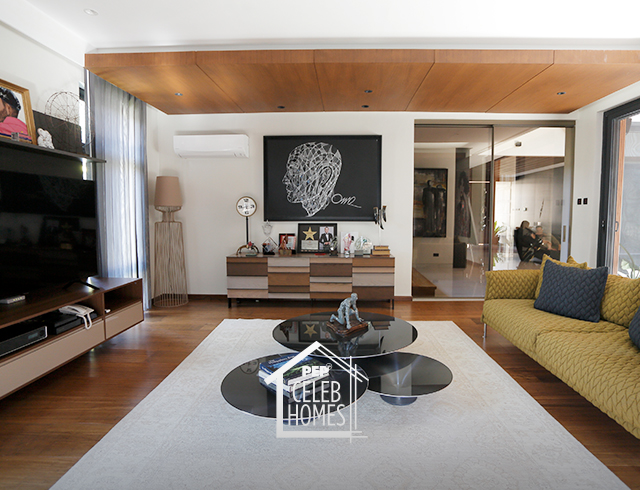 On the shelf atop the television is a portrait of Derek painted by John. According to Derek, John gave it to him as a gift in 2018.
He recalled, "The photographer of Jack Nicklaus took a picture of John and I while we were competing, and John gave this to me as a birthday gift so that's pretty cool."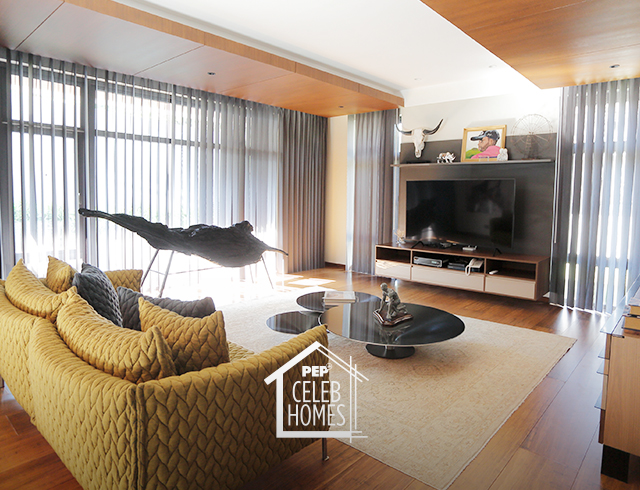 The standout piece in the den is the Bioma outdoor bench designed by the Italian furniture designer Verter Turroni, which Derek also got from Home Studio.
This limited edition bench resembles burnt wood but it is actually made of fiberglass on a metal base.
Derek said, "Akala mo drift wood but it's made out of resin. Again, another talking piece. Accent chair siya, puwede mo upuan. It's not the most comfortable chair pero I love it.
"When I saw it, for me it was so beautiful, I needed to have it, so pinag-ipunan ko talaga itong chair na ito. And I think it sits pretty right here.
"And again, pinartner ko yung medyo modern to classic Persian rugs."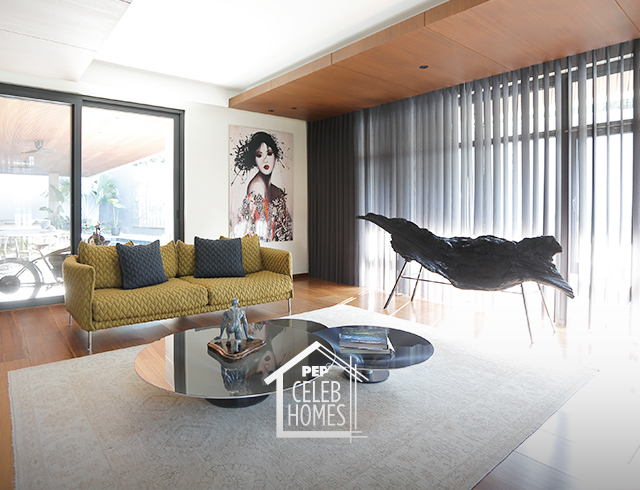 Set in the same area, and in contrast to the decorative bench, is the utilitarian Moroso Gentry Sofa by Patricia Urquiola, which Derek described as "kulay diarrhea."
But, he loves it! "This beautiful, most comfortable couch. Ito talaga ang best couch in the world. You just sink in. Sobrang lambot niya. I love the material. I love the color.
"That's what drew my attention to this couch. Ito, dito, nakakatulog ako. I get to chill watching my favorite shows. Of course, all the sporting shows."
PARENTS' ROOM
Derek has made the room of his parents on the ground floor the nicest one in the house, perhaps to convince them to live with him.
"They don't always stay here. I'm trying to convince them to live with me, pero they come here on the weekends.
"So they stay here on the bottom floor para hindi sila akyat baba. I want them to be very, very comfortable kaya sila yung may view ng garden. I love this room, parang maaliwalas.
"On the weekends, my parents are here. They stay here. Pero ang hirap mag-compete with Tagaytay kasi they have that beautiful view.
"Monday to Friday, dun sila sa Tagaytay. On the weekends, andito sila with me."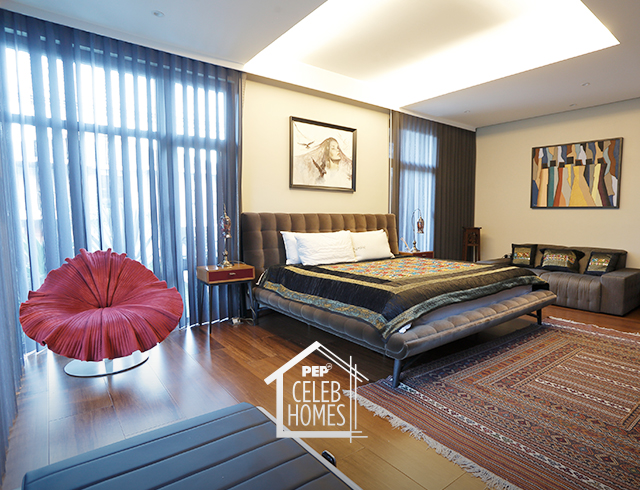 The bed in his parents' room, a creation of the French brand Roche Bobois in collaboration with renowned fashion designer Jean Paul Gaultier, used to be his at his old house.
"My mom loves this bed so much, so I gave it to them."
Another hand-me-down in the room from Derek is the muted red Bloom swivel chair, one of the most famous pieces of Filipino furniture designer Kenneth Cobonpue.
He said, "I really like Kenneth. I have a few pieces from Industria. I mix and match. It's not because it's European, maganda.
"I made ikot all the furniture stores, so I have pieces from different furniture stores. I don't think there's one store na hindi ko naikutan."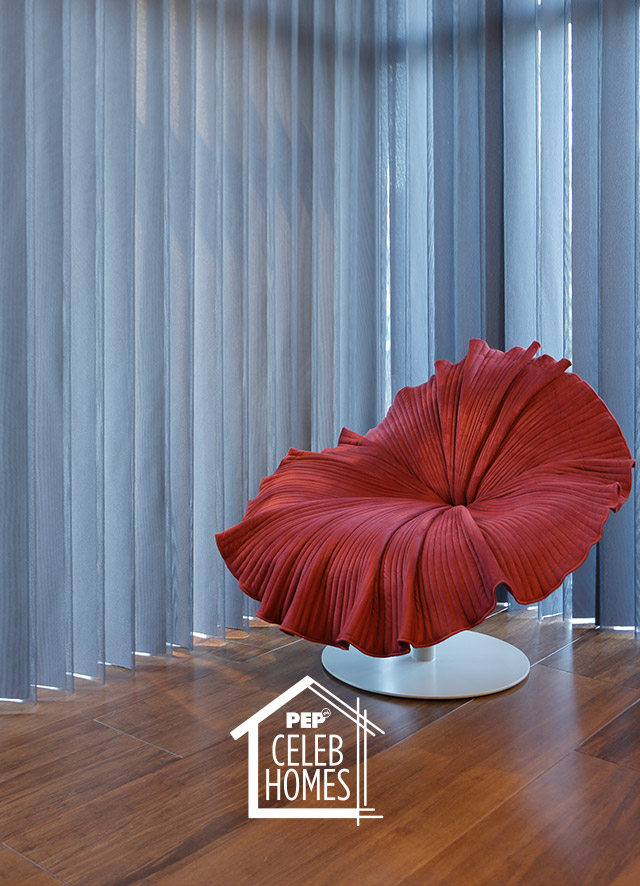 SECOND FLOOR
A devil for details, Derek commissioned Buensuceso to fashion the baluster of the staircase.
He admitted, "As you can see, medyo malandi ako sa gamit, and I'm very OC [obsessive-compulsive]. Ito, pinalagay ko talaga yung lights na ito for a little bit more accent.
"Even my baluster is Jinggoy Buensuceso, pinartner ko dun sa door handle sa front door."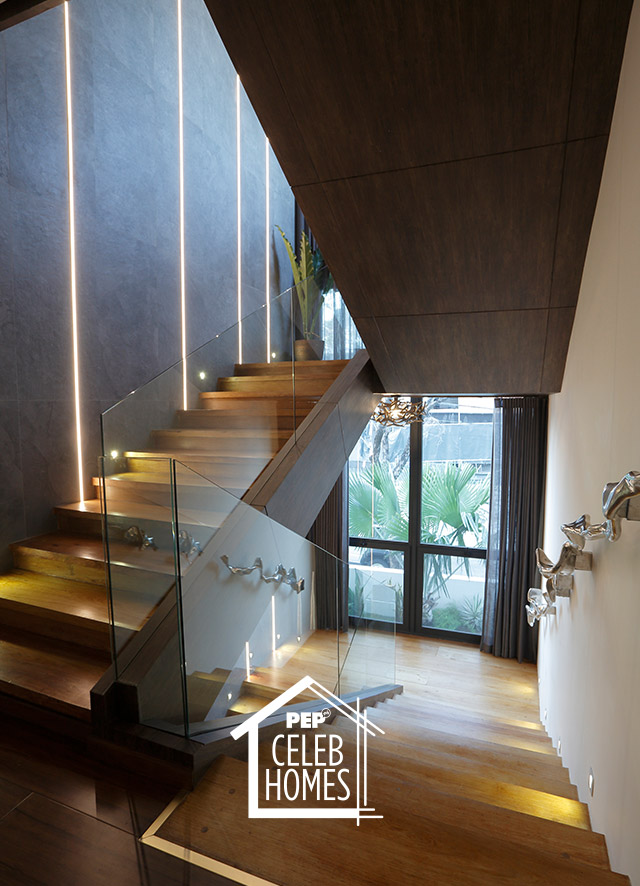 And up on the second floor hangs one of Derek's favorite artworks in his home, a mixed media painting by Ross Capili that dominates the length of a corridor wall.
Derek said, "It took him ten years to paint this piece. Series po yan, galing po yan sa personal collection niya, so napaka-suwerte ko po na I was able to get this from him."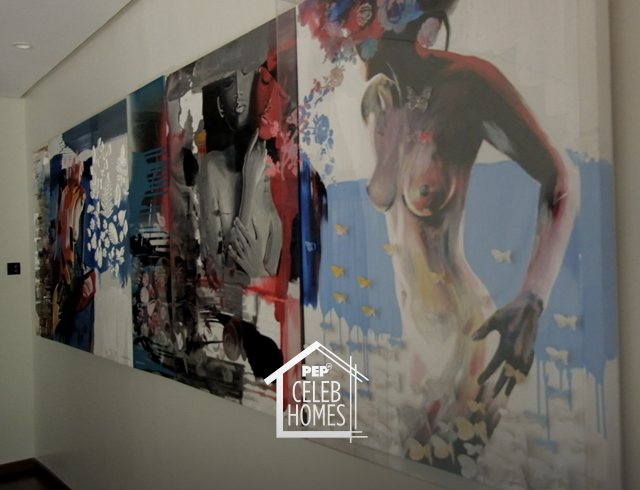 PRIMARY BEDROOM
The occupant of the biggest room, which simulates the premiere suite of a five-star hotel, is of course the owner of the house.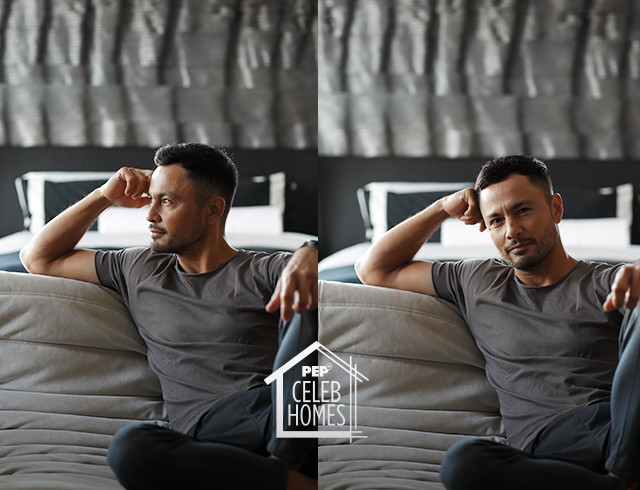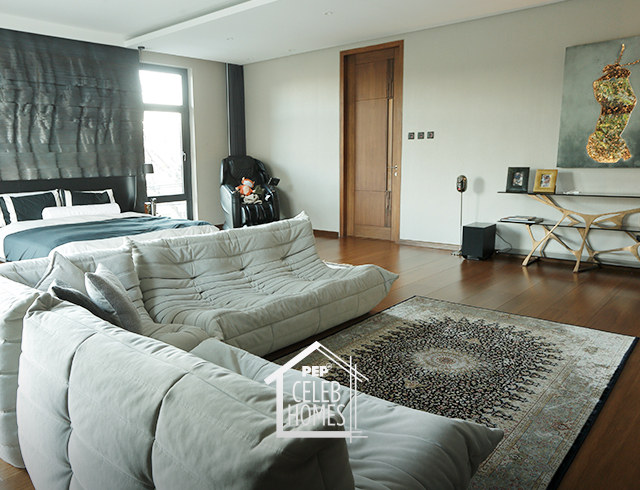 Congruous with the grandness of the room is the awesome wall-sized headboard by Buensuceso, a piece of art made out of layers and layers of cut-out wood.
Saying he does not like plain walls, Derek likened the custom-made headboard to the rock formations of the Grand Canyon.
"And then, I got the bed from B&B Italia. Para siyang lumulutang. If you look at it here, parang lumulutang lang yung kama."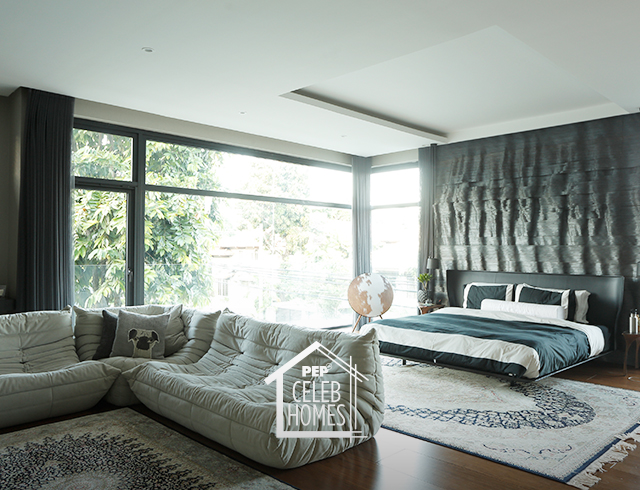 Derek has also brought from his old home a pearl-colored Togo Sofa by Ligne Roset designed by French furniture maker Michel Ducaroy.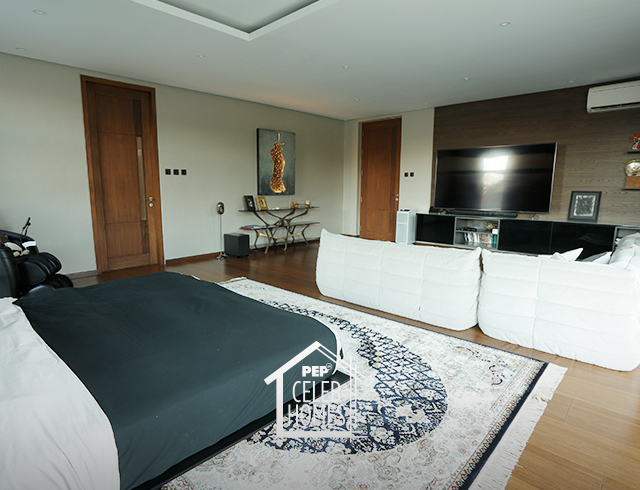 According to the furniture company's official website, the three-piece sofa set costs USD14,900 or around PHP750,000.
Another art piece in his bedroom is the mixed-medium painting The Nightcrawler by Filipino visual artist Hamilton Sulit, whom Derek praised highly.
"Super galing niya. His work is a bit dark, but I think he's an amazing talent."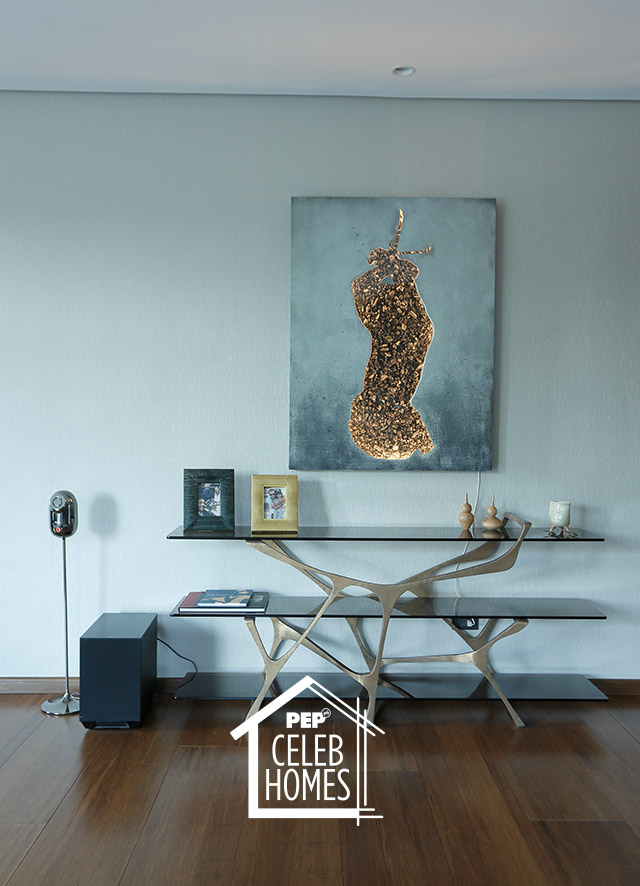 HE GETS HIS TRIM HERE
Of all the many surprises of the house, Derek's walk-in closet has to be up there. It feels like a boutique and a luxe barbershop rolled into one.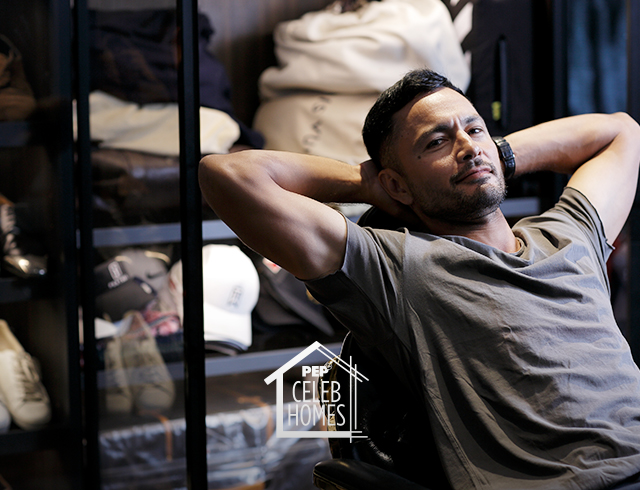 The barber's chair was a recent acquisition for practical reasons. "Ngayon, dahil may buhok na ako, I got this barber's chair. Dito ako nagpapagupit. I have somebody come to the house and do my hair. I ordered this online. I don't know where it came from, pero nakita ko siya online."
Derek added, "Dito na rin ako nagpapa-ready kasi most of the shoots now are done here at home because of the pandemic. So this is usually where I get myself ready and look the best I can be for the shoots."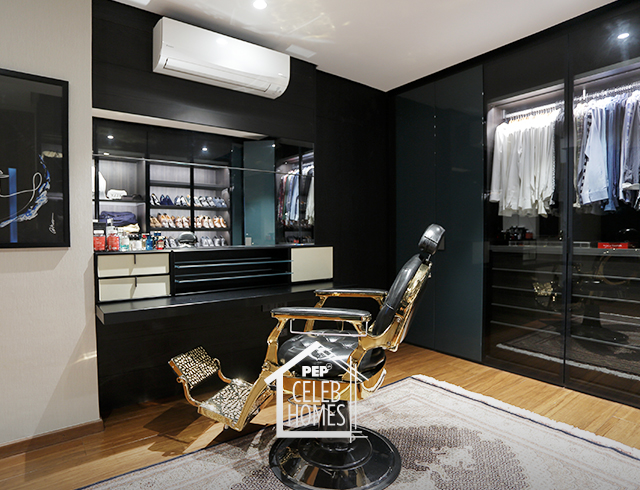 His clothes are arranged neatly inside the cabinets according to color and type. Derek's bags, sneakers, and leather shoes are also enclosed in glass cabinets.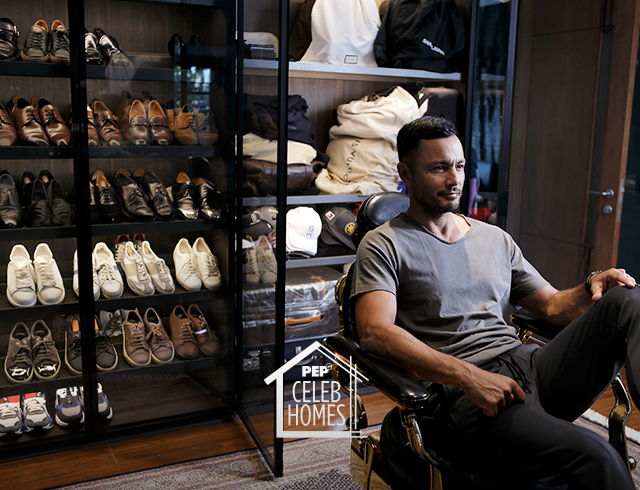 BEST SEAT IN THE HOUSE
If Derek's walk-in closet is somewhat dark and edgy, abundant light fills his toilet-and-bath sanctum—complete with an enclosed shower, a bathtub, his-and-hers sinks, and the best part, a Japanese-style toilet.
He said, "I want a lot of space. I want everything to look sleek and clean, and so I can move around and spend a lot of time.
"I love my Japanese style toilet kasi I love Japan and all the other toilets are like this. Actually, ito ang best seat in the house."
austin's domain
Right across Derek's suite is the man cave of his 17-year-old son, Austin.
This is one area of the house where Derek has kept his hands off.
He shared with obvious pride, "He did this by himself. He had full control, so this is his style. Sa gabi, nagta-transform itong kuwarto na ito. He has all these LED that he put up.
"Yang elephant na yan will light up, may mga ilaw yan sa likod. Siya yung nag-design nito, except for the curtains, which he never opens.
"Gusto niya para siyang… he likes to live in a cave."
One of the accent pieces in the room is the elephant head sculpture that Derek once displayed in the dining area of his previous house.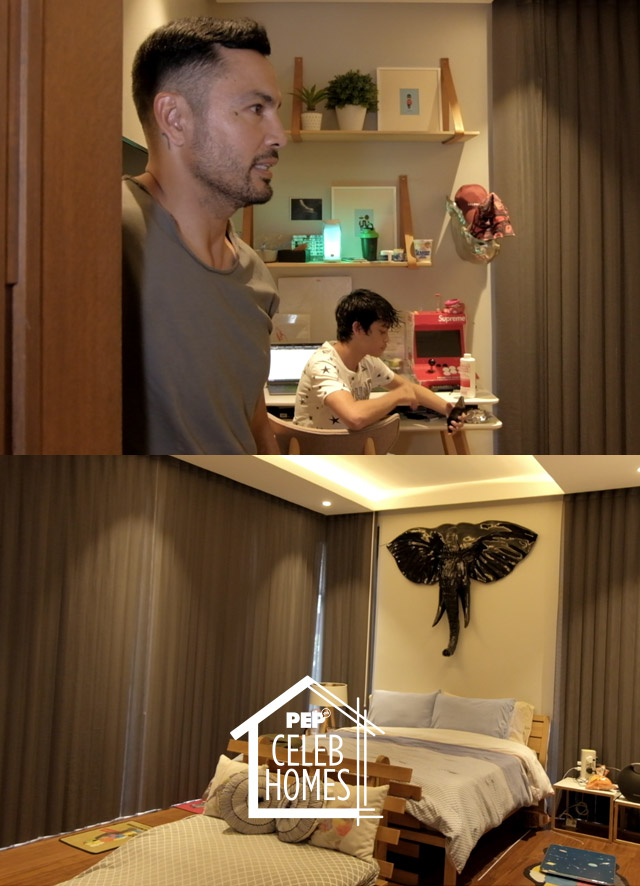 GYM AND GUEST ROOM
Derek has converted one of the two spare rooms on another side of the house into his personal gym. Some of his sporting awards are displayed in this room. It has a loft that also serves as one of the guest bedrooms in the house.
The other guest bedroom is currently being occupied by Derek's nephew Elian Ramsay Barclay. Derek said the spare room is for when any of his sisters—Camilla, Rojinie, and Natala—decides to come over to his house. Camilla is the mother of Elian.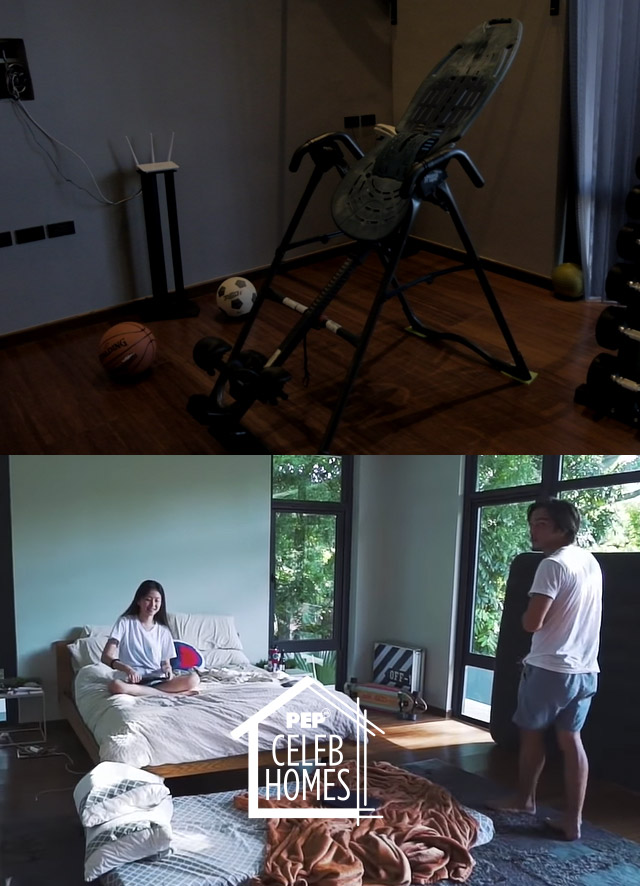 THE TOP FLOOR
The third floor of the house is an entertainment area for his friends and family.
Derek pictured the usual scene: "This is where we have our entire family. This is where we have our parties... This is where the entire family watches movies.
"And then, kung lahat matutulog dito, puwede sila mag-stay up here. The kids can all stay here. There's a toilet in here with a shower para hindi paakyat-baba."
There is also free space that Derek uses as a workout area.
"Dito kami nagwo-workout and, again, if we want to have parties, we have it here kaya dalawa yung dining table.
"Tapos nagse-set up din kami ng tables diyan, pero for now ginagamit din namin na boxing ring.
"Meron din akong mini-bar dito para when we're all here and we're gonna have a party, yung mga kasambahay ko can prepare food and drinks over here."
The comfy sofa set, which is also from Roche Bobois, adds a puff of color to the room.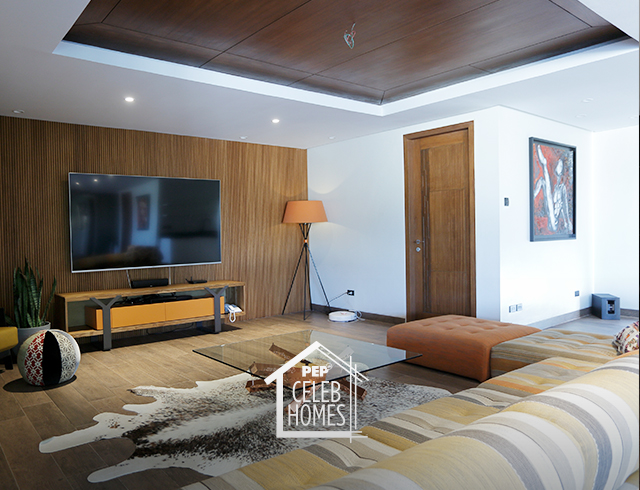 Pointing to a painting by Solenn Heussaff, Derek complimented the artist, "One of her earlier pieces. She's amazing, napakahusay na artist. And she's getting better and better."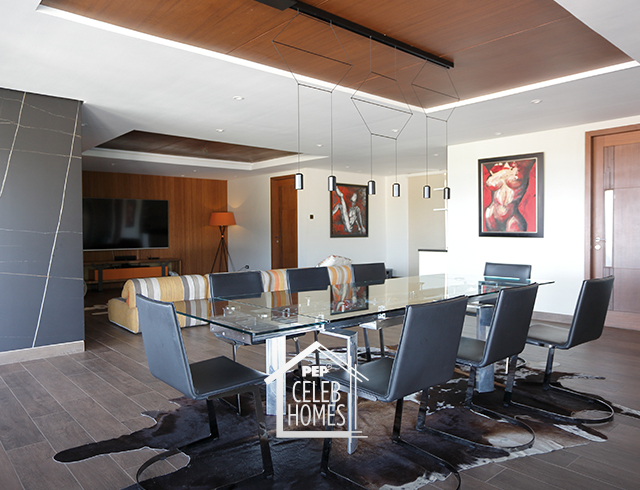 Another work of art, an earlier piece by Dominic Jinon, is the 6 feet by 4 feet oil on canvas painting Evil as a Deviation from Good, which is placed against the wall fronting the elevator on the roof deck.
It must be one of Derek's pranks because, as he himself said, "Maraming natatakot diyan."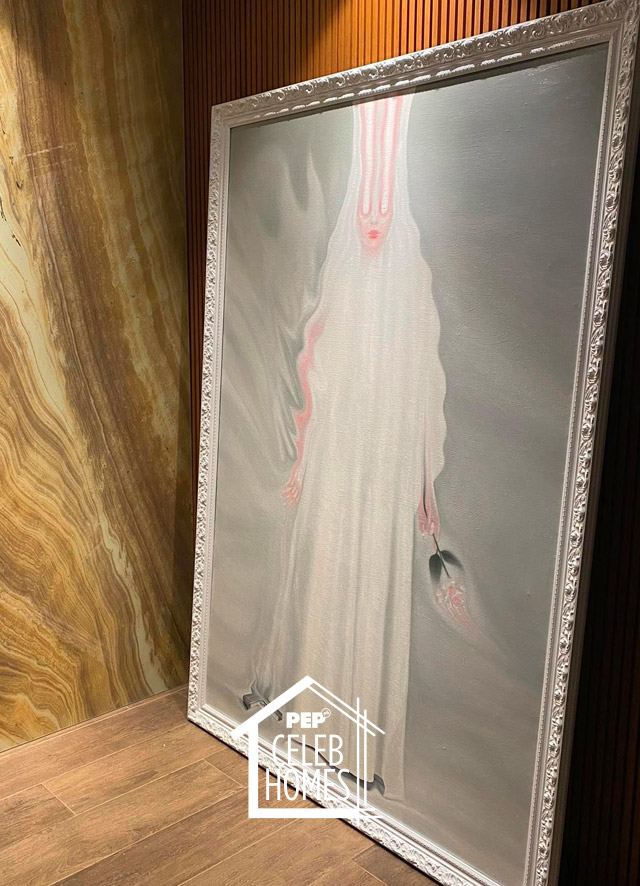 What Derek loves the most about the topmost floor is the view.
He said, "Kita ang Tagaytay, Makiling, ang skyline ng Filinvest. At laging presko dito, laging may hangin kasi napakataas niya."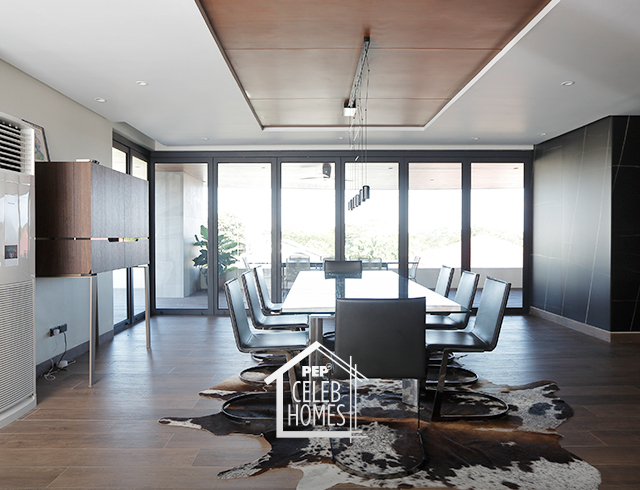 The sliding door on this floor is similar to the one in his den.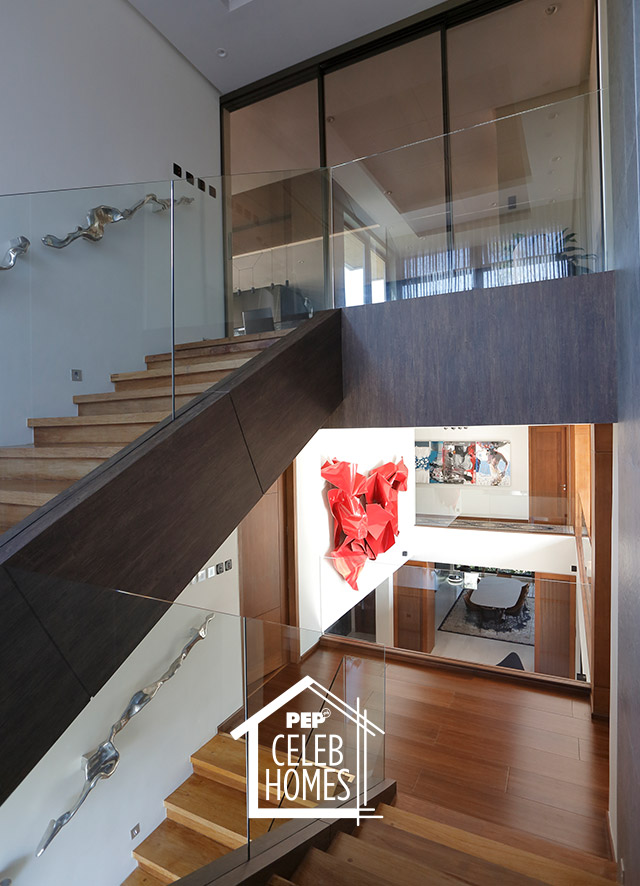 STAFF QUARTERS AND GARAGE
The basement floor of Derek's house is designated for the members of his household staff. It has three rooms, two of which are being used as stock rooms.
Derek said, "I wanted them to have their own rooms. They have their own world here. All my kasambahays have their own rooms."
The dirty kitchen and laundry area are also located in the basement. Derek's dogs—Riri, the Corgi; Tyson, the Bulldog; Tootsie, the Golden Retriever; Skye, the Samoyed; Batman and Skunk, the Pocket Bullies—roam around the garage and garden areas freely.
Derek is also happy he now has ample space for his collection of luxury cars. He owns an Aston Martin, a Bentley, a red Ferrari, a Lamborghini, and a Rolls-Royce.
Derek also bought for his other son, Jimmy (not in photo), a Suzuki modified to look like a Defender.
He said, "Yung last house ko, meron nang mga lifters kasi hindi nga nagkakasya yung mga sasakyan ko, so I have to build a house where there's enough space for all of them."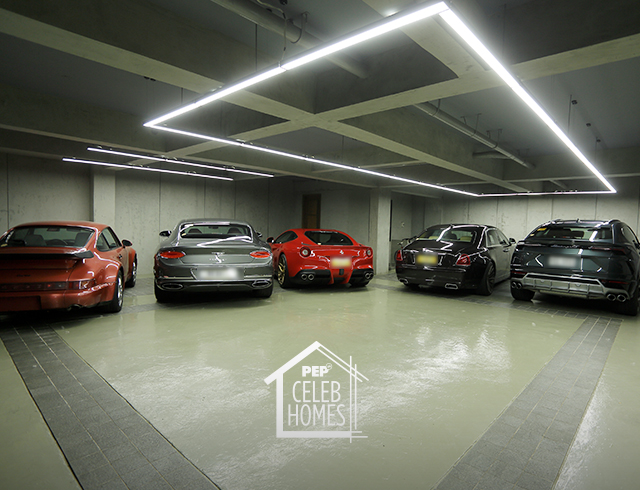 Derek assessed that his house is not a hundred-percent finished yet, "Ang kulang na lang siguro is more plants to soften the place out. Yun na yung next project ko.
"Para na akong naging plantito over the whole pandemic, this whole COVID thing.
"I'm beginning to like plants, I don't know why. Everytime I go out to go shopping, I end up in a plant store, yung mga stores na nagbibigay ng mga paso. But I definitely need more plants."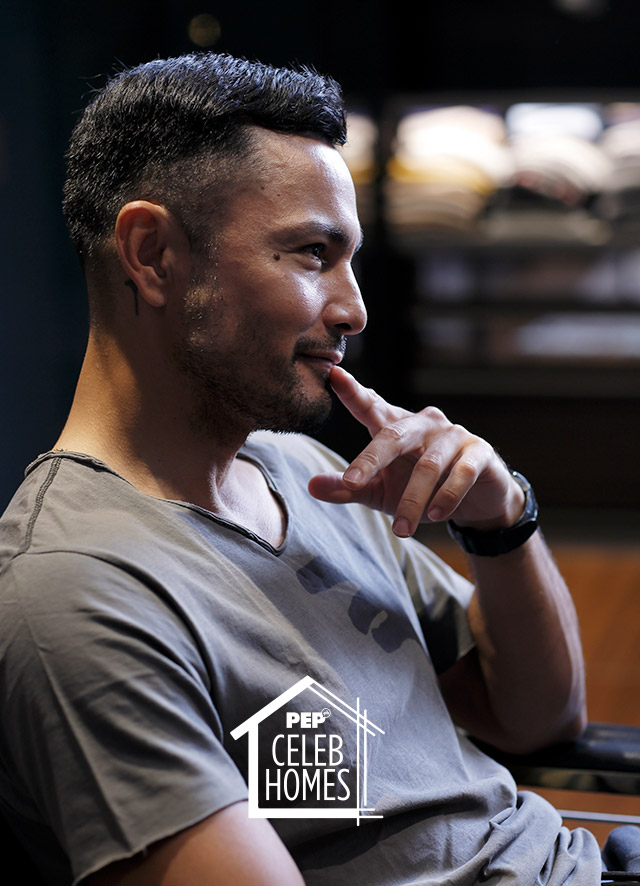 SHOOT PRODUCER AND WRITER: Nikko Tuazon
SHOOT COORDINATOR: Arniel Serato
PHOTOGRAPHER: Ocs Alvarez
PHOTOGRAPHER'S ASSISTANT: Jerickson Mariano
ADDITIONAL PHOTOS: Nikko Tuazon and Andrek Vlogs on YouTube
We are now on Quento!
Download the app
to enjoy more articles and videos from PEP.ph and other Summit Media websites.