The career path of YouTube star Mikey Bustos was strewn with challenges, which he overcame with sheer determination and unwavering faith in himself .
To illustrate how far he has come from his early struggles, Mikey posted on Facebook on July 7, 2023, a series of photos comparing his humble studio apartment in Montreal, Quebec, in 2008, with his current lavish residence in Cavite, Philippines.
Read: Mikey Bustos asks, "Who is your favorite Filipino hero?"
He started his caption with the message: "Never stop working towards your dreams and never give up hope! Everything can change in so little time. Here's what the past 15 yrs looked like for me."
Back in 2008, Mikey was renting a small studio apartment in French Canada while working odd jobs to make ends meet.
He recalled, "Working first in an office for $11.50/hr then later a transport boy wheeling in food from a warehouse into a truck then into restaurants at 5am in the morning.
"I slept on an air mattress, ate frozen food packaged by my mom on weekends, and did my dishes in my bathtub because my sink was too tiny.
"I was 27 and a college dropout. I was considered 'too old' by industry standards to be in the entertainment business."
Gutsy even then, he refused to let age define his dreams: "Delusional levels, I was willing to die trying."
Mikey looked back on how he'd book any gigs he could at events and bars, sing at karaoke bars hoping to be discovered by record label A&Rs.
Going to extreme lengths, he related "carpooling for 5 hrs to take acting classes in Toronto on weekends, and even saving up to record an album which I mailed to every Canadian radio station and music channel."
He concluded, "For those who watch my vlogs, this is what I was talking about.
"As I look back on old photos and remember what life used to be like just 15 yrs ago, I can't possibly take a single thing I have today for granted.
"I wake up every day pinching myself, and have made it my personal business to show people that dreams really do come true if you want them bad enough and are willing to work hard for them to delusional levels!"
Read: A leap of faith: Mikey Bustos, longtime partner RJ Garcia prove "love always wins"
COMPARISON
Fast forward to 2023, and here is Mikey, a far cry from the struggling artist he once was.
The images he shared on social media reveal an astonishing transformation.
BEDROOM
The 2008 photo reveals a simple bedroom with minimal furnishings—a bed, a small table, and a makeshift workspace.
At present, the content creator's bedroom is a luxurious oasis: A king-sized bed with a plush mattress, and a vast space for other miscellaneous.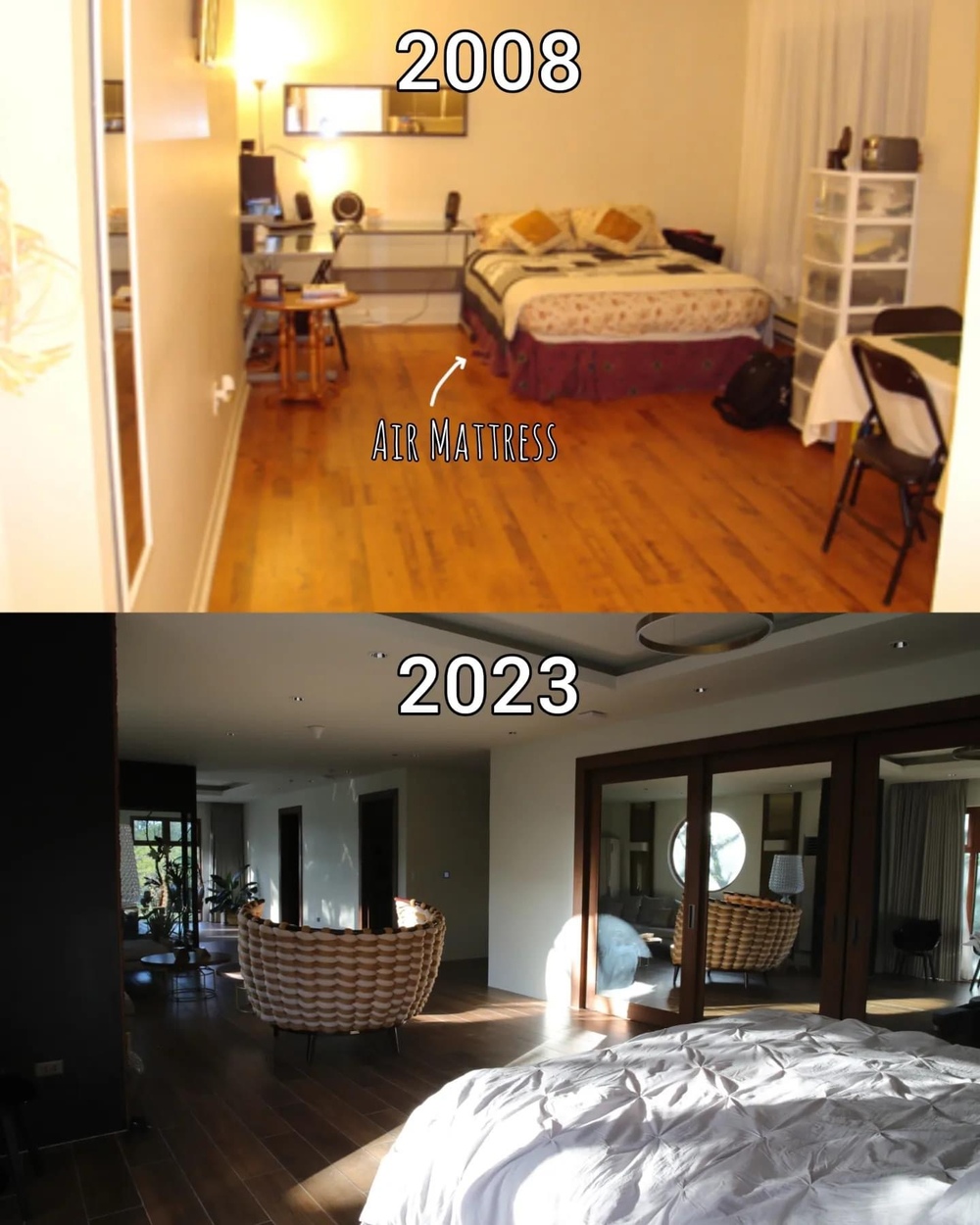 WORKING SPACE
Mikey's working space in 2008 was a simple desk with essential supplies.
In 2023, he gets busy in sophisticated and well-equipped home office, where creativity and productivity know no bounds.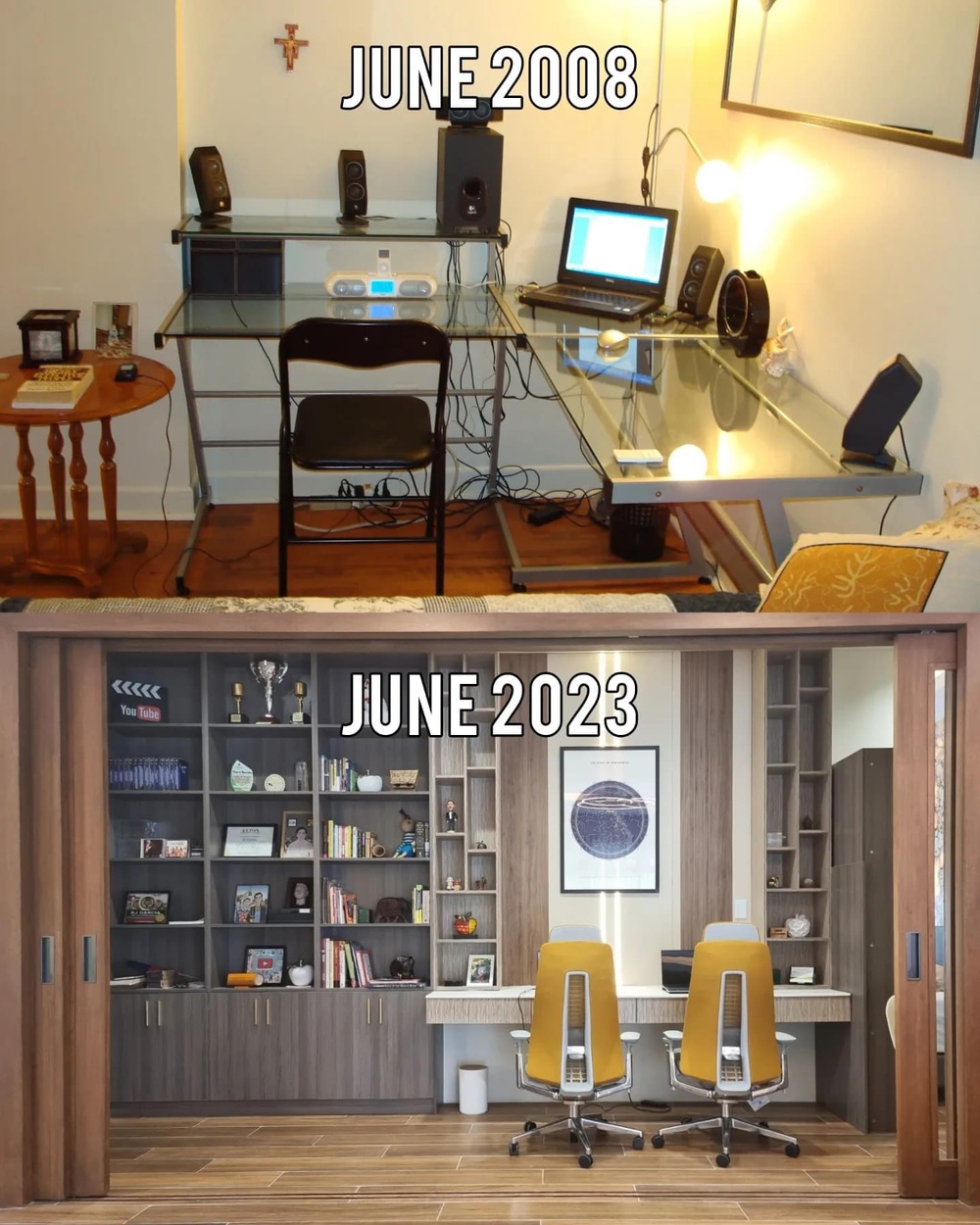 KITCHEN AND DINING AREA
The kitchen and dining area from 2008 was practical and starkly furnished with compact appliances and a small dining table.
In 2023, Mikey putters about a gourmet kitchen that boasts state-of-the-art appliances and a grand dining area for entertaining guests in style.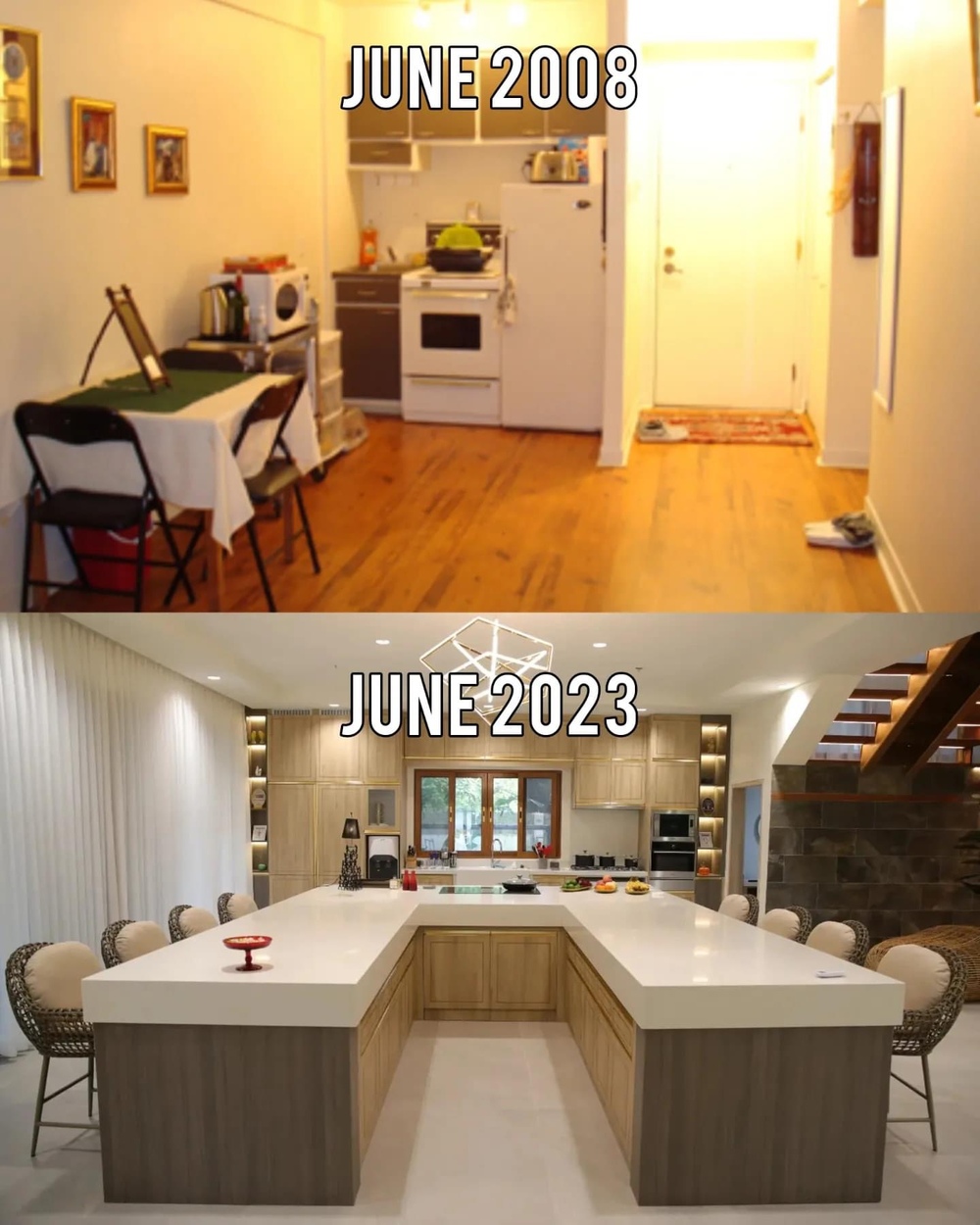 RESTROOM
His 2008 bathroom had the usual basic amenities, no great shakes there.
In 2023, a single shot can't even capture his entire restroom space. With marble finishes and modern fixtures, his bathroom now exudes an aura of indulgence.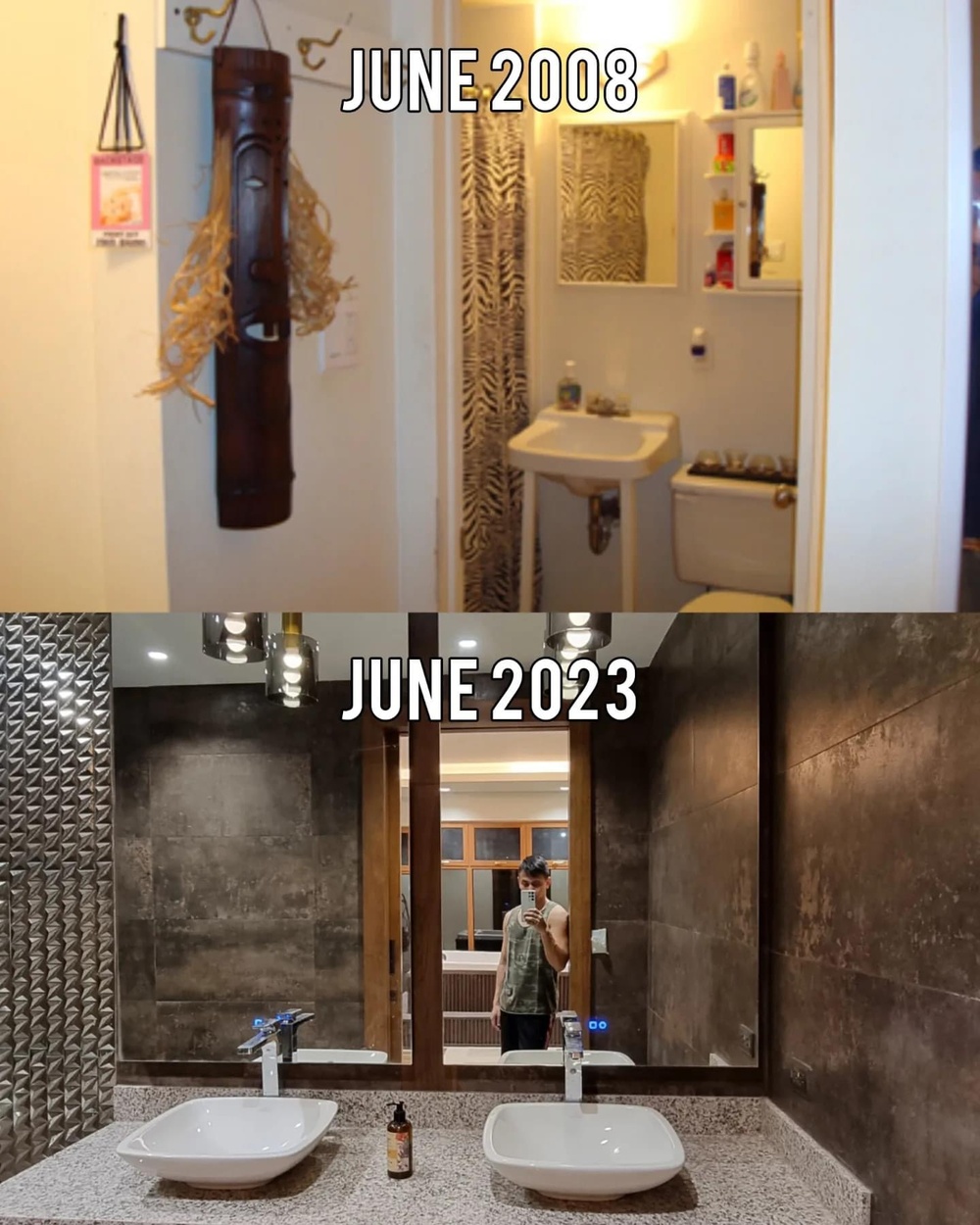 CLOSET SPACE
From compact cabinet to a grand walk-in wardrobe, the two photos perfectly show Mikey's lifestyle then and now.
A small caption even indicated that his 2008 closet used to be a 5-tiered plastic drawer.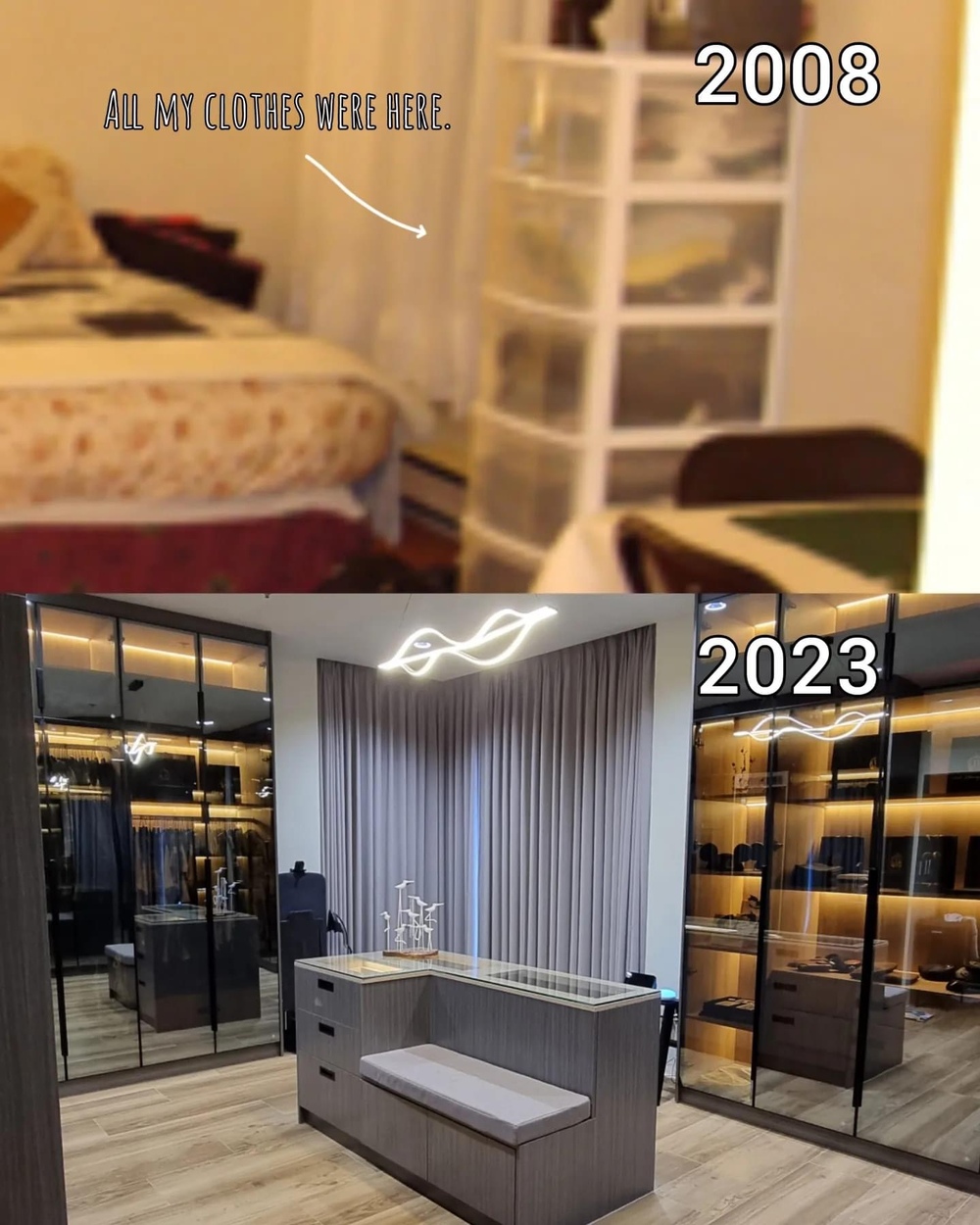 EXTERIOR
Back in 2008, the view outside Mikey's residence was limited to a small window, capturing only a fraction of the surroundings.
This time around, his mansion offers a breathtaking panorama that requires a helicam to capture its entirety.
A majestic pool, lush gardens, and expansive grounds complete the stunning scenery.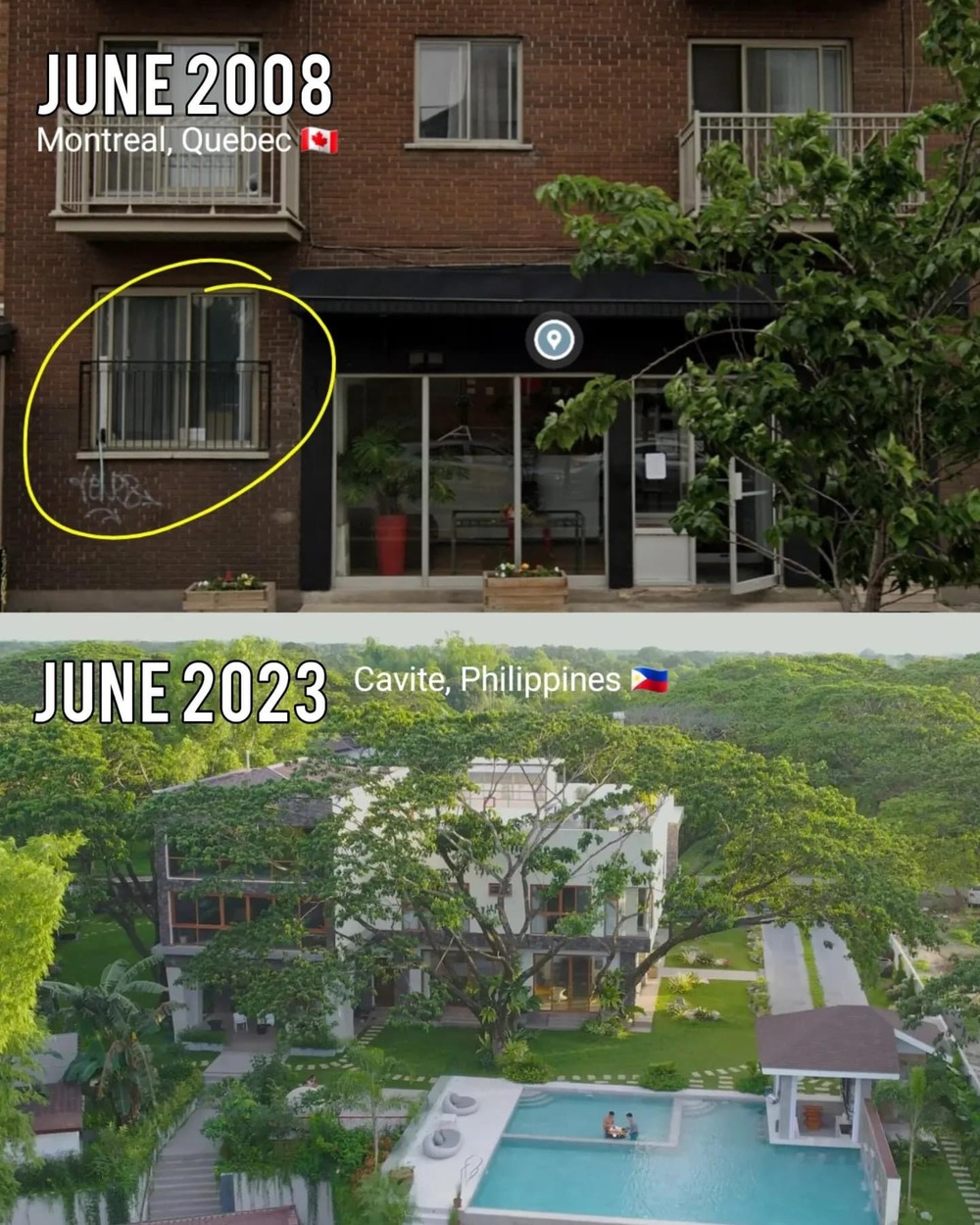 READ MORE: