Lovi Poe had lived her life to the full as a single woman before tying the knot with her Los Angeles-based/British-born husband Monty Blencowe.
Read: Lovi Poe and Monty Blencowe: a relationship timeline
She didn't just go jetsetting around the U.S. and Europe to spend time with Monty, but she actually had her hands full with work.
In September 2021, she transferred to ABS-CBN after 17 years of being a Kapuso.
Since then, she got busy with several TV projects, including Flower of Evil (2022) with Piolo Pascual and the still-ongoing prime-time series Batang Quiapo with Coco Martin.
Read: Batang Quiapo main cast and their roles
She starred in an LGBT-themed digital series Sleep With Me (2022) and a thriller digital movie The Other Wife (2021).
Lovi also landed a role in the international film Chelsea Cowboy, which was shot in the U.S. and U.K. in 2021.
To top it off, the talented actress partnered with Monty in putting up her own film company C'est Lovi Productions in 2022.
With her hectic schedule, it makes sense that Lovi's sanctuary at a high-rise condo somewhere in the metro is designed in a way that gives her peace and calmness whenever she's home.
Here, PEP.ph (Philippine Entertainment Portal) gathered the many times Lovi gave a peek into her condo unit, where she has been residing for the last two and a half years.
She used to live in a three-story house with a garden in Quezon City before she switched to condo living during the pandemic.
Read: Lovi Poe reveals three-story pad is not her dream house yet
It was in June 2020 when she first visited her still-bare pad with tall windows overlooking a bustling cityscape.
She took her time picking furniture pieces that fit the aesthetic of an all-white minimalist condo unit.
"Been collecting pegs on how I wanted my place to look like. It's been a slow work in progress. But I found pieces I really like to create a space I love," Lovi wrote in one of her Instagram posts.
THE LIVING ROOM
This carpet from Decoliving Manila is the perfect accent to Lovi's living area as it complements the pristine sofa and sheer white curtains.
Her big round mirror also provides a nice spot for cute selfies.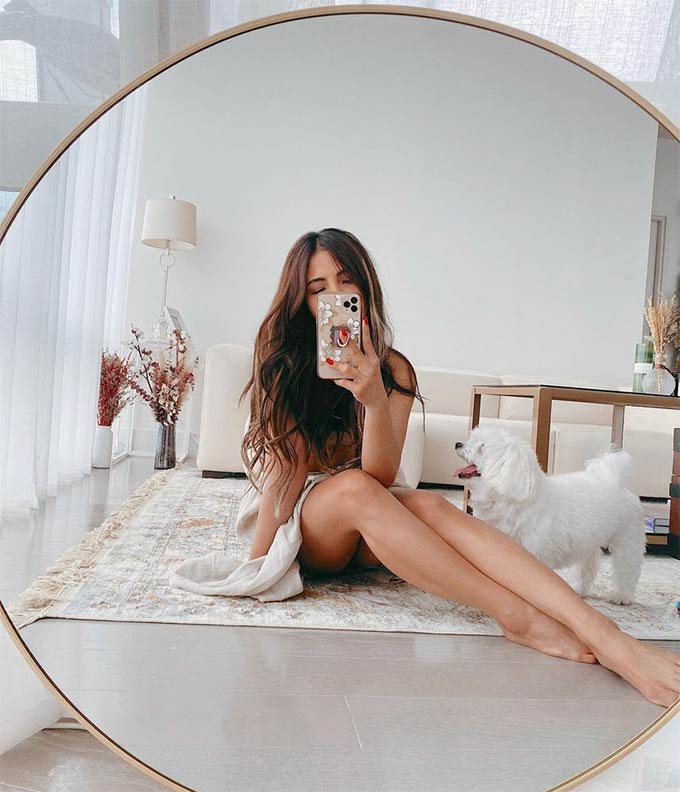 Lovi wrote in one of her Instagram posts that one downside of having sheer curtains is that it can be "majinit jackson" (gay slang for mainit or hot) since it can't filter out the harsh rays of the sun, especially around noontime.
But the Kapamilya actress stayed consistent with her all-white theme.
She later added a white love seat in front of the windows, and this became one of her favorite spots.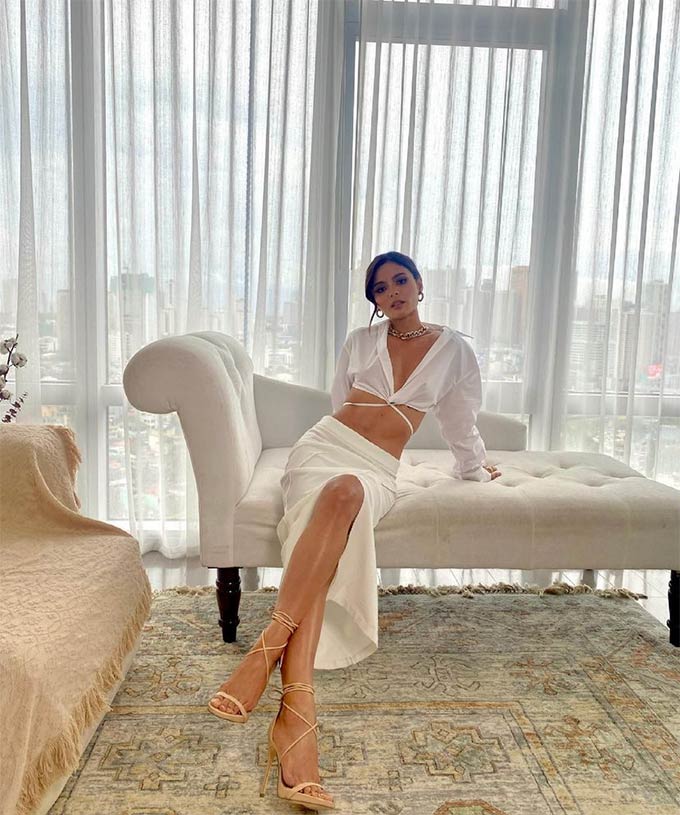 LOOK: THE WEDDING ALBUM: Lovi Poe and Monty Blencowe
the DINING AREA
Lovi picked wooden furniture to balance out her pad's white color scheme.
Her long but sleek dining table and wishbone chairs added character to the over-all look of her dining area.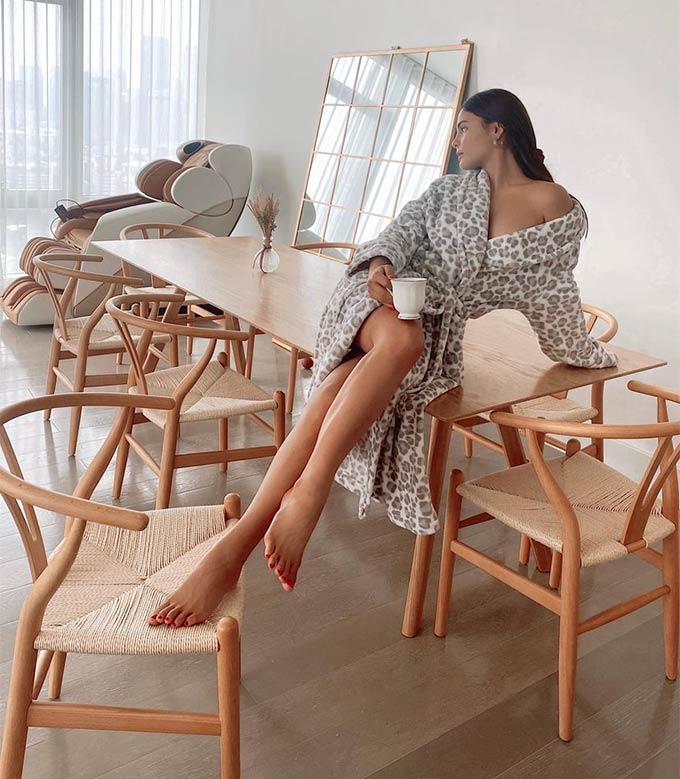 Several vases of dried flowers are scattered across her unit, and also act as a centerpiece at the dining table, to lend a cozy vibe to her abode.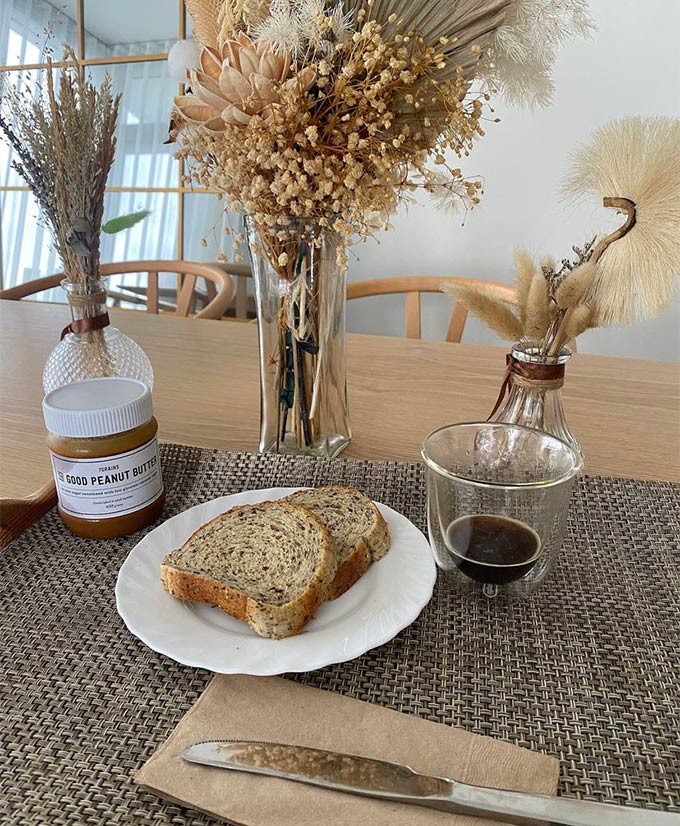 Even her beloved dog Señorito seems to feel at home as he can freely roam around the place.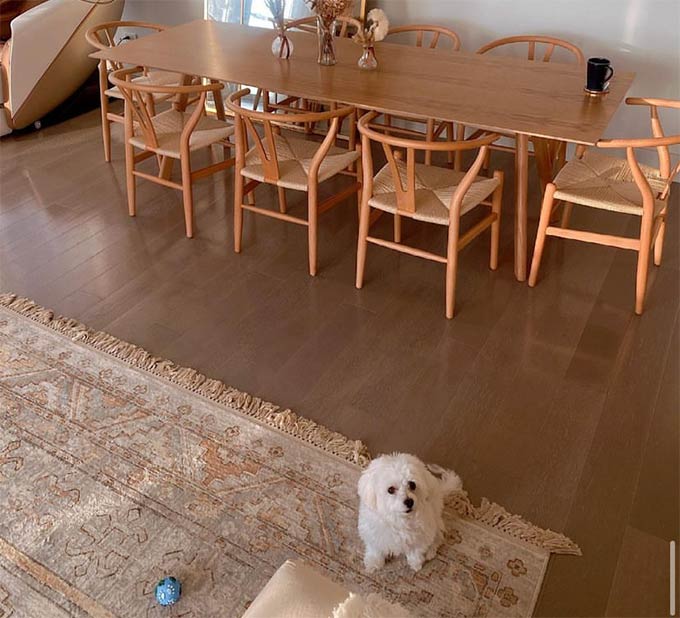 Lovi completed the look of her dining area when she had this artsy chandelier installed earlier this year.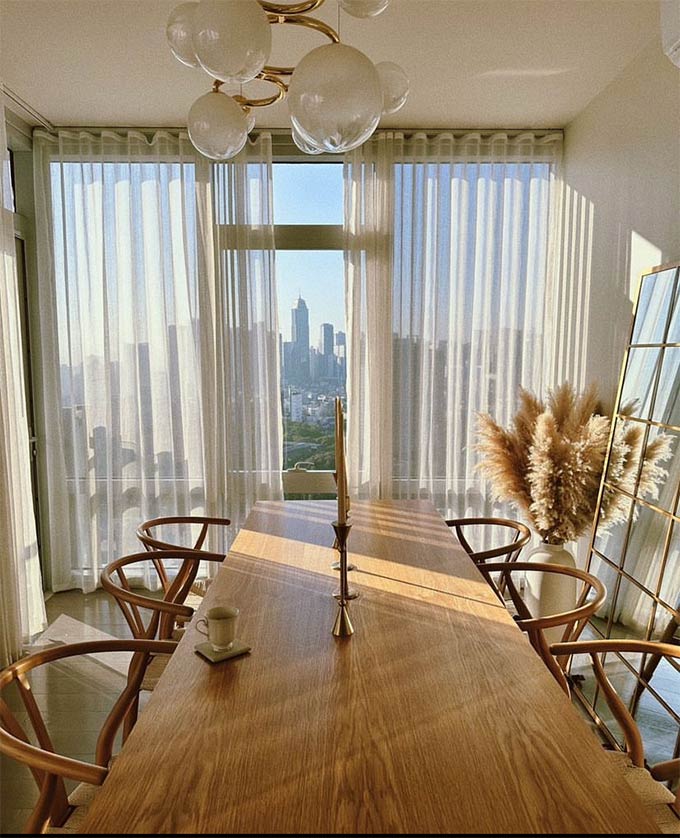 Read: Lovi Poe to Monty Blencowe: "I want this life with you and I'm going to make it work"
LOVI POE'S BEDROOM
A chic four-poster bed is the star of Lovi's bedroom.
It gives a sense of being transported to English castles where traditional four-poster beds can be seen.
But Lovi didn't dress up her bed with thick draperies. Instead, the actress kept it bare to elevate the look of her room without making it feel cramped.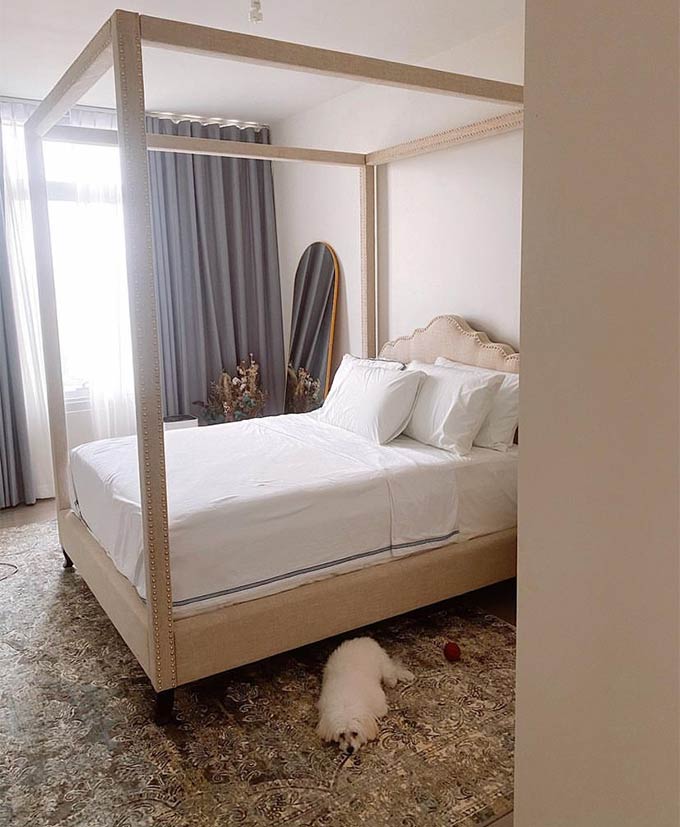 The neatly folded white bed sheets and matching pillowcases make Lovi's bed more inviting, especially after a long day at work.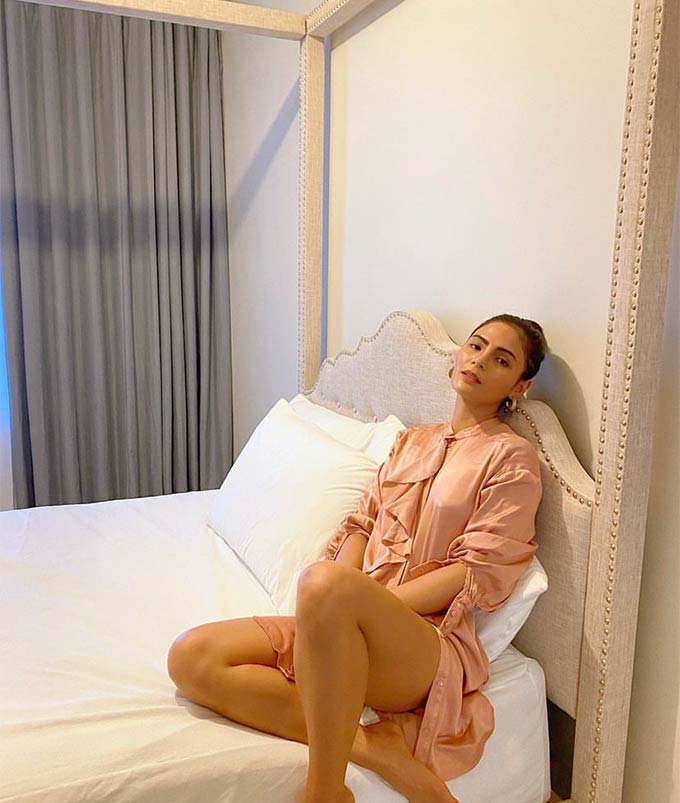 Look at how Lovi keeps a picture frame of her and Monty beside an angel figurine on her bedside table.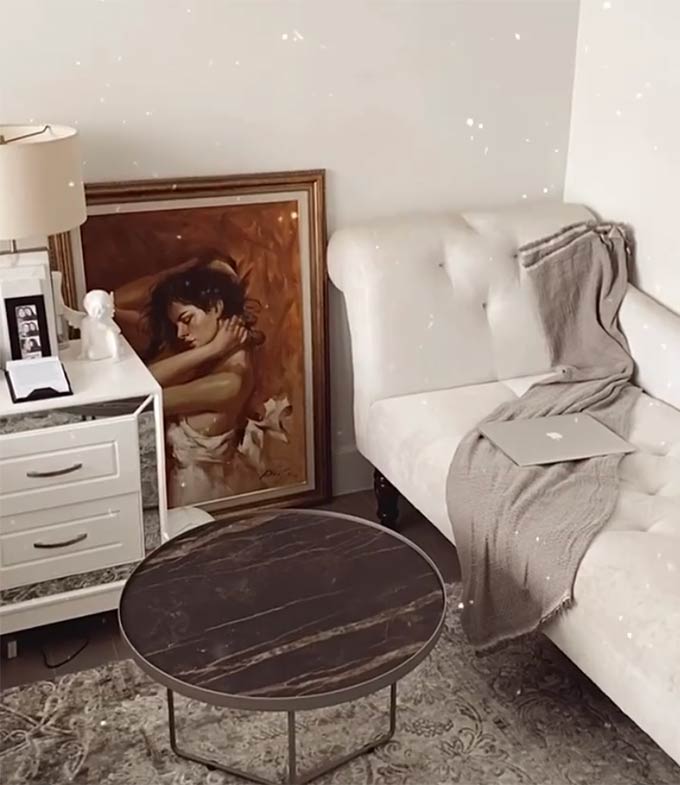 Read: Lovi Poe is now married to Monty Blencowe
THE BALCONY
Inspired by French-style alfresco cafés, Lovi picked a stylish set of table and chairs where she can enjoy her breakfast at her unit's balcony.
Take a look at how Lovi savors these mouth-watering croissants, which Señorito also seems to love.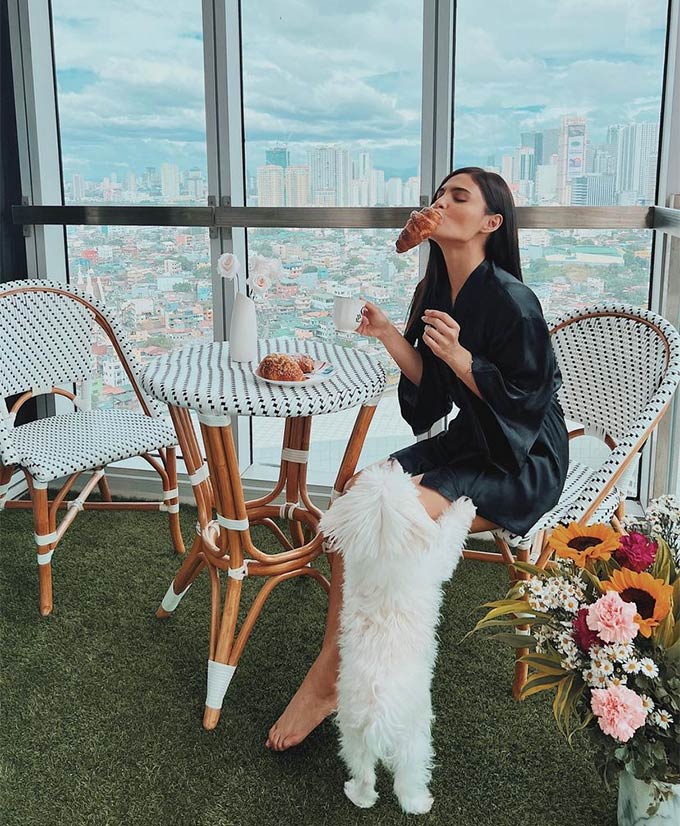 Lovi's balcony offers a fantastic view of the skyline, which makes it easy to see why this is one of her favorite spots in her pad.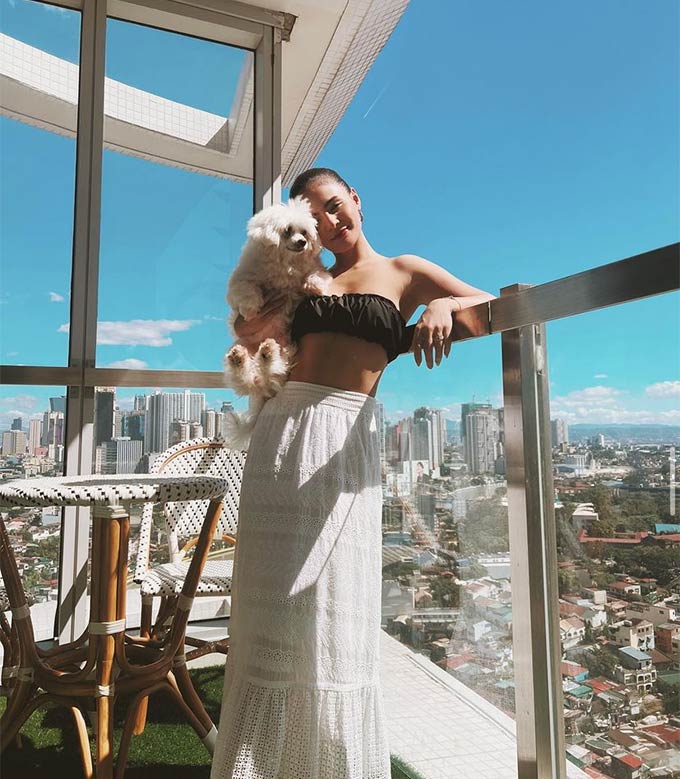 Read: What it costs to stay at Cliveden House, venue of Lovi Poe-Monty Blencowe wedding
SUNSET VIBING
Another thing to love about Lovi's condo unit is that it's a perfect place to be during magic hour when the view of the sunset sets a romantic mood to her living area.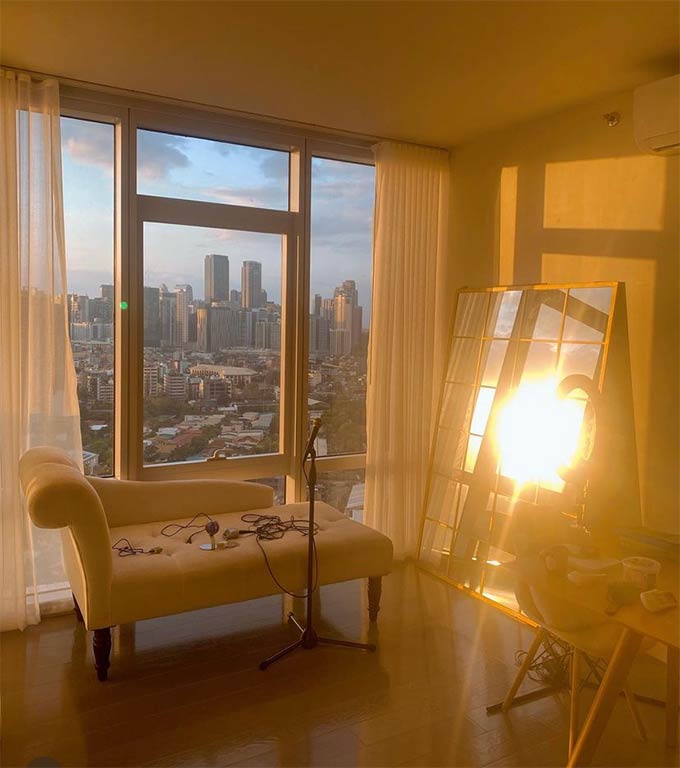 Here's Lovi enjoying a cup of coffee with Señorito right beside her.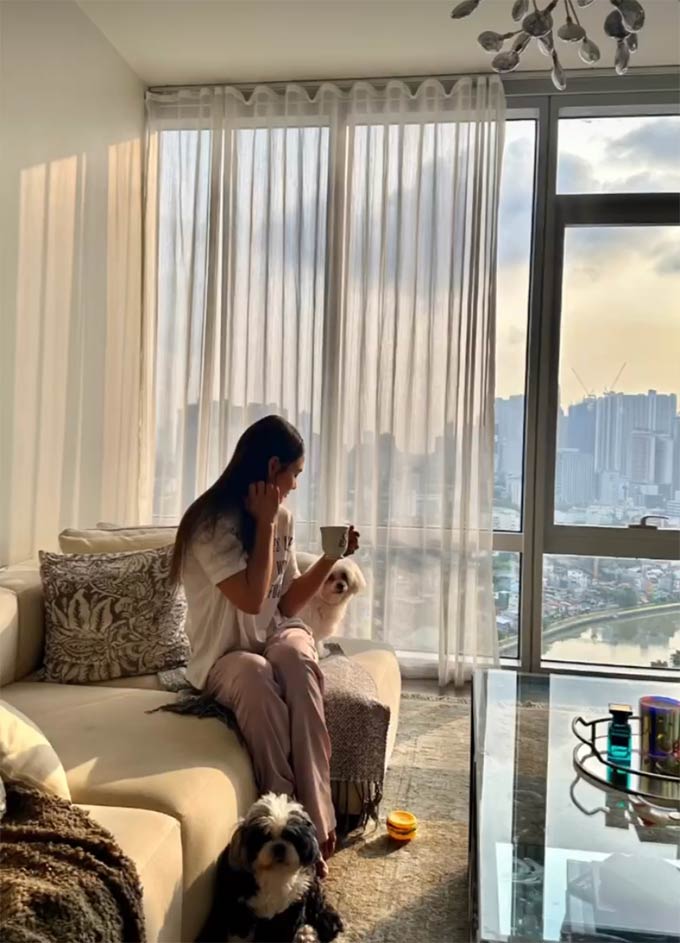 The romantic vibe of the place is not dimmed even with the curtains closed.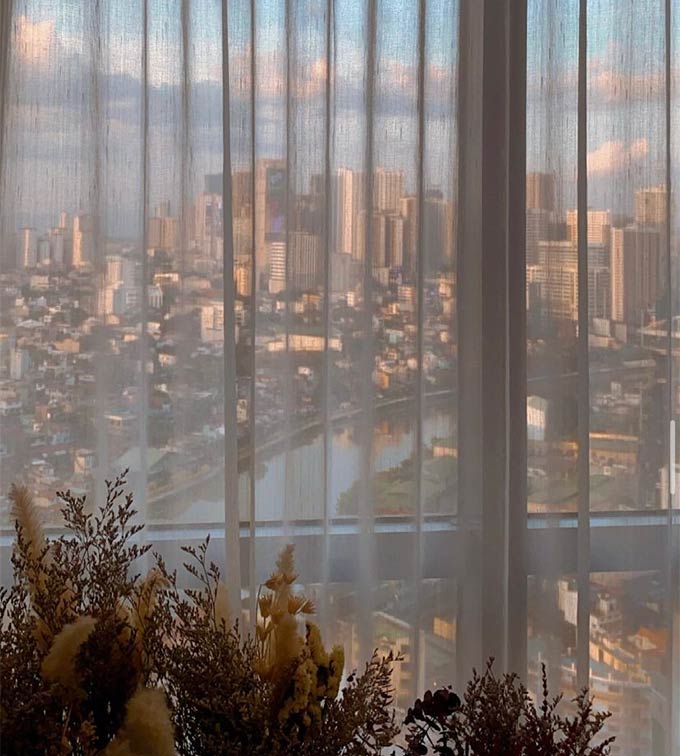 MORE DETAILS
Lovi recently had another modern chandelier installed in her living area.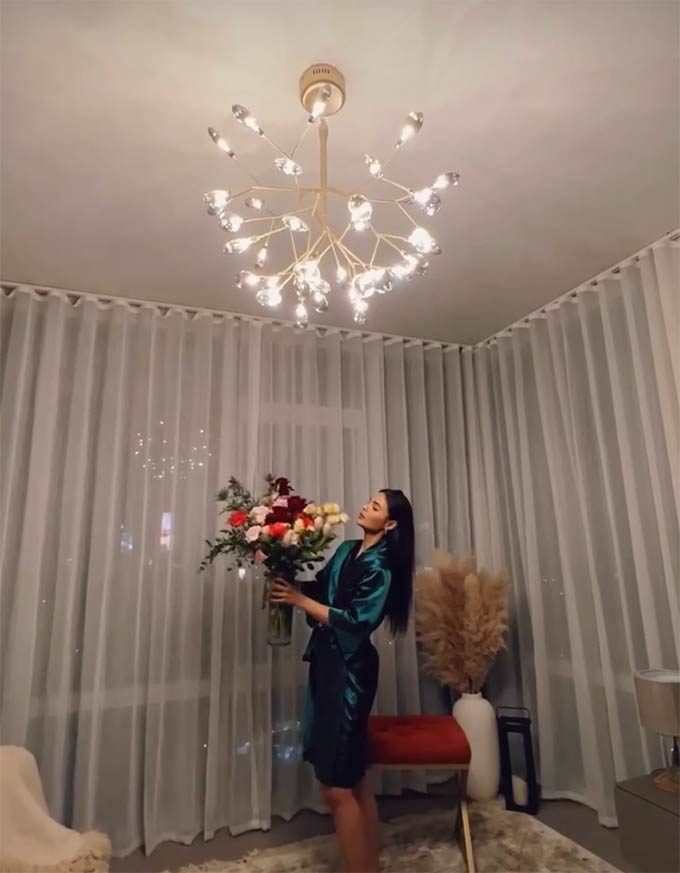 She also got this Filipiniana-inspired cabinet where she placed an artwork featuring an alluring woman that is very much like Lovi.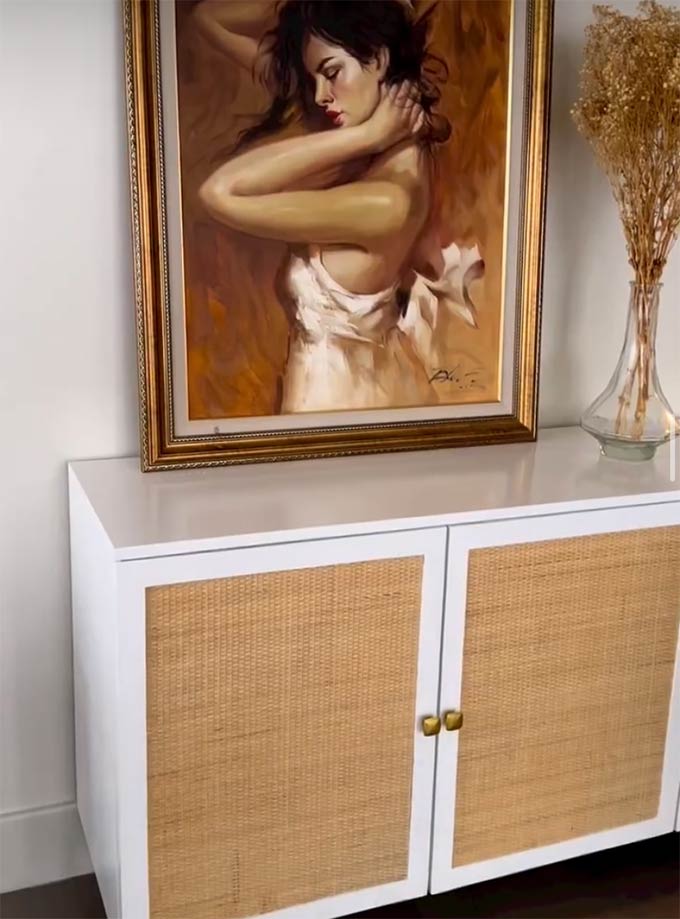 Lovi's lovely home also helps set her mood when she needs peace and quiet while reading through a script.
Look at her inspiring view from where she is seated in the dining area.