Whether you live in a sprawling house or a condo unit, having an outdoor nook has a lot of benefits.
A balcony or a lanai can serve multiple purposes—some use it as an extension of the living area, others opt for a dining nook, and there are many who turn it into a green corner filled with plants and blooms.
For actress Angelica Panganiban, her outdoor area is versatile, functional, and envy-worthy.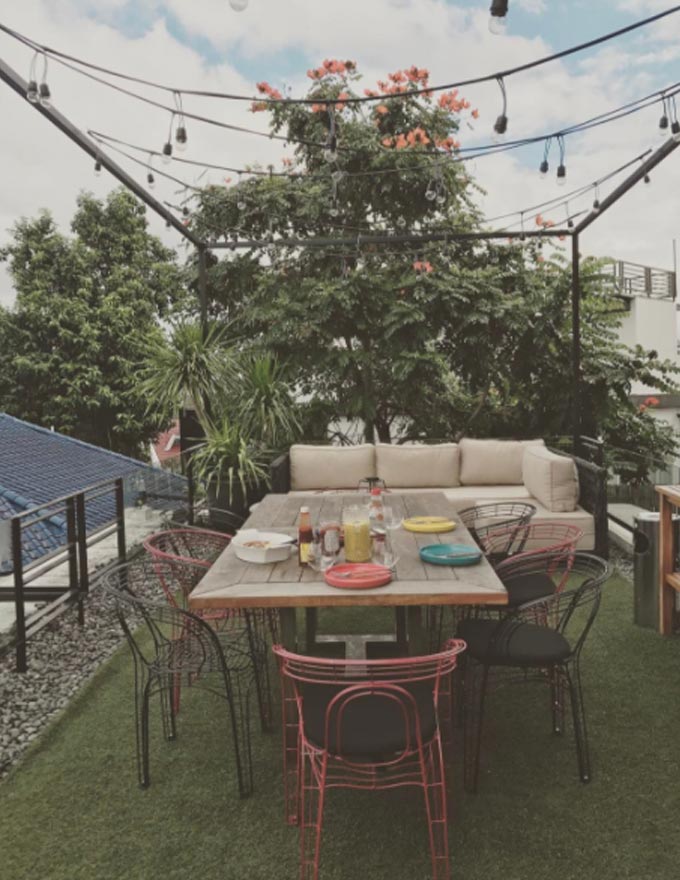 Not only is it the best spot to view the sky and her surroundings, it's perfect for catch-up sessions and get-togethers with friends, too. On days when she'd like to take in the beauty of the city, it's also a cozy option for hearty breakfast meals.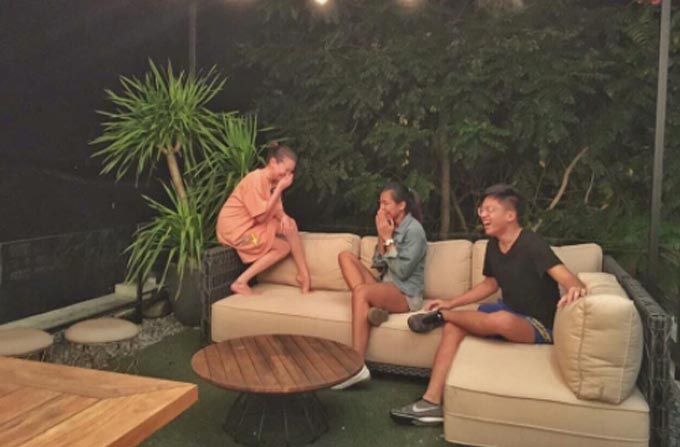 If you've been planning to change the look of your outdoor nook, you may want to use Angelica's space as inspiration. Filled with color, warm lights, and inviting seating pieces—it has everything you need in a lanai that'll make you want to stay for hours on end. Get started with these picks:
1. If you love hosting dinners and parties, it's important that your table can accommodate guests. Count on a wooden table with a metal base to get the job done while adding warmth and texture to your space.
Wood Dining Table with Metal Base, price available upon request, Urban Abode
2. Give your nook a rustic upgrade by pairing wood with colorful pieces. Stay relaxed in a comfy chair that makes a statement.
Pamela Wire Lounge Chair, price available upon request, A. Garcia Crafts
3. We've said it beforeâthe right lighting can set the mood in space. Aside from adding string lights, you can also work with an industrial-inspired droplight with warm white light to complete your lanai's aesthetic.
Blake Droplight, price available upon request, Match Contract
4. While your guests would gather around the table, it's the main seating piece that would invite them to stay. Opt for an outdoor neutral sofa with fluffy cushionsâjust make sure it can withstand harsh outdoor elements.
Tropez Outdoor Sofa, price available upon request, Kenneth Cobonpue
5. and 6. Colorful plates, bowls, and glasses can save you the trouble of setting up a centerpiece. Bright and captivating dinnerware in red and aqua are your best bets.
Farmhouse Aqua Dinnerware and Farmhouse Red Bowls, prices available upon request, Crate & Barrel
7. Add to the intimate setup while keeping pests at bay with candles in cute candleholders. Don't forget to match the colors of your holders with that of your dinnerware for a unified look.
Pop Votive Candleholders, price available upon request, Crate & Barrel
8. An extra chair may come in handy during impromptu parties. Be prepared with another relaxing seat that packs a colorful punch to match your outdoor area's overall look.
A Cote Side Chair, price available upon request, Schema
This story originally appeared on REALLIVING.COM.PH.
* Minor edits have been made by the Pep.ph editors.