Vacation trips are out of the question for the time being, but that doesn't mean you can't beat the heat of summer in the comfort of your home.
First things first, make sure all of your home appliances are in tip-top shape for the coming summer months. You don't want your air-conditioners, electric fans, and refrigerators to conk out during the time when your family needs them the most.
If you need to update any of these home appliances, check out the Savers Appliances Great Summer Treats promo happening from March 12 to May 31, 2021. It has practically every home appliance you and your family will need to have a comfortable stay at home, rain or shine.
Plus, you'll get to enjoy up to 30% off on home appliances, freebies, and even additional Robinsons Rewards Card points on select items!
Interested? Take a look at these amazing air-con and refrigerator deals from the sale.
A REFRIGERATOR WITH A BIG FREEZER
The Condura CNF271i is an energy-efficient, two-door refrigerator that stands at 9.5 cubic feet.
It has a big freezer ideal for storing meat, fish, and other food items that easily spoil in warm environments. The freezer is even roomy enough that you can stock up on your family's favorite frozen summer treats like ice cream and ice pops!
During the sale, you can get the Condura CNF271i for a promo price of P22,880 (SRP), saving you as much as P2,670. As an additional treat, you'll get a free Tritan Tumbler with your purchase!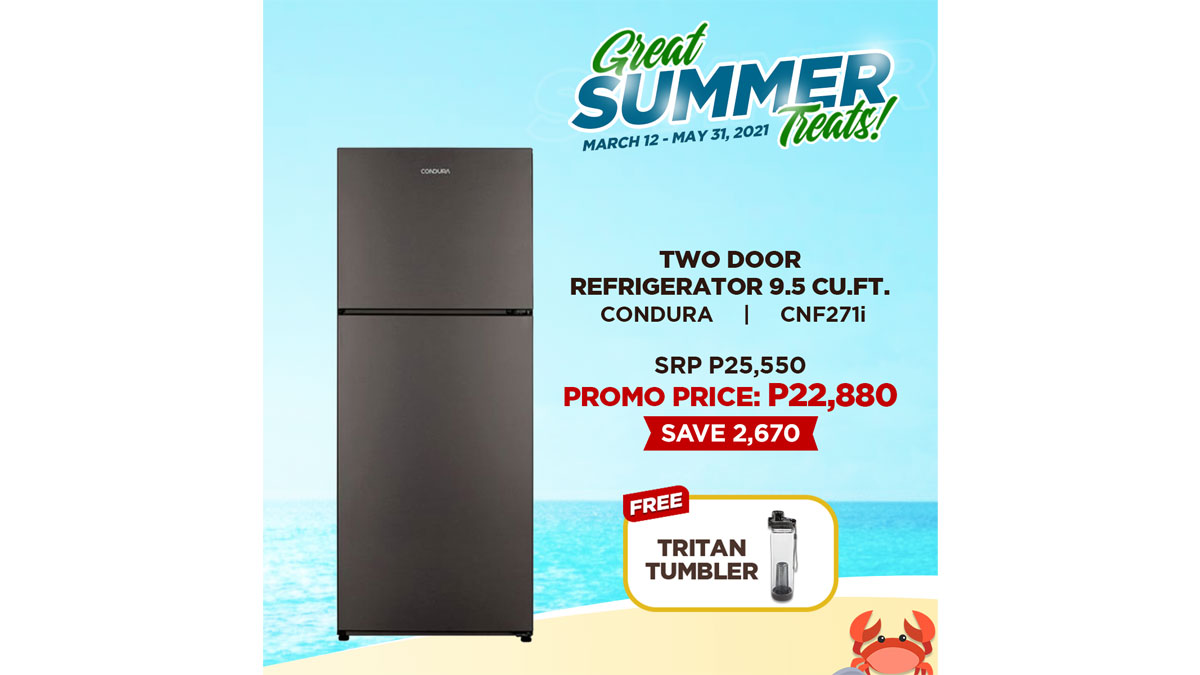 A WINDOW-TYPE AIR-CONDITIONER FOR THE BEDROOM
Keeping the kids sleeping soundly during warm summer nights will be a challenge many parents will face. How about finally getting an air-con like the Midea FP-51ARA008HMNV-N5 for their room?
It has 0.75 hp, which is ideal for bedrooms around 11 to 14 sqm in size. Because it's a manual, window-type air-con, expect the installation to be a breeze!
The promo price is P13,500 (SRP) during the sale, slashing P1,595 off the original price. And by choosing the Midea FP-51ARA008HMNV-N5, you'll also get a free Glade Automatic Spray!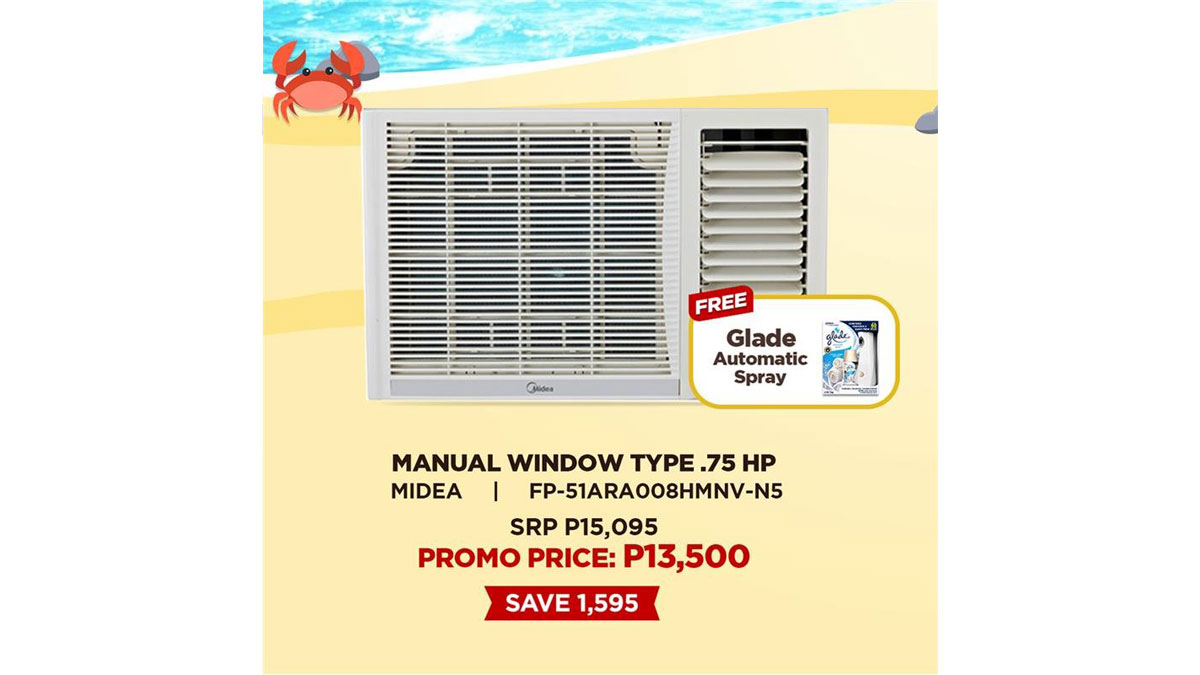 A REMOTE-CONTROLLED AIR-CON FOR THE LIVING AREA
Avoid sweltering summer afternoons as well by installing an air-con unit in your home's living area. Choose something like the Kolin KAG-150HRE4. With its 1.5 hp, the Kolin KAG-150HRE4 is suitable for larger areas in your home, about 22 to 24 sqm.
Part of Kolin's E-Series, this unit has a remote controller that allows you to adjust the air-con's operations even as you sit comfortably on the sofa. That's definitely a plus during K-drama marathons at home!

It comes at a promo price of P19,500 (SRP), giving you P2,405 in savings. And, similar to the Midea unit, it also includes a free Glade Automatic Spray.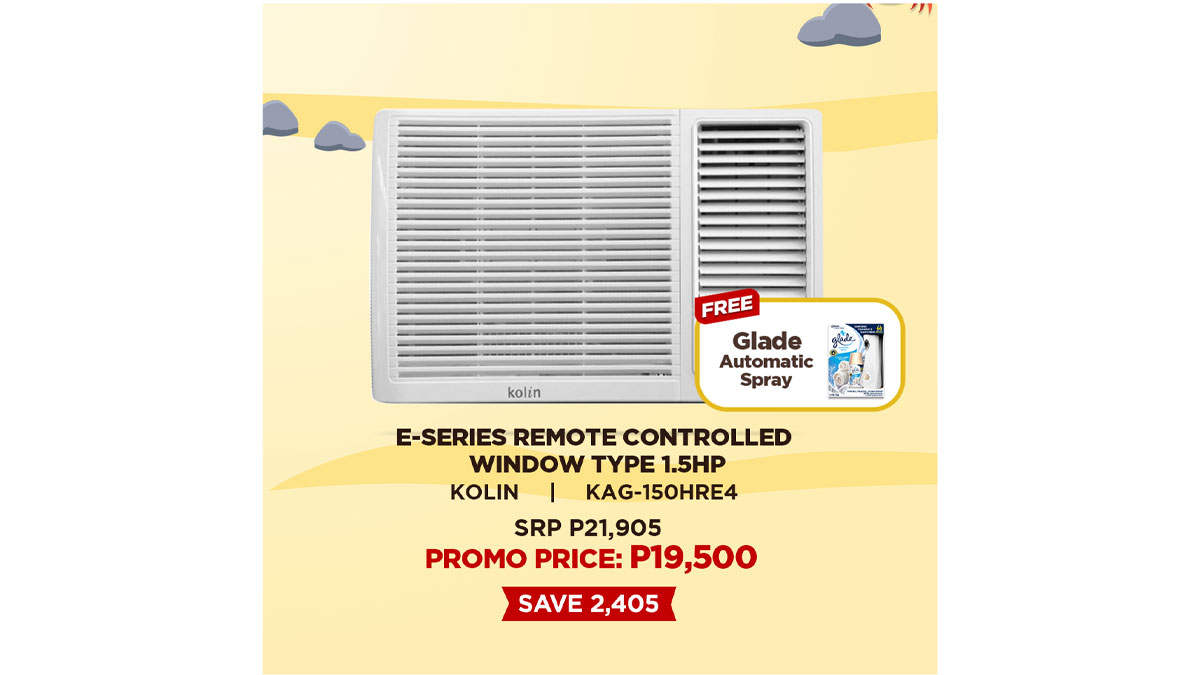 If these picks aren't quite what you're looking for, don't worry! There are a lot of brands and home appliances included in the Savers Appliances Great Summer Treats sale. Find what you're looking for by browsing this e-catalog.
In addition to these deals and discounts, you can also get exclusive freebies depending on your chosen payment option.
RCBC cardholders can get a free Intex Swimming Pool for minimum installment purchases worth P25,000. Customers who prefer paying via Home Credit or Aeon can get a free Savers Electric Fan for a minimum purchase of P14,000. 
This summer promo is available both online via the Savers Appliances official website and in-store at Savers Appliances branches nationwide from March 12 to May 31, 2021, only.
For more information, follow Savers Appliances on Facebook.
Per DTI Fair Trade Permit No. FTEB-113817, Series of 2021
*Terms and conditions apply.
This article was created by
Summit Storylabs
in partnership with SAVERS APPLIANCES.
Follow SAVERS APPLIANCES
Website
https://saversappliances.com.ph
Read the story? Tell us what you think!
How and where can I get this?