From being a queen of the universe, Pia Wurtzbach is currently happy being the queen of her own household. Having lived independently for much of her adult life, the actress does her own chores, including the laundry.
Yup, Pia has been doing her laundry for years, and even has helpful tips based on her own experiences. Here's what she revealed in an interview with PEP.ph (Philippine Entertainment Portal).
Despite her busy schedule, the beauty queen makes time for laundry once a week. This is also to conserve water and electricity.
Pia says she learned how to do laundry from her mom, "The most important yet very basic laundry rule I learned from my mom is to segregate colored clothes from whites."
Like most of us, Pia is also no stranger to amoy kulob, explaining, "I live in a condo so I do indoor drying, which is not so easy. Especially now that it's already the rainy season, condo-dwellers like me worry about amoy kulob."
When asked how she keeps her clothes smelling fresh despite drying them indoors, Pia swears by this new laundry duo: Downy Detergent and Downy Fabric Conditioner Kontra Kulob.
"The trick is to make sure your detergent and your fabcon complement each other!" she says. "I've been using Downy fabric conditioner ever since, so when Downy came up with a detergent as well, I was so excited! It's a great match with my fabcon when it comes to taking care of my clothes."
With the new Downy Detergent added to her laundry routine, Pia says she no longer worries about her clothes smelling musty.
She adds, "I trust Downy as it's not harsh on the fabric. It helps my clothes smell fresh all the time, especially this rainy season—it really helps fight amoy kulob!"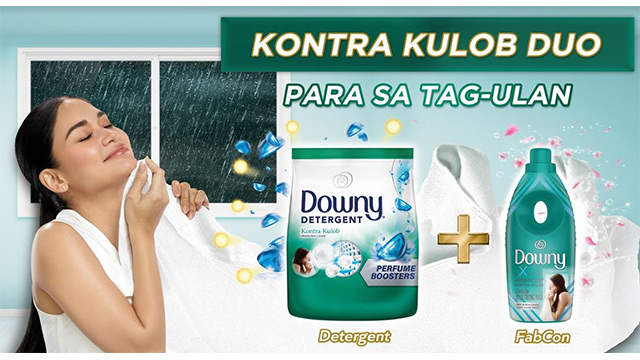 This rainy season, help prevent amoy kulob by making sure that your detergent and fabcon are a good match. Add the new Downy Detergent to your laundry routine and use it with the Downy Fabric Conditioner to complete your kontra-kulob power duo. Together, these products help keep your clothes clean and smelling fresh, even when dried indoors.
Shop for Downy via Lazada and follow Downy on Facebook for more details.
Read the story? Tell us what you think!
How and where can I get this?