K Brosas got a puppy from Chokoleit.
It was K's last gift from her late friend and fellow comedian.
Chokoleit, owner of five dogs, promised to give K a puppy once one of the dogs give birth to a litter.
And one of them did.
Channel, the dog in the photo, gave birth to four, and one puppy was given to K.
In her Instagram post, she told her followers that all of Chokoleit's dogs were present at the wake.
It read, "Hi from channel! Isa SA limang aso ni chokie.. andito lahat sila ngayon SA lamay pero eto lang nahawakan ko..
"At nakakatuwa kasi pinangako saken ni chokie na bibigyan nya ako NG puppy, kaya naman meron na kong aso!!
"Kc binilin na pala nya na yung isa SA 4 na anak ni channel saken.. 2 months old pa Lang.. syempre ang name NG bago kong puppy ay... chokie!
"Salamat at Labyu chokie!!"
In the comments section, K further shared that Chokoleit's dogs have found a new home in the late comedian's family members.
K said, "yes, yung 5, hindi po maghihiwalay.. again... don't worry.."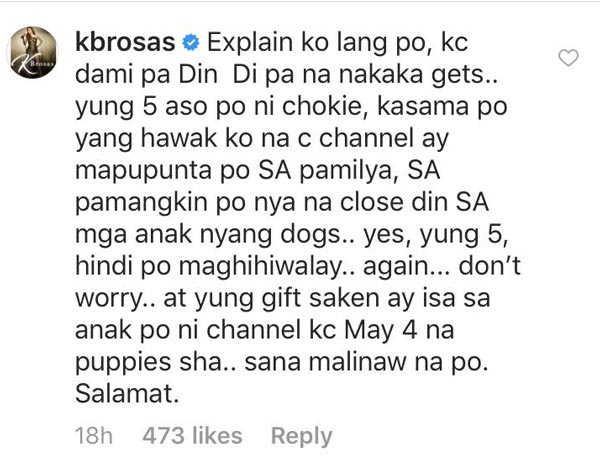 Chokoleit succumbed to heart attack and pulmonary edema on March 9.
He was performing in Abra when he reportedly had the attack.
The comedian was rushed to the hospital immediately after his segment, but it was too late.
K was supposed to be part of the celebrity line-up for the show, but her schedule did not allow it.
On Instagram, she posted a series of their photos together and wrote a lengthy eulogy.
It read, "Ayaw kong bumangon.. Di pa rin lubusan matanggap..,ang dami nating pics chokie..
"last year lang around this time nasa Lake Tahoe tayo, kc natuwa At nakasanayan na natin mag mini vacay pag nasa u.s tayo na May shows..
"una SA Yosemite tapos big bear.. sagot mo pag kain kaya happy fiesta lagi ulam natin.. at lasing lahat..
"hindi lang kita lagi kasama SA show at guest pa kita SA major concert ko.. tapos lalo pa tayo naging close dahil ginawa tayong ninang ni pokie kay malia...
"tuwang tuwa ka ng nalaman mo na malapit na matapos haws ko, sabi mo papa Buntis mo aso mo para mabigyan ako NG puppy.. isang aso mo gift namin sayo na hati hati kami ni pokie At Pooh.. kahit mahal dedma kc never naging issue ang pera saten.. At ganon ka namin kamahal..
"Pati mga anak namin ni pokie mahal na mahal ka.. gumugulong kami SA kakatawa sayo..
"ako, minsan hindi nako sumusunod SA script dahil tawa na lng ako NG tawa... hirap NG ganito..
"dapat nasa Abra din ako, alam nila yan pero biglang hindi nag pwede sched ko... hindi ko alam gagawin ko kung andon pala ako..
"grabe ka chokie, pwede naman na Di ka na nag show pero dahil kilala kita tinuloy mo kahit sobrang hirap. Hanggang SA huling hininga mo PinilI mo pa rin magpatawa...
"sino na ngayon ang Mang aasar samen ni pokie?? Sino ka duet na ni Pooh?? Hindi ka mapapalitan kelan man kc nag iisa ka.
"Sobrang mahal kita.. At Di ko alam pano ako babangon ngayon, literal..
"sana makita kita At makausap SA panaginip. Di ko alam gagawin ko kundi Magdasal.
"Isa kang ALAMAT chokie.. I love you so much!"
Aside from K, Chokoleit formed a tight friendship with Pokwang, Pooh, and Vice Ganda.
They were among the first celebrities to their pay respects to him at his wake.