Frankie Pangilinan knows that bikini photos easily stand out on social media feeds.
But she does not "feel comfortable" that bikini shots get "a little extra attention...when there are so many more important things we should all be discussing..."
Hence, she finds an ingenious way to put her bikini posts to good use.
The daughter of Megastar Sharon Cuneta and Senator Kiko Pangilinan promotes her advocacies in the caption.
She writes: "Avoid plastic bottles and straws, recycle if you can't (like me now abdjhsjahdhs).
"our farmers deserve better, try and buy from your local farms instead of going through a middle man.
"vaccinate your kids. register to vote.
"donate to @wwfphilippines. support local brands like @eighthmermaid (who very kindly gave me this bikini) because colonial mentality is bad enough and it shouldn't get to ruin our economy.
"don't buy skin whitening products. don't body shame.
"stay hydrated. be kind.
"that's just a few things i believe we should all try to keep in mind
"much love always,
"kakie"
(Kakie is her nickname.)
In the comments section, Frankie's close celebrity friends give their support.
Juliana Gomez, the unica hija of Richard Gomez and Lucy Torres, says, "Tell em"
Samantha Cruz, Sunshine Cruz's daughter, adds, "how are u that beautiful. r u kidding me"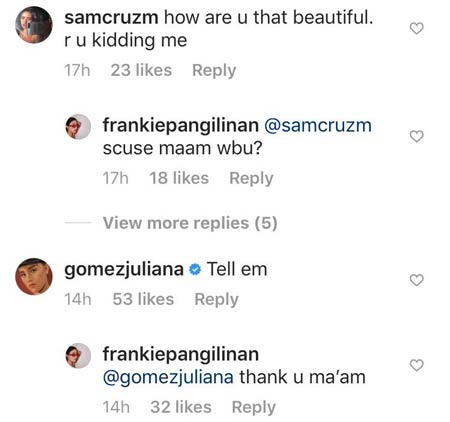 Frankie's aunt Angeli Pangilinan-Valenciano comments, "hahahaha hilarious."
Rizza Mananquil-Trillo gives the post three red heart emojis.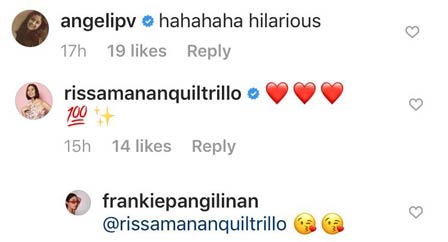 At the same time, Frankie takes to the comment section to clarify some details from her caption.
Kris Aquino shares her own take on whitening products, saying, "Acceptable if w/ SPF?
"i believe we should love the skin we have but also aim for what makes us feel most beautiful.
"For me, all skins are ATTRACTIVE basta pantay ang kutis at maalaga against sun damage. [smiling emoji]"
Frankie clarifies, "i meant skin whitening tita like bleach or otherwise harmful products which tend to be advertised as a catalyst for cosmetic advantage [smiling emoji]
"SPF is essential! whitening products are not :("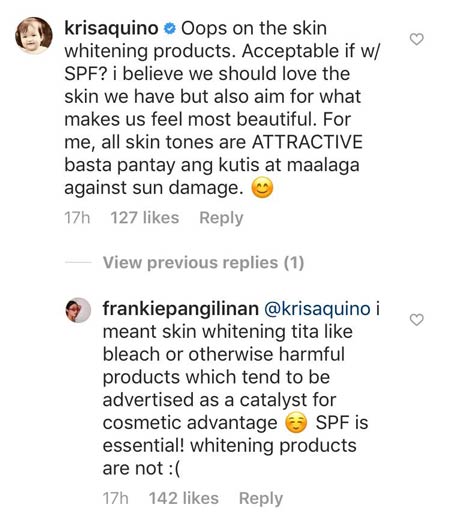 One netizen points out that the plastic bottle in the second photo seems to contradict one of her statements: "Avoid plastic bottles and straws, recycle if you can't..."
In good humor, Frankie admits that she is aware of her mistake.
She says, "sis my heart was hurting too. sometimes unavoidable due to circumstances, so we just do our best and make sure everything is diposed of properly/ thrown in the right bin!"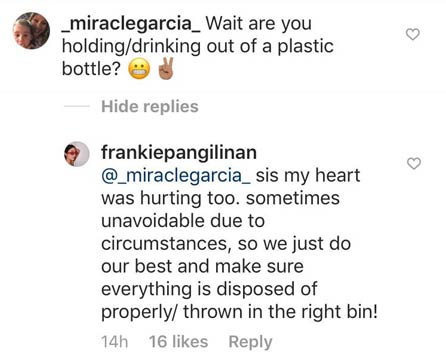 Meanwhile, a netizen argues why is the plastic bottle even an issue?
Frankie responds, "it is an issue bc it's bad for the environment especially when disposed of irresponsibly! we've all got a little adjusting to do hehe"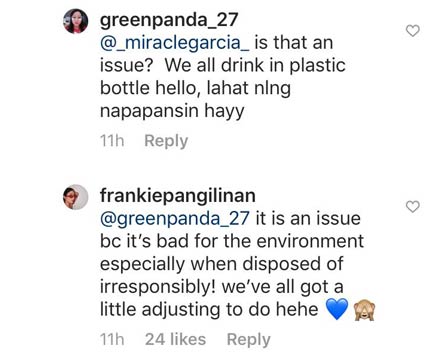 FRANKIE ON KNOWING YOUR PHOTO'S INTENTION
Early this week, Frankie appeared on the ABS-CBN program Tonight With Boy Abunda.
That was her first solo interview on television.
During the episode, Frankie was asked about the first bikini photo she posted on Instagram.
She was in Boracay at the time, celebrating her high school graduation, and wore a red bikini.
In that post, Sharon left a comment saying, "Don't show too much my Baba! Hahaha! But lookin' good my baby!"
When asked if her parents got mad about the photo, Frankie said they didn't.
The Megastar daughter added, "I kinda had this conversation with my parents. I was like, I think it depends also with the intent of the photo and my only intent with this photo is I'm at beach.
"It's my body, you know? My tiger stripes and all. They're all there."
Frankie then underlined that girls should be allowed to feel comfortable in their own body.
"If girls can't feel comfortable in their own body and if girls aren't allowed to do what they want with their body, then what kind of world am I growing up in?" she asked.
But knowing her mom Sharon, she was just being protective.
"I love her very much," Frankie said. "I understand, of course. The culture and all."