After "16 years of praying," Assunta de Rossi announces the good news: she is pregnant.
Assunta's younger sister Alessandra is one of the first to congratulate her 37-year-old ate, stating in her Instagram post that "God really answers prayers."
The actress adds in her caption: "Heto ka na, tita na me!"
Meanwhile, Assunta posts a Bible quote to express her gratitude to the well-wishers.
It reads: "Blessed are the merciful For they will be shown mercy.
"Matthew 5:7"
In the comments section, sister Alessandra leaves an interesting job proposal to Assunta and her husband-politician Jules Ledesma.
Published as it is written, Alessandra says, "Pls po. Naghahanap po ng work.
"Magapply nalang akong yaya sa mga ledesma..."
Her asking salary: "keri na 150k/m."
The actress adds that she is "good with kids and all kinds of people/dogs."
She is also a "perfect storyteller for a baby with song and dance."
Rephrasing the Bible quote posted by Assunta, Alessandra says, "Please have mercy and reply asap. Thank you."
Assunta immediately replies: "Start ka muna sa 0k."
In other words, Assunta wants Alessandra to start babysitting for free.
Alessandra replies: "hay nako. Kay jules nalang at generous yun."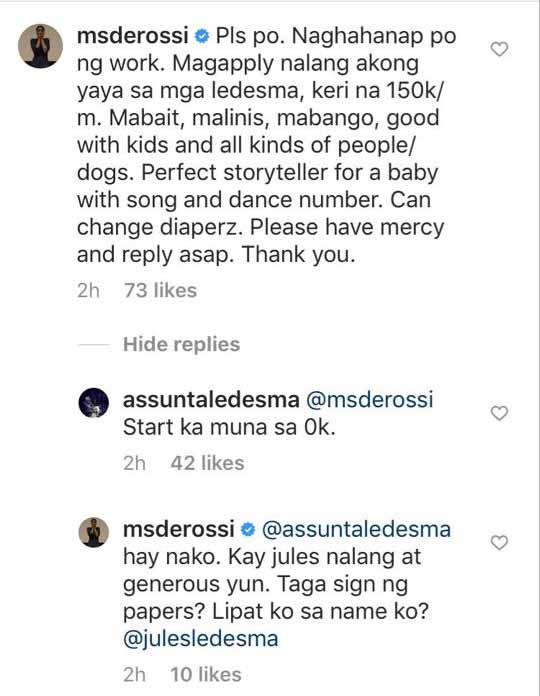 Now 14 weeks pregnant, Assunta considers this a "miracle," especially since getting pregnant with myoma and endometriosis is "extremely difficult."
Healthgrades.com defines myoma as "a benign (noncancerous) tumor that develops in or around the uterus."
Endometriosis, according to MayoClinic.org, refers to it as "an often painful disorder in which tissue similar to the tissue that normally lines the inside of your uterus—the endometrium—grows outside your uterus."
This is Assunta's first child with husband Jules, but the former congressman already has two children—Cristine, 29, and Carlos, 24—with his late wife Maria Cristina Tsung Pek.
Gusto mo bang lagi kang una sa showbiz news at scoops? Join and subscribe to our Viber Chatbot here para lagi kang updated!