The COVID-19 pandemic has hit the United States hard, prompting its government to declare it a national emergency.
As of May 20, 2020, the country has had over 1,528,235 known cases of COVID-19.
With Americans directed to stay home to curb the spread of the coronavirus, nearly 10 million citizens are out of work, The New York Times reports.
One of those at risk of unemployment is Drew Caballes, a 26-year-old Pinoy flight attendant based in the state of California.
Drew works as a flight attendant for one of the major airlines in the U.S.
At the start of the year, when the coronavirus was not yet declared as a pandemic, Drew noticed subtle changes in their work flows.
"We were slowly trying to implement some protocols as far as changing the service, how we should apply social distancing into our workspace," he recalls in an interview with PEP.ph (Philippine Entertainment Portal) via Facebook Messenger on May 14, 2020.
"At first, I thought it was just gonna be temporary.
"But with each week that passed by, it's just becoming more and more serious.
"It's just crazy how everything is being handled right now."
Even though U.S. President Donald Trump declared the country under national emergency on March 13, Drew and his crewmates continued to work.
By April, several flights had been cancelled and in-flight services had been restricted.
Their "new normal" now carries many changes in air travel as we know it.
As Drew recounts, the number of passengers allowed in the aircraft has been reduced to 40% at most.
First Class seats have been "cut down in half, so you're never seated next to anyone."
Flight attendants are also told to observe physical distancing amongst themselves.
"Some of us occupy the jumpseats and some will occupy a regular seat," Drew says.
They no longer serve food and beverages during the flight. Instead, they give out "a small bag of a snack and a bottle of water" upon boarding.
"For the whole duration of the flight, we cut our duties to the minimum to observe social distancing," the young flight attendant continues.
They observe it by "sitting through most of the duration of the flight and only answering to requests when needed."
"As a flight attendant, as a person who interacts on a daily basis to customers, it's just different.
"I felt like a part of my job is gone."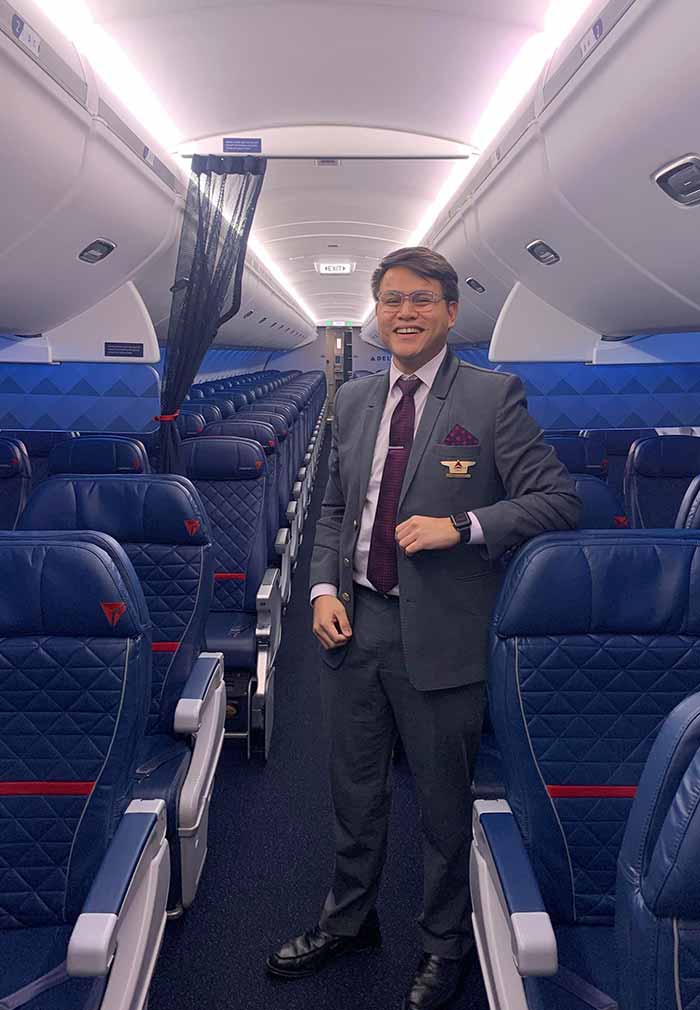 Currently, the number of domestic flights have also been reduced.
With no end to the pandemic in sight, Drew is worried he will continue to lose his job in the process.
"Being in an airline industry, everything is so fragile.
"One good thing can happen, everyone is happy in the industry. But one bad thing that happens in the world, we can all just go down to the drain.
"It's crazy how our industry runs that way."
Drew and his crewmates are still waiting for any word about their employment status moving forward.
COPING WITH THE NEW NORMAL
As Drew sees it, Americans seem to be in denial, a state which doesn't help in the current fight against the virus.
"I think we're all still in this denial stage. We're even in this stage where, 'Well, it's been three months now. I'm not sick. I have no signs at all.'
"I don't think the mindset should be like that."
For him, people need to accept and acknowledge that we are living in difficult times.
"I just think that communication and more understanding is what we need, and more sensitivity... and cooperation, of course.
"It's just different now... It's really a sad time for us.
"Just try to support each other. I think that's the most important thing in maintaining a sense of normalcy."
(Isa ka bang showbiz fan na laging updated at naghahanap ng latest chika? Share what you know. Join here!)