These celebrity families have proven that the concept of "family" extends beyond its standard definition of having mom, dad, and dependent children living together as a unit.
Here they are, happily blended or enjoying their second chances at love, in a very non-traditional family setup.
Atom Henares and vicki belo
Vicki Belo and Atom Henares have both moved on from their marriage, each finding new love.
Vicki was in a long relationship with Hayden Kho before they got married in 2017.
A year later, Atom married his long-time partner Nathalie K.
For the two exes, their respective marriages only mean their family tree has grown new branches.
Vicki and Atom are the parents of Cristalle Belo and Quark Henares.
Scarlet Snow Belo, the daughter of Vicki and Hayden, calls Atom her second Daddy.
Jodi Sta. Maria, Pampi Lascon, and IWA MOTO
Jodi's top priority has always been her son Thirdy.
And when her five-year marriage to former husband Pampi ended, Jodi focused her attention even more on Thirdy's well-being and happiness.
For their son's sake, Jodi and Pampi found the grace to forgive the past and forge a truce.
Jodi realized that Thirdy wouldn't feel complete without building a binding relationship with his dad.
Jodi told PEP.ph (Philippine Entertainment Portal) and the press in April 2019, "I put Thirdy first, what he needs. And I think that is what parenting is all about.
"We may not be together as partners, but we can co-parent our child in the best way we can, to be able to give him not only a bright future.
"Also to show him that despite the situation, kumbaga, magkakatuwang pa rin kami sa pagpapalaki sa kanya."
Jodi has also forged a comfortable friendship with Pampi's partner, Iwa Moto.
The adults have formed a camaraderie that draws Thirdy closer to his half-sister Mimi, his dad's daughter with Iwa.
Ogie Alcasid, Michelle Van Eimeren, and Regine Velasquez
The early history of Ogie, Michelle, and Regine's relationship was typically showbiz fare.
When Ogie and Michelle were still married in 2003, Regine was said to be one of the prime reasons the marriage fell apart.
Ogie and Michelle separated in 2007.
Michelle married Mark Morrow in 2009. Ogie and Regine got married in 2010.
All three eventually made peace with the past, and had been staying close as a blended family by the time Ogie and Regine had their son, Nate, in 2011.
Ogie and Michele have two daughters: Leila, who is currently in the Philippines, and Sarah, who is residing in Australia with Michelle.
Regine said in October 2014, "My husband really worked hard for all of us to have a harmonious relationship.
"Pero hindi namin iyan nagawa by ourselves. God was with all of us.
"God made it right for all of us and that's why maganda yung naging resulta kasi we really prayed for that.
"We wanted our kids to know each other, to see that they have parents na talagang mahal na mahal silang lahat.
"We wanna be good parents so more than anything else that was the priority, that's why we had a good relationship,"
Martin Nievera, Pops Fernandez, and Katrina Ojeda
Christmas 2019 was a momentous occasion for Martin and Pops.
It was their first time to spend the holidays together with Martin's former partner Katrina—who was once the third party in Martin and Pops' marriage—and her son Santino.
Pops tearfully recounted how Santino, unwittingly, made it easier for her to patch things up with Katrina.
The Concert Queen said, "Time heals a lot of wounds. Parang nawala na talaga yung galit ko… kung ano man yun.
"The other factor, when I saw Santino, such a sweet kid... I think that totally changed my whole… yung pananaw ko talaga.
"So, I said everything has to be okay, and it is."
Martin and Pops have two sons of their own: Ram and Robin.
Macky Mathay, Sunshine Cruz, Teresa Loyzaga
Sunshine's modern family has grown throughout the years.
The actress and her daughters Angelina, Samantha, and Chesca found a family in Teresa and her son Diego Loyzaga.
Sunshine and Teresa both had a romantic past with actor Cesar Montano, but that didn't hinder them from being friends.
Later on, Sunshine and her girls' family grew bigger when Macky entered the picture.
Macky is Sunshine's current boyfriend.
He is also a father of three—Ro, Cole, and Charlie.
Last Christmas, Sunshine and her daughters had holiday lunch with Teresa, Diego, and Macky.
Paco Arespacochaga, Geneva Cruz, and KC Montero
Heaven Arespacochaga, the son of Geneva and Paco, was not ashamed to share how his unconventional family came together.
The young hip-hop artist honored his father figures, dad Paco and step-dad KC Montero, on Father's Day.
Heaven wrote in his Father's Day 2020 greeting on Instagram: "My biological parents annulled their marriage when I was 3.
"My step dad and mom divorced when I was 14.
"My step mom and dad divorced when I was 15.
"Those things don't necessarily look good on paper...but...hear me out...there's blessings that come from that!"
He thanked Paco and KC for putting aside their egos to become good father figures to him.
Vic Sotto and kids Danica, Oyo, Vico, Paulina, and Tali
Even though his children have different mothers, Vic made sure they grew up knowing one another.
Danica and Oyo are Vic's children with Dina Bonnevie.
Vico, the popular mayor of Pasig City, is his son with Coney Reyes.
And Paulina is his daughter with Angela Luz.
When Vic's wife Pauleen Luna came into the family picture, the Eat Bulaga! star made the extra effort to bring his family closer.
As Paulina related to PEP.ph in an interview last March 2018, "Everyone had to be close to Pauleen, you know what I mean?
"My dad really made the effort to bring all of us together during dinners.
"So, finally now, it really feels like I do have these siblings. It turned out for the better."
Vic and Pauleen have a daughter named Tali, the youngest in the Sotto family.
Robin Padilla and kids Kylie, Queenie, Zhen, Ali, Isabella, and Gabriela
Showbiz fans had a glimpse of Robin's growing family during his daughter Kylie's wedding in December 2018.
Everyone was present to celebrate Kylie's wedding day.
There were the bride's siblings (L-R) Zhen, Queenie, and Ali.
Kylie's mother and Robin's former wife Liezl Sicangco was also in attendance.
Netizens particularly loved a photo of Robin's wife Mariel Rodriguez sharing a moment with Liezl.
Mariel posted this photo on her Instagram profile, recalling her reaction to Kylie's bridal look.
The ABS-CBN host also lauded Robin and Liezl for raising an "independent, strong, passionate, and kind" person.
Robin has two daughters with Mariel: Isabella and Gabriela.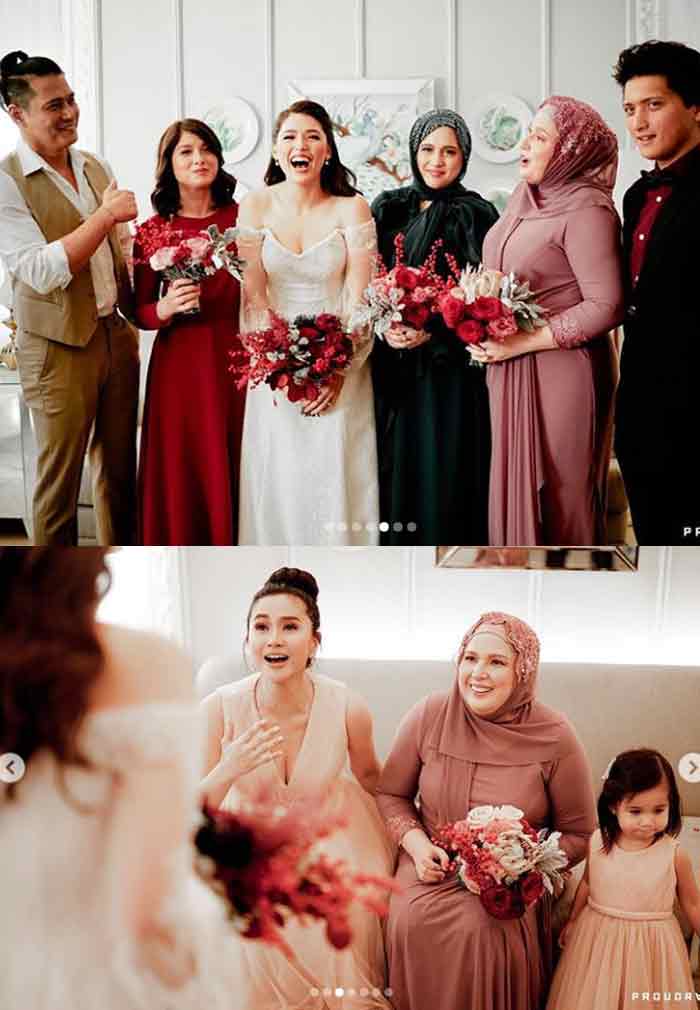 Christopher de Leon, Sandy Andolong, and kids Ian, Lotlot, Matet, Kenneth, Kiko, Rafael, Miguel, Gabriel, Mariel, and Mica
Christopher is father to ten children.
There is Ian, his eldest son with Nora Aunor.
He and Nora had also adopted kids: Lotlot, Matet, Kenneth, and Kiko.
And then there is Christopher's children wtih his wife Sandy. They are Rafael, Miguel, Mariel, and Mica.
Even though they have different mothers, the whole family comes together whenever there is a milestone to celebrate.
Sandy sees all of Christopher's kids as part of her family.
The actress goes by this quote: "FAMILY A circle of strength and love, founded by faith... joined by love... kept by God..."
Eddie Gutierrez and kids Tonton, Monching, Ruffa, Richard and Raymond
Much like the De Leons, the Gutierrezes have an extended family of their own.
Eddie, the patriach of the clan, has six children with his wife Annabelle Rama.
Their children are Ruffa, Rocky, Elvia, Richard, Raymond, and Ritchie Paul.
The former matinee idol also had children with his previous relationships. Tonton is his son with actress Liza Lorena, while Ramon Christopher or Monching is his son with singer Pilita Corrales.
During big family celebrations, like Annabelle's birthday bash, Tonton and Monching are always part of the guest list.
Janice de Belen and kids Luigi, Inah, Kaila, Moira, and Yuan
Janice has seen to it that all of her children have a strong bond with one another.
Her eldest son Luigi, the chef-restaurateur, is always present during family vacations and bonding sessions.
He is Janice's son with Aga Muhlach.
A family man himself, Luigi and wife Patty have four children: Alejandro, Adriana, Anya, ad Ariella.
Janice has four other kids. Inah, Kaila, Moira, and Yuan are her children with former husband, John Estrada.
Janice's kids also bond with their stepsister Anehcka, who is John's daughter with his wife Priscilla Meirelles.
Luigi does the same with his stepsiblings Andres and Atasha, the twin kids of his dad Aga Muhlach and wife Charlene Gonzalez.
Karla Estrada and kids Daniel, JC, MAgui, and carmella
Like Janice, Karla is a proud single mother.
She has four kids—Daniel Padilla, her son with actor Rommel Padilla; Jose Carlito or JC, her son with singer Naldy Padilla; Magui, her daughter with former Quezon City Councilor Mike Planas, and Carmella, her daughter with a non-showbiz guy named Patrick.
Alone, the ABS-CBN host raised them all to be kind and God-fearing.
Andi Eigenmann and Philmar Alipayo
Andi has found bliss in the "extraordinary" family she has been sharing with partner Philmar Alipayo.
The part-time actress is happy that her family of two, with eight-year-old daughter Ellie, have grown into a family of six.
Philmar has two sons of his own: Toro, who lives with him in Siargao, and Kanoa, who lives with his mother in France.
And then there's Lilo, Andi and Philmar's two-year-old daughter.
The Siargao-based actress once gushed in one of her Instagram's posts: "I love my family, and I love our life. We are aware that it is not ordinary— because it's extraordinary."
Andi is also on good terms with Ellie's dad, Jake Ejercito.
Camille Prats and VJ Yambao
Like Andi and Philmar, Camille and VJ have brought in kids of their own to their marriage.
There is Nathan, Camille's son with her late husband Anthony Linsangan, and Ice, VJ's son with his ex-girlfriend.
Camille and VJ have two kids together: Nala and Nolan.
All in all, they are a family of six, and Nolan is decidedly their bunso.
Camille said, "We want to give them the best and provide them with the best.
"Hindi lang yung kung ano lang ang kailangan nila, and to be able to do that, kailangan mas konti sila.
"And ako kasi, personally, I really like to be able to spend time with my kids na isa-isa sila.
"Kasi, iba-iba ang characters nila, iba-iba ang needs nila as children. So, gusto ko, natututukan ko yun."
(Gusto mo bang lagi kang una sa showbiz news at scoops? Subscribe to our Viber Chatbot here para lagi kang updated, and join our community for more pakulo!)