Artsy black-and-white photos of women with the caption "Challenge Accepted" have been circulating online over the past week.
According to the New York Times, the online movement started back in 2016 as a symbol of women empowerment.
Its sudden resurgence, however, was triggered by the killing of Pinar Gültekin, a 27-year-old university student from the province of Mugla in Turkey.
According to the Turkish news website Daily Sabah, Pinar was brutally murdered by her ex-boyfriend Cemal Metin Avci, 32, after rejecting his request to rekindle their romance.
Cemal beat and strangled Gültekin to death. He then placed her body inside a barrel, which he burned and covered in concrete.
He confessed to the murder after the police acquired CCTV footage that showed him purchasing cans of fuel from a local petrol station.
Pinar's remains were discovered in a forest in Mugla on July 21, after her sister Sibel and mother Sefika reported her missing on July 16.
Cemal is detained on homicide charges.
TURKISH WOMEN FIGHT FOR PINAR
Pinar is one of the thousands of women killed in femicide crimes, which the World Health Organization describes as "intentional murder of women because they are women."
Most of these crimes are committed by the victim's partner or ex-partner, and "involve ongoing abuse in the home, threats or intimidation, sexual violence or situations where women have less power or fewer resources than their partner."
It is a prevalent issue in Turkey, with records showing 474 Turkish women murdered by their partners or relatives in 2019 alone.
On the night Pinar's body was recovered, Turkish women gathered in Istanbul and other cities in the country to pay tribute to Pinar and other victims of femicide.
"We are here, Pinar, we will hold them accountable," they chanted.
At her funeral, Pinar's father Sidik gave an emotional speech that triggered the #ChallengeAccepted movement.
He said: "I am calling out to the whole of Turkey from here: enough is enough.
"Are we supposed to assign a guard to accompany every single girl student in Turkey?
"Can't a girl student go and study in a province where she wants?
"It is an atrocity. I am at a loss for words, I really am."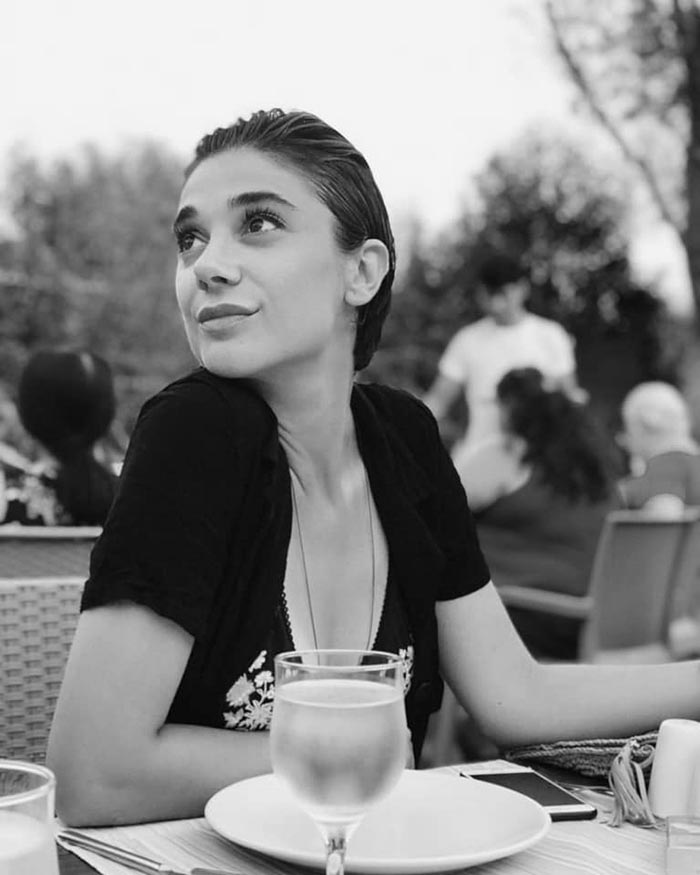 THE BLACK-AND-WHITE PHOTOS
According to a report by MSN, photos of Pinar with the word "enough" made rounds on Twitter after her funeral.
Shortly afterward, women all over the world joined the campaign. But instead of sharing Pinar's photos, they uploaded black-and-white photos of themselves.
This was their way of expressing support for the femicide victims, whose monochromatic photos are usually presented on Turkish TV.
Online community American University Turkish Cultural Club further explained the movement on an Instagram Story that went viral online.
It said (published as is): "I see many of my non-Turkish friends sharing black and white photos of themselves as a 'challenge' but not knowing the reason or origin of the challenge...
"Turkish people wake up every day to see a black-and-white photo of a woman who has been murdered on their Instagram feed, on their newspapers, on their TV screens.
"The black and white photo challenge started as a way for women to raise their voice.
"To stand in solidarity with the women we have lost.
"To show that one day, it could be their picture that is plastered across news outlets with a black and white filter on top.
"I have seen many of my international friends participate in this challenge without knowing the meaning.
"While I am aware that there is no ill will, it is important to remind ourselves why posting a picture with a black-and-white filter is a 'challenge' to begin with."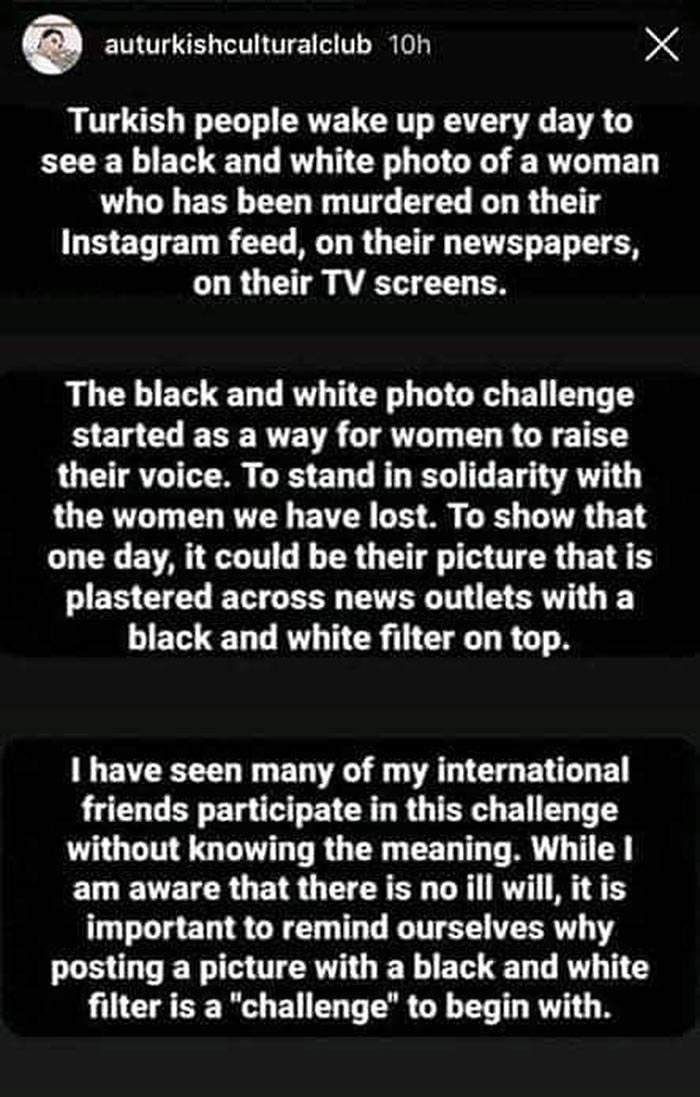 Hollywood stars, including Kerry Washington, Jennifer Garner, and sisters Kim and Khloe Kardashian, helped the campaign trend on social media.
In the local scene, netizens and celebrities Judy Ann Santos, Lea Salonga, Miss Universe 2015 Pia Wurtzbach, Miss International 2016 Kylie Verzosa, and Nadine Lustre posted their own photos to promote self-love and inclusivity.
Gusto mo bang lagi kang una sa showbiz news at scoops? Subscribe to our Viber Chatbot here para lagi kang updated, and join our community for more pakulo!