Ganden Po, the eldest son of former actress-turned-social entrepreneur Nanette Medved-Po and husband Chris Po, is now a published photographer at the age of 17.
Ganden teamed up with WWF Philippines for his coffee table book, Life Below Water.
The underwater photos featured in the book were taken by Ganden during the pandemic, sometime between 2020 and 2021, under the mentorship of world-renowned underwater photographer Scott "Gutsy" Tuason.
In a statement sent to the press, Ganden expresses his pride at being able to merge two of his passions for this project.
He exclaims, "I'm proud of this collaborative project with the WWF because it combines two of my passions in life: photography and the ocean.
"With the help of my mentor, Gutsy Tuason, we were able to capture beautiful images of our marine life in the Philippines.
"Through these photos, I hope people will have a better appreciation of our oceans and to learn to care for them more."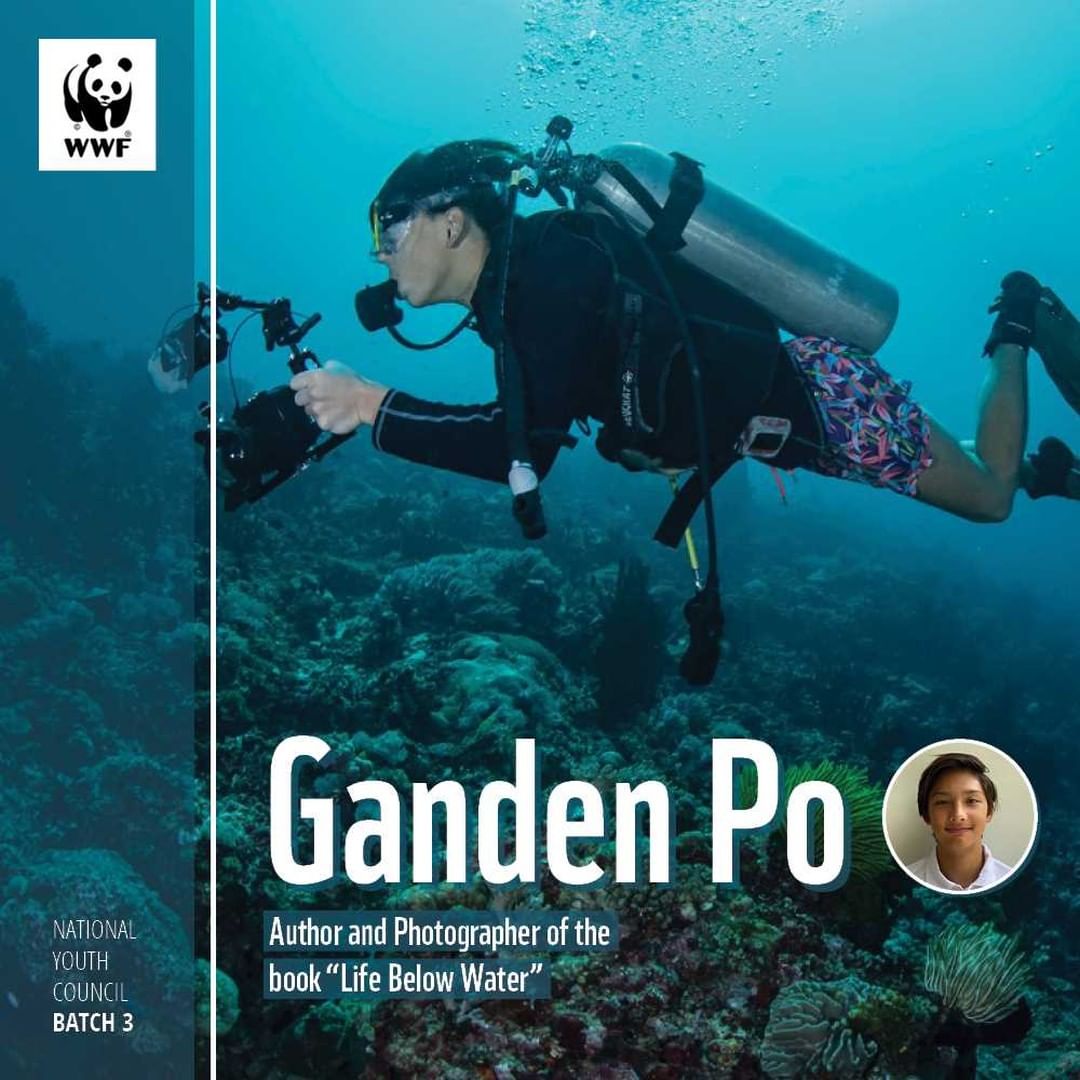 One of Ganden's favorite diving destinations is El Pinoy in Anilao, Batangas, where he saw a Flamboyant Cuttlefish, one of his favorite sea creatures. He takes his photos using his current camera of choice: a Sony Rx100.
"That's where I saw the most interesting wildlife I've seen in a while," Ganden says.
Ganden started pursuing swimming competitively at the age of 8. It was also around this time when he developed his love for photography.
In his interview with ANC, Ganden narrates, "I realized photography was a way I could document memories in a way that's more artistic and has more emotion in it. And that's where it really started."
Gutsy only had positive comments about his student and said Ganden really has the talent, especially with underwater photography.
He told ANC, "The most important thing for a photographer is having an eye. You got to have that first and the rest will follow."
According to Gutsy, underwater photography is a lot more challenging than other styles or types of photography.
He explains, "It's the devil's playground. It's a slippery slope, it's a big commitment. It's not just a matter of putting your iPhone in a housing and just going underwater. You need to shoot great photos. It's very technical. You need a lot of time."
Aside from Ganden's talent, Gutsy said he is also impressed by his young protégé's dedication to the work.
He adds, "He's up earlier than me. When I get to the camera room he's already there preparing all his gear. He's a very motivated, committed young man. You didn't have to tell him or guide him so much because he kinda knows what he wants. I just give him advice."
SUSTAINABLE LIVING
Ganden is also a member of the WWF Philippines National Youth Council's third batch.
He is joined by talented and intelligent young individuals, including Emmanuel Mirus Ponon, Roana Mae Caguliodo, Justin Richmond Domingo, Giselle Lapid, Romina Lim, and Gab Mejia, in raising awareness for the organization's environmental conservation advocacy.
On Saturday, September 18, 2021, WWF Philippines shared on its Instagram account a few of the simple things Ganden does to conserve the environment.
In the caption of the post, he wrote: "Hi, I'm Ganden and this is my small way of living more sustainably.
"To help our planet, I use reusable food containers. I find that using reusable containers is an efficient way to carry around food and other perishable items.
"It also helps save the environment as they often replace the use of single-use plastics since single-use plastics often break down into microplastics that in turn harm our environment and our oceans.

"Reusable food containers are sustainable and durable, and, can also be stylish, too."
Ganden is currently a senior at the International School Manila, where he is also captain of the varsity swimming team.
We are now on Quento!
Download the app
to enjoy more articles and videos from PEP.ph and other Summit Media websites.