Sisters Lorin, 18, and Venice, 17, daughters of Ruffa Gutierrez with Turkish businessman Yilmaz Bektas, have brightened their Instagram pages with photos of their reunion with their dad after 15 years of estrangement.
Ruffa and Yilmaz were wed in 2003. They called it quits in 2007.
Lorin and Venice landed in Istanbul, Turkey (now called Türkiye), on Friday, June 10, 2022.
The emotional scene at the airport with Yilmaz tightly hugging and kissing the girls was captured on camera by the ABS-CBN news team and shown on TV Patrol.
On Monday, June 13, 2022, Lorin uploaded a photo with their dad and remarked, "family ties." She also included the "eternity" emoji in the caption.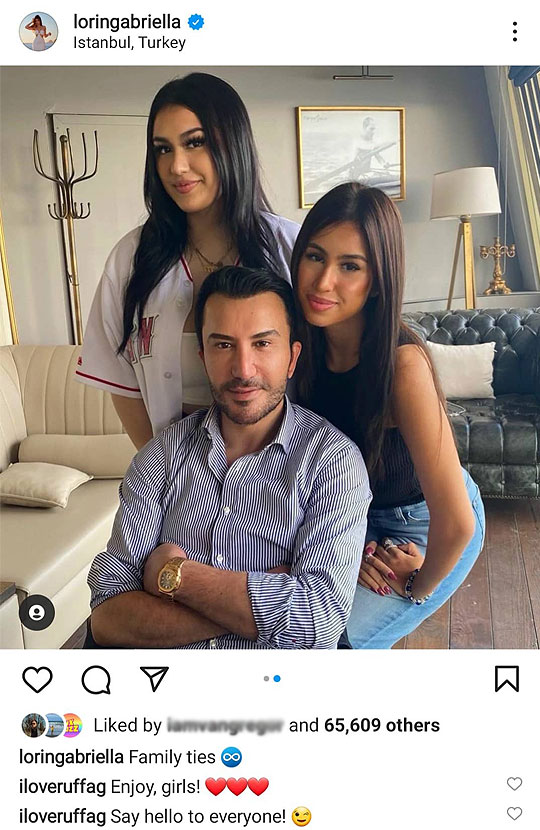 Read also: Ruffa Gutierrez's daughters post bonding photos with father Yilmaz Bektas; Ruffa says she is "#AtPeace"
Lorin and Venice's Instagram followers were thrilled to see them bond with their equally gorgeous half-sister, Ilknaz Bektas.
On Saturday, June 11, 2022, Ilknaz shared a photo of their reunion on Instagram and wrote with a blue heart emoji, "I think today is the happiest day of my life."
Netizens have been curious about Ilknaz, so PEP.ph (Philippine Entertainment Portal) scoured the net and here's what we found out about her:
1. Her full name is Ilknaz Lauren Bektas.
2. She is now 23 years old.
3. Ilknaz's mom is Turkish actress and pop star Selen Görgüzel Alkan. In her interview with Hurriyet, Turkey's leading or largest newspaper, dated April 11, 2003, Selen revealed she was the first wife of Yilmaz.
The Turkish newspaper headlined her story, translated here in English: "Yilmaz is married to me, he cannot get married."
Selen had starred in several TV series—That's My Life (2015 to 2017) and Turk Mali (2017). She also released some songs titled "Abbas" and "Gonul Salincagi," among many others.
4. Ilknaz is currently working as an art dealer and consultant at Galeri Artist, an Istanbul-based contemporary art gallery that was founded in 1986.
5. She is also finishing her second bachelor's degree.
According to her Linkedin profile, Ilknaz graduated from Bilkent University in 2020 with a bachelor's degree in Architecture. In 2022, she went back to school to study Design and Visual Communication at the Istanbul Bilgi University.
According to her Instagram account, Ilknaz also attended a summer program at Parsons School of Design in New York City.
6. Ilknaz currently has 57,000 followers in her Instagram account.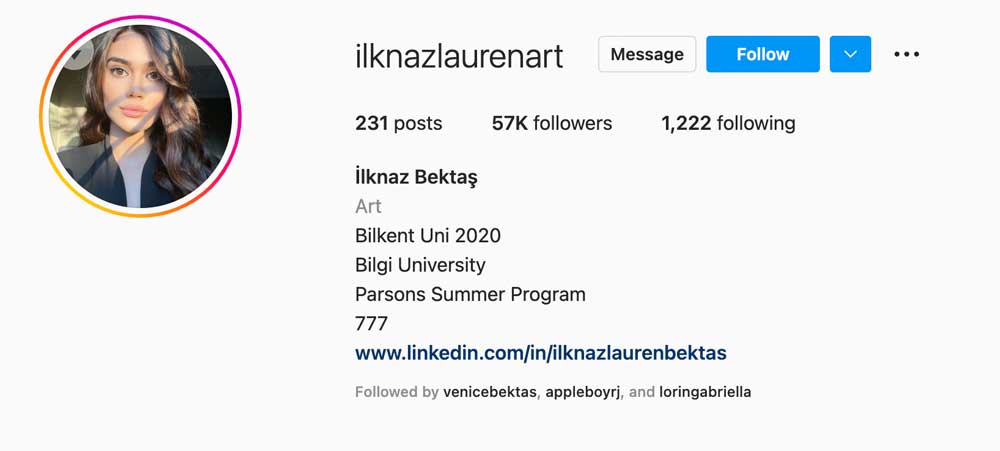 7. She is very stylish like her younger sisters. Ilknaz has been raking in thousands of likes on Instagram for her OOTD photos.
8. Ilknaz is a pet lover. She often posts photos of her fur babies, one of them is named Dobis.
9. She also loves traveling.
Based on her feed, she has been to New York City in the U.S. and Dubai in U.A.E.
READ MORE: