The news of Cherie Gil's passing came as a shock to the public, as the esteemed actress chose to keep her battle against endometrial cancer private.
Cherie, or Evangeline Rose Gil Eigenmann in real life, died peacefully in her sleep on August 5, 2022, according to a statement released by her family.
As details of her last days and months emerged, so did the outpouring of love, support, and memories from her colleagues in the industry. After all, Cherie spent almost 50 years in show business.
In truth, the multi-awarded thespian will be remembered not just for her famous line from the 1985 movie, Bituing Walang Ningning.
PEP.ph (Philippine Entertainment Portal) looks back on the memorable things about la primera contravida.
Cherie Gil lists down actors' etiquette: "Don't call me Tita."
In 2018, the iconic actress posted on Facebook a list of actors' etiquette she said is taught to actors in workshops.
Her post listed things she noted should be observed, especially by the younger stars and newbies in the industry.
Among them: not kissing her on the cheek before introducing themselves; never looking at one's cellphone while blocking or reading for a scene; and never letting any actor, especially the senior ones, wait on the set.
But what stood out from Cherie's list was her preference not to be called what is considered a sign of courtesy for many. The award-winning actress underscored (published as is), "And ppllleeeaaasssee don't call me TITA unless we are blood related (or super super close fam friends)."'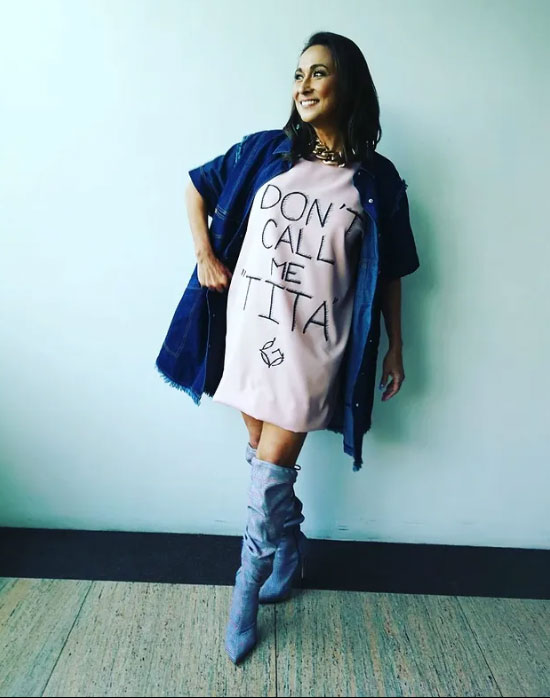 Cherie's post made the rounds, with fellow esteemed theater actress Lea Salonga sharing it and agreeing with her sentiments. Several reports were also written about Cherie's list.
In an interview, Cherie doubled down on her stand.
"It became a social issue," she told PEP.ph during the presscon for Starstruck Season 7, where she served as one of the members of the Starstruck Council.
"Yun pala, marami na ang nag-a-identify sa akin na mga women my age, who actually find it awkward to be called tita just because it's meant that you're older.
"So what gives you the right to address someone as tita?"
She further explained: "I uphold the term tita to those who really deserve the term tita, like my nephews, nieces, and kids who I saw grow up, family friend.
"Hindi pa nga nagpapakilala sa akin, Tita na agad ang tawag. Ayoko na ng ganoon, di ba? Just because you appeared on TV, I'm supposed to know you?"
Beyond iconic "copycat" line: Cherie Gil's quotable quotes
No other movie line stuck to Cherie's persona quite like "You're nothing but a second-rate trying hard copycat!" from 1985's Bituing Walang Ningning, a film she headlined with Megastar Sharon Cuneta.
In fact, in 2015 she sent a cease and desist letter through her lawyers to VIVA Films and the management of Resorts World Manila's Newport Performing Arts Theater. She wanted the movie's musical version to stop using the iconic line, saying it was her "intellectual property."
This was countered by the film's director Emmanuel "Maning" H. Borlaza, and he said he will stand as witness for VIVA Films if the case pushed through. The issue eventually died down and never made it to court.
"WHY SHOULD I?" AND "GET A STYLIST."
Over the years, Cherie's straightforward manner and passion for her craft made her utter unforgettable lines even when the cameras weren't rolling.
In 2011, Cherie was part of the GMA dance soap Time Of My Life, where she played the villain. In her own words, Cherie's character was a "bitch."
The star also admitted that she got carried away in one of the scenes, so much so that she ended up slapping co-actor Jean Garcia, even when it wasn't in the script.
Asked if she intended to apologize to her co-star, she intoned:
"Why should I? I didn't do her any harm. It's work."
Perhaps Cherie also thought dressing up for the occasion is part of an actor's job. That's why during the Urian Awards Night in 2013, in which she was one of the hosts, she couldn't help but blurt over the microphone, "Congratulations, Art. But I hope you get a stylist next time."
Art was Art Acuña, who won as Best Supporting Actor for the movie Posas. He was wearing a long-sleeved shirt and jeans when he accepted his award, prompting the comment from Cherie.
APOLOGIZING TO VICE GANDA

While she was more known for standing her ground and making her opinion heard, Cherie also knew how to admit when she was in the wrong.
In 2014, she apologized to Vice Ganda on live TV for a previous tweet that passed judgment on the comedian-host.

What prompted the apology was an incident that happened a few months prior, when Cherie took to social media to express her contempt for Vice when he joked about Jessica Soho's weight during a concert.
The actress tweeted: "To Vice Ganda: you're one of those scums of the earth. Shame on the Filipinos who laugh at such insensitivity and tactlessness."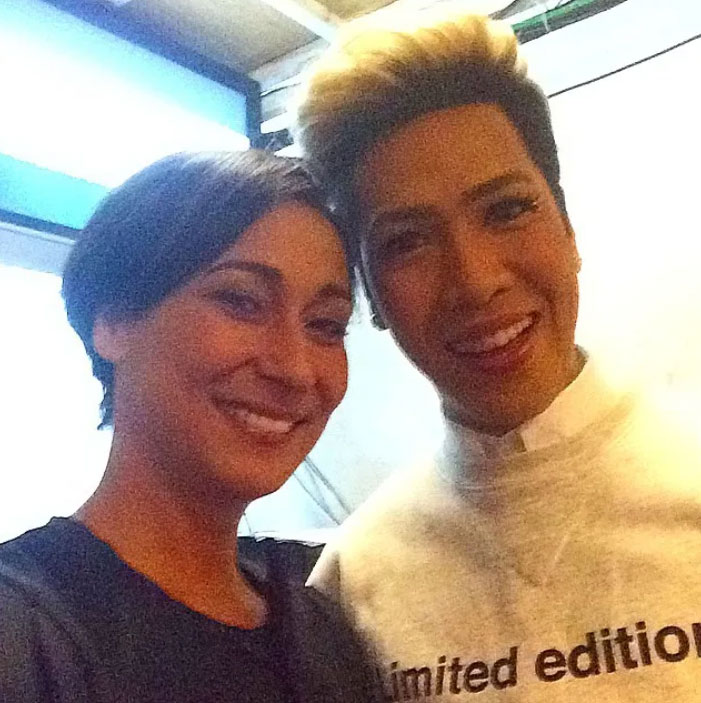 When she appeared as a judge for the "Magpasikat" segment during the 5th anniversary celebration of It's Showtime, Cherie took the opportunity to tell Vice:
"I would like to personally apologize to you because I know at some point in the past, I have reacted to one of your stand-up stints, which maybe perhaps may have been written by someone else. And I didn't take that into consideration at that time.
"I also found myself in a bad place and I got myself a lot of hate tweets for that.
"I realized that at the end of the day, it all comes down to getting to know the person better and understanding every story each person goes through."
GIVING CREDIT WHERE CREDIT IS DUE
While Cherie had a lot of feathers in her cap as one of the most respected actors in the country, she knew not to step on the toes of her directors and co-collaborators.
In 2013, she made her debut as a producer for the movie Sonata, which she also starred in. The film was directed by industry stalwarts Peque Gallaga and Lore Reyes.
The directing duo said that Cherie did not meddle with how they handled the film.
In response, Cherie said, "How can I naman make pakialam kina Peque Gallaga and Lore Reyes? Takot ko lang!
"That's why I said I wouldn't do something unless I don't have full trust in the right people.
Cherie also acknowledged that her temper could get the best of her sometimes, which was why she lauded the production crew of the fantasy series Sirkus in 2018.
She played the villain La Ora, and the role stood out among her previous roles as it required her to wear an over-the-top wig, extravagant gown, and heavily beaded accessories. That's apart from her circus-type makeup.
During the show's press conference, Cherie said, "I applaud these people [production crew] for being patient with me.
"Minsan kasi di natin maiwasan na maging masungit sa set talaga."
"I guess everyone is actually kind of irritated kasi of the location that is very far, 'tapos we have to wear these elaborate costumes in the middle of the day when it's really hot.
"But you know, everything was worth it kasi when we saw the trailer, we were all clapping with joy. Kasi ang ganda and it's the first time that we saw something like that so amazing on television."
LIFE LESSONS AND ADVICE

Despite coming from a family of established actors, Cherie also experienced rejection early in her life.
At the age of five, she lost to her would-be best friend Jackie Castilejo for the title of Little Miss Shellane.
Years later, at age 14, she auditioned for the musical Sinta, but didn't get the part.
But Cherie chose to learn from these experiences.
In a 2018 Instagram post looking back on her Little Miss Shellane stint, she wrote: "I recall being so thrilled and confident to go on with wherever life took me from then on.
"I flew and spread my wings as wide as I possibly could! I've had my bad landings, not to mention missed turns and glass window splats spiraling head first into the ground, sometimes even bloody, but healed those chipped wings nonetheless and slowly made my way up to flight once again no matter."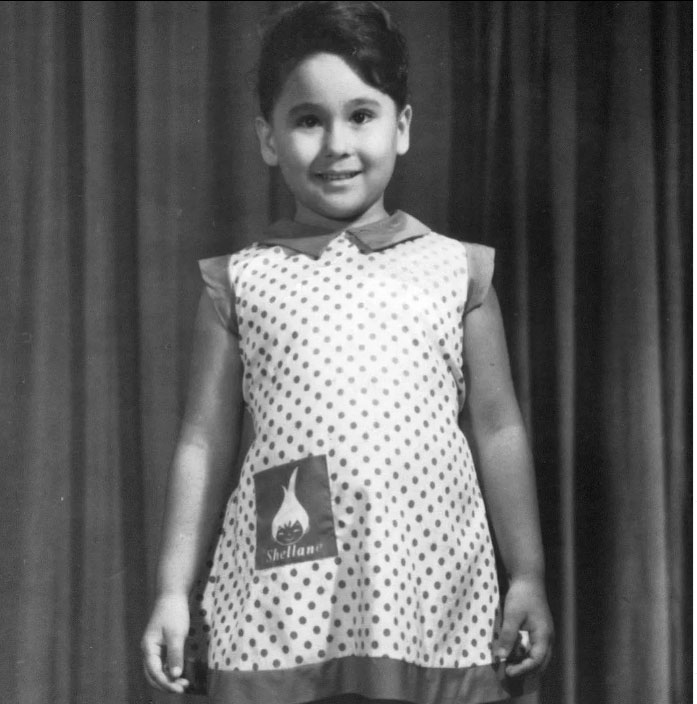 Cherie also had a piece of advice for showbiz hopefuls, which she gave as a member of the Starstruck Council during Starstruck Season 7.
"I want to tell them na if ever they don't win, it's not the end-all and be-all of their life. God may have other plans for you, di ba?
"Just keep on going, believing in your dreams and it will someday take you where you are supposed to be."
ON BEING INTIMIDATING
If Cherie earned a reputation for being intimidating, it was something that the star accepted.
"I'm okay with it!" she said with a laugh back in 2019.
After all, the multi-awarded star had to steel herself while working with industry legends, like actress Charito Solis, and directors Ishmael Bernal and Lino Brocka.
"Come on, tell me if they're not intimidating," she challenged.
Solis was known for being frank, while Bernal and Brocka were known to be strict on set.
"And it was because of the strength of their presence and their character, I think I have come to learn and so much more of what it takes to step up to the plate and claim your rightful place by saying, 'I know I can do this well.'"
Cherie's walkoutS and exits
In Cherie's interviews and social media posts, she often mentioned how for her, art is a collaboration. She held the importance of working with one another in high regard.
In this vein, the iconic actress also did not think twice about removing herself from a situation, whether an interview or even a show, when she thought it wasn't serving her purpose well.
For instance, in 2016, when news broke about the real father of Andi Eigenmann's eldest daughter Ellie, Cherie was asked by PEP.ph for a reaction as Andi's aunt. Visibly upset by the question, she answered, "I am not in a position to [react to] this, and I think it's quite insulting that you asked me this. You ask Andi, it's her story to tell."
Cherie then walked out on the reporters interviewing her.
She also found herself in the news when she reportedly walked out from the set of a soap she was doing back in 2014.
The reports stemmed from a post she made on her Twitter account, @macherieamour.
Published as is, it read:
"Work ethics ? Why can't it exist in the world of soaps? Sadly it doesn't. There must be a better way."
While she did not name names, she was then in the middle of shooting the Kapamilya soap Ikaw Lamang, where she played the mother of the lead character played by Jake Cuenca.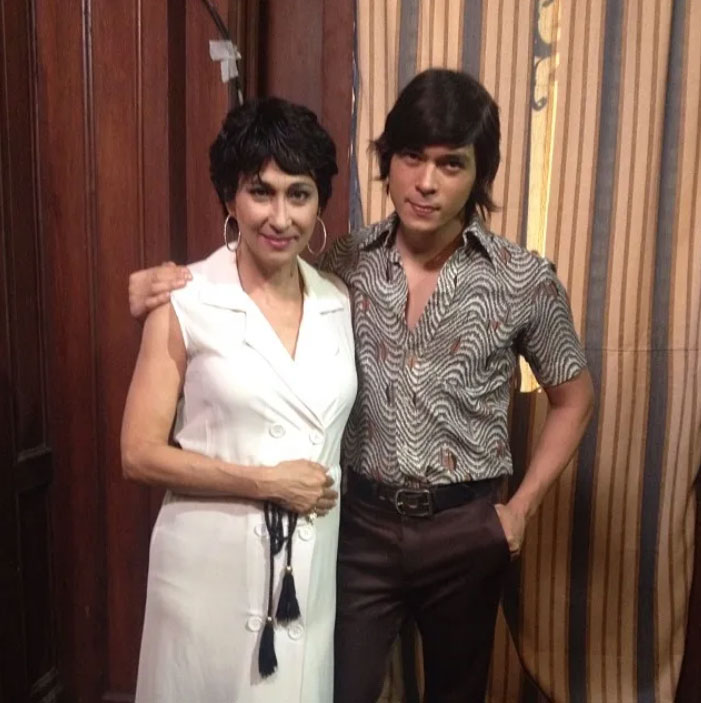 Eric John Salut, publicity head of ABS-CBN's Dreamscape unit, later revealed that Cherie walked out because she wasn't granted permission to leave earlier than her 2 a.m. cut-off time. He explained that Cherie did not give advance notice so her request was denied.
Cherie vehemently opposed Eric John's statement, but did not elaborate. She tweeted: "You have completely twisted the truth @ericjohnsalut I rest my case. There's nothing more to be said."
The actress would go on to leave the soap before it ended, but clarified that it was not because of any animosity.
Explaining her sudden exit from the show, Cherie said, "When I signed for this project, it was clear that I have to leave talaga for the States in June because my daughter is graduating.
"Nagkataon na na-extend nang na-extend yung show because it was doing so well.
"But [it] came to the point na they had to cut my story short because I really had to leave."
Cherie also prematurely left what was to be her last TV project, the Kapuso cultural drama series Legal Wives, where she played the mother of the lead character played by Dennis Trillo.
The soap, which told of a love story among Muslim characters, was in the middle of production when Cherie decided to leave.
In a lengthy Facebook post in May 2021, Cherie explained her "difficult" and "painful" choice to go. It was not an impulsive move, she said, and it took a long process before she arrived at a conclusion.
Part of her post read (published as is): "Finding a balance is crucial especially when held back by circumstances that don't foster mental, emotional and spiritual growth."
Further in her statement, she said her 48 years of doing what she loved most, which was to act, led her to her decision.
"Was it all really worth it, I ask myself. The time, the energy, the heart, the tears , the sleepless nights and long hours, the devotion, the dedication, the respect and reverence invested to the work?
"It is disheartening and blatantly frustrating when it isn't seen and met in the same light and given equal energy. I have always believed that any form of creativity blossoms from collaboration and a unified goal.
"The whole process of this work is SACRED to me. Without this process, there is no joy to be found, no minds to learn from and no point!
"As I have always been told, THERE ARE NO SHORT CUTS. In anything. Otherwise, we limit ourselves from our potential and will only lead to chronic mediocrity."
Cherie said she had no regrets with the choice she made, even if it meant facing consequences (like perhaps what is stated in her contract).
She ended her post with: "I am now leaving those pieces behind that don't serve anymore. I have held on too long for reasons that were good until this moment. Am I going to loose my shirt along the way being single and middle aged ? Perhaps I will.
"BUT.... I am BECOMING. For better or for worse, I AM."
While speculations turned up after she left, Cherie later on clarified in a February 2022 magazine interview that it was simply because of artistic differences. But it seemed like Cherie was really ready to leave it all behind.
It would not be the first time she thought of leaving the industry that was her home for almost 50 years.
Accepting a best actress trophy on behalf of her mother Rosemarie Gil in 2018, Cherie confessed: "Many times I said I'm gonna throw in the towel."
After leaving Legal Wives, she seemed to do just that. Cherie sold her belongings, packed her bags, and left for New York City, USA, where her three children are based.
Unfortunately, her quest for a fresh start was cut short by her endometrial cancer diagnosis.
Dear Cherie: Cool Tita, Daughter, Sister, and Mom
Cherie Gil may be remembered for a lot of things by a lot of people. But to her family, she will always be the cool and loving aunt, daughter, sister, and mom.
In photo: (L-R, seated) Andi Eigenmann and daughter Ellie; (L-R, 2nd row) Sid Lucero, Cherie Gil, Rosemarie Gil, Eddie Mesa, Geoff Eigenmann, Maxine Eigenmann; (L-R, last row) Michael de Mesa, Gabby Eigenmann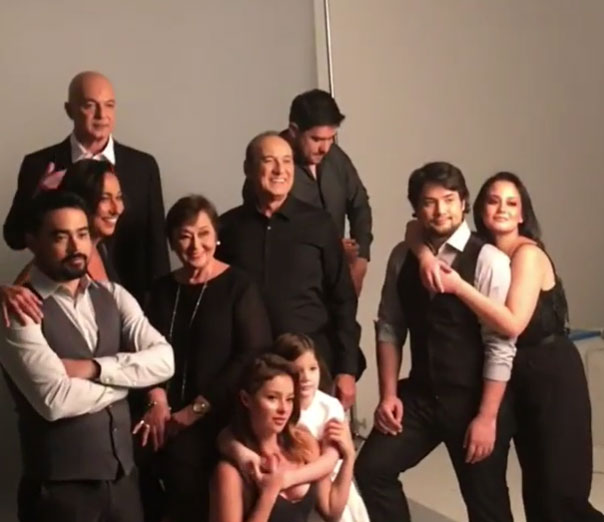 The Eigenmanns are one of the popular clans in showbiz, and over the years, the public witnessed how they are protective of and loving to one another.
Asked how she was as an aunt, Cherie said she tried to be buddies with her nieces and nephews. She also gave them leeway when it came to learning from their mistakes.
When Sid Lucero, son of her brother Mark Gil (who died in 2014), was accused of assaulting a hardware personnel in 2011, Cherie gave him space.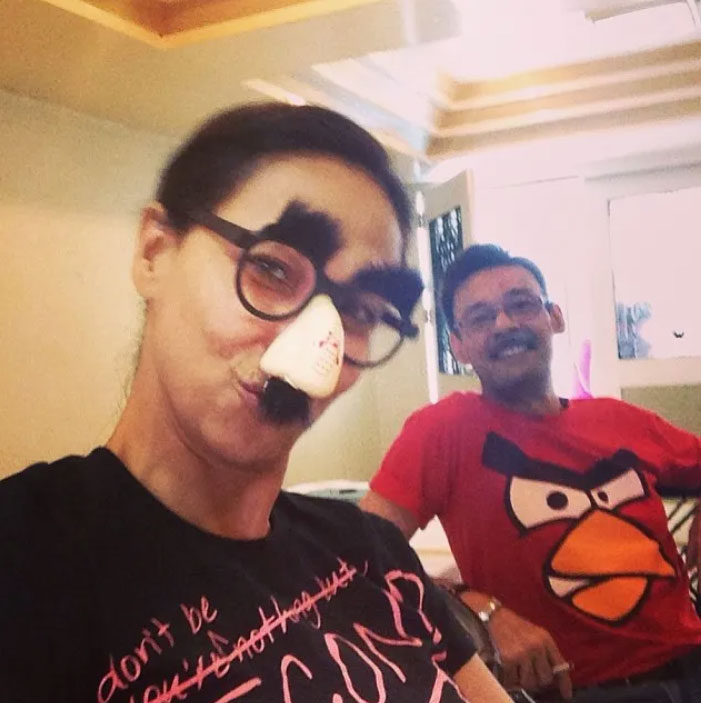 "Hindi naman kami galit!" she said with a laugh. She explained, "At saka, why pound more salt into the hurt of the mistake that he committed?
"The mistake itself would be his own lesson. So, bakit pa namin ididiin?"
Cherie went on, "I mean, I'm not holier than thou. We've been there, done crazy things.
"We've always been... Fun clean, let's just put it that way."
With regard to Andi's early pregnancy, Cherie had this to say in 2012: "I felt what happened is her choice, and what happened is something that she courageously faced and she still continues to face, and her daughter is beautiful!
"And it's not like it's an unusual situation.
"We go through certain circumstances in life, it's a question on how you choose to face it, and I'm very proud of her."
Cherie also had a hands-off policy when it came to controversies involving her brothers.
When asked to comment on a previous issue involving her older brother Michael de Mesa, who was once linked to a younger actress, she begged off from commenting.
Instead, she explained:
"I try to keep peace with everybody in spite of my reputation as a bitch and as a mataray person…That's not my issue. I don't have anything to say about it."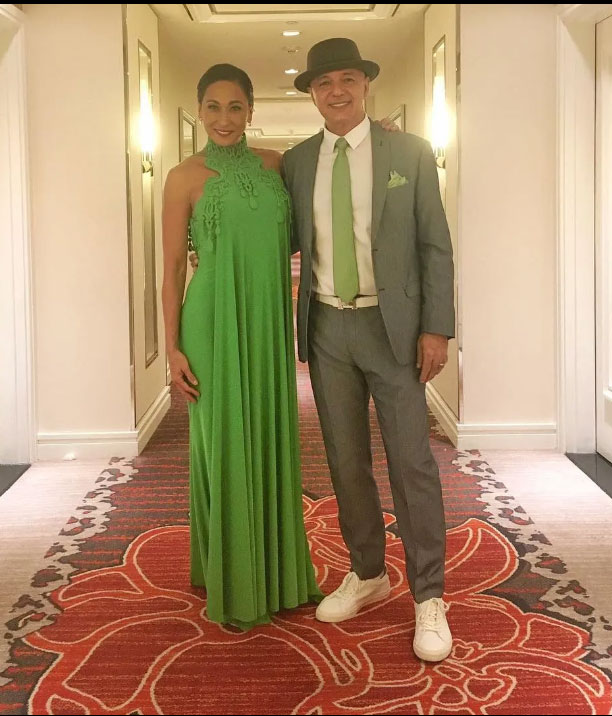 Meanwhile, fans were delighted to see Cherie with her mother, veteran actress Rosemarie Gil, in a role reversal which the former shared on Facebook.
Cherie seemed to taunt her mother, asking how it felt that her then soap Onanay which aired in GMA-7, had higher ratings than Rosemarie's rival soap Ngayon at Kailanman.
Rosemarie then threw water at Cherie's face then delivered Cherie's iconic line, "You're nothing but a second-rate trying hard copycat," a recreation of the scene from Bituing Walang Ningning.
Cherie noted in the caption that only her mom could do that to her, and thanked Rosemarie for being a good sport.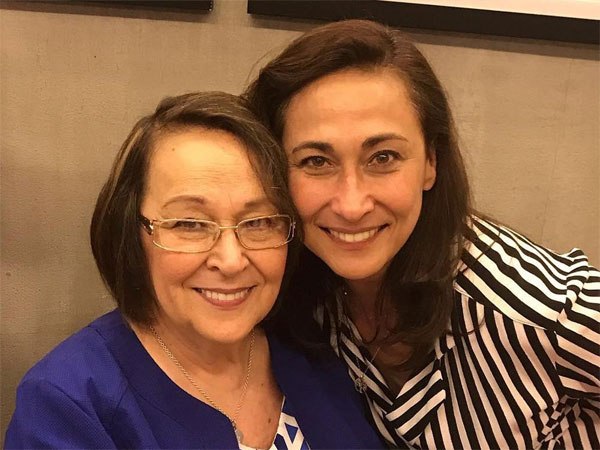 Cherie would also push her mother for her movie comeback, Delia & Sammy, for which Rosemarie won the Best Actress Award at the Gawad Urian in 2018.
Accepting her mom's award, Cherie recalled Rosemarie having doubts about accepting the role. She then told her mom, "You got to believe that if you are true to your passion and your calling, some amazing things still can happen."
Cherie had also planned on producing a film for her late brother Mark Gil and his son Sid, but it did not push through as Mark died of liver cancer in 2014. It had the working title of Unfinished Business, and was to be written by Sarge Lacuesta and directed by Erik Matti.
In 2019, Cherie reminisced about working with Mark by posting on Instagram an old clip from their 1991 weekly series Cebu.
She said in the caption (published as is): "One of my favorite Stints in my work life. A pioneer in teleseryes! A game changer Best Co-actor to work with! My late brother Mark Gil!"
Cherie also got to work with her nephews Sid and Geoff Eigenmann, son of her brother Michael de Mesa, in the Kapuso soap Legacy.
Surprisingly, or maybe not so, Cherie had one request when working with her nephews and nieces. She could not be made to hurt them physically.
She said in 2010, "I love my nephews and nieces. Ayokong masaktan sila kahit na sabihin nating acting lang. Yun lang naman ang hiling ko sa [production]."
She further said about her pamangkins: "I always impart to them ang importance ng pakikisama at pagiging professional sa trabaho.
"We might only see one another kapag may reunion kami or any special event in our family. But I make them feel special sa akin. Lahat sila mahal ko and I am very happy sa mga nararating na nila ngayon."
In photo: (L-R, 1st row) Andi Eigenmann, Cherie Gil, Maxene Eigenmann; (L-R, 2nd row) Ryan Eigenmann and brother Geoff, Sid Lucero and brother Gabby Eigenmann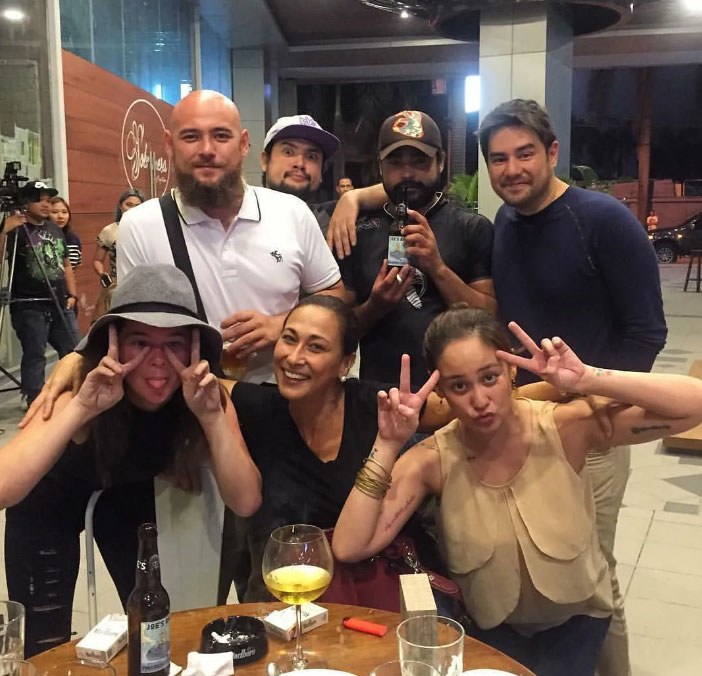 Indeed, Cherie was a loving aunt, and more so a loving mom. Though she and her kids had a different set-up than most families as they lived apart, Cherie made the most out of it. She spent hours on Skype with her children, and she visited them in New York thrice a year.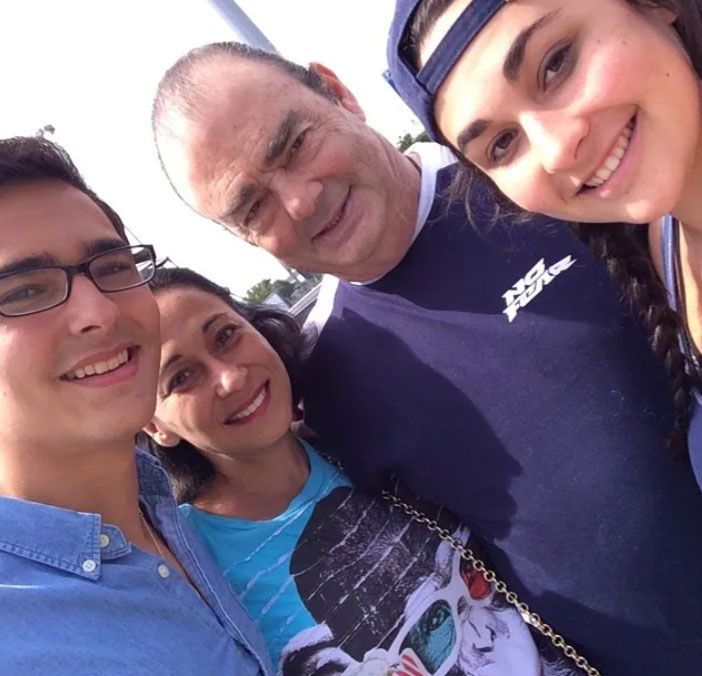 And the last year of her life was spent with them: Jay, her son with veteran actor Leo Martinez, and Bianca and Rafael, her children with her ex-husband, renowned violinist Rony Rogoff.
"I love you so much mom," Jay captioned his Instagram story after Cherie's passing. The text accompanied a photo of Jay and Cherie in a tight hug.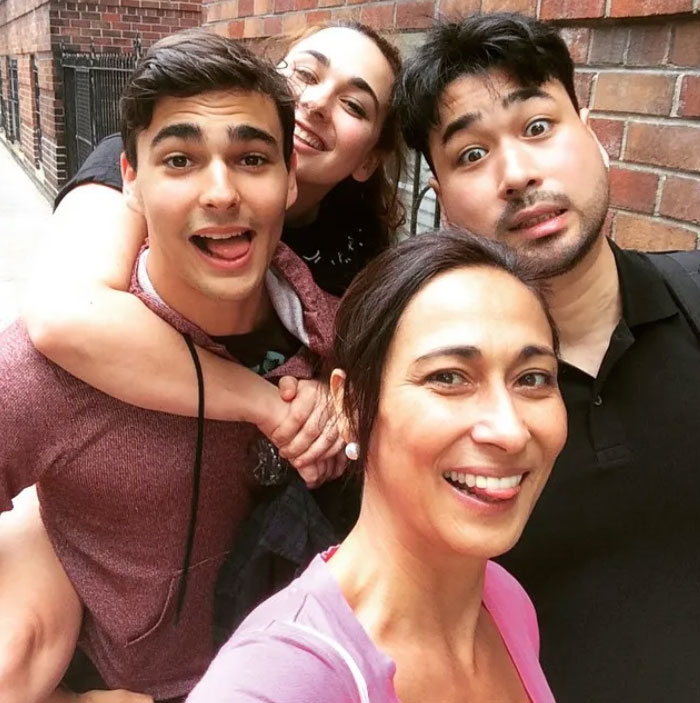 Bianca, in her Instagram post of the family's statement about Cherie, wrote in the caption: "I love you, mom. You did such a good job. I am so proud of you [purple heart emoji]."
Meanwhile, Raphael's message for his mom read: "Words cannot express my love for you, Momma. I'm so proud of you [purple heart emoji] #macherieamour"
Both Bianca and Raphael also posted on their Instagram stories photos with their mom.
Cherie Gil may have played many roles throughout her storied career, but in the end, she probably got to play the best one: being a mom to her kids.
Well done, Cherie!
We are now on Quento!
Download the app
to enjoy more articles and videos from PEP.ph and other Summit Media websites.