In a fickle industry dictated by trends and fads, Sharon Cuneta stands out as a bastion of sense and sensibiity.
Sharon is a hard worker whose body of work running the gamut of music, movies, and television has earned for her the title Megastar and her place on the list of showbiz icons.
But all that aside, Sharon, whose exposure to the entertainment business started when she was just three years old, is money smart with sound investments to show for it.
She is even among the top taxpayers in the country alongside other celebrities like Vic Sotto, Willie Revillame, Kris Aquino, Judy Ann Santos, and Manny Pacquiao, according to the Bureau of Internal Revenue (BIR).
So when she's talking about her wealth on social media, she has always been candid and has nothing to hide.
Here's a look back at some of Sharon's most-talked-about, often controversial, posts about her prized possessions and lifestyle.
SHARON'S JEWELRY VAULT
The Megastar made a buzz in September 2017 after posting on Instagram a photo of her vaults where her jewelry and cherished possessions are kept.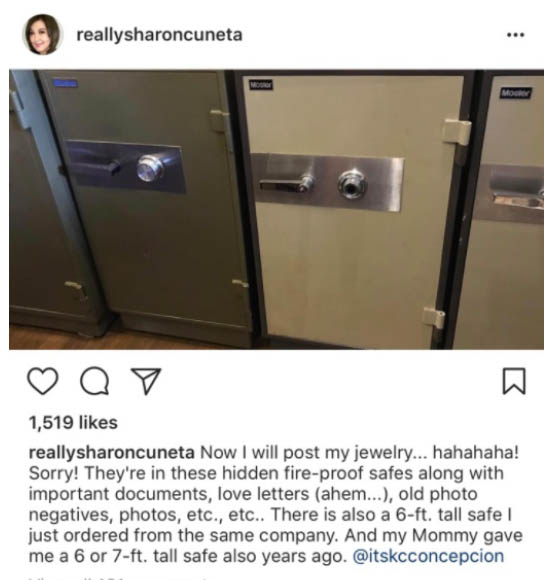 Sharon wrote, "Now I will post my jewelry… hahahaha! Sorry! They're in these hidden fire-proof safes along with important documents, love letters (ahem…), old photo negatives, photos, etc., etc. There is also a 6-ft. tall safe I just ordered from the same company. And my Mommy gave me a 6 or 7-ft. tall safe also years ago."
She tagged her daughter KC Concepcion, prompting the model-actress to ask curiously in the comments section, "Mom why are you tagging me?"
Sharon frankly replied, "I just want! So if I die you know what else I have."
SHARON'S LUXURY WATCH COLLECTION
Sharon has been for many years an avid collector of watches; luxury branded timepieces, to be exact.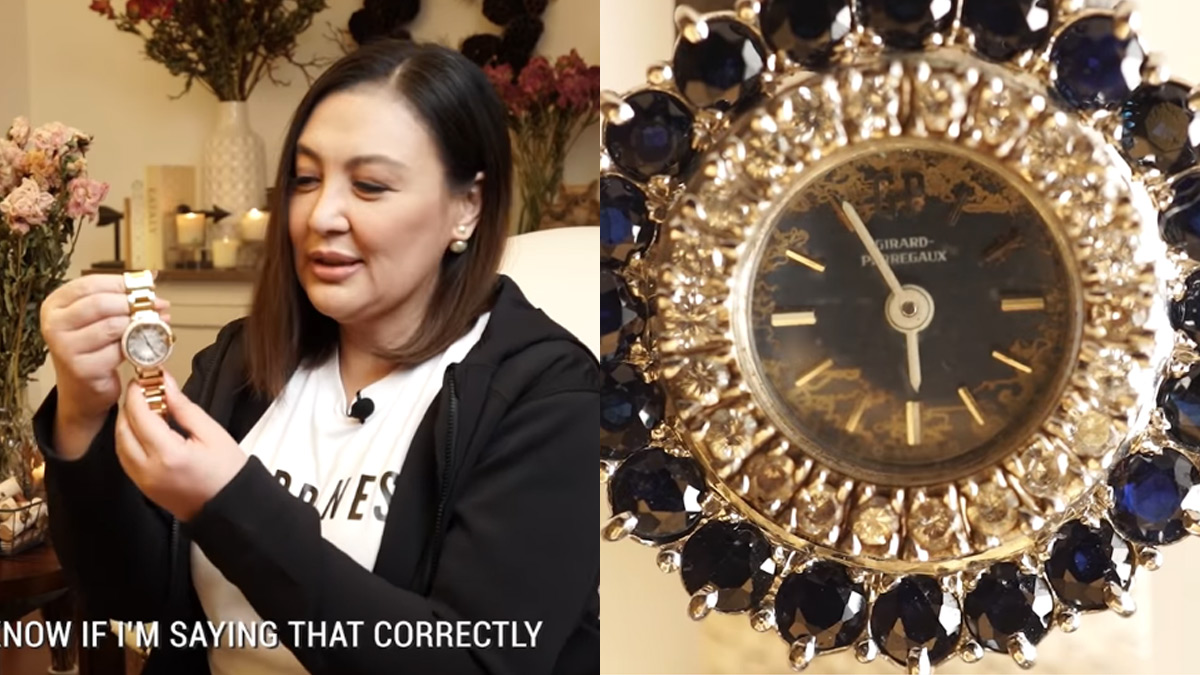 Anticipating another backlash when she showed off her assortment of vintage Rolex, Corum, Girard-Perregaux, and Ballon Bleu de Cartier watches, Sharon explained on her YouTube channel she didn't mean to brag.
Sharon said, "Well, this is my collection and part of it, and that's not to brag, that's the truth, and that's my life.
"And so I've shown you some sentimental pieces and why they're important and some just because I love them. So I hope you enjoyed that.
"Sa bashers, this is dedicated to you because it all started with my famous—I did not include it here, but it's just there you might be saying I don't have it—that one Gold Rolex watch that I posted on Instagram.
"And since that's where this all started, so we gave it everything now. So this is for you."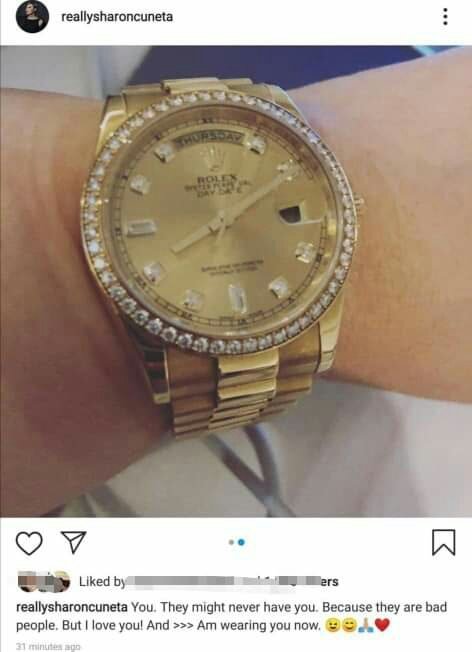 MEGA BAGS
Sharon generously gave the public a glimpse of her luxury bag collection in her vlog uploaded on her YouTube channel in October 2020.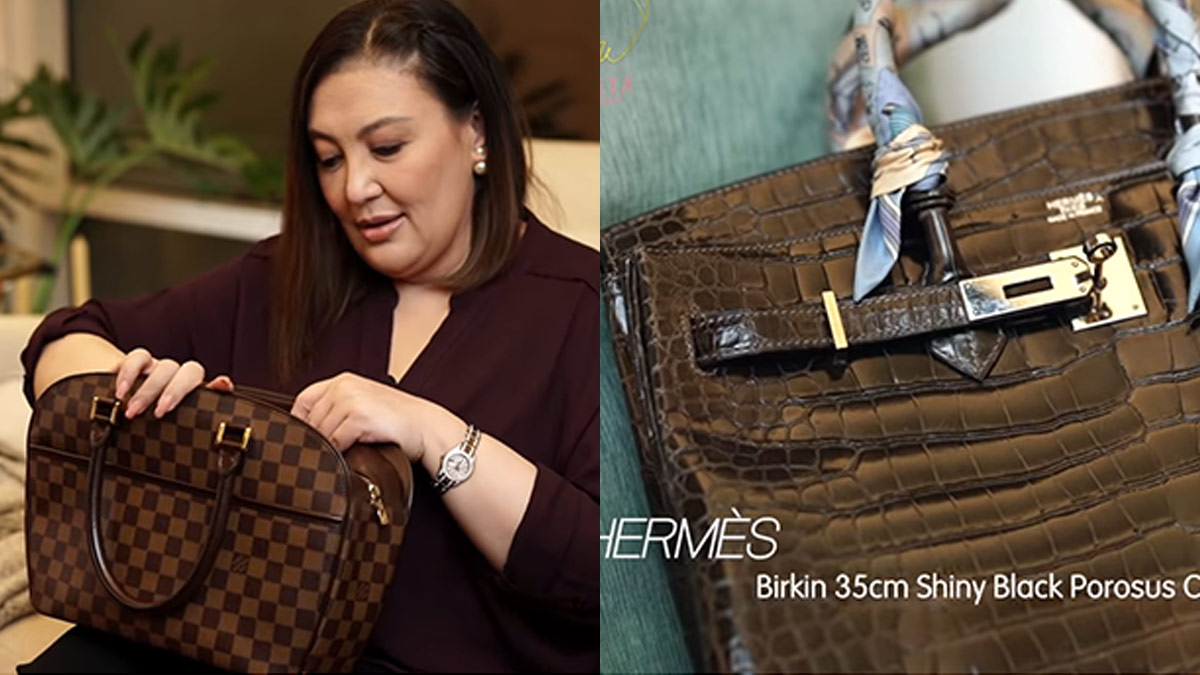 Like her luxury watches, the bags grew in number gradually over the years.
Some of the items seen in the video were vintage Hermes, Louis Vuitton, and Chanel bags.
"Pinaghirapan, so kailangan minsan enjoy mo rin. Kasi like I always say, money should be your slave, you shouldn't be enslaved by your money," said Sharon.
"Do not ever allow yourself to be a slave to your money. So tama lang yung you spoil yourself sometimes, 'tapos be smart and save sometimes for something that you will need."
One bag—a vintage Louis Vuitton in Damier canvas—holds a special, sentimental place in Sharon's heart.
"This one is my mom's Louis Vuitton. It was the last bag that she used when she was rushed to the hospital until the day she passed away," shared Sharon.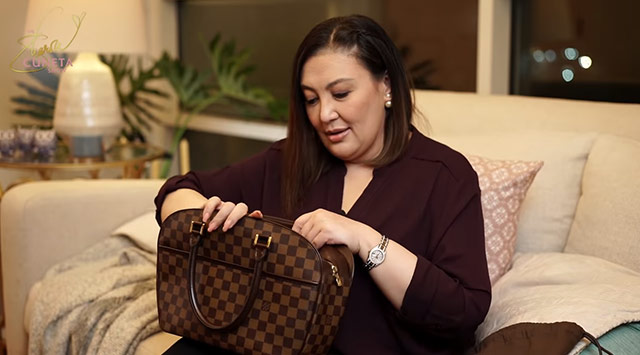 Sharon's mother, Elaine Gamboa-Cuneta, passed away on November 5, 2014.
Likewise, Sharon's bags will certainly be inherited by her children and future grandkids, or whoever among them is the "pinakamabait."
Sharon quipped, "Remember I have three daughters and a son, who I hope will marry someone worthy someday, because I will be such a good mother-in-law."
"I'M A BILLIONAIRE"
On May 12, 2020, the Megastar happily wrote that her fundraising concert Love and Music Sharon: A Mother's Day Special for the benefit of mothers affected by the COVID-19 pandemic had received more than PHP2.3-million donations.
But while most of the comments were congratulatory, one remark irked and soured Sharon's mood.
A follower wrote, "Where you going to put the donation in your account?"
Sharon did not let it slide, replying, "No, thank you. I'm a billionaire. I don't need to take money from anyone. But I do help. Do you?"
A fan also came to Sharon's defense, saying the Megastar is a "milyonarya" and won't dupe the public for cash.
Sharon thanked the fan but with a slight tweak, "Sorry, correction anak: sabi ko pero di yata malinaw, bilyonarya. Since my thirties.
"Nakakalungkot ang mga minamasama ang pagtulong sa kapwa na galing sa puso. Sa bagay ang importante lang naman, ang Diyos ang may alam and the people who really matter to me like you!"
READ: Walang duda, si Sharon Cuneta ay isang bilyonarya!
THE HERMES INCIDENT
Revenge shopping? Sharon showed, at least to those who can afford it, how it's done.
In her YouTube vlog posted on September 30, 2022, Sharon told the story of her recent trip to Seoul, South Korea, where she was refused entry to a Hermes store.
"Nagpunta lang ako dito para bumili ng sinturon sa Hermes. Ayaw ako papasukin," said Sharon.
The Megastar instead went to the Luis Vuitton shop where she purchased different items and was given complimentary champagne plus a flower bouquet.
Sharon then went back to the Hermes store to show off her haul from Louis Vuitton.
She also inserted a clip of that famous scene from Pretty Woman where Vivian Ward (portrayed by Julia Roberts) returned to the shop to confront a staff who previously discriminated against her.
Sharon's Hermes incident drew mixed reactions from the public, with some calling out the actress for "feeling entitled."
READ: Sharon Cuneta snubbed at Hermès store in South Korea
In her Instagram post, Sharon made it clear that she's not oblivious to the policies enforced by luxury brand boutiques, especially at this time of the pandemic.
READ: Sharon Cuneta knows shopping at Hermès boutique is by appointment, but "nagbakasakali lang"
Her caption read (published as is): "Don't feel bad about Hermes not letting me in! Lots, if not all name-brand stores even in the U.S. allow a certain number of people in at a time—sometimes 10 lang, while the others wait in line outside of the store," wrote Sharon.
"Lots also ask you to make an appointment. Covid measures nila yan so okay lang.
"Sayang lang talaga belt lang naman ang balak ko eh kaya ayoko pumapasok sa ibang stores na di ko plano puntahan ang dami kong nakikita eh."