They say the future is female, but empowered women are already conquering the world.
And in our part of the world, our list of powerful sisters in business is proving the future is here.
And based on their laudable track records, they are here to stay.
We may rarely see these ladies on the covers of society magazines, but they are the movers and shakers of their respective industries.
Even sans the spotlight, they do the work inside their executive offices, make big decisions during board meetings, and practice philanthropy through their company's foundations.
Meet the sisters who are in a league of their own, topping the list of the Forbes Philippines' richest.
READ: Meet the heiresses of the Philippines' richest
TERESITA AND ELIZABETH SY
Sisters Teresita and Elizabeth Sy are not just heiresses of the empire started by their late father, Henry Sy.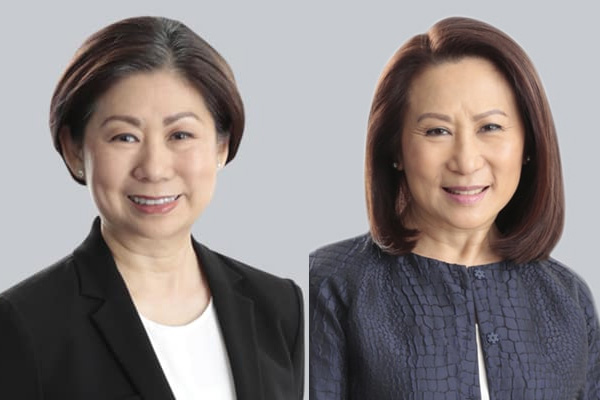 With their brothers Henry Jr., Hans, Herbert, and Harley, the siblings have a combined net worth of $12.6 billion. This makes them number one on the list of the Philippines' richest.
With decades of work experience in their family's conglomerate, both women have proven their mettle and expertise.
Teresita "Tessie" Sy-Coson is the eldest child and daughter of the SM founder. She sits as chairperson of BDO Unibank, vice chairperson of SM Investments, as well as other board positions in other companies of the SM Group. On the philanthropic side, she is also vice chairperson of SM Foundations.
Through more than 20 years of work with SM, the Assumption College alumna showed her prowess in banking, retail merchandising, and mall development. Tessie has a net worth of $2.2 billion, making her the richest woman in the country.
Meanwhile, Elizabeth leads the group's leisure, tourism, and hospitality work as president and chairperson of SM Hotels and Conventions. She has also been an adviser of SM Investments since 2012. She has a net worth of $2 billion.
Both sisters sit on the board of SM Prime.
ROBINA GOKONGWEI AND SISTERS LISA, MARCIA, FAITH, AND HOPE
The Gokongwei siblings have a combined net worth of $3.1 billion, landing them the fourth spot in the list of the country's richest. JG Summit Holdings Inc. founder John Gokongwei and his wife Elizabeth raised five daughters and only son, Lance. All siblings work for the family conglomerate.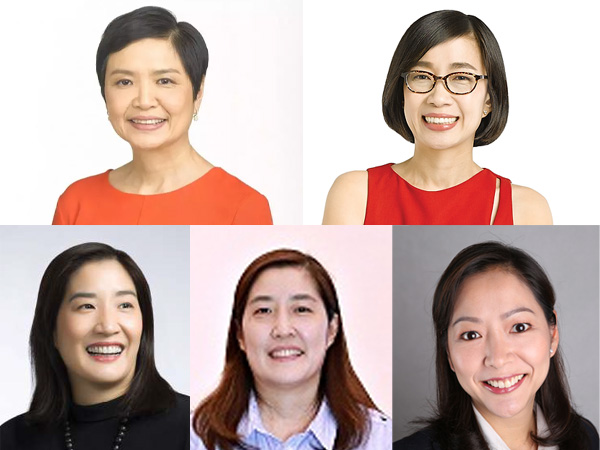 The eldest Robina Gokongwei-Pe is currently president and chief executive officer of Robinsons Retail Holdings Inc. (RRHI), the second-largest multi-format retailer in the Philippines. She is also a director of JG Summit Holdings Inc., Robinsons Bank Corporation, Cebu Air Inc., and Robinsons Land Corporation. Furthermore, she is a trustee and secretary of the Gokongwei Brothers Foundation Inc.
Outside the family business, she is a trustee of the Immaculate Concepcion Academy Scholarship Fund. She is also the first female board member of the Xavier School Board of Trustees.
Under Robina's leadership, RRHI promotes a gender-inclusive workplace. In 2021, the company was included in the Top 10 women-led global firms with the highest percentages of women in the board of directors. This was from a report by the Corporate Women Directors International.
In 2022, RRHI and Robinsons Land Corporation made it to Bloomberg's 2022 Gender Equality Index, with only two other Filipino firms in the list.
Robina is also a big supporter of sports, as evidenced by her support for the University of the Philippines Fighting Maroons Men's Basketball Team. She has been a patron of the team long before it became UAAP Season 85 champion, attending games even when her former alma mater's team had zero wins.
Younger sister Lisa Gokongwei-Cheng carved her own niche by founding publishing company Summit Media at only 26 years old.
With a one-million-peso investment from her father and her journalism experience, Lisa grew Summit to become a leader in the publishing industry. In its heyday, Summit had over 20 local and international licensed print titles, as well as a book publishing arm.
It is also Lisa's keen insight that led to Summit Media's transformation into a full-digital publishing company. Because of this success, Lisa now leads JG Summit as its senior vice president for digital transformation and corporate services. She is also the general manager of the Gokongwei Brothers Foundation, the empire's philanthropic arm.
Meanwhile, Marcia Gokongwei-Sy serves as managing director of operations and corporate functions of BCFG Philippines at Universal Robina Corporation.
Twin sisters Faith Gokongwei-Lim and Hope Gokongwei-Tang also have different roles within JG Summit.
ANJANETTE AND ALESANDRA TY
Sisters Anjanette and Alesandra Ty share a net worth of $1.9 billion together with their brothers Arthur and Alfred. They are children of the late Dr. George Ty, the banking tycoon who founded Metrobank. Their combined net worth makes them the 12th richest in the country.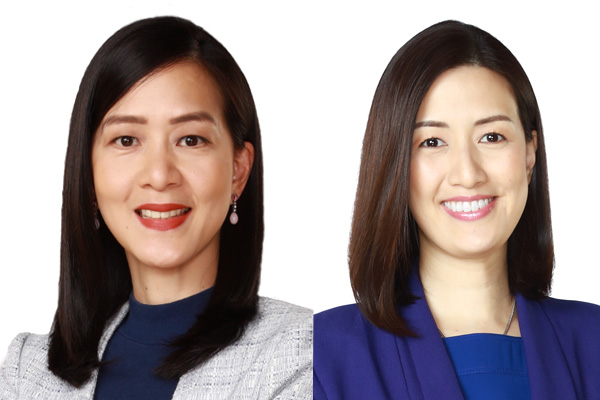 Older sister Anjanette Ty Dy Buncio serves as treasurer for GT Capital Holdings Incorporated, a position she's held since 2015. An alumna of International Christian University in Tokyo, Japan, Anjanette graduated with a degree in Economics.
Currently, she is the executive vice president, treasurer, and director of Federal Land, Inc. as well as treasurer and corporate secretary of Bonifacio Landmark Realty Development Corp.
She is also the director and chairman of the board of Manila Medical Services, Inc., and executive vice president and corporate secretary of Pro Oil Corporation. Anjanette sits as the senior vice president for two foundations: Metrobank Foundation, Inc. and GT Foundation, Inc.
Meanwhile, the younger Alesandra has been a director of GT Capital since 2020. Concurrently, she is also the company's assistant treasurer, a post she's held since 2012. After graduating with a degree in legal management from the Ateneo de Manila University, she pursued an MBA from the China Europe International Business School in Shanghai, China.
She holds other positions in several companies, such as director and corporate treasurer of AXA Philippines, corporate secretary of GT Foundation, Inc., corporate secretary and corporate treasurer of First Metro Investment Corporation, and executive vice president of Grand Titan Capital Holdings, Inc. She is also the senior vice president and treasurer of Federal Homes, Inc.
JOSEFA CONSUNJI AND SISTERS LUZ, EDWINA, AND CRISTINA
Just like other siblings on our list, the Consunji sisters share a net worth of $2.65 billion with their brothers Isidro and Jorge. The heiresses of the DMCI Holdings hold the sixth richest position in the country.
Both Maria Cristina Consunji-Gotianun and Ma. Edwina Consunji-Laperal are on the board of directors of DMCI Holdings, Inc. and its subsidiary Semirara Mining & Power Corporation. Concurrently, Ma. Edwina is also DMCI's treasurer. Maria Cristina is DMCI's assistant treasurer and Semirara's president and chief operating officer.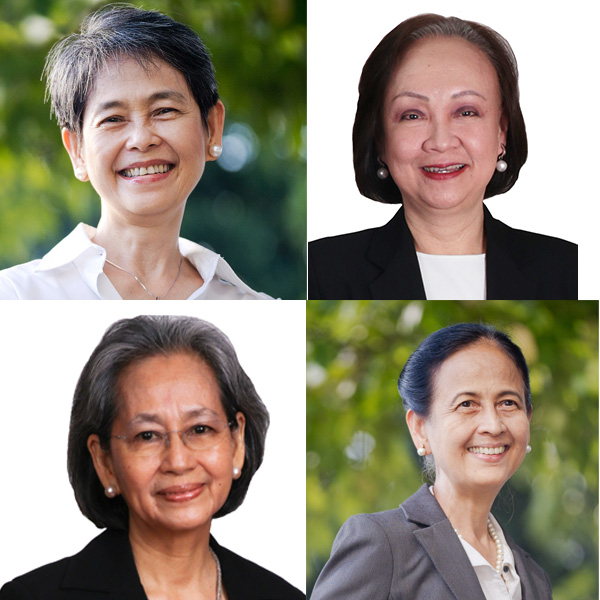 Meanwhile, Luz Consuelo Consunji is also on the board of DMCI. Finally, Josefa Consuelo Consunji-Reyes sits on the board of Semirara.
Last September, Josefa bought 2.076 million shares of Semirara at around Php18/share. Less than a month later, her 38-million-peso worth of shares grew to 58 million when the company's stock price soared.
DMCI Holdings, Inc.'s other subsidiaries include D.M. Consunji, Inc., DMCI Power Corporation, DMCI Project Developers, Inc., and Wire Rope Corporation of the Philippines.