So who are the Eduardo sisters?
Perhaps the most social media-savvy among the three siblings is Marissa "Small" Laude, who broke into the scene as a vlogger in 2019.
Small used to own the Greenhills Learning Center, an elementary school, and is currently vice president and treasurer of Timson Securities, the stock brokerage owned by her husband, Phil Laude.
But the work has not kept her busy enough, and, in fact, Small was getting bored that she began thinking what to do with so much free time on her hand.
It was the broadcast journalist Karen Davila, her long-time friend, who pushed Small to create her YouTube channel.
About her decision to go for it, Small said in Karen's vlog it was life-changing "because, guys, ang pinagpipilian ko kung magko-congresswoman ako o YouTube!"
Now, Small has close to two million subscribers, a portfolio of endorsements and brand partnerships, and even had a four-part special that aired on cable TV called It's a Small World.
She even landed a role in GMA-7's series Mano po Legacy: The Flower Sisters, but decided to halt her television career because, "I don't like memorizing."
The eldest sibling, Alice Eduardo, is a big player in the construction business being the founder, president, and CEO of Sta. Elena Construction and Development Corporation.
Alice is proof that hard work and passion can get one places.
Their family used to own a bowling center, and Alice manned it, distributing score sheets while selling Magnolia popsicles and cigarettes to their customers. In high school, she also traded palay, which she would then sell to their Mama.
It was while doing a delivery for their family business that the course of her life would change. She completed a request from Concrete Aggregates for steel splices. This led to her starting Sta. Elena, and the rest, as they say, is history.
Dubbed the country's "Woman of Steel," Alice is every bit the empowered woman who has forged her place in a male-dominated industry.
A philanthropist, she is as much indefatigable and dedicated spearheading charity projects as she is running her business.
On her downtime, she loves puttering around her home, cooking, and cleaning.
The youngest, businesswoman Melba Solidum, is three years younger than Small.
In another interview with Karen, Melba said that while she was more conservative than her Ate Small, she could "talk to her about anything..."
Small threw in, "Even sex!"
The vlogger concedingly admitted that their baby sister is more mature than she has ever been.
Ate Alice, for her part, described Melba as, "Really quiet but very masipag."
Even then, the shy and reserved Melba has gained her own set of fans who call themselves "Melbanatics."
So without further ado, here's snooping into the extraordinary lives of the Eduardo sisters as seen in Small's vlog.
READ:
Favorite cookware set nina Small Laude at Sharon Cuneta, higit PHP100K ang halaga
Small Laude posts fabulous and amusing OOTDs
S&R grocery trip… with a surprise housewarming gift
One of Small's first vlogs shows her and her Ate Alice doing their grocery at S&R, a membership-shopping club.
So there they are, the reserved Alice and the exuberant Small shopping to their hearts' content.
There's Alice expertly lecturing Small's yaya about the meat packs for "kare-kare, for nilaga, for beef stew, for sinigang."
The construction magnate certainly knows her way around the kitchen.
Small confesses, "My gosh, me, I don't know anything about cooking."
The Eduardos usually get their produce from their Nueva Ecija farm, but, occasionally, according to Alice, they pick "something" for the house from grocery stores.
When the camera pans to the cart, it is filled with onions, garlic, ginger, and potatoes. The caption says, "Something?!? More like somethingssss!"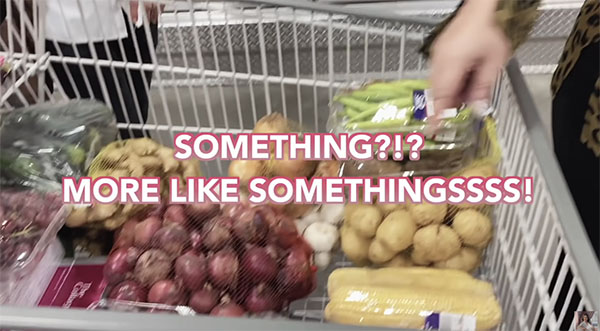 Next thing, just as casually as picking an onion, Alice buys an outdoor Tylr BBQ Grill Island that includes a sink for Small's new home.
Small is initally excited, "Wow, grabe ito yung bagay sa roof deck ko," but she balks a bit at the price. "So mahal."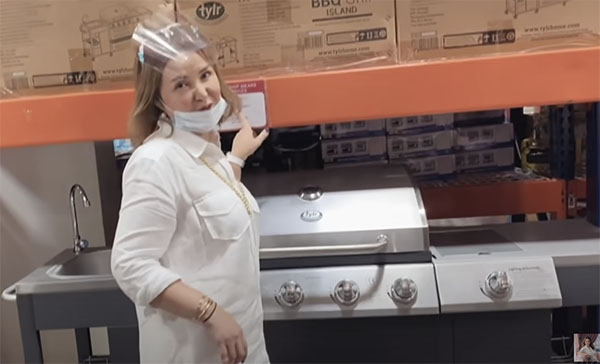 On Tylr's website, a similar model costs PHP39,995.
Her Ate Alice can be heard saying off-cam, "Small, it's hard to get."
Small, still willy-nilly, answers, "Should I get? I'm so nahihiya… Ate, totoo I'll get it?"
Alice says yes, for which Small is grateful that her Ate has brought her to the grocery.
And just like that, viewers are reminded that a normal grocery shopping day of the moneyed class, if at all they step into a grocery store, is different from that of ordinary folks.
READ:
Big reveal ni socialite-vlogger Small Laude, nag-apply siya sa GMA Supershow bilang host
Small Laude's daughter gets accepted into dream U.S. college; tuition is PHP3.3M
Small raiding her Ate Alice's bag closet
Perhaps one of the reasons Small has gained massive followers is because viewers get to live vicariously through her and her sisters.
Case in point: Small giving a peek into her Ate Alice's enviable collection of Hermès bags, the Birkin and the Kelly in all colors of the rainbow.
Small shows in her vlog Alice's collection encased in wooden and glass cabinets.
Collected throughout the years, most of the bags are in exotic leathers—crocodile, ostrich, and lizard.
Alice owns three Birkin bags in Himalayan Niloticus Crocodile leather. This specific style is considered as the most coveted and most expensive that the French luxury brand has ever offered.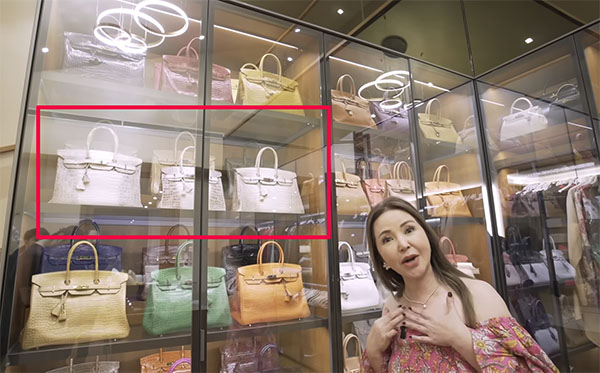 To own a Himalayan Birkin, according to Preview, one has to be a well-loved Hermes VIP client or has to the have money to bid for it at auctions that can go no lower than USD200,000 or 11 million pesos.
Other notable pieces in Alice's Hermès collection include:
Kelly flag 32CM
Color and type of leather: Red casaque and white epsom leather with palladium hardware

Price: A similar bag sold at auction site

Christie's

for USD15,369 or PHP850,536.



Birkin 30CM
Color and leather type: natural sable ostrich leather with gold hardware

Price: A similar bag sold at auction site

Christie's

for USD15,120 or PHP836,756.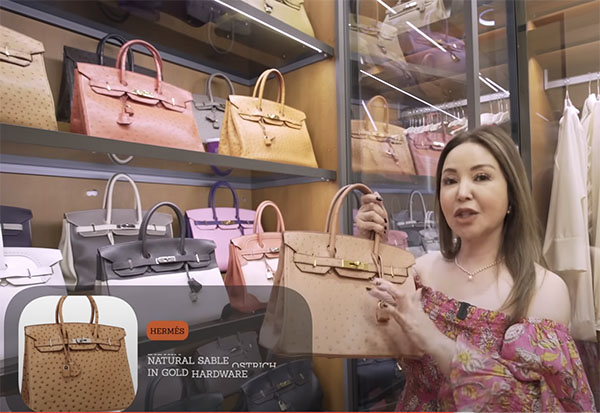 Birkin HSS 35CM
Color and leather type: r

ose confetti and anemone in epsom leather with gold hardware

Price: A similar bag sold on the website

1stdibs.com

for USD32,200 or PHP1,871,980.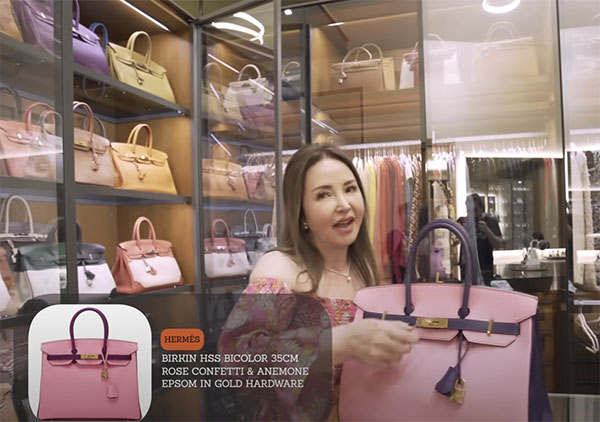 Birkin HSS 35CM
Color and leather type:

black chèvre with rouge H piping and interior with gold hardware

Price: A similar style but in the smaller 25CM size sells on

JaneFinds.com

for USD28,000 or PHP1,549,548).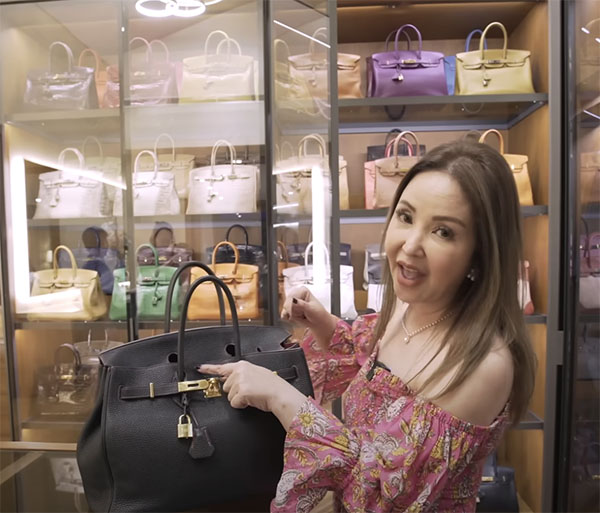 HSS stands for horseshoe stamp. This symbol is found beside the brand's interior stamp just above the bag's touret, or the piece used to lock the bag.
The HSS means it is a special order, a service only given to top collectors.
After showing Alice's jaw-dropping Hermès arm candies, Small proceeds to raid her Ate's equally impressive clutch collection from Christian Dior, Bottega Venetta, Goyard, and Chanel.
And typical of a sister borrowing stuff from a sibling, Small also gets to bring home some big-ticket items from her Ate's closet such as a silver metallic Chanel clutch, an Hermès Lindy mini, and a gold Birkin 30CM.
But it's interesting as well that Small and Alice once fought over a pair of sunglasses.
Talking to Karen Davila, Small recalled, "There was a time, meron kaming pinag-agawan na shades.
"'Sino kumuha ng shades ko?' My god, nagsalubong kami ni Ate sa gitna. Aaaarggh! Akin 'io!"
Alice explained, "Kasi ang selan niya sa things niya. Sa bags, hindi siya magpapahiram. Kasi pag nagkaroon ng konting [dumi]..."
But as seen on Small's vlog all that seems to be forgotten now!
the sisters grooving at Harry Styles concert
Age is nothing more than a number for these fabulous women, and it extends to their taste in music. The three sisters, together with their friends and family, had the best time at the Love on Tour concert of pop icon Harry Styles at the Philippine Arena last March 14, 2023.
In an Instagram post, Melba shared videos of her grooving with her Ate Small and Ate Alice as Harry sang "Adore You."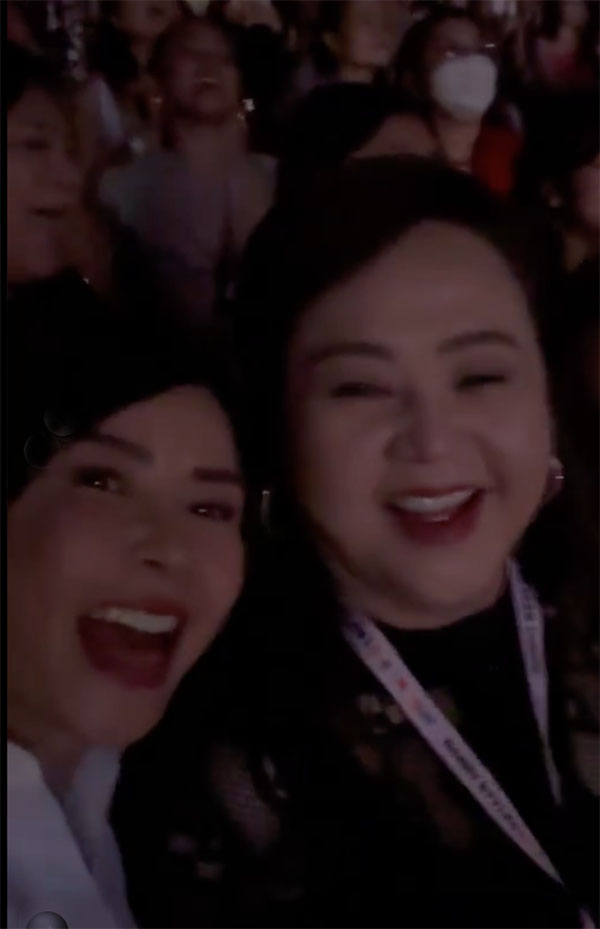 all together for Alice's charity work
The Eduardo sisters support a lot of charities.
When Alice and Small appeared on Vicki Belo's vlog, the celebrity doctor said, "I know you people think Alice gives a lot because you hear a little. But it's probably one hundredth of what she really does."
In a video uploaded last September 2021, Small toured her viewers to Bahay Silungan, which Alice donated to the Philippine General Hospital (PGH) for the doctors, nurses, and cancer patients.
Small also mentioned that Alice had previously donated a pediatric isolation wing for cancer patients undergoing chemotherapy. This is the Pediatric Hematology-Oncology Isolation Ward at PGH, which has a 14-bed facility for children with leukemia and other diseases. It also has facilities and equipment for chemotherapy, blood transfusion, and bone marrow extraction.
Meanwhile, Bahay Silungan houses dormitories where families of patients undergoing chemotheraphy can stay during the sessions. It also provided spaces for doctors and nurses, frontliners who needed a place to rest at the height of the COVID-19 pandemic.
sisters supportive of Small's vlog endeavors
Small has carved her own niche in the vlogging world with 1.84 million subscribers on YouTube and over 2.1 million combined followers on Facebook, Instagram, and TikTok.
Her tagline, "Of course, no bashing. It's for fun!" has also been the buzzword among her followers, some greeting her with that line when they see her.
Small, ever the enterpreneur, has it printed on clothing she sells or gives away to fans.
It is clear that her sisters are Small's biggest supporters, often appearing on Small's vlogs and wearing her clothing merchandise.
Of course, Alice and Melba were there applauding their sister when Small received People Asia's People of the Year 2023 award last March. She also received the People's Choice and Volvo Special Awards.
SISTERS givING back to their kasambahay
The Eduardo sisters are well-known for their generosity to their househelp and staff.
Small's vlog uploaded just before Christmas Day last year shows her grocery-shopping for her household staff, a.k.a. her angels.
But she and Alice have to pretend they are buying grocery items for charity, because Small's girl Friday Lotlot and her driver Francis are with them, and they must not know the goods are for them.
A bit of a hassle though just before they enter the supermarket: they are told by the security guard that filming is not allowed.
But they are not the Eduardos for nothing, and they are definitely not any other customers of the store.
Alice simply called Susan Co, owner of Puregold and S&R Membership Shopping.
And so filming proceeds, with the assistance of the store manager at that.
The sisters shop for the usual Pinoy household staples—rice, milk, coffee, sugar, canned goods, and other pantry essentials—and so much more.
Alice loads up on 12-piece packs of Spam for their staff in Manila and in the province.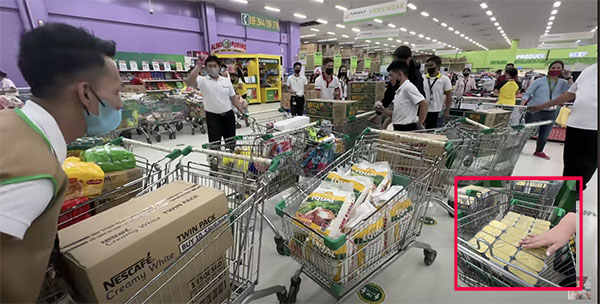 Small comments, "Ako rin pag binigyan mo ako, Ate, ng one box [of Spam], I will be very happy kasi, guys, favorite ko iyon."
They buy canned goods in boxes, with Small asking an attendant to look for the bigger cans of corned beef as the small ones will only be good for "dalawang subo."
At the cashier, the groceries for the unsuspecting Laude staff totes up a staggering bill totaling PHP250,406.40, all paid for by Alice.
Small to Alice, coyingly, "Ate magshe-share naman ako. So diyahe naman kasi ang dami!"
Alice to Small, laughing, "Wag na, okay lang."
Small again, teasingly, "Wag na, Ate, issue-han mo na lang ako ng cheke!"
The vlog continues to show the Christmas Party for the Laude staff the following day,
The househelp and drivers feast on catered dinner and play games with cash prizes of PHP1000 and PHP5000 at stake for the winners, and PHP10000 each for two grand winners.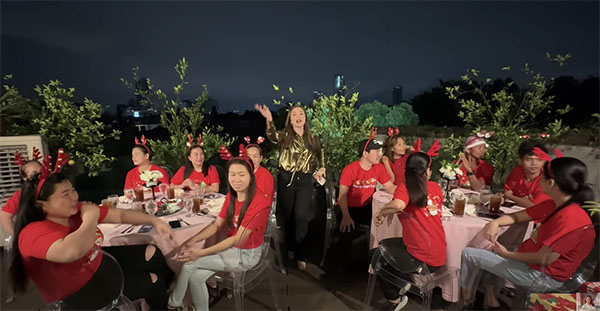 Small explains there are no appliances for the raffle since the staff members prefer cash.
Small also gives out their Christmas bonus in ang pao, the Chinese red envelopes.
Finally, she gathers her staff to show them the boxes of groceries supposedly for charity.
She announces, "Guys, andito tayo sa baba kasi ipapakita ko sa inyo yung dadalhin natin sa charity ko tomorrow.
"So ito, nakapangalan sa inyo. Ibibigay natin ito sa charity ko tomorrow, kayo ang nagbigay."
Then she blurts out, "JOKE LANG!," revealing to the delight of her staff that the boxes are really for them.
And finally, the vlogger, pleased as Punch as a provider, gives thanks, "It's time naman na magpasalamat ako sa serbisyo ninyo sa family namin. Ambabait niyo!
"Walang nagrereklamo dito… Salamat sa inyo, sa pagserbisyo niyo nang tapat, loyal, and willing na willing silang gumawa for me na everything. Salamat sa lahat."
when the sisters go shopping in the U.S.
Comes now a humdinger of a story—the sisters leaving on a jetplane to go shopping.
Their destination: Los Angeles, California!
Back in the first quarter of 2022, just as the world was slowly opening up after the lockdowns from the COVID-19 pandemic, Alice, Small, and Melba jetted to sunny L.A. for some quick R&R.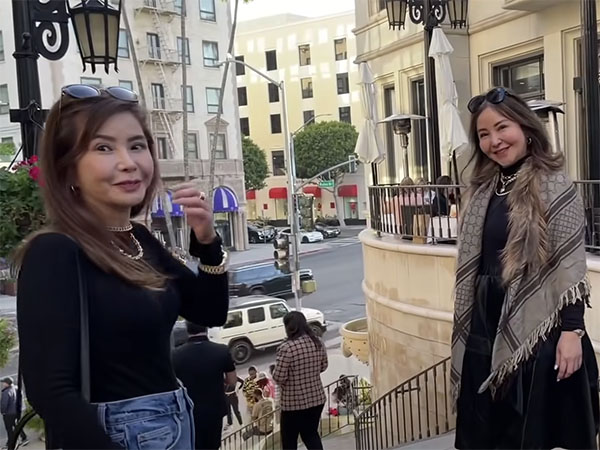 In her vlog dated April 9, 2022, Small mentions it had been two years since they last set foot in the USA.
As seen in the vlog, their first stop is Sushiya, a popular sushi bar on Sunset Strip in West Hollywood.
Their next stops are the Four Seasons Hotel and the high-end Greek restaurant Avra at Beverly Hills.
Then onward to the main agenda of their trip—some retail therapy on Rodeo Drive, a three-kilometer street in Beverly Hills lined with architect-designed boutiques housing luxury and international brands. Truly, a shopaholic heaven for one with money to burn!
Clad in black tops and toting Hermès handbags, the sisters shop at Gucci, Richard Mille, and the department store Neiman Marcus.
Obviously regulars at these places, they are welcomed warmly by personal shoppers and sales associates they know by name.
At Gucci, Small and Melba ham it up for the camera while trying on some outfits.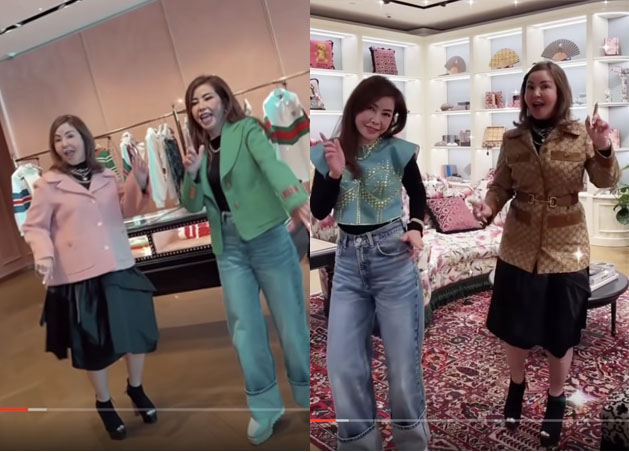 On another shopping trip, the sisters cop items from Chanel. They leave the store with their haul in at least six paper bags!
Small also accompanies her Ate Alice to an Hermès store for some last-minute buys before they head for home.
no jealousy among the siblings
The Eduardo sisters are tightly knit and have strong family ties, which Small attributes to their mother Elisa.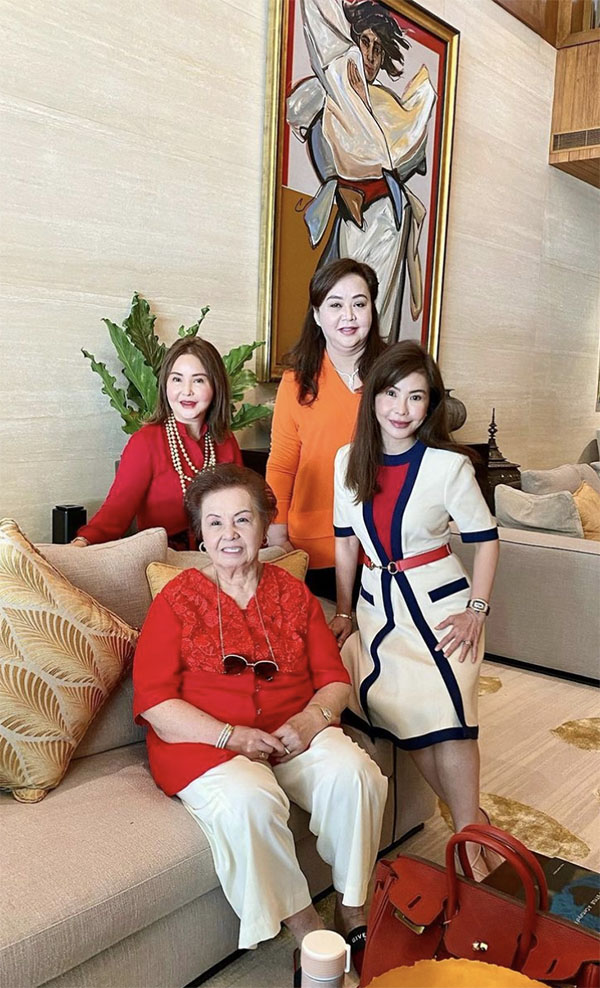 She said in an interview in Karen Davila's vlog in 2021, "Our mom raised us that way. My parents are also close to their siblings."
And while stories abound about siblings and relatives who fight over money, Small and Alice said it was never the case with their family.
According to Small, "Fair naman kasi sila Mama. Saka si Ate is very generous to us."
Alice shared an anecdote when she needed a property title as collateral for a loan to start her construction business. She needed around 30 million pesos at that time.
She said, "One of my uncles told my parents, 'Why do you have to give it to Alice? You have other children.'"
But Small, Melba, and their youngest sibling Joel all agreed that Alice should have the title.
Small said, "Yeah we agreed… [to] help Ate."
She added that it was disheartening to hear about siblings who let greed sour their relationship with one another, "That's so sad."
Alice then revealed, "Even sa mga pamana, I even told my parents, 'Don't give me anything. Just give it to Small."
Karen raised the instance when Alice became a successful entrepreneur and built her construction empire. Addressing Small, she asked, "Hindi ka ba nainggit at any point?"
Small answered, "Dear, no. I was so happy for her. I always pray that Ate gets nice projects, will have good collections.
"And now Ate's so happy for me for my vlog. 'Small sana magkaroon ka ng maraming endorsements!'"
The usually camera-shy Alice then said, "Alam mo naman, nako-conscious ako pag ganito, but for Small [I do it]."