Small Laude, the socialite who has carved her niche as a vlogger with close to two million YouTube subscribers, easily connects to her audience because she loves making chika.
It is also in her nature not to take to herself seriously, and she does have a comic side.
Here are some of the funniest moments and hirits from Small, the tita that everyone wants to have.
READ: Does Small Laude have spending limit when shopping?
73 QUESTIONS WITH SMALL LAUDE
In one of her earlier vlogs in 2019, Small did a parody of Vogue magazine's 73 Questions, an online series wherein celebrity guests—they may be showing their homes around or elsewhere—answer a series of questions coming from a voice.
Small is fun to watch as she answers questions while giving a tour of the Eduardo family's Beverly Hills mansion in Los Angeles, USA.
Small's maiden name is Eduardo.
Her signature catchphrase, "of course" on the left corner of the video tallies 36 at the end of the vlog.
Her most amusing hirit happens at the 1:33 mark, when the interviewer asks about her favorite food.
She answers: "Oh, it's Italian!" and adds without missing a beat, "Of course, it's Lechon!"
READ: Big reveal ni socialite-vlogger Small Laude, nag-apply siya sa GMA Supershow bilang host
Though she follows it up with "Our Filipino food," the way she utters "Lechon" with gusto and the close caption "ITALIAN?!?" is the funniest of all.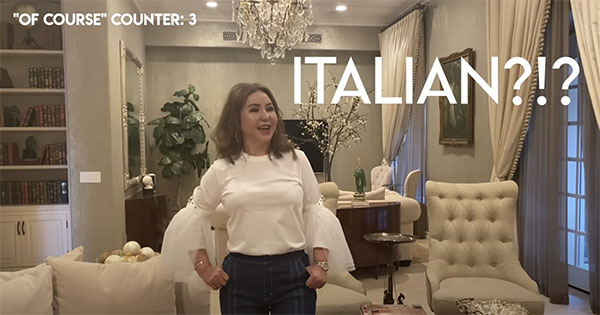 Eating hilaw na talong with Karen Davila
Small has dubbed herself an "Eat Gurl," and she does look like she is always looking for food. She enjoys dining out and trying new dishes.
At home or family gatherings, she gorges on her favorites.
But she has her limits.
In a back-to-back vlog with Karen Davila, Small is showing the broadcast journalist, also her long-time friend, the eggplants grown at the family-owned Sta. Elena farm in Nueva Ecija.
Karen picks a piece, and once assured it is ripe to eat, to Small's surprise, Karen takes a bite of the raw eggplant.
Small gasps, "Ha! My dear…" but in an instant also takes a bite, remarking, "It's masarap, a. It's sweet."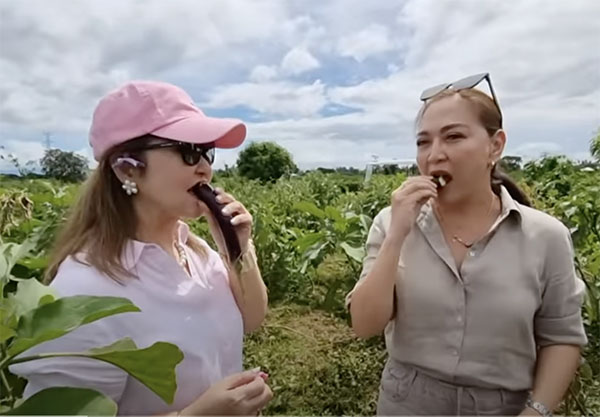 Unable to hold back, she gives herself away, grimacing, "Ang sama!"
But in a split second, she takes it back, "Ay, ay ang sarap!"
Both Karen and Small are in stitches as the vlog pauses and the caption "Dear nabubuking ako!" appears in all caps.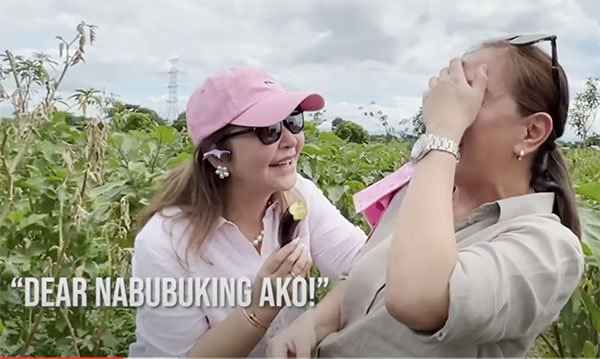 Hamming it up in Cebu
Small is aware that not everyone appreciates what she does in her vlog. In fact, she knows some people within her social circle have labeled her "baduy."
But clearly, she is having fun, and in her own "baduy" way has been making her public laugh along with her.
Her vlog dated September 3, 2022, is about her visit to Cebu to judge the Queen Philippines Pageant that year.
On the side, Small puts on a vaudeville act that brings her comedic skill to the fore.
Astride a parked motorcycle on display, she makes like she's taking it on the road with the help of her friends.
Someone puts on her sunglasses, and for a windblown effect, a friend vigorously fans her with a pamaypay while another vigorously tugs at her scarf.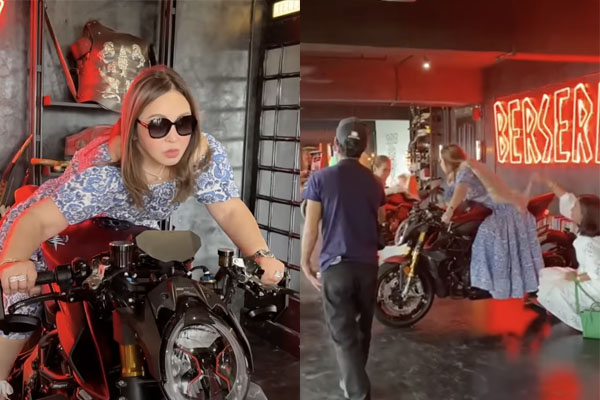 There is also a shot where Small is talking to her husband Phil Laude on the phone, and she comes out of a phone booth similar to the ones seen in the United Kingdom.
Vlog with Ate Vi
Speaking of acting skills, Small received acting lessons from the acclaimed and multi-awarded actress Vilma Santos no less.
Small has repeatedly declared her admiration for Vilma.
And in the intro of her vlog with the Star for All Seasons, she gushes, "Favorite, at fans na fans ako nito, sobrang sobrang idol. I'm so happy she's here with me!"
The content creator pulls out all the stops for her idol.
Small gets all dressed up like the actress, down to the eyeglasses and signature handkerchief—and it pays off!
Ate Vi ends up complimenting her, "Alam mo tuwing tinitingnan ko ngayon siya, para kong nakikita ako!"
READ: Small Laude posts fabulous and amusing OOTDs
After their interview, Small and Ate Vi reenacted popular scenes from the Star For All Seasons' movies.
This is also in preparation for Small's then-upcoming guest stint in the TV series Mano Po Legacy: The Flower Sisters.
The hilarious part starts at the 33:00 mark where they reenact a scene from the 1987 film Saan Nagtatago Ang Pag-Ibig? where Ate Vi memorably utters the line: "Si Val! Si Val na walang malay!"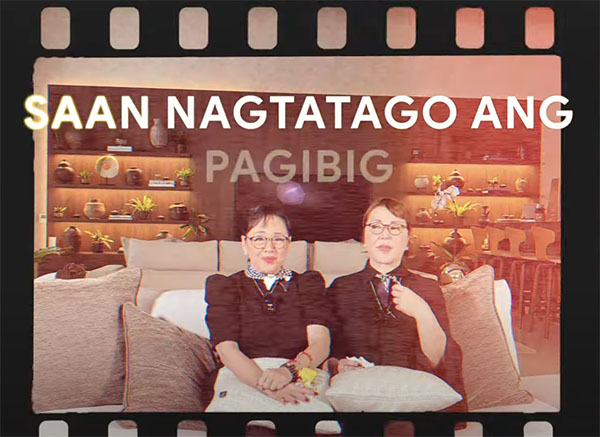 Vilma does it first, acing the scene. After Small's turn, Ate Vi bursts into a fit of giggles. "Na-amuse ako sa kanya, e!"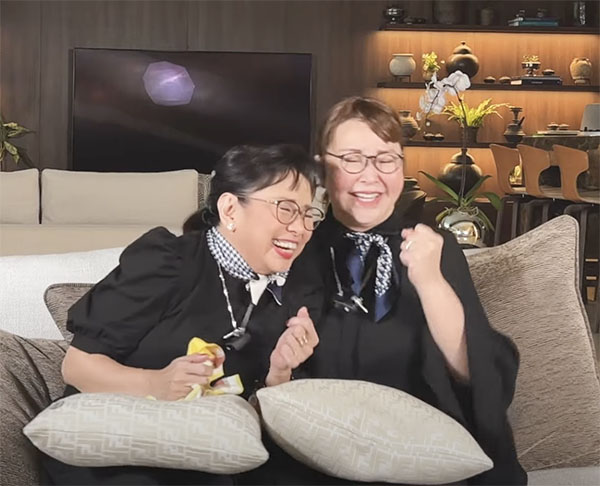 Ate Vi comments on Small's phrasing which has no pauses. Ate Vi follows it up with tips—and they try again.
Ate Vi's verdict? "May pag-asa, kailangan lang i-workshop!"
Small is a good sport through it all, which makes her even funnier!
READ: Romping with the rich and famous Eduardo sisters: Small, Alice, and Melba
Yaya for a day
In her vlog dated September 18, 2021, and titled "I Tried to Be A Yaya for A Day!," she plays a yaya clad in diamond earrings, Chanel brooches, Tiffany & Co. and Cartier bangles, and a Richard Mille watch.
Bejeweled, Small cleans the toilet, waters the plants, then takes a break munching on mangosteens while lounging on a couch.
The fun part comes in at the 6:25 mark. She performs in front of a green screen and parodies Sharon Cuneta's iconic Superferry commercial from the '90s.
With the theme song playing in the background, Small "flies" and "tumbles" just like The Megastar in the TV ad. Then she says "Sakay na!" in the end.
All in good fun, the hashtags #CHAROTLANG and #NOBASHING appear at the end of the bit.
READ MORE: