Are you close to your hipag or to the current girlfriend of your brother?
Sometimes, the way to a man's heart is through his sister.
She can act as your publicist and tell her brother a lot of good things about you.
She can be your ally, too, and confidante each time you have a problem with her brother.
Showbiz has its share of mag-hipag or future mag-hipag who are BFFs, and their closeness is truly a #FriendshipGoal.
Anne Curtis and Solenn Heussaff
The two ladies have been good friends even before Anne became the girlfriend of Solenn's brother Erwan in 2010.
This photo was taken in 2012.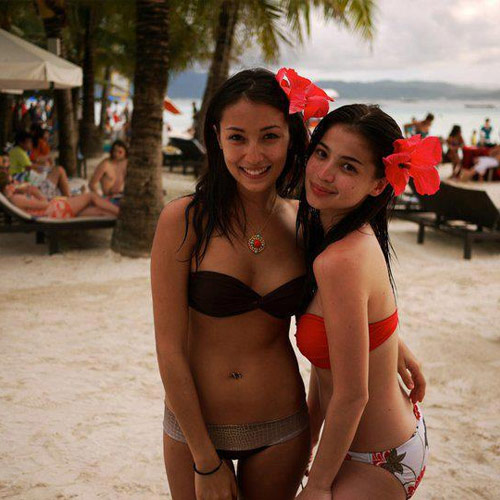 Taken in Florence, Italy
Camille Prats and Isabel Oli

Camille calls Isabel "sissums," while Isabel refers to her hipag as "sissy."
When Isabel had her bridal shower, Camille was one of the punong-abala, and when it was Camille's turn, Isabel took charge of the party details.
Here's how the former child star greeted the former model on her birthday: "You are such a great mom to #LillyFeather and an awesome wife to Kuya.
"Sabi nga nila, you should pray for the ones your siblings end up with, and you are an answered prayer not only to Kuya but for the entire family as well.
"Not only are we sisters but we are also sisters in Christ."
Cheska Garcia-Kramer and Nikka Martinez-Garcia
The two ladies "can seriously talk for hours."
On Instagram, the wife of Patrick Garcia added, "Thank God for our husbands who remind us that there's still tomorrow! Heheh! I laaaav you."
Kiana Valenciano and Sam Godinez
Kiana has been friends with the wife of her Kuya Paolo since they were kids.
Danica Sotto and Kristine Hermosa
Here's how the eldest of Vic Sotto greeted Kristine when she and Oyo Sotto celebrated their wedding anniversary on January 12.
"...Oh how I miss our kulitans and major chikahans! Uwi na kayo! Thank you for being a blessing to us."
These ladies are not yet married, but they are good friends with the boyfie's sister.
Sunshine Cruz and Ara Mina

The two ladies have been buddies, but Ara said Sunshine's recent pairing with her half-brother Macky Mathay was something "unexpected."
Sunshine and Macky's romance bloomed with a little help from social media.
Erich Gonzales and Vanessa Matsunaga
The Kapamilya actress is close to Daniel Matsunaga's mom Geralda Maria and sister Vanessa.
They usually travel together.
Kathryn Bernardo, Magui Planas, and Carmela Ford

She and Daniel Padilla have not really confirmed the real score, but the latter's sisters Magui and Carmella have found an ate in the Kapamilya leading lady.
On Instagram, Kathryn worte, "I will always be here to guide you both."
Nadine Lustre and Lauren Reid
When the Australia beauty went third-wheeling with her brother James and his girlfriend, she and Nadine hit it off instantly.
The two ladies are like "soul sisters."
Dianne Medina and Rayver Cruz

Rodjun Cruz doesn't have a sister, but his girlfriend found a friend and gym buddy in Rayver.
The latter considers Dianne his "long time sister," and promises her, "Always got your back, ate Dianne hehehe."