Luis "Chavit" C. Singson has been in the news these past weeks.
As chairman of the LCS Group of Companies, he is mainly responsible for bringing the Miss Universe pageant back to Manila.
This is the third time the country is hosting the prestigious beauty pageant, after 1974 and 1994.
After the Philippines' Pia Wurtzbach won the crown last year, campaigns were launched to have the country host the pageant again, but President Rodrigo Duterte opposed the plans and said he did not want government to spend on the project.
Singson entered the picture after the proposal was brought to his attention by his project managers.
The former governor of Ilocos Sur initially balked at the steep price tag attached to hosting the pageant.
Singson said the Miss Universe Organization initially asked for a non-refundable fee of $1 million upfront.
He added that he was then asked to shell out $6 million (Php299 million) as payment for the rights to hold the pageant in the Philippines, and another $6 million as budget to mount the production, which includes expenses for accommodation, transportation, meals for the MUO officials, candidates, and production staff, and other expenses.
After crunching the numbers, Singson's management team told him there were only two possible outcomes if they said yes to the proposal: they would lose a little money or they would earn a little money.
"So I said yes," he said. "Besides, it's good for the country's tourism. I just told [my team] to make sure that if we were going to lose money, that it would only be minimal."
In the photo, Chavit Singson is flanked by Miss Universe 2016 Pia Wurtzbach and Miss Universe Organization president Paula Shugart.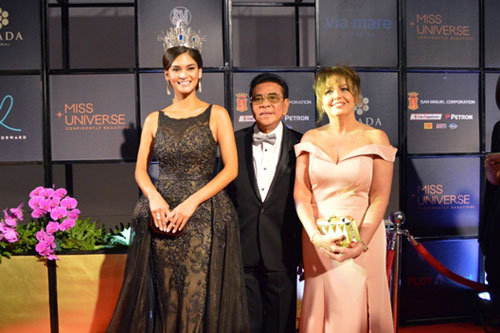 He also reportedly spent $12 million or Php600 million to buy the luxury yacht, M/Y Happy Life, that ferried some of the Miss Universe candidates between Manila and Batangas province in one of the pre-pageant events.
The boat has five floors and 16 rooms, some of which are equipped with Jacuzzi hot tubs. It also has a karaoke room.
All these are making people wonder just how rich Singson really is.
So, when Entrepreneur.PH sat down with him for an interview, we asked him how much money he's making to be able to afford the expenses for hosting Miss Universe competition in the Philippines.
He paused for a while and then said, "My net revenues amount to about Php120 million a month. There are a lot. I have many businesses that earn millions."
He added: "The construction, I make billions; the transportation, I'm netting around Php100 million a month; I've earned Php1 billion from that in previous years, just for transportation."
He also mentioned several new ventures: a commercial airline that will fly domestic and international routes, his bank in Puerto Rico [Vigan Banco International] now has branches in Los Angeles and Mexico, and he will soon open local branches of GO Sport, one of Europe's largest sporting goods chains.
And of course there's his Baluarte, an 80-hectare interactive wildlife sanctuary that has become a popular tourist destination in his home province of Ilocos Sur. Visitors can spend time playing with the exotic animals in the zoo, including tigers, impalas, ostriches and camels.
When asked how many companies he owns, he said: "There are a lot. Maybe around a hundred. Some of them aren't in my name."
Singson poses with his daughter, Richelle Singson-Michael.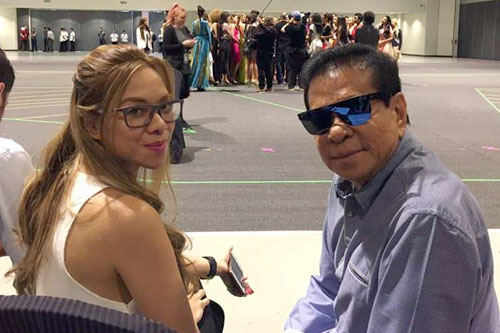 Because of his long years in politics—he was a long-time governor of Ilocos Sur and a former congressman—as well as close relations with the country's presidents and top political leaders, it's inevitable that many people would think that some of his wealth arose from using his political position and influence.
Despite all the controversies pit against him, the 75-year-old Singson insists his wealth came from legitimate business activities and not from corruption or illegal activities.
"The previous administration tried to squeeze me about my taxes, but they couldn't pin me down because all my companies pay taxes."
He also takes pains to point out that he and his family were in business long before he became active in politics.
"My father was an engineer. We had a construction [business] when I was born. I worked to make it grow. So [my wealth] came from somewhere," he told Entrepreneur PH.
As a young man, Singson became involved in tobacco trading, which proved to be a huge cash cow. "That's how I earned my millions when I was younger. I was able to buy the electrical plant of Vigan when I was only 23 or 24 years old."
Singson insists his foray into politics was purely accidental. Still, he seems to have enjoyed it so much he stayed for a long time, surviving several assassination attempts. He served almost three decades as governor of Ilocos Sur—interrupted only when he was replaced by an officer in charge and when he became congressman—between 1972 and 2007. Currently, he is a councilor of the small town of Narvacan in the same province.
Today, he says he is more of a businessman than a politician. His LCS Group of Companies has interests in construction, agriculture, transportation, mining, aviation, media, banking, finance and retail, among other industries.
Here's Chavit posing beside the newly-crowned Miss Universe Iris Mittenaere.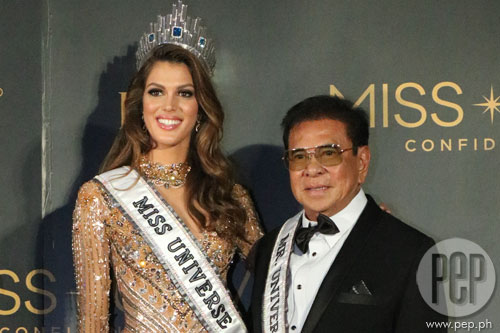 Read full story on entrepreneur.com.ph.
Minor edits have been made by PEP editors.