A grand gesture gone wrong!
The sequence of events personally left me in a conundrum as I tried to make sense of Xian Gaza's intentions and his ill-planned "move."
In case you missed the story that's currently a hot topic on social media. It began with this Instagram post...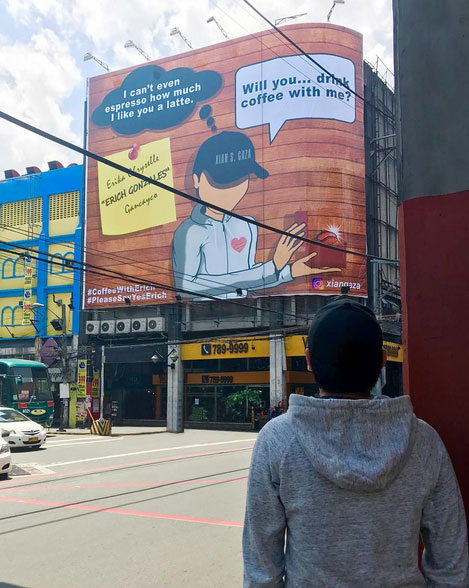 ... which he captioned: "They say it's first time in Philippine history. I say: That's how special you are to me. @erichgg, will you drink coffee with me? #PleaseSayYesErich #CoffeeWithErich"
He said he did not expect to get "national and international attention."
But why would he invite a star like Erich Gonzales for a coffee date with a huge billboard on Morayta Avenue?
Why would he post it on his social media accounts if he did not have the intention of making it viral?
Why would he expose himself when his past includes unresolved court cases, people charging him of being a scammer, and failed deals and projects?
Why would he post about his travels and adventures, including his lavish gifts, if he himself admitted that he is deep in debt?
If he were my friend, I'd tell him, "Hindi ka ba nag-iisip?"
I mean, reading his previous posts, he seemed smart.
But most of them seemed to lack the SENSIBILITY, which, according to the Cambridge dictionary, is "an understanding of or ability to decide about what is good or valuable."
Netizens also pointed out a few things:
"...this should be a curve for you, sir."

"sana nag-donate ka na lang..."
"Don't flaunt your success thru social media."

"Sa Internet...wala kang maloloko."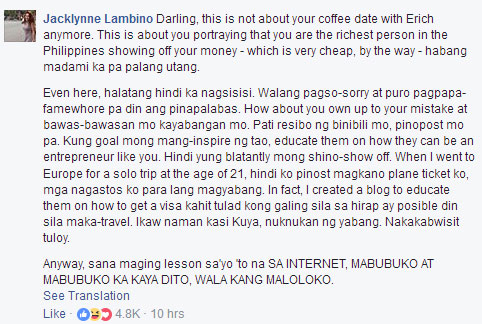 He also showed his penchant for quantifying every mundane thing: the "29 flights...3 countries...8 international meetings...3 international partnership deals with total accumulated value of 1.4 Million US Dollars..."
There's more: "14 criminal cases...40 subpoenas, 3 warrants..."

NOW WHAT TO DO? If he's a "young CEO" who has millions, he can easily afford to hire an image engineer or a social-media publicist.
If he were my friend, I'd tell him to go somewhere quiet and do some serious reflection. I am serious.
If I were in his place, I would have realized by now, "Geez, something must be wrong with me."
Some netizens put in a good word for him, saying "mabait siya."
Some of his posts were actually inspiring, especially his personal experiences, but he has yet to learn how to turn the tables in his favor.
Self-worth is vastly different from net worth. Being proud is not bragging. Generosity is never grandiosity.
Owning up to a mistake is not the same as justifying it.
If I were in his place, I'd need to accept that somehow, sometime, I've been grossly out of line.
Most importantly, be true.
I'd make it my mantra from hereon that people can love me for being me.

If I were in his shoes, I'd have only one word to post on my social media accounts: "Sorry." I'd probably include a crying emoji, but not any picture or video.
I would also forget about that coffee date with Erich for now, and work on inviting her someday sans any fanfare.
But that's just me. Xian is entitled to do whatever he wants to do. It's his life.
His post is burning in social media. He will perish in it.
Lastly, to the netizens, utang na loob, leave his mole out of the hullabaloo.