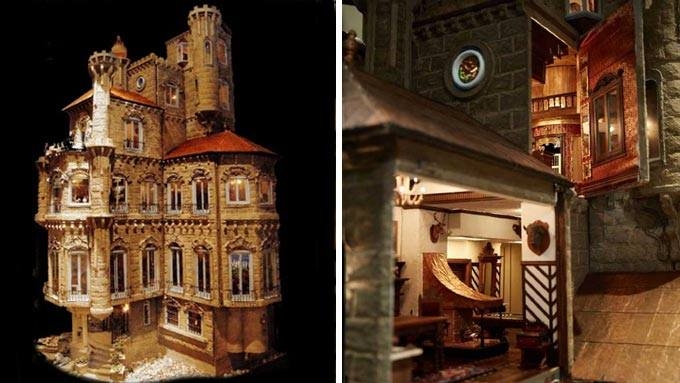 IMAGE http://www.astolatdollhousecastle.com/
---
It's every little girl's dream to own a dollhouse.
The bigger the dollhouse, the better!
But the Astolat Dollhouse Castle surpasses the average child's imagination.
It wildly exceeds Barbie's Dreamhouse.
This 29-room dollhouse isn't merely a toy, it's a full-blown work of art.
Under the helm of Colorado-based miniatures artist Elaine Diehl, carpenters, goldsmiths, and glassblowers worked on the castle over a 13-year period, from 1974 to 1987.
It was initially displayed at Diehl's Museum Shop in Sedona, Arizona until her retirement.
In 1996, it was bought by miniature collector Lois Freeman.
ADVERTISEMENT - CONTINUE READING BELOW
It was then dubbed the world's most expensive dollhouse, and was shown at the Time Warner Center in 2015.
A smaller version was put on display at the Nassau County Museum of Art.
The house contains over 10,000 handcrafted miniatures, and weighs between 815 and 890 pounds, depending on which furnishings are chosen to be displayed inside.
It stands nine feet tall.
ADVERTISEMENT - CONTINUE READING BELOW
It will take two days for 12 people to dismantle the dollhouse, and the same number of people and period of time to put it back together again.
Its storage has around 30,000 miniature accessories.
It's the only privately-owned museum-quality dollhouse in the world.
ADVERTISEMENT - CONTINUE READING BELOW
Aside from the rooms, it also has a wine cellar, an observatory, an armory, and a grand ballroom.
Among its notable miniatures: a tiny grand piano valued at $7,000 and a minute Bible priced at $5,000.
ADVERTISEMENT - CONTINUE READING BELOW
In one of the sitting rooms, a selection of small stones and crystal line a writing desk.
It has a whole library filled with books that measure half an inch, plus glasses filled with ice.
ADVERTISEMENT - CONTINUE READING BELOW
On top of all those details, it has a whooping price of $8.5 million or roughly 434 million pesos.
This story originally appeared on TOWNANDCOUNTRY.PH.
*Minor edits have been made by the PEP.ph editors.