Rajo Laurel is one of the Filipina brides' go-to wedding gown designers.
He recently stunned us with his golden bridal gown for socialite Divine Lee.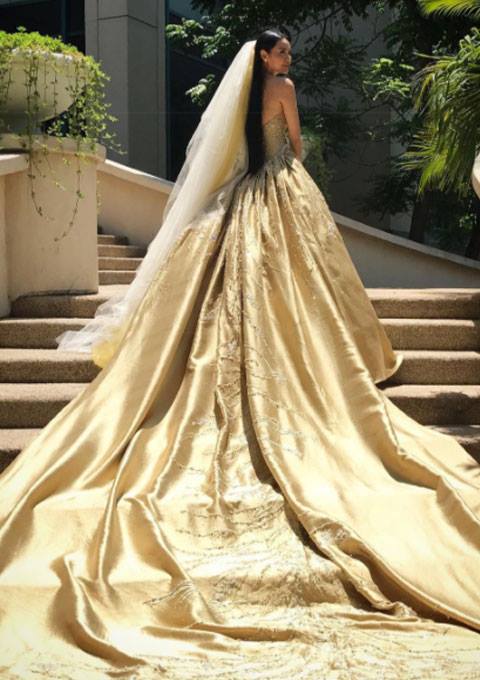 IMAGE rajolaurel on Instagram
Best known for his designs that are a reflection of his "optimistic soul," he is not one to compromise his aesthetics.
"I'm drawn to things I like and then I'm very confident of what I like so far…" the designer told PEP.ph (Philippine Entertainment Portal) and a small group of press at the opening of the Urban Filipino Home exhibit in Shangri-La Plaza last August 15.
"I don't like ugly things, I don't like scary things.
"I try to shy away from drama."
But weddings often entail drama, especially when dealing with a "bridezilla."
So how does Rajo handle brides who are overly demanding?
He keeps their perspective in check.
"Obviously, they're going through so much stress. I tell them, 'Are you having fun?' Because if you're not having fun, let's take a step back.
"Let's walk away from this space because this should be fun—this is the fun part of getting married.
"If you're not having fun, there's a problem here."
As a designer, Rajo believes that his duty to the bride goes beyond making her bridal gown.
He makes sure to also help his client manage her expectations for her big day.
"Being a designer is not just making clothes. It's sort of like also intending to help them decongest, because they go through a lot.
"Getting married is hard, staying in a marriage is hard.
"[But] planning a wedding is fun!
"I always tell myself and tell my brides and my clients, 'Hey, this is just a dress, okay? And there [are] worse things that can happen," Rajo related.
"'So if you're not having fun with the dress, tell me how we can make it fun. Because that's the best part.'
"This is the most fun activity ever!"
Furthermore, the celebrity designer takes time to have a good talk with his clients.
"I tell them kapag you're having a moment, it's not usually about the dress.
"It's something else.
"So, we try to walk through that and go back on track on why you want to get married, why you're in love…
"You can also kind of tear down and make it really, really simple, and realize 'Okay, you're right.' You shouldn't be a bridezilla."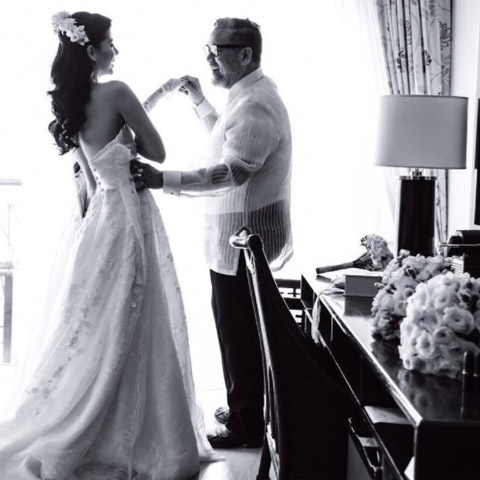 MAKING THE DRESS. For Rajo, a bridal dress would always be about the "emotions" attached to it.
He explained, "For me, it's all the emotion because it's the most important dress.
"You'll be married in that.
"It's all the memories attached to it.
"So, essentially, it can be a very simple white dress that you can buy...or it can the most expensive dress that you can afford.
"What matters most is that you feel amazing in it and you feel good in it, because all the memories are attached it.
"That's what makes a wedding dress."