Even at their age, actresses Ina Raymundo, Alice Dixson, and Sunshine Cruz still get compliments from their young co-actors.
The three female celebrities played the "Never Have I Ever" game at the launch of their newest endorsement, Century Tuna Red, held at the Shangri-La at the Fort in Taguig, last September 28.
One of the statements that they had to react to was: "Never have I ever been called 'hot' by someone younger."
Ina, Sunshine, and Alice raised "guilty than ever" cards as their answers.
Ina, 41, revealed, "Someone said that to me, someone younger, my co-actor, about 19 [years old]."
Sunshine, who recently turned 40, had a similar answer: "Co-actors as well, mga nasa early 20s."
Alice, who is already 48, said she probably doesn't get the compliment "hot" as often as Ina and Sunshine do.
But she said in jest, "Not frequent but enough to know na I'm a Century Tuna model."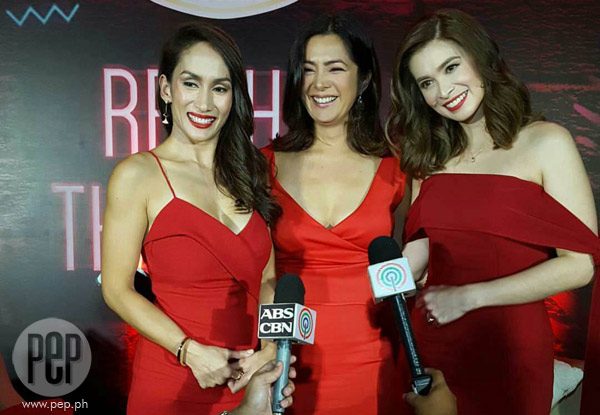 In a separate interview, the three celebrities were asked if they ever feel awkward whenever they get such compliments.
Ina replied, "I don't make a big deal out of it. When I hear it, labas agad sa kabilang tenga. I just say, 'Thank you.'"
Meanwhile, Alice said she's grateful, "Kasi napapansin pa rin ako even if I'm almost 50, di ba?
"Kids, like I'm triple their age or double their age in some instances, siyempre, it's a big brag factor.
"But we don't let it make our heads big.
"Hindi namin ikinalalaki ng ulo 'yan. It's just part of our job to look good."
For her part, Sunshine said she feels flattered whenever she is paid such a compliment.
"But like the girls beside me, wala, parang 'Thank you' if you think we're hot. But that's it for us," she added.
Is there a pressure for them to keep up with younger celebrities?
Ina, who is a proud mom to her five kids, said, "No, we're just having fun. We're just doing what we like to do."
Sunshine echoed Ina's answer, and said, "Passion talaga."
On the other hand, while Alice agreed with her co-endorsers, she also admitted that there's pressure for them to look good by mere virtue of being celebrities.
She further explained, "We need to look good in front of the camera. But that's just part of our job.
"For me, on an ordinary day, I don't wear makeup. I don't get dressed glamorous.
"There's a certain effort on our part to meet the requirements.
"Pero on a day-to-day basis, I'm pretty much laid back."
Ina and Sunshine nodded in agreement.
"We just need to eat healthy and workout," Sunshine stressed.