Meet Binibini No. 35 Sandra Lemonon.
She made it to Top 15 of the recently-concluded Binibining Pilipinas 2018 coronation night, and could have won one of the titles if she fared well during the Q & A portion.
But netizens noted that Sandra gave one of the most honest and real answers ever given in the pageant.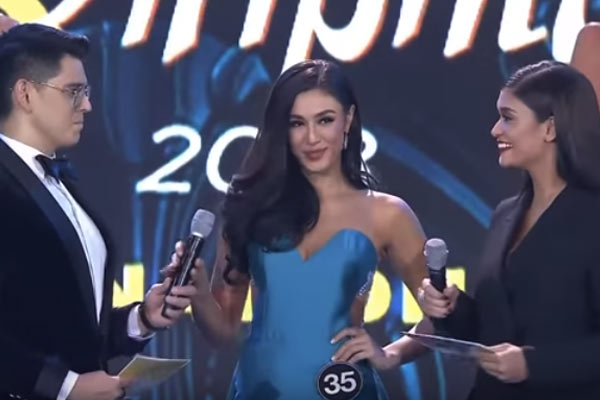 Binibini 35 Sandra Lemonon with Binibining Pilipinas 2018 hosts Richard Gutierrez and Pia Wurtzbach
During the Top 15 Q&A portion, the aspiring beauty queen was asked, "What are your insights on the government's Build Build Build program?"
To everyone's surprise, she responded, "Actually, you know what, I studied so much for this Q&A but, sadly, that's something I don't know really much about.
"But, at least, I'm here trying to answer a good question. Thank you."
With a smile, Sandra gave back the mic.
Miss Universe 2015 and host Pia Wurtzbach quickly commended Sandra.
"Well, I love her honestly." Pia said. "It's better than lying."
Netizens couldn't agree more. They immediately tweeted their support for Binibini 35.
It created a wholesome meme, encouraging people to be "a Sandra Lemonon" in a world of "liars," "pretentious," "pabibo," "nagpapanggap," and "pabida-bida."
Some however realized that majority of the citizenry are not well-informed about the government's projects.
And, really now, does anybody know the answer to what was asked Sandra?
Gretchen Ho answered the question for Sandra.