Troy Montero joined his partner Aubrey Miles in baring it all while having some R&R at The Farm at San Benito in Batangas.
The couple's nude photos on Instagram, taken while they were sunbathing and swimming at their private villa, have gone viral.
Aubrey was the first one to post her naked photos on her Instagram feed, shocking netizens as one of the shots shows her left breast exposed.
Her private parts were strategically covered in the other shots.
Aubrey then posted a photo of Troy skinny-dipping alone in the swimming pool.
She captioned it, "Be free @troymontero."
The photo was a top shot, and because it was taken while the sun was high, the pool's clear water shows Troy's naked physique.
Only Troy's hand covers his private part.
In Troy's own Instagram account, he posted a photo of him and Aubrey sunbathing in the nude, with Aubrey covering her breasts with her hand, and her left leg covering both her and Troy's bottom private parts.
In the caption, he wrote, "Good times and no tan lines #befree #notanlines #swimsuitnotrequired #thefarmsanbenito"
Actress Iza Calzado, who was also at the resort, left a comment on Troy's post.

Meanwhile, a lot of Troy's Instagram followers were reminded of:

A few wanted Aubrey to redo her pose because they failed to see Troy's man parts.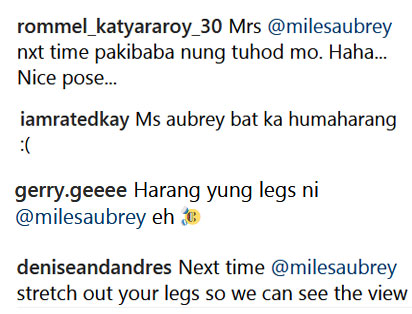 Others were simply wowed by the couple's gorgeousness.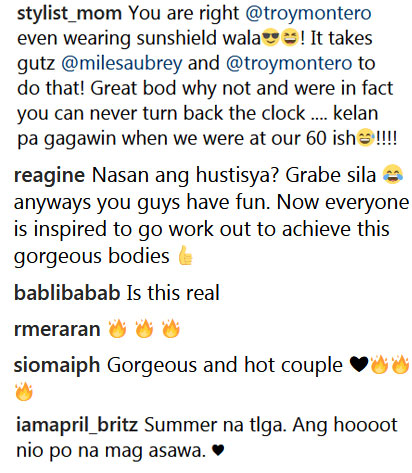 Some tagged their partners, and made it one of their #CoupleGoals next time they hit the beach.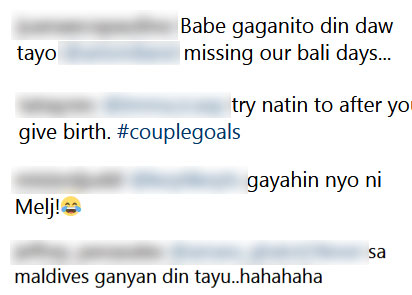 Meanwhile, a few were waiting for KC Montero's response.

Yesterday, KC "roasted" them by adding a dragon into their nude pictures.
Shortly after Troy posted the photo, here's KC's funny reaction:
"The feeling you get when keep seeing your naked family on Instagram..." #imDying #CaniUnfollowMyBrother? #imNeverGoingOnVacationWithYouTwo #iUsedToLookUpToYou #DoodooStainsOnTheChairs #FloppySausageOnTheChair #ThisIsNotAnApp!
But the netizens' burning question was: Who took the photo?

And if Troy and Aubrey are going to do it again, some of their followers volunteered to be their photographer.