Janine Gutierrez loves going to the beach.
Whenever she has free time, even at the last minute, the Kapuso actress will find a way to get some much-needed vitamin sea.
When she became one of World Wide Fund for Nature Philippines' (WWF) ambassadors, Janine's love for the sea grew deeper especially after learning more about marine conversation and biodiversity.
"...being exposed to the trips that I've gone on with WWF has really opened my eyes to have we should really be responsible tourists," the Sherlock Jr. star told the press during the recent Earth Hour 2018 media launch.
"Like I went to a trip with them to Donsol [Sorsogon] to go swimming with the Butandings, 'tapos do'n ko nalaman na WWF was really able to uplift the livelihood of the community by teaching them sustainable tourism."
This experience then inspired Janine to work on getting a diving license.
She told PEP.ph (Philippine Entertainment Portal) in a separate interview, "I wanna get my diver's license. That's my summer goal.
"Sana magawa ko kasi I know it takes, like, a weekend or parang a few days to get a diving license."
Janine already did an introduction course on scuba diving last year.
"I need to follow it up," she said.
Janine hopes to accomplish her summer goal before WWF heads out to the Tubbataha Reef in Palawan.
Her fellow WWF ambassadors like Marc Nelson and Rovilson Fernandez will be part of the trip and they already have their licenses.
Janine continued, "I can only join if I have a diving license. Sina Marc Nelson, Rovilson Fernandez, lahat sila kasi they've been diving forever.
"So ako na lang kailangan humabol."
BECOMING EARTH-FRIENDLY. Aside from Janine, Marc, Rovilson, and Iza Calzado were also present at the Earth Hour 2018 media launch, where they shared the simple practices to start living an eco-friendly life.
Iza said, "For me, I guess, one of the biggest things is starting it from your own household.
"I can't say my household is plastic-free—it's so hard. I don't know how some people have done it.
"But there is a lot of things that I've tweaked and more aware of."
Iza continued, "I'm very strict about closing the lights at home when they are not being used or anything that's not being used.
"Even shutting the doors, telling my fiancé, 'Don't let the water run when you're brushing your teeth.' It's as simple as that.
"Plastic straws, saying no to them when you're being handed one… It's the little things that you do and decide on."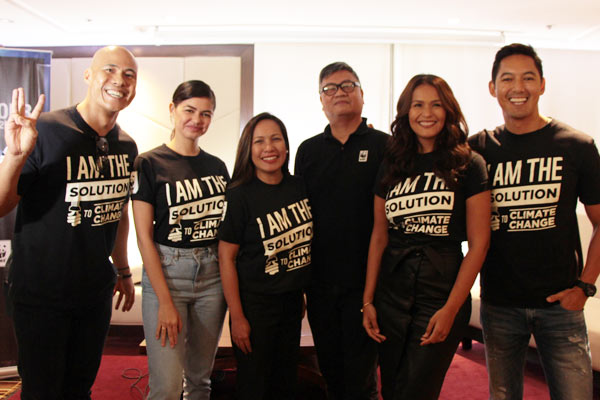 Iza also believed that people should start connecting more with nature and disconnect from our city lives.
She continued, "We did go on a hike on Mt. Makiling. It was my first time to hike a mountain like that and then with everybody else.
"It really makes you respect nature more.
"The more that you spend time grounded in nature, the more that you begin to respect that.
"So, I guess since we live in the city, I think the biggest thing is let's get out of the city.
"Let's enjoy nature and understand how we must protect because it's really one of the best gifts, apart from our lives, that has been given to us."
Meanwhile, Marc pointed out that people should learn to be conscious about the actions they do when traveling.
He related, "If anyone knows me, they know I travel a lot partly for work and partly for enjoyment.
"When you travel, you can choose to be more responsible tourists.
"So, making sure that you make environmentally-friendly decisions or choices—whether it'd be bringing your own tumbler, bringing your own steel straw, making sure you refuse those plastic straws, making sure you bring your own reusable shopping bag even when you travel."
Marc further noted, "What I like seeing happening around the country now is that a lot of the places I'm going to now are trying to be proactive with defending the environment.
"I was in Coron recently and there was local tour operator who was pushing for the reduction of water bottles.
"Obviously, a lot of tourists go there and for every tour that they take out, each individual uses about three bottles of water through the course of the day.
"So now, they're installing refilling stations on the boats and in the resorts for either free refills or five-peso refills, encouraging people to bring their own bottles."
Rovilson also acknowledged that becoming an environmentalist doesn't have to be a drastic change.
He said, "The day we were bestowed the WWF ambassador title, you know, I thought about and I was like, 'Wow, I'm an environmentalist now.' That's fantastic, that's great.
"I need to live up to this environmentalist moniker."
He continued, "But, you know what, I'm looking out in the room and I see environmentalists in front of me.
"If you don't throw trash out of your car door window while driving, you're an environmentalist.
"If you turn off your faucet when you're brushing your teeth, you're an environmentalist.
"We're all environmentalist here no matter how big or how small your contribution because every bit helps."