Meet Carly Peeters, the reigning Miss Teen International 2017.
She is 16, a proud Filipino-American with a mission.
Her mother is from the Philippines, and inspired by the story of her mom, Carly was here early this month to promote literacy in the country.
"My mom is from Manila, and she was kind of from a lower middle-class family…
"She told us that education is the only reason she was able to immigrate from the Philippines, and make a better life for herself and, later on, for us.
"She told me that education was the key to everything.
"If you're educated, you can do whatever you want in life.
"And you can be whoever you want to be…" she told PEP.ph (Philippine Entertainment Portal).
As fate would have it, her advocacy paved the way for her return to Manila as representative of Yellow Boat of Hope Foundation, a Filipino movement in the States.
The foundation had approached Carly and proposed a collaboration project with her.
"It was perfectly aligned with my platform of education and literacy," she said.
"I just thought it would be an amazing opportunity, that's where I'm from.
"That's my nationality! I need to go back!"
Thus, with the help of her mom and the foundation, Carly returned to the Philippines last March 30.
"This is my first international, which I was really excited about," she told the press during the launch of Smart's School-in-a-Bag campaign with the Yellow Boat of Hope Foundation at Fairmont Makati last April 3.
Carly was announced as the official ambassador for the campaign.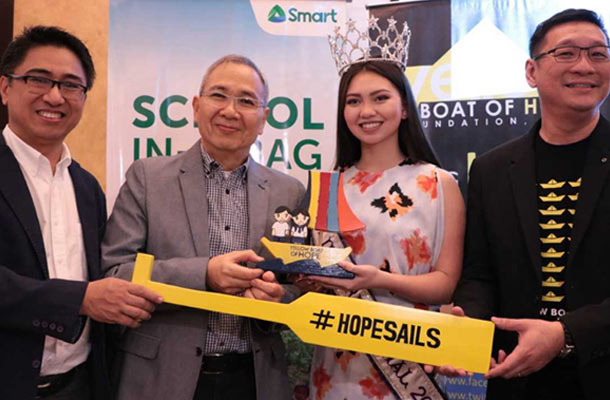 SEEING THE PHILIPPINES. Before the campaign launch in Manila, Carly visited one of the villages in Caramoan in Camarines Sur that gets support from the Yellow Boat of Hope.
Here, the Fil-American teen beauty queen saw first-hand the hardship kids go through just to get to school.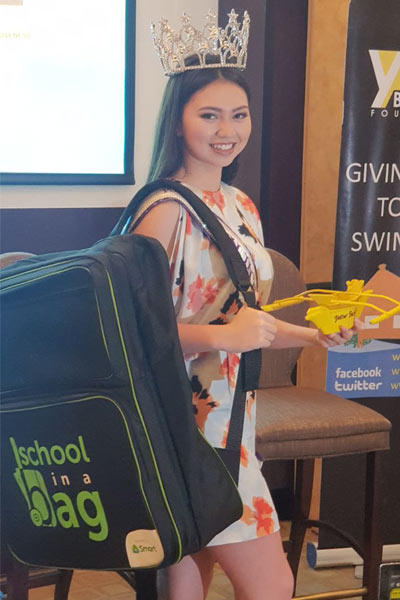 She recounted, "I was able to go to Caramoan with Yellow Boat of Hope, and it was just a humbling experience to be able to visit one of the really remote communities.
"It was a two-hour boat ride and a half hour hike just to get to the village itself… On the boat ride and on the mountain hike, it was 'buwis-buhay.'
"At one point, the waves were a little bit rougher. So, we couldn't go around to one side of the island on the boat and we had to take an alternative route.
"And on the hike, we had to keep on stopping, and we said it was to take pictures, but it was really because we were really tired!
"I think it took us 30-45 minutes to hike it and the kids do it ten minutes flat when they wanna go to school.
"It was a very humbling experience for me… It's the best way to describe it.
"I'm from the U.S. where every child is required to go to high school… it's very humbling because we take what we have for granted a lot.
"I know I have days where I don't want to do my homework, and I don't want to go to school because I'm tired.
"Going to these communities and seeing people who are grateful to even have a day of learning on the weekends from these volunteer teachers is just really humbling."
Carly also saw that despite the difficulties of the village people, the Filipino warmth and hospitality prevail.
She related, "The whole community was just very, very welcoming.
"I came around the corner, like the last bend to get to the village and the entire village was standing there, waving their yellow flags.
"They were like, 'Welcome! Mabuhay!' It's amazing to see everyone involved.
"I got to read a couple of books to the kids, and all of them were just super engaged, ready to learn.
"The parents were actually standing behind me, observing, and the whole village was engaged and involved…
"They cooked an amazing meal for us with grilled squid, and I know that's all they had in the village and they gave it to us with just open hearts.
"Everyone was very, very sweet, and the kids were adorable!
"There was a little boy who I thought was three years old because he was so small.
"But he was actually five years old. He was very malnourished, but he was running around and smiling, and he tried to photobomb every picture they I had…
"It really just put things in perspective for me.
"People that have so little, but are just so grateful for everything and just so open to receiving everyone…
"It makes me much more appreciative of what I have, and it inspires me to give back more.
"I see that they are grateful for the help.
"They are not wasting it at all.
"So, it's inspiring me to do more."
Overall, Carla found her visit to the Philippines exhilarating.
She said, "My mom is from Manila, but my dad is from the United States…
"I've never been to the Philippines as far as I can remember. I know I came when I was six.
"However I do not remember that very well. I was very small.
"It is an absolutely stunning country!
"The tress, the greenery is absolutely amazing and breathtaking!"