Several Filipino fans drew the ire of local and international netizens for their inappropriate behavior toward South Korean superstars Nam Joo Hyuk and Sandara Park.
It took place at the Penshoppe FanCon held on Sunday, July 29, in SM Mall of Asia Arena, Pasay City.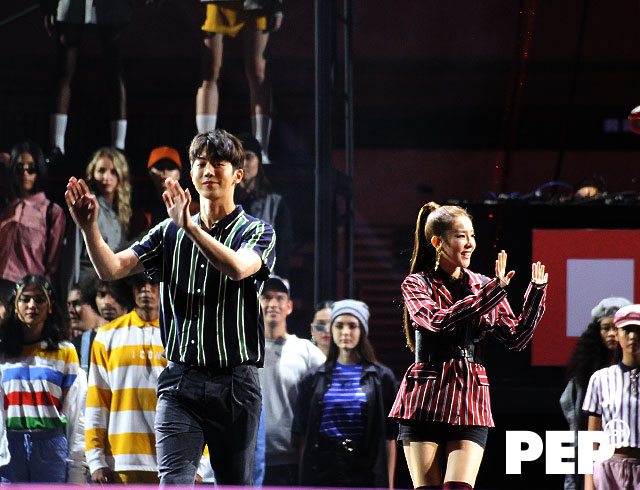 WHAT REALLY HAPPENED?
The whole program lasted for over three hours—complete with opening performances, interesting question-and-answer segment, fun-filled games, and the meet-and-greet session that lasted for about 15 minutes.
The problem started during the last few minutes of the program when lucky winners got to have a group photo with the YG Entertainment artists.
The first few batches of fans were orderly.
However, some fans couldn't contain themselves and pushed their way just to touch or hug Joo Hyuk and Dara.
A few of them even ran upon stepping on stage just to get a good photo spot with the Korean stars.
While the excitement of fans was understandable, Joo Hyuk looked visibly uncomfortable with fans grabbing him one after another.
The 24-year-old actor kept his cool, but was obviously uneasy.
He seemed hurt by the fans' action and was even spotted rubbing his arm in this video:
The hosts, MYX VJ Sunshine "Sunny" Kim and host-vlogger Justin Quirino, the organizers, and the security team asked the fans to keep calm and reminded them several times not to touch the Korean stars.
Bouncers surrounded the stage to control the crowd.
Unfortunately, the security team also had trouble ushering the rowdy fans out of the stage after the photo op.
VJ Sunny and Justin approached Joo Hyuk and Dara after the commotion to make sure they were okay.
Joo Hyuk gave Justin the thumbs up.
It would seem however that some netizens added fuel to fire by posting tight shots of the actor's right arm, claiming that the scratches were caused by the Filipino fans.
But based on the photos taken by this writer when Joo Hyuk emerged on stage, the marks were already there even before the photo op.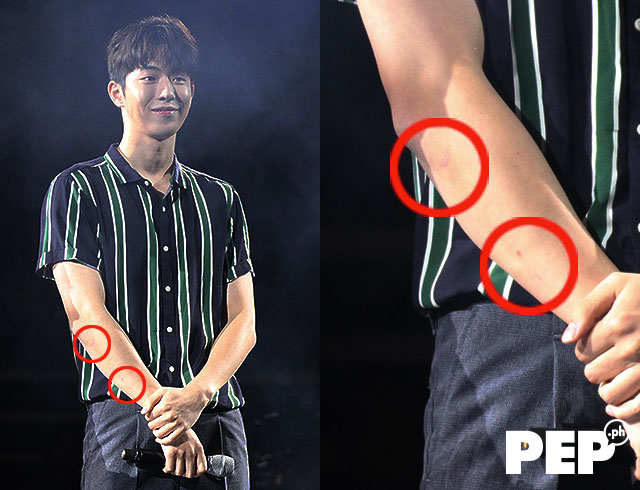 And based on the videos and photos that were taken during the after-party held at Yes! Please in Bonifacio Global City, both Dara and Joo Hyuk looked fine, and even enjoyed playing foosball with some of the guests.
Several news sites here and abroad—including Allkpop, Koreaboo, Dispatch, Seoul Economy Daily, among many others—already picked up the news item.
Nam Joo Hyuk Philippines, the actor's local fan club, issued its apology on Twitter right after the event.
WHAT TO LEARN FROM THIS EXPERIENCE
Our local celebrities are not spared from nanggigigil fans.
Eat Bulaga! host Maine Mendoza received an unwanted kiss in Tondo, Manila, during the "Juan For All, All For Juan" segment of the noontime show.
READ: Maine Mendoza gets kissed by "wild" fan from Tondo
Meanwhile, a fan rushed onstage to give actor-singer Tony Labrusca a hug while he was performing. Tony's mom, Angel Jones, caught it on video.
WATCH: Tony Labrusca rushed by fan during performance
It will be hard to contain the excitement, but there are ways to show it without going overboard.
Here's a list of things to keep in mind if you're attending your idol's meet-and-greet event.
1. Kalma lang, bes. Yes, you paid for the tickets. Yes, you waited for that moment to happen. But that does not entail making your idol uncomfortable.
2. Follow the instructions set by the organizers, the security, and the stars' managers.
3. You are not the only fan so do not hang around too long.
4. Do some research about your idol's culture.
Pinoys tend to be chummy or touchy. But some cultures aren't fond of touching or "skinship."
In South Korea, fans are allowed to make physical contact with the stars only through hi-touch events.
5. Rethink that selfie.
"Pics or it didn't happen" is a prevailing catchphrase in the digital age which pressures people to take a selfie and capture the moment every time they meet a celebrity.
Meet-and-greet events already have official photographers to take your photo.
While asking for a selfie is tempting, it would consume time if everyone else does.
6. It all boils down to respect.
Line up properly during meet-and-greet sessions, and mind the celebrities' personal space.
Be sensitive enough to read their body language to know if something is already making them uncomfortable.
If they're okay with it, let the celebrities initiate the physical contact themselves.
Assuming that some fans can't really keep their cool, and the security team will be outnumbered, then be that fan who will ensure his/her idol's safety.
That's how you can make a good impression, and make your idol consider doing another meet and greet.
Lastly, those who posted false information online, get a life. Ang dami niyong time!