Kira Balinger gathered her closest friends and family for the intimate celebration of her 18th birthday last Friday, August 3, at Discovery Primea in Makati City.
The Star Magic talent went for a Havana-inspired party.
Kira told PEP.ph (Philippine Entertainment Portal) through Star Magic's public relations assistant Venessa Bendanillo, "I chose the Havana theme because I didn't want to have the usual 'princess' getup with the huge ballgowns and where everyone has to dress up super formal."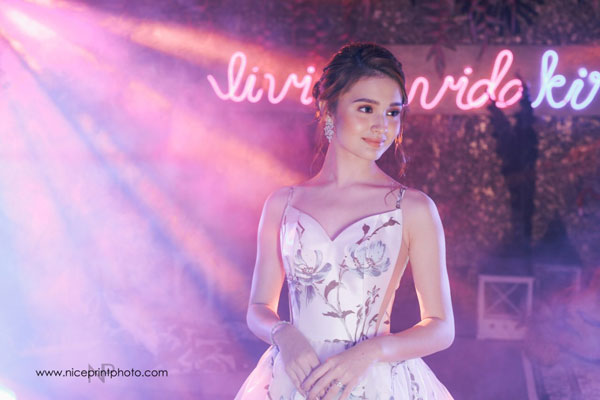 During the program, Kira mentioned that the party was a last-minute decision.
"I decided to have a debut because it really only is a once in a lifetime thing, and I didn't want to have any regrets by not having one.
"Also because I wanted to have everyone dear to my heart in one room to celebrate with me."
THE DEBUTANTE
The ASAP BFF5 member wore a Mark Bumgarner floral gown, a pair of Penny earrings from Jacatel Jewelry, and custome-made shoes by Doreen Odvina of Shoepatos.
On Instagram, the Filipino-British teen star thanked the designer of her gown, "Dearest @markbumgarner thank you so much for this simple yet elegant creation of yours.
"It's everything I wanted, a break from all the huge ballgowns... It matched my theme and it fit perfectly. #LivinLaVidaKira."
For her grand entrance, Kira sang Camilla Cabello's chart-topping hit entitled "Havana."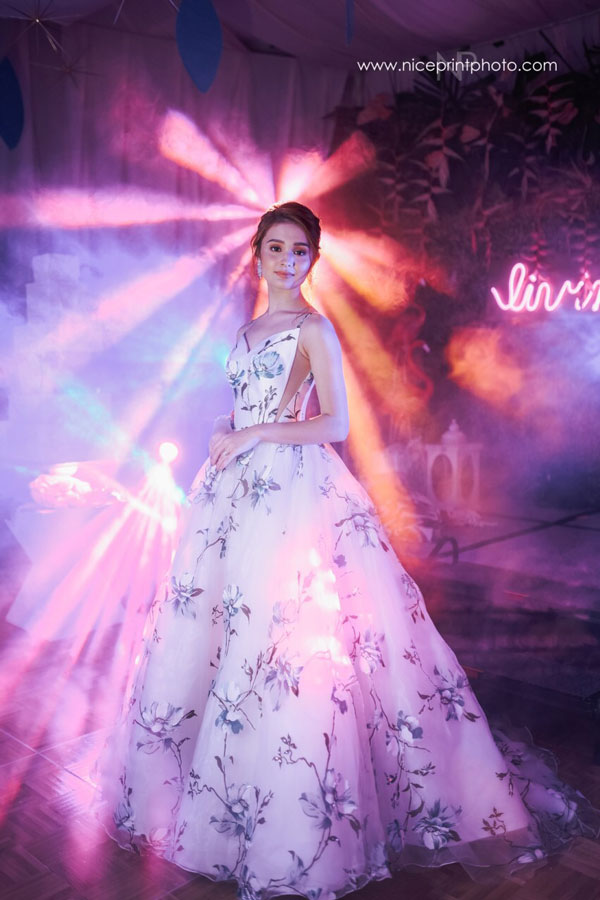 She later changed into a blush tulle dress by Martin Bautista.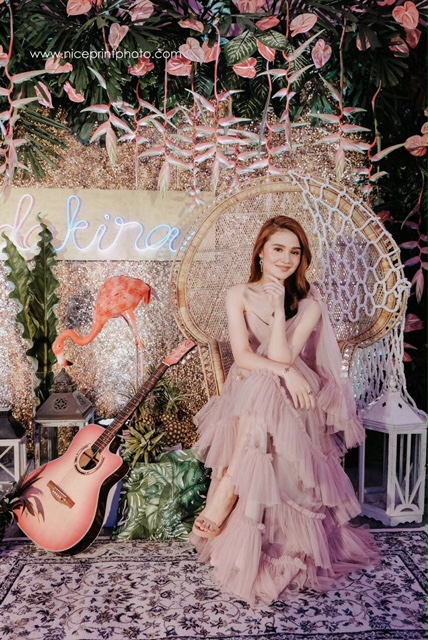 For the after-party, she donned a comfy cocktail dress from Apartment 8 clothing.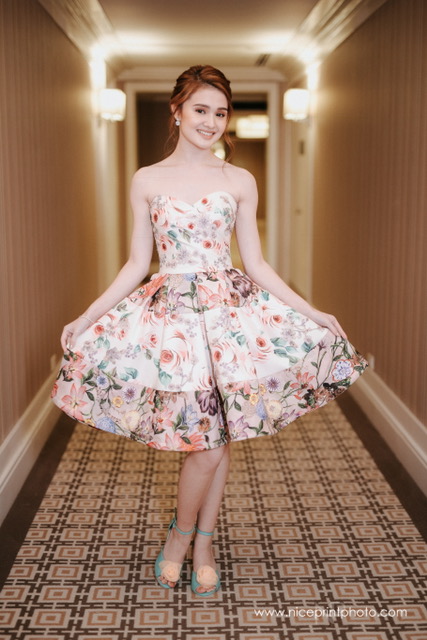 Her glam team: Drew Lacia, stylist; Justine Claudia, makeup artist; John Valle, hairstylist.
FLORECER AND LATERNAS
The program started with her 18 "Florecer," aka 18 Flowers, which included her handler Alan Real, Grae Fernandez, Karl Gabriel, Markus Patterson, Darren Espanto, and Hashtags members Jimboy Martin, Luke Conde, and Ryle Paolo Santiago.
Florecer means "to flourish" in English.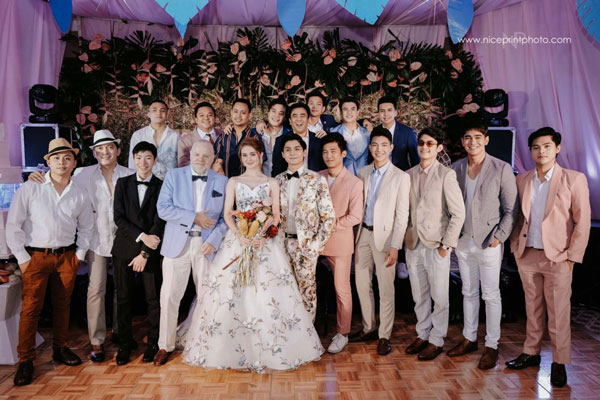 Kira's first dance was her father Tony Balinger...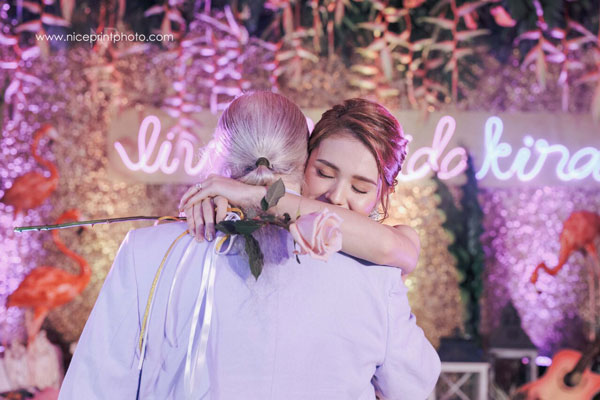 ...to the tune of Ed Sheeran's "Perfect," which was performed by Darren Espanto.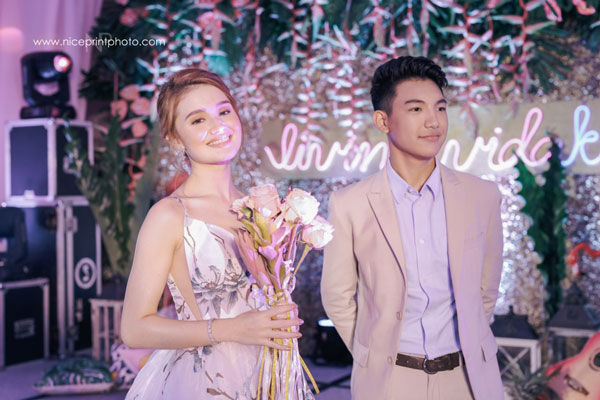 The debutante with her father, her mom Vicky (right), and sister Charlotte Santarin (left).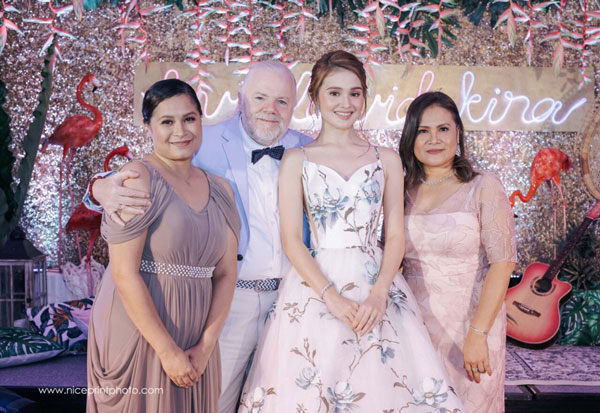 The last spot for Kira's 18 Flowers was reserved for her love-team partner Ryle Paolo Santiago.
Aside from sharing the dance floor with Kira, Ryle also performed the song "You to Me Are Everything."
When it was his turn to give a message, he said, "You've turned into such a gorgeous young lady, someone who's raised well by her parents, and I know na kahit papa'no, magiging mabait ka.
"I pray that sa career mo, you'll be very, very good, you know, very successful 'cause I know that's what you deserve.
"Sana lagi kang makikinig sa parents mo and sa akin."
He continued, "She taught me one thing, nung kakakilala lang namin, gusto niya na sinasabihan siya ng tao na proud siya sa kanya...
"And I'm proud of you sa lahat ng narating mo and every thing that you want to be. I'm proud of you. Happy birthday."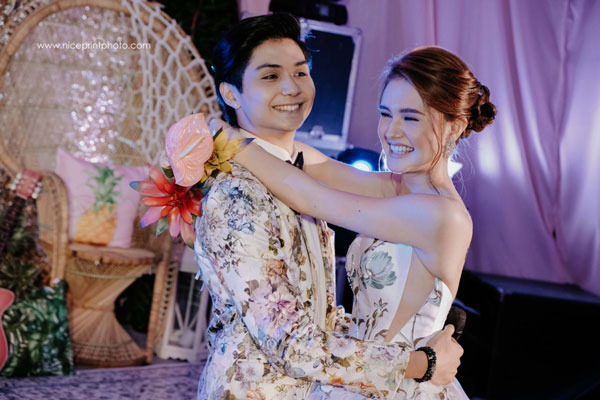 The second half of Kira's celebration was her favorite part.
She told PEP.ph, "Its hard to choose since the debut as a whole was such a fun experience... but I think I enjoyed the 18 candles and the games!"
Her 18 "Linternas" or 18 Candles were Raine Salamante, Ashley Colet, Melizza Jimenez, Heaven Peralejo, Lala Vinzon, Joj and Jai Agpangan, Ylona Garcia, Chantal Videla, Sherilyn Reyes-Tan, Alexa Ilacad, Elisse Joson, and Mica Javier.
Linternas is the Spanish term for lanterns.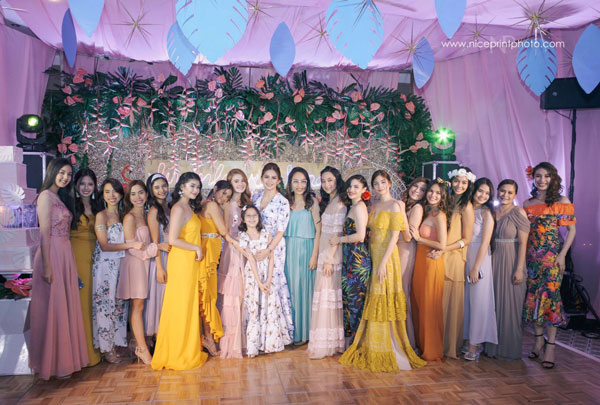 The most nakakakilig message came from Ryle's mom Sherilyn.
The actress revealed, "Even before we met you, I don't know if Ryle has told you na parte ka na ng pamilya namin because every night, while having supper, pinapanood ka namin sa The Story of Us.
"Siyempre, ikaw palagi yung topic, ang gandang bata. Even Tito Chris said, 'You know, this girl is really gonna make it big.'
"And then we found out na you're friends with Ryle and then you have a special friendship with Ryle...
"My wish for you is... I wish that all of your wishes will come true, as well as the wishes of your parents for you."
Sherilyn's next message was actually the wish of her son.
The 43-year-old actress continued, "Actually, Ryle told me, 'Mama, puwede bang yung wish ko na lang ang wish mo.'
"So pinapasabi ni Ryle na ang wish ko na sana makapagpaalam ka na ng maayos na kung puwede ka nang maligawan nang maayos.
"Para maka-bonding ka naman namin nang madalas. Because of you, my son is happy, because of you, mas bumait yung anak ko, mas sumipag.
"So sana ang wish ko, Mommy Vec and Daddy, sana mas maging close pa kayo ni Ryle.
"Sana mas pumayag pa si mommy, ayan. Happy birthday, Kiwi."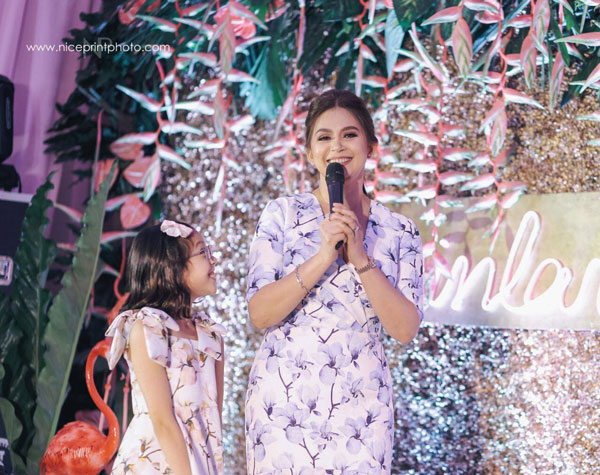 Ryle brought his mom, stepdad Chris Tan, and siblings Lorenz and Eia.
Providing entertainment during the party was Ylona Garcia, who rendered an acoustic version of Ariana Grande's "Dangerous Woman."
The Voice Teens Philippines finalist Lala Vinzon also sang Julia Michaels's "Issues."
TROPICAL HAVANA
Kira sought the help of Ycoy Sitchon and her team from La Belle Fete Weddings & Events.
The latter told PEP.ph via e-mail, "We started early June and we had a total of 3 meetings.
"However, in between those meetings, we were working on the details and elements of the party and liaising via Viber and emails.
"It was a breeze working with them and they trusted us completely in conceptualizing everything as well as executing all the nitty gritty."
For Kira's part, she said, "I was quite hands-on, I sent them all my pegs, and they whipped up something beautiful for me."
The set-up, according to La Belle Fete's Instagram account, was "swathed in millenial pink drapes and adorned with hanging tropical greenery mixed with pastel installations, the whole @discoveryprimea became a sweet Havana haven.
"Veering away from too much bold and vibrant hues, the softness of the look complemented the sense of intimacy of @kira_balinger's party."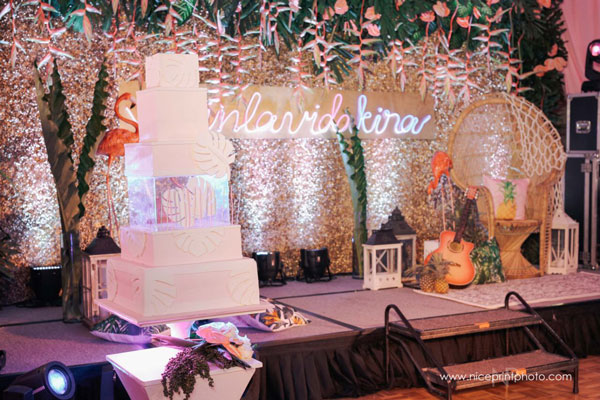 Ycoy detailed how the "Tropical Havana" look was achieved.
She narrated, "Before we were on board, the theme was already set in stone: Tropical Havana theme.
"However, we wanted to veer away from the usual tropical theme which has been very prevalent.
"So we tried to change the vision by incorporating dainty hues in the mix with millenial pink and pale dogwood combined with tropical greenery for the palette.
"The look that we wanted to achieve is still tropical but very feminine and romantic which is perfect for a lady that has come of age.
"We injected fun and modern elements such as hanging installations, fun photo areas, and even neon lights.
"For a perfect balance, the cake reflected the theme but with muted tones.
"The hints of gold (reflected on the other details such as the special chairs) gave us the opulence that we wanted to mesh with the laid-back feel.
"In a nutshell, we took care of everything. Kira, her family and her team gave us the free rein when it comes to ideas, colors, and even the design.
"Together with the help of Amante Fleurs, we executed the LIVIN LA VIDA KIRA theme—the hashtag and the name of the theme that we came up with."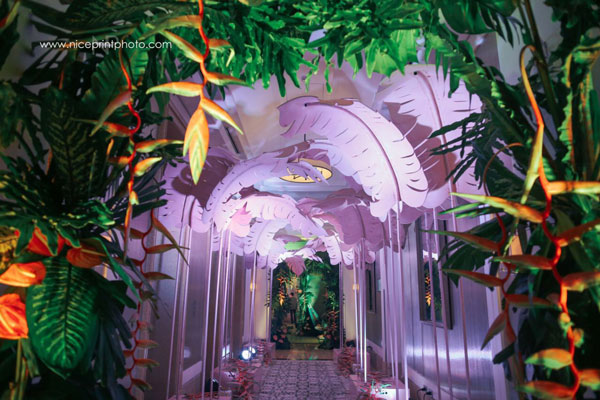 Because Kira didn't want the traditional debut, the program elements were given a twist.
Ycoy related, "To steer clear of the usual 18 roses and 18 candles, we used FLORECER or 18 flowers for her dances with the gentlemen.
"Instead of roses, we used different varieties of tropical flowers. For the 18 candles, we named it LAS LINTERNAS or 18 lanterns with candles.
"The ladies were asked to cite 'SHINING MOMENTS' of Kira and then their messages. The performances were arranged by the Star Magic Team.
"Since the idea was to have an intimate party with the tropical Havana vibe, the program is not too rigid and formal."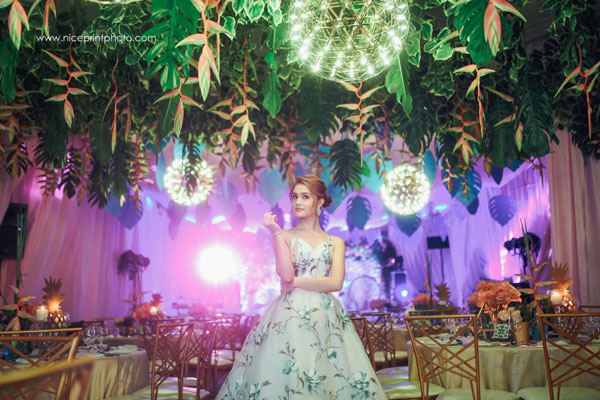 Ycoy said the output was exactly how she and her team imagined it.
"We curated the details of the party and they were exactly what we envisioned.
"From the millenial pink drapes that covered the ceiling and walls; the greenery ceiling with hanging tropical flowers, light fixtures and candy colored leaves; to the neon lights; the themed dessert bar; the fun photo areas; the special gold chairs that exuded elegance and balanced the fun vibe; and the rows of pink palm leaves that decorated the entrance—everything reflected the concept that we made especially for Kira."