Dimples Romana posted a heartfelt message to her husband Boyet Ahmee on their wedding anniversary last June 13.
Their friends in and out of show business were so kilig about it.
But Boyet's reaction was: "K!"
The two are at opposite poles as far as expressing emotions is concerned, but they're not making a big deal out of it.
The 33-year-old actress explained, "Hindi kasi kami ganun, e. Feeling ko sa kanya ko rin natutunan yung ganitong persona, to just respect everybody, kasi we're all different, e.
"Just the same way as he would always tell me, 'Kasi you're different, you're more expressive and my love for you is not any less just because I don't express it everyday.'"
Besides, Boyet has more attributes that she finds more important.
Dimples continued, "And that's true because he's remained loyal to me, he lets me be."
ANNIVERSARY GIFT
On their 15th year as husband and wife, Dimples received a gift from Boyet.
But her husband had one request: "Huwag mo ito ipo-post sa social media, ha."
Smiling, the Bagani actress recalled, "I think one of the best gifts talaga that he gave me was, during our anniversary, in the morning, he came up to me and he gave me a gift...
"'Tapos ginanon lang niya ako, yung shoulder to shoulder, 'tapos sabi niya sa akin, 'Continue to chase your dreams.'
"Naiyak ako! Inisip ko, how nice talaga of my husband, he's so...naisip niya pa yun.
"Naisip niya siguro, 'I know my wife, she wants to do so much more in her life, because I know that, I will support that.'
"It's like a very intimate moment for us."
PEP.ph (Philippine Entertainment Portal)spoke to Dimples during her contract signing as an incorporator of Asia's Lashes last July 28, at Seven Corners Restaurant, Crowne Plaza, Ortigas City.
SEPARATED?
Because her husband is camera shy, he seldom appears on Dimples's social media feeds.
This led some to speculate about the status of their marriage.
Laughing, Dimples said, "Some people messaged me if we're still together, ako naman, 'Oh my, God!'
"Parang inisip ko talaga, ano ba itong mga ito, hindi lang nakikita...
"Iyan ang problema sa social media!"
She went on enumerating the downside of social media.
"That's why I guess a lot of people now feel depressed and feel a certain kind of emptiness is because the ones on social media are just all the joys, really nice things, but you don't see the back of it.
"Nobody ever wants to post about imperfections. I think we should change that."
She gave the "woke-up-like-this" selfie as an example because a few people post "we just woke up na totoong yung bagong gising ka lang."
Dimples continued, "Kasi ang nangyayari, these kids, they feel na, 'Bakit sila, they're traveling more, bakit sila, they have all these things? Why don't I have that?'
"Sa amin lang mag-asawa, we try to avoid that, we just want to keep things within us because that's more real anyway."
And that made Boyet's sweet gesture more memorable.
The Kapamilya actress said, "That's what we fail to realize now, all these simple things, simple moments that are not posted online are the ones that [are] really rich of... tignan mo hanggang ngayon, naalala ko yun.
"I'm sure nobody will really remember everything that I'm posting apart from Alonzo's videos."
Alonzo is Dimples and Boyet's three-year-old son. Their eldest is Callie, 14 years old.
She continued, "But the reason why I post Alonzo's videos is because I read a lot of comments na it makes their day, they are happy, and who am I to rob people of their happiness?
"Parang nakakahiya naman yun na pati ba naman sila nakawan ko pa ng happiness nila?
"I also share a lot of Callie's, but Callie is more of Boyet, parang she's more reserved and she doesn't want her photos there. And sometimes, 'Please, ate, it's so pretty talaga whatever,' papayag naman."
BUSINESS
During the contract signing, Dimples added another job title to her resume—as incorporator of Asia's Lashes, owned by Leah Urbani.
Dimples explained her role in the business.
"Basically, I've been opening their stores and branches ever since they began the business.
"I guess si Ate Leah really saw the commitment that every time there's a store opening and when I welcome the new franchise owners.
"This time they got me into the business already, I guess to be part of it, they're making it into a corporation, which is nice because ang dami na rin naman nila."
Also present during the contract signing were actresses Dianne Medina, Jenny Miller, and Kitkat.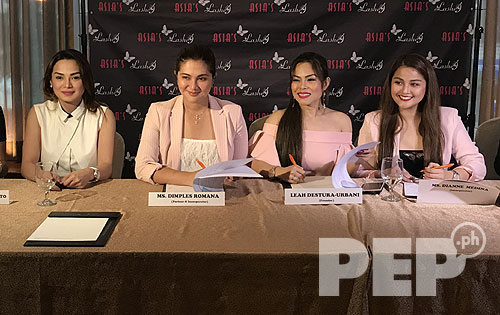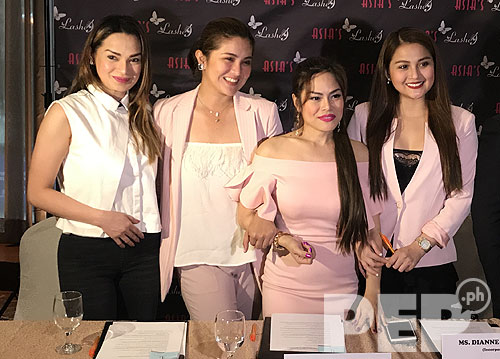 Is Dimples also planning to set up her own business?
"In the works pa lang kasi parang my target is really for next year to begin.
"Now kasi ito, it's theirs, I'm just becoming a part of it officially.
"Next year it's going to be more of my businesses apart from the rentals because basically ang ano lang naman namin puro renta, di ba?
"So next year, we're going to be more proactive, mas establishment na."
Dimples divulged her plan of opening a nail salon.